ViaBTC demonstration that it's possible for startups to raise funds on the Bitcoin Cash blockchain is very bullish for BCH investors. Complementing this is Roger Ver's solid plan of setting up a "high liquid exchange with BCH as base". This and other fundamental development means our previous Bitcoin Cash trade plan is valid. In that case we recommend risk-off, aggressive traders to load up at spot and trade in the direction of Sep 27 with stops just below Aug 14 lows at $470.
Latest Bitcoin Cash News
Roger Ver or "Bitcoin Jesus", a controversial Bitcoin Cash evangelist is considering opening a new cryptocurrency exchange. He is now looking for a partner. Though he might end up creating one "internally" it's obvious that once it goes online, BCH will be base. As always, Roger Ver is confident. This time he says, should they decide to build their own exchange, then it will be at a cheap and "achieve exactly what they want".  He went on to say the exchange will attract thousands of users per day. Because of this extreme popularity, the exchange will offer instant liquidity. Though no other details about design filtered through, Bitcoin.com will be host. The site is known to advance Bitcoin Cash causes. Aside from Roger Ver's future exchange, CoinEx is the only exchange that has BCH as base currency.
In other boosting news, ViaBTC did their first ICO offering raising $30 million in 2.2 hours. The ICO was executed via the WORM protocol in the Bitcoin cash blockchain. The token, VIAT, is a value-added service that acts as GAS and as a means of value transfer. In total there will be 2 billion VIAT tokens and VIAT traders at CoinEx will receive air drops.
Bitcoin Cash Price Analysis
Weekly Chart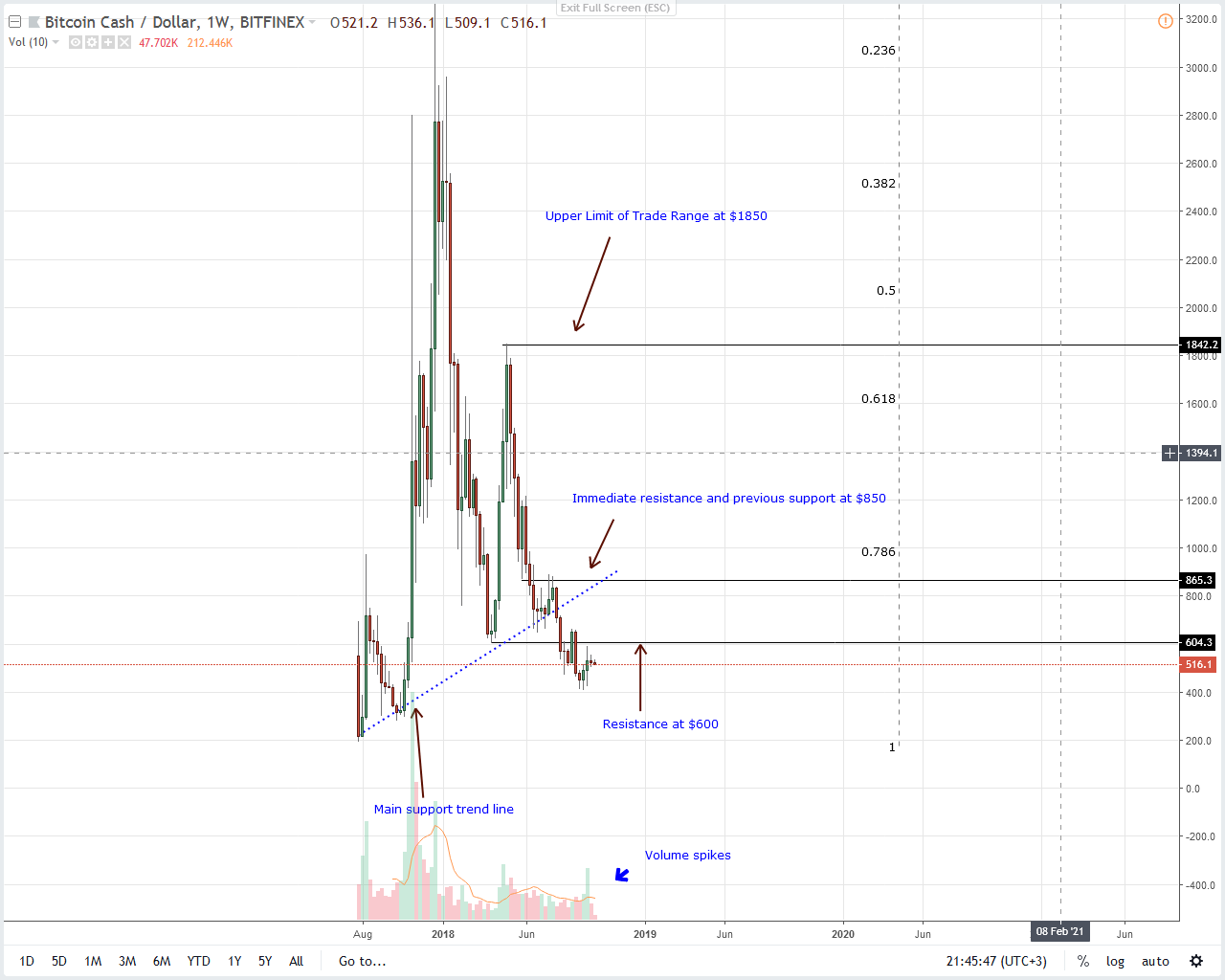 All things constant, BCH is stable. It's down one percent in the last week and still trading inside week ending Sep 30 high lows. Besides, prices are drifting closer towards the psychological support at $500 and almost $70 from the main resistance line and buy trigger at $600.
Regardless of the optimism around price action, the simple fact that BCH buys are having a hard time to reverse losses from week ending Sep 9 hints of the strength of underlying bears. The moment prices break below $500 then odds of further declines towards Sep lows will rise. After all, prices are technically bearish with recent gains based on expectations/sentiment rather than solid price shifts.
Therefore, unless otherwise, we retain a neutral but bearish projection as far as price action is auctioned. We shall cancel this forecast once BCH prices rally past $600. Ideally, there should be volume surges as those of week ending Sep 30.
Daily Chart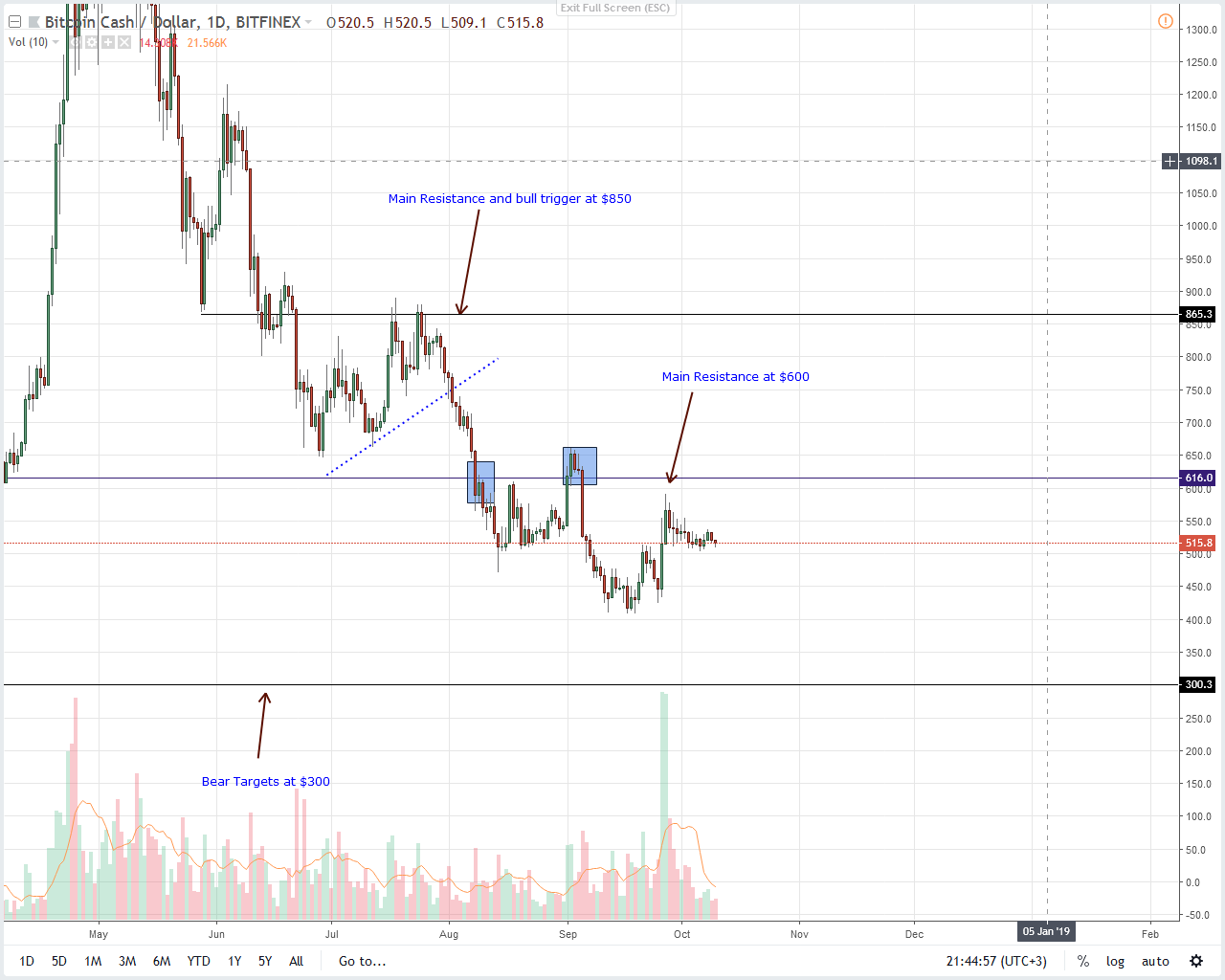 Notice that BCH prices are in consolidation mode with clear resistance at $600 on the upside and support at $400. This $200 range is important in our Bitcoin Cash price analysis. However, the $500 support is conspicuous and is our immediate support line.
In our last Bitcoin Cash price analysis, we had proposed small size buys by risk-off traders with stops at Aug 14 lows. Against prevailing market conditions, this projection is still true. Since prices are still trading within Sep 27 high low in a clear consolidation, we suggest risk off traders to load up at spot rates with first targets at $500. However, should bears drive prices lower below $500 and $450, then we shall revert back to neutral waiting for reactions at the main support line at $400.
Disclaimer: Views and opinions expressed are those of the author and aren't investment advice. Trading of any form involves risk and so do your due diligence before making a trading decision.