Latest Bitcoin Cash News
The war is over and we all know Bitcoin Cash lost. After 14 days of hard knocks, Bitcoin Cash ABC—the main version proposed by Bitcoincash.org, is now half of what it was. While the capitulation drove it to new lows, Craig Steven Wright—whom many accuse of being a professional conman and a faketoshi mostly because he can't code, won. His new coin—BCH SV— which he claims will be used by one billion people in the coming years as the network is business ready is now worth $101 at the time of press with a whopping $1.77 billion in market cap.
Read: Barry Silbert: Bitcoin Cash Fork Is a Distraction, Confusing for New Investors
At this pace, it's only a matter of time before SV catches up with the original Bitcoin Cash. This is not only a disservice to the industry but goes to demonstrate how air fractures within a public chain can quickly turn into gaping holes.
Also Read: Bitcoin Crashes to 2018 Low, Could Falling Hash Rate and BCH Civil War Be to Blame?
Though the "war" is over, more than $10 million was used to "protect" the network against the dreaded Satoshi Shot gun which CSW had threatened to unleash and "fight to the death" should he be on a losing path.
https://twitter.com/HeyRhett/status/1066835600249159680
Well, he didn't sustain it for a weak and with each day passing, economics implications forced a white flag. It has been waved and the BCH network is now split. BCHSV has a head start, BCH is lagging and it will take a while before price double more so at prevailing market conditions.
BCH/USD Price Analysis
Weekly Chart
On a weekly basis, BCH is down 16 percent but that's after recovering from losses exceeding 45 percent of late last week. Technically, BCH/USD is bearish and it will take a lot of convincing before we suggest longs now that prices are down 50 percent after forking.
Though there are attempts of higher highs, conservative traders need to see BCH bulls printing above $290 for a double bar bullish reversal pattern at the back of high volumes indicating support in lower time frames. Once this prints, we shall suggest buying on every dips in lower time frame with first targets at $400—previous support now main resistance level as the retest phase print out.
If not and yesterday's bulls crash below $140, BCH might end up sinking to BCH SV levels at $100.
Daily Chart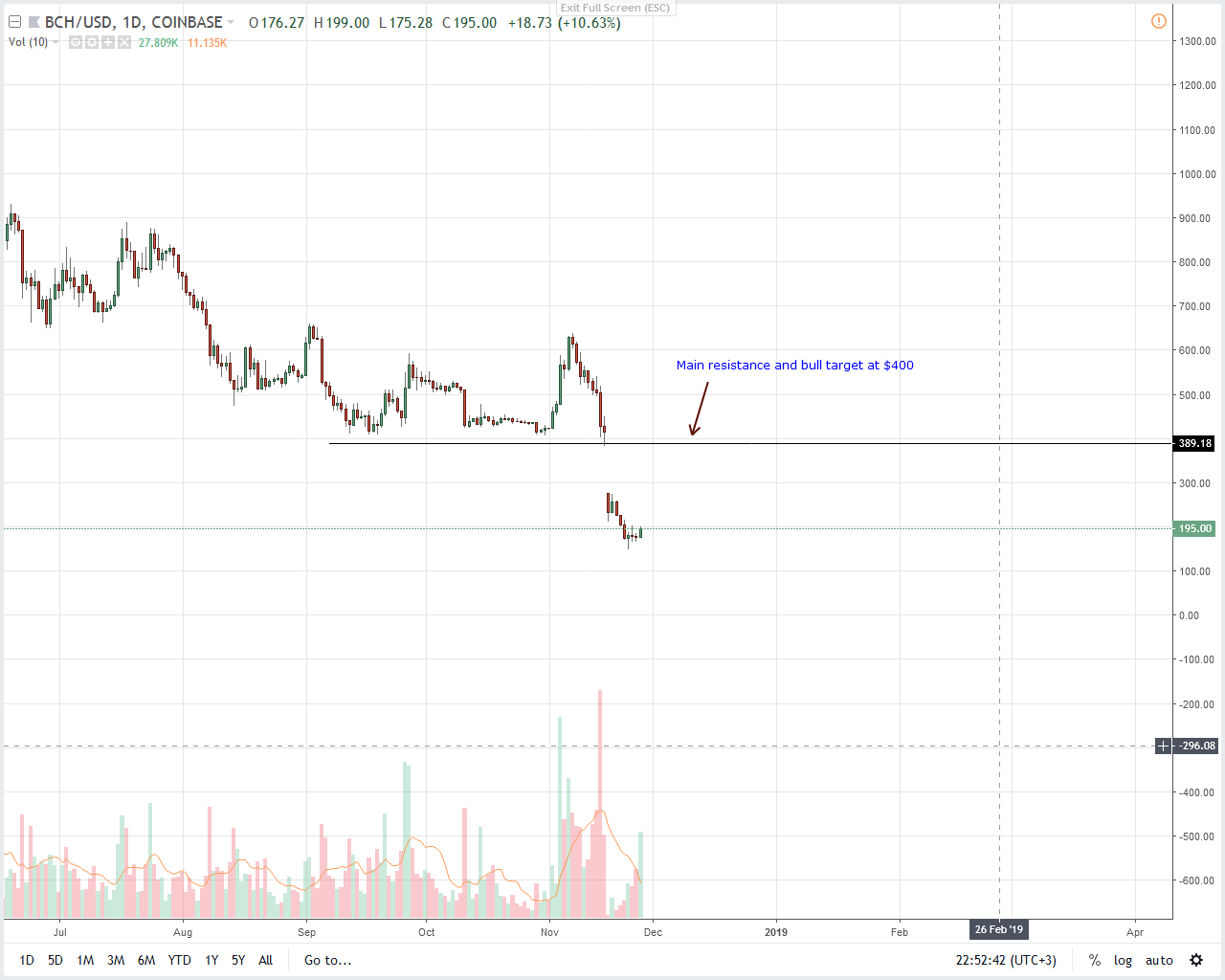 From the charts, BCH is up nine percent in the last day and just like the rest of the market, a recovery is imminent. Although conservative traders should stay on the sidelines until there are clear breakouts above $290, aggressive traders can take advantage of this market wide expansion.
Notice that aside from wide trade ranges and the completion of a probable three-bar reversal pattern complete with an ideal pin bar separating the two countering bars there is clear volume spikes. Nov 28 bars had 27k in volumes which is almost three times the average of 11k hinting of underlying bulls.
Because of this, risk off traders should buy at spot with stops at $150—Nov 25 lows and first targets at $290. Any drop below $150 cancels this bullish preview and in that case sellers might drive prices towards $100.
All Charts Courtesy of Trading View
Disclaimer: Views and opinions expressed are those of the author and aren't investment advice. Trading of any form involves risk and so do your due diligence before making a trading decision.