BKCM LLC CEO and founder, Brian Kelly, insists that Bitcoin being relegated to the peripherals of the world financial markets is a thing of the past. He points to the popular cryptocurrency's resurgence as a sign of its durability.
Kelly offered his views on Bitcoin at the Hoover Institute Monetary Policy Conference. Describing the currency as a serious market, he insisted that things are changing, adding that discussions about cryptocurrency rarely took place at previous established financial conferences. Bitcoin certainly got people talking at this one, however.
No longer niche
Kelly said that digital currency could no longer be considered niche, now that its audience has grown beyond its core crypto base. Mainstream finance is beginning to take Bitcoin seriously, which suggests that the market has become a hard one to ignore. Kelly said that the attention being given to Bitcoin is well deserved, now that the market cap for cryptocurrency has reached $460bn.
The CEO also said that Goldman Sachs' recent moves in the Bitcoin market is evidence of a change in perception. The Wall Street bankers recently confirmed that it would be trading both Bitcoin and Bitcoin futures in the coming months. Goldman Sachs would be the first company on Wall Street to trade cryptocurrency.
The real deal
When it comes to an asset class being perceived as a viable vehicle for investment, legitimacy is vital. Rana Yared, an executive from Goldman Sachs, has vouched for Bitcoin's legitimacy. Such confidence from a respected firm like Sachs only serves to enhance the virtual currency's reputation among mainstream investors. There have also been reports of a Chinese investor having purchased 10,000 Bitcoins in a bear run earlier this year.
It isn't just Wall Street where Bitcoin is being embraced, however. The increased adoption of Bitcoin by online and offline merchants will further encourage the general public to learn what it is, how it works, and how it can be used. While it can seem confusing at first, sites such as bitcoins.net aim to inject some clarity into the subject through its series of guides. With its already growing popularity, along with such readily available information to help its immersion into the mainstream, Bitcoin is looking more and more like a force to be reckoned with, both in the short-term and long-term.
SEC takes notice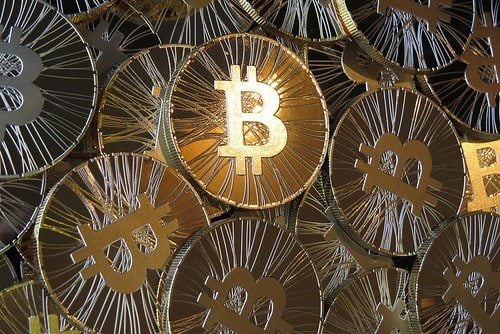 "Bitcoin, bitcoin coin, physical bitcoin," (CC BY-SA 2.0) by antanacoins
With such bodies as the SEC (the U.S. Securities and Exchange Commission) sitting up and taking notice, the general belief is that Bitcoin is largely free from regulatory troubles. Kelly said that this is a factor in the increased price of the cryptocurrency. Reports suggest that the SEC is looking into whether some alt coins are valid securities. Kelly believes that, as for Bitcoin, there's no doubt that it's a currency. The conference proved that he isn't alone in that opinion.
There certainly seems to be a buzz surrounding Bitcoin at the moment, which Kelly believes will only heighten, in light of New York's Blockchain Summit Week. Bitcoin Foundation founder Charle Schrem saying that the currency would never again trade under $10,000.
About the Author

Benjamin Cutts

Ben is a fintech enthusiast who writes about finance and technology, with a 
specific interest in cryptocurrency.
Image Source: Pixabay