Bitcoin price drop 6.1 percent after testing $4,100
Korean authorities approve seven exchanges compliant with their security measures
The slide below $4,000 at the back of high transaction volumes
After today's losses, subsequent price action would determine whether BTC is within a necessary bull squeeze or the retest of $4,100 marked the beginning of bear trend and completion of a retest. After all, the dominant trend is bearish, and rejection of higher highs is at the 38.2 percent Fibonacci retracement level of Nov-Dec 2018 high low.
Bitcoin Price Analysis
Overview
After decent performance throughout the last weeks of Dec 2018 and early this month, Bitcoin sellers are back. According to live streams from coin trackers, BTC is down 6.1 percent in the last day. Regardless, traders are optimistic and expect prices to rebound more so if there support at $3,700. If that is the case, then today's drawdown is a bull squeeze driving prices towards the base of a bull flag.
Fundamentals
In theory, the blockchain should be infallible, distributed and secure. Most as Bitcoin have lived up to their expectations, and with Exa-hash rates, there is no economic incentive to launch attacks. The cost will be exorbitant for no good reason. Bitcoin and its blockchain are therefore safe. However, the technology is still new and infrastructure developing.
Buttressing Bitcoin are exchanges—a set of on-off ramps allowing buyers and sellers to exchange digital asset. As centralized marketplaces, they are a honey pot for malicious hackers always on the lookout for any vulnerabilities. Most successful hacks result in multi-million-dollar losses and topping the table is that mega-hack at Coincheck where an estimated $500 million evaporated just like that.
It is for this reason why authorities, especially in SE Asia, Europe, and the US, are taking steps, executing their mandate and protecting vulnerable investors. Latest news is that the Ministry of Science and ICT while working closely with Korea Internet and Security Agency (KISA) has approved seven exchanges–UpBit, Bithumb, Gopax, Korbit, Coinone, Hanbitco, and Huobi Kore– after a three-month security inspection between Sep to Dec 2018.
Candlestick Arrangement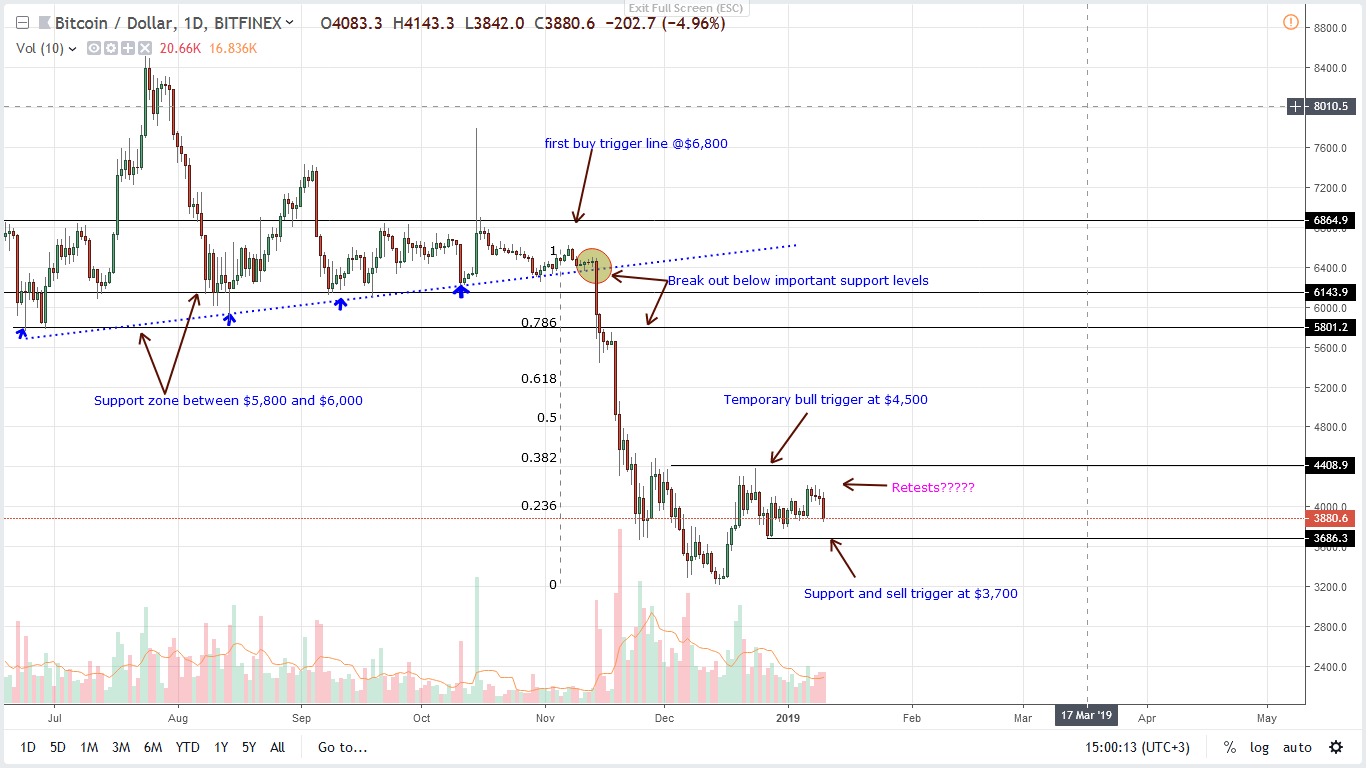 On the technical front, our previous stance as far as Bitcoin trading is valid. As we can see from the chart, sellers are back. In 45 minutes during the European session, prices tumbled from around $4,100 to spot rates.
Still, bulls are resilient, and prices are trending above $3,700—our main support line. For trend continuation, it will be essential if bulls reverse these losses in subsequent days and drive BTC prices above $4,100 and later $4,500. If not and this persists then this will cease from being a bull squeeze.
Instead, the retest phase will be complete, and bears will resume taking cues from bears of early Nov-Dec 2018. Therefore, we recommend patience as we wait for price reaction at $3,700—the base of our bull flag and minor support and sell trigger line.
Technical Indicators
The last ten days average stands at 16k which is less than the volumes behind Jan 6 bull bar at 25k. Jan 6 bar is definitive and above average volumes accompany today's losses—20k versus 16k (expected to increase by close). We need to see counter bull bars but should sell pressure spill over to tomorrow; chances are sellers will blast through $3,700.