Latest Bitcoin News
After a damaging fall from Dec 2017 peaks, Bitcoin bulls are well positioned to recover and print above Nov 2018 highs all because of changing sentiments and bullish candlestick formation of the last three days. On the fundamental front, long-term Bitcoin bear and former International Monetary Fund economist, Mark Dow has closed his Bitcoin short trade according to a phone interview with Bloomberg. He had this to say:
"I'm done. I don't want to try to ride this thing to zero. I don't want to try to squeeze more out of the lemon. I don't want to think about it. It seemed like the right time. People buy into these assets because they believe the narrative, and you look at the asset prices to see if the narrative is weakening or changing. It's not easy — you could be wrong, but that's the sign you look for. However, it doesn't mean you'll get it right."
He later posted on Twitter:
Today I say goodbye to the bitcoin short. Sad! #bitcoin $BTC $XBT.

— Dow (@mark_dow) December 18, 2018
Add to this the recent series of higher highs visible in the 4HR chart, and it is clear that Bitcoin bulls are back in contention. At spot prices, BTC is changing hands at $3,724.22 at the time of press up 10 percent in the last week and 8.1 percent in the recent 24 hours. It is the most persistent rally in the last five months, and further higher highs could see BTC break above $4,000 laying tracks for $4,500.
Bitcoin (BTC/USD) Price Analysis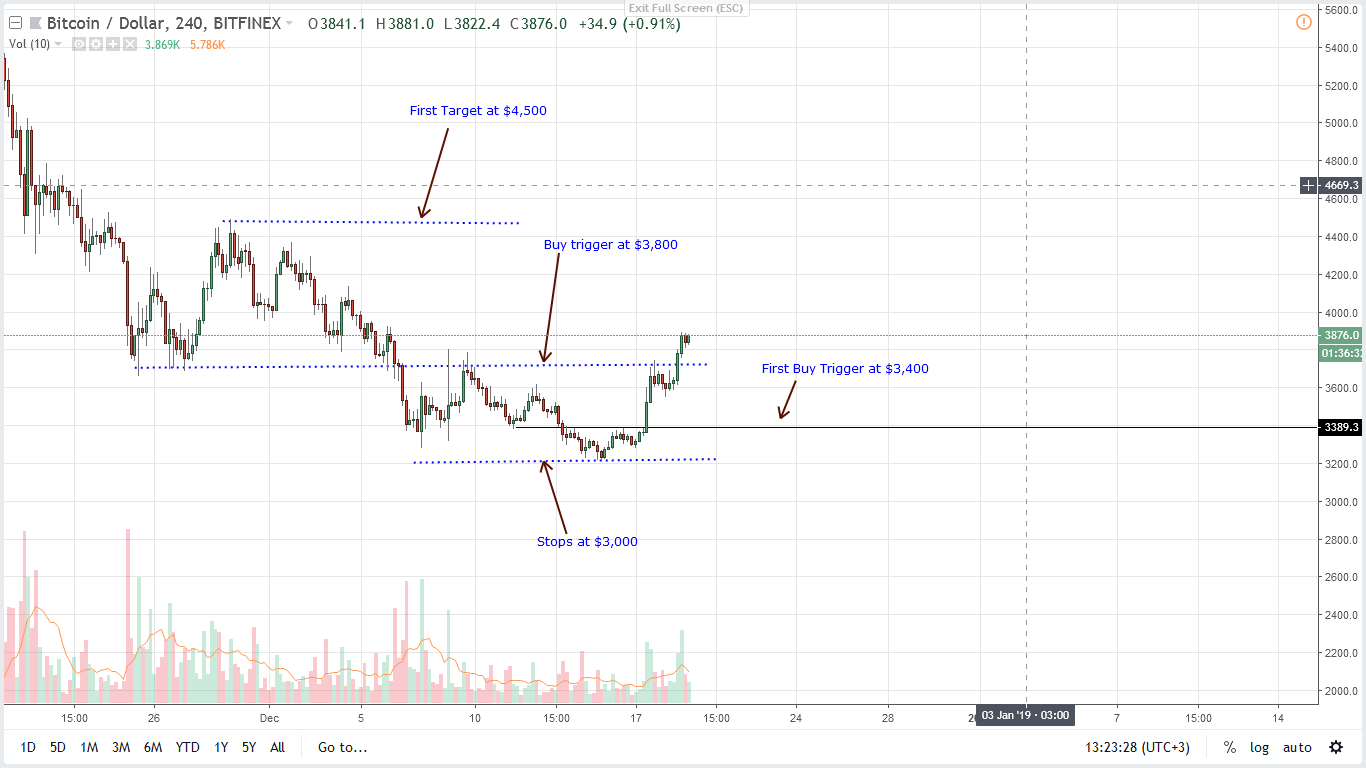 This recovery is a boost to the cryptocurrency market, and after 11 months of lower lows, BTC is expanding, ready for $6,000. After 12 days of horizontal consolidation within Dec 15 lows of $3,200 and highs of Dec 9 at $3,800, Bitcoin bulls broke and closed above this main resistance level.
Because of the high trade volumes behind Dec 18 rally, buyers are technically in charge as long as they trend above $3,800—previous resistance-now-support. More often than not, prices tend to retrace after rapid gains as those of Dec 17, and it is for this reason why we expect BTC to dip and retest $3,800 before trend resumption.
However, if prices reject lower lows and print above $3,900 today, then buyers should enter at spot price with first targets at $4,500.
Otherwise, this is our short-term BTC/USD trade plan:
Buy: $3,800
Stop: $3,550—Dec 18 lows
First Target: $4,500
All Charts Courtesy of Trading View
Disclaimer: Views and opinions expressed are those of the author and aren't investment advice. Trading of any form involves risk and so do your due diligence before making a trading decision.