Latest Bitcoin News
Thing is, Bitcoin is just more than a medium of exchange. In 10 short years, the world's most valuable coin has evolved from being a Cypherpunk thing to a medium of exchange and now it is a solid store of value. It has been so thanks to last year's super rally. Bitcoin position as a store of value has been also been strengthened by hyperinflation in countries as Venezuela and embargoes on countries as Iran.
Also Read: Marc Andreessen: Bitcoin Is a "Very Important Idea"
In Venezuela, records indicate that citizens are buying Bitcoins in droves despite sinking prices and government attempts to stem crypto adoption through closure of crypto exchanges and businesses accepting cryptocurrencies. It's ironic because as they do crack down on a global phenomenon, the government is promoting their own coin, the Petro.
While wishing strength to the people of these great countries going through economic hard times, https://t.co/5K1CEvSfEy is proud to play a role in taking BTC where it is most needed.https://t.co/mfD93zLC3W

— LocalBitcoins.com (@LocalBitcoins) November 1, 2018
LocalBitcoins data show that the country's citizens fear holding the Bolivar thanks to the 800,000 percent inflation that has drastically reduced their purchasing power. Although transacting via crypto is risky, BTC is the only viable alternative whose volatility is relatively low and global meaning it has no central point of control or issue.
Meanwhile in Chinese provinces of Xinjiang and Guizhou, mining activities were halted as government officials rein down on crypto mining operations conducting real name registration checks and tax compliance.
More about Bitcoin: Crypto Analysts: Bitcoin's Calm Indicates Market Will Explode in 2019
Though it is understood the checks are complete, it is estimated that several miners lost business upwards of $143,700 per day during the inspection period. Apart from these, reports indicate that miners were required to sign an agreement promising their implementation of high standard business real-name system in line with China's Public Security Department.
BTC/USD Price Analysis
Weekly Chart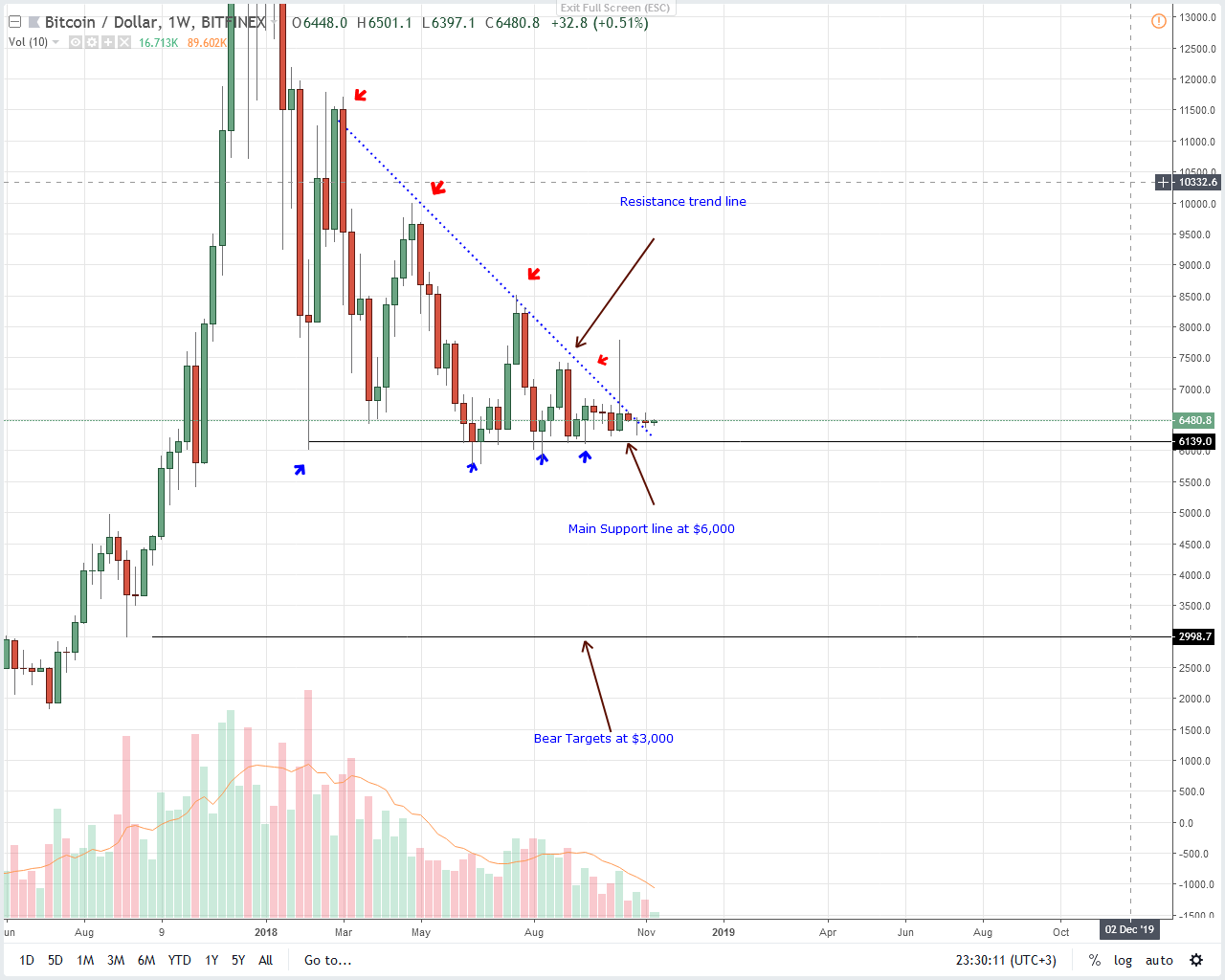 Even in the midst of the last 10 month consolidation inside a descending wedge with supports at $6,000, it appears as if BTC/USD is ready for a rally. First, thanks to the hype element around Bakkt launch and Bitcoin ETF, there is a sentimental support. Secondly, from candlestick arrangements, BTC/USD is actually trending above the main resistance trend line connecting the last 10 months highs.
As visible from the chart, gains of week ending Oct 21 did lead to a bullish breakout and though the confirmations weren't as strong, we still do have a whole bearish bar above the resistance trend line meaning traders can begin loading up in lower time frames.
Nonetheless, conservatives should wait until after there are solid gains above $6,800, the lower limit of our resistance zone. Conversely, losses below $5,800 could fade this projection as sellers aim at $4,500.
Daily Chart
Of course, in lower time frames, BTC/USD is ranging. Regardless, the coin is finding support along the trend line and as long as it is trending inside Oct 15 high low then we can interpret this as bullish.
At the moment, volumes are picking up with yesterday's volume higher than the average at 9k from 8k. While it may be tempting for risk-off traders to load at spot, traders need to see gains above $6,500 before ramping up with first targets at $7,000 and $7,200.
Fitting stops should be at $6,300 or there about.
All Charts Courtesy of Trading View
Disclaimer: Views and opinions expressed are those of the author and aren't investment advice. Trading of any form involves risk and so do your due diligence before making a trading decision.