Although maximalist will advocate for self regulation like in Japan, the involvement of regulators is perhaps the only way for adoption promotion especially in this bear market. That is what CONSOB, the Italian regulator is doing while BTC/USD prices steady above $4,500.
Latest Bitcoin News
Regulations, regulations and more regulations that is the way forward it seems. Coincidentally, regulators from all over the world are foraying at the time when Bitcoin prices are free falling as investors seek for some sort of protection.
Read: Price Predictions Roam Free As Bitcoin Stabilizes Above $4,500
Taking advantage of this "need", regulators are digging in and somewhat stamping their authority. Well, we all agree that reasonable laws that promote innovation are what participants are desirous off at this time of nurturing. On the other hand, any hint of authoritarian grip would undoubtedly cause a rebellion. There are many examples of this unexpected turn of events including the Chinese ban of crypto exchanges and RBI outlawing cryptocurrencies.
The Italian main regulator, commissione Nazionale per le Società e la Borsa (CONSOB) is now lifting its heavy hand and with their index pointed at exchanges, six are already under their net. Three, including Richmond Investing won't operate after running a trading platform without registration and failing to comply with Consolidated Law on Finance (TUF). Two others including Crypton Limited are under a three month suspension for what the regulator say was their involvement in "inappropriate" promotion and advertisement.
Interesting Read: Profits Plunge With Prices as Bitcoin Mining Rigs Go Dark
Of course, CONSOB is executing its mandate, protecting investors. Still, what regulators should first do is study before clarifying how FinTechs and exchanges should legally operate.  Furthermore, the European Blockchain Partnership of which Italy is its newest member, ought to create a formal framework complete with directions on how crypto taxes should apply.
BTC/USD Price Analysis
Weekly Chart
The direction of least resistance is southwards but sellers are losing steam. Weekly losses are stable at 22 percent. While BTC is trading within a bear breakout pattern, our previous BTC/USD trade plan remain as it is. After four days of steep losses, we expect prices to stabilize through the weekend.
As long as BTC prices are oscillating within a tight range with supports at the $4,300-500 and caps at $5,000, there is evidence in lower time frames that buyers could jump in and thrust prices towards $5,500 by end month.
Daily Chart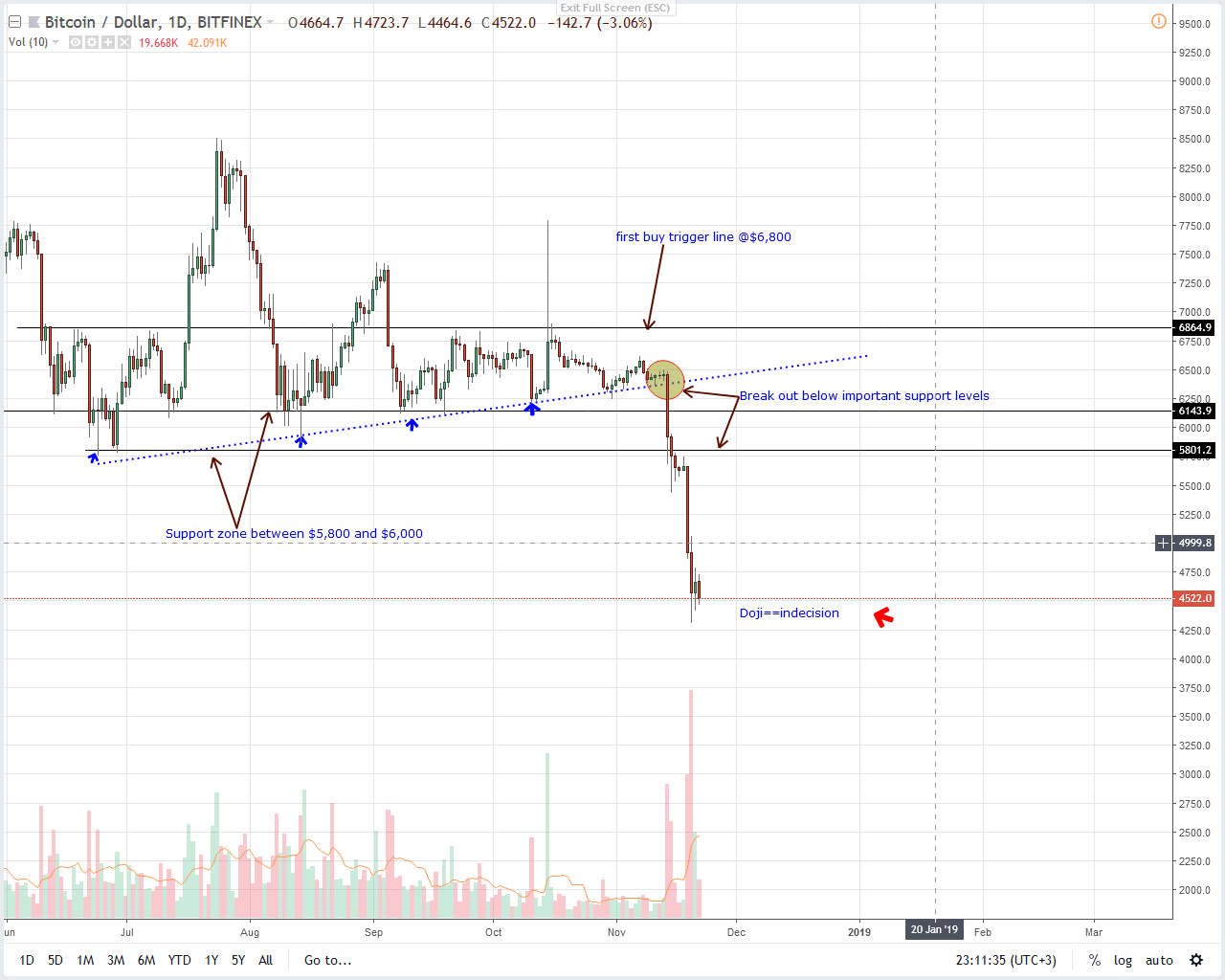 In this time frame, BTC prices are stable and down 0.6 percent in the last day. What's conspicuous is the rejection of lower lows and BTC/USD price range confinement within Nov 20 high low. As prices range, we expect a minor recover towards Nov 20 highs of $5,000 over the weekend.
Should this be the case then we might see buyers streaming in eventually thrusting prices towards $5,500 or even $5,800 in a retest phase. It's a long shot but it's the only way for the markets to re-calibrate after last week's sharp drops. Conversely, losses below Nov 20 lows at $4,300 could worsen BTC market cap and even drag other altcoins with it. In that case first targets will be $3,000.
All Charts Courtesy of Trading View
Disclaimer: Views and opinions expressed are those of the author and aren't investment advice. Trading of any form involves risk and so do your due diligence before making a trading decision.