New decentralized exchange offering BQT has broken with the tradition of crypto exchanges by choosing Binance's BNB token as its first-ever listing.
While most exchanges shoot straight for BTC, BQT exchange is starting as it means to go on. It intends to offer a carefully curated mix of coins selected for their ability to draw in buyers and sellers, thereby creating liquidity.
Naturally, BQT listed also BTC, ETH, and other 42 different pairs. However, according to a Medium post issued by BQT's founder: "BNB emerges from the pile because of the BQT team's abiding trust in its issuer, Binance. We simply respect how they do business in crypto."
The announcement of the listing earned BQT a tweet of appreciation from Binance's founder Changpeng Zhao, known as CZ. While BQT is certainly a smaller exchange than Binance, it's great news for CZ that his exchange's token is now gaining traction outside of the exchange itself. It caps off a stellar first two years for the BNB token, and for blockchain's fastest-growing unicorn.

BNB – Bulls Not Bears
The decision of BQT's management to list the BNB token is hardly surprising, given its success to date. During the first half of 2018 when the rest of the crypto markets were plummeting, BNB bucked the trend, rising from a market cap of $800 million in February to over $1.8 billion in July.
BNB offers genuine utility in the form of discounts for traders on the Binance exchange. However, these discounts undergo a "halving" every twelve months, so Binance has implemented a buyback-and-burn policy as part of its tokenomic strategy. Increasing the scarcity of BNB thus helps to drive up demand.
At first appearance, the steady halving of trading discounts may appear to erode the value of BNB. After five years, owning BNB will no longer yield any discount at all. However, Binance has been working diligently to expand its footprint, having now launched the Binance blockchain and the associated decentralized exchange.
The BNB token is the means of accessing the Binance DEX, pushing its utility even further. However, having it listed on an outside exchange is a clear indicator of the token's value even beyond pure utility.
Ever-Expanding Ecosystem
Another reason for the success of the BNB token, and for Binance's meteoric growth, is the tireless efforts of the exchange's team in bringing new features and functionality to the exchange. The Binance chain and DEX are among these; however, there is plenty more besides.
In 2017, Binance opened up its Launchpad program, pioneering the concept of the initial exchange offering (IEO). Since that time, it has been responsible for some of the biggest and best-known IEOs, including Bittorrent and Fetch.AI.
In 2018, the company started its fiat on-ramping activities, opening up exchanges in Malta and Uganda. It also launched its branch supporting charitable initiatives, Binance Charity, and its educational arm, the Binance Academy.
So far, 2019 has seen even more developments. The company has recently launched its margin trading feature under a new user interface dubbed Binance 2.0. A futures trading platform looks set to follow before the end of the year after testing started recently.
A local fiat-to-crypto exchange has now launched in Singapore, and the company has confirmed its plans to do the same in the US. News of the latter emerged after Binance recently began geo-blocking US users as a means of appeasing regulators.
What About BQT?
It may seem surprising that a new decentralized exchange would list the token of a bigger, centralized competitor. However, with all that Binance has to offer, it makes sense that BQT would want to list such a highly successful token. Furthermore, BQT is operating in the very spirit of decentralization, by recognizing the crypto exchange space is an ecosystem, not a monopoly.
If any further argument were needed, BQT is offering a different set of features to users compared to Binance. Users of BQT will have access to social trading features, so that newcomers can benefit from the tips and strategies of more experienced traders. It has also opened up the BQT University, offering certified courses in blockchain and cryptocurrency trading for users of all experience levels.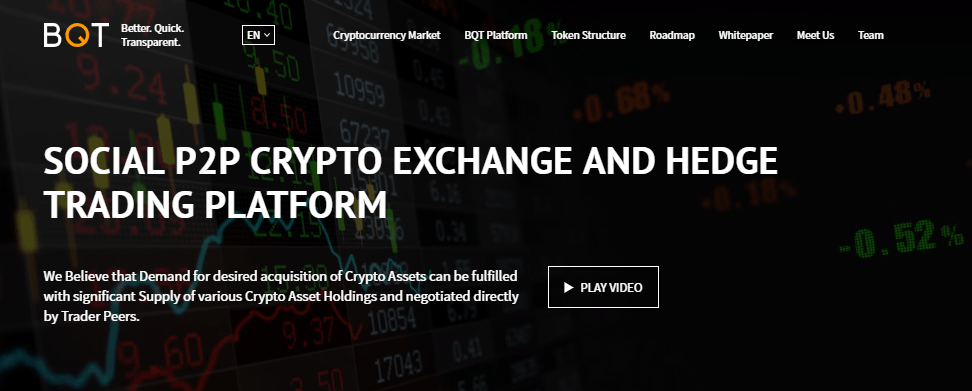 BNB is far from the only token on the exchange — a total of 46 trading pairs have been selected for listing. BQT traders will soon also be able to hedge their crypto holdings to obtain leverage, enabling them to trade on margin without borrowing funds from the exchange itself.
Given the challenges for new DEXs in attaining liquidity, BQT has the right idea by selecting a highly liquid token like BNB to be among its first. CZ himself welcomes new exchanges and supports a thriving ecosystem. Therefore, there's no reason why any new exchange shouldn't avail itself of "the Binance effect."