Encouragingly, the market is bullish and Bitcoin is up printing a three-bar reversal pattern as participants reject lower lows. We expect the recovery to continue this week as the SEC is set to announce the fate of nine Bitcoin ETF as the commenting period concludes today. Should these proposals be compliant with SEC stringent requirements then BTC/USD price could erupt above $7,200 closing the year on a high.
Latest Bitcoin News
Endorsement by the US SEC is always a boost for any crypto asset. Any unfavorable assessment or comment in a bad light can quickly mean the asset is a security. That's undesirable and extra work for investors who must file tax returns whenever they make crypto transactions. That is extra work that prevent direct investment. The question in everybody's mind right now is news about Bitcoin ETF whose comment date ends today.
Up until now the SEC has been adamant, denying the roll out of nine Bitcoin ETF from Direxion, Proshares and GraniteShares. Apparently, we have come to learn that the rejection was because of the SEC commissioners delegating these tasks to their staff. They did recall and ordered comments from interest parties to be made by Nov 5-which is today. From there on, we expect the SEC to make their decision but the exact time remain tentative.
Earlier, it was widely reported that the SEC would qualify VanEx SolidX Bitcoin ETF after a "successful" meeting between representatives of the VanEx, CBoE and some SEC commissioners. Hopefully, they make a favorable decision and allow firms that meet their stringent listing requirements a go-ahead injecting the market with the much-needed momentum.
BTC/USD Price Analysis
Weekly Chart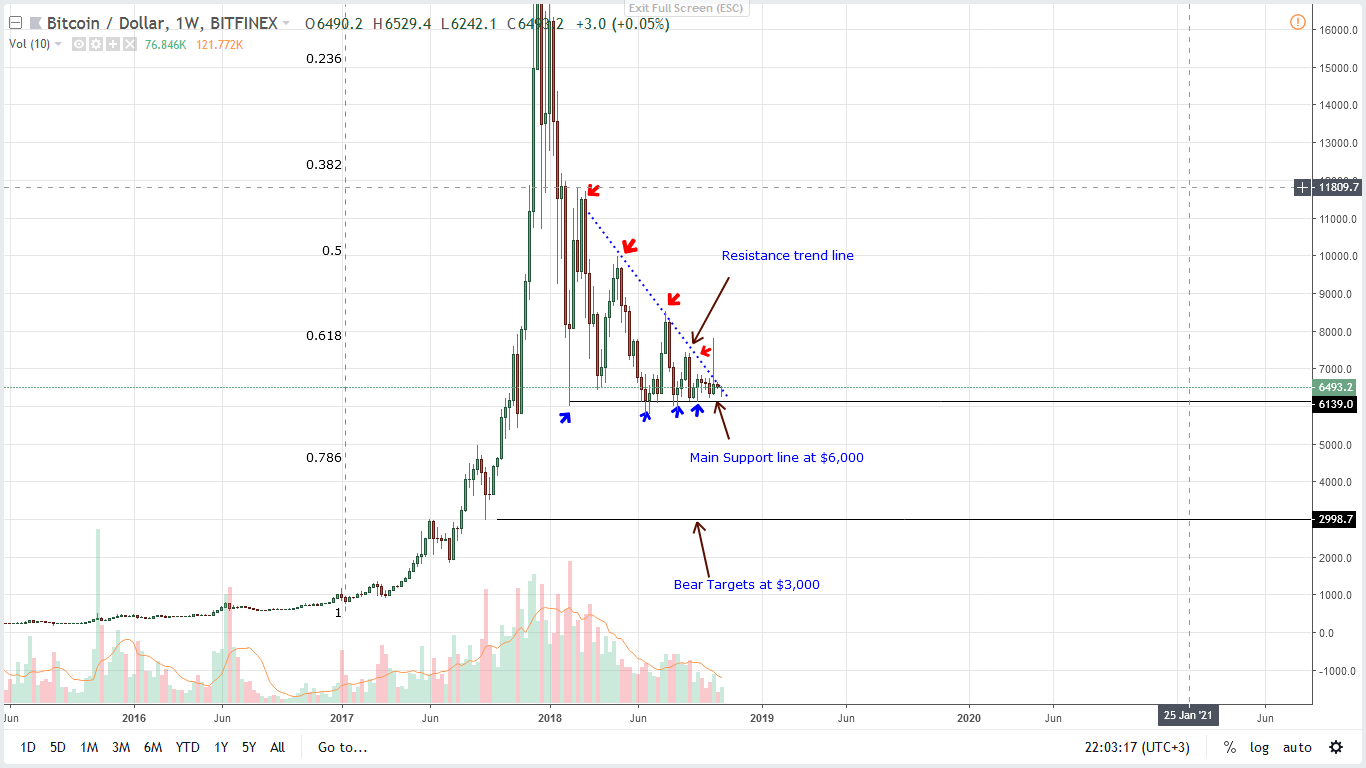 The recovery of the BTC/USD is an indication of a bottoming crypto market. Considering the +75 percent drop this year, odds are we may see a recovery this quarter. Aside from technical factors, the simmering trade war between the US and China could trigger capital flights from the stock market to Bitcoin which is borderless. As such, last week's 0.2 percent gain could increase as prices bounce off from the $6,000 support line and building on the bull pin bar of last week. In line with our last BTC/USD price analysis, it would be ideal if prices thrust past the resistance trend line connecting the last nine months highs and print above $7,000–$7,200 buy trigger line. Thereafter, first targets would be $8,500 and later $10,000.
Daily Chart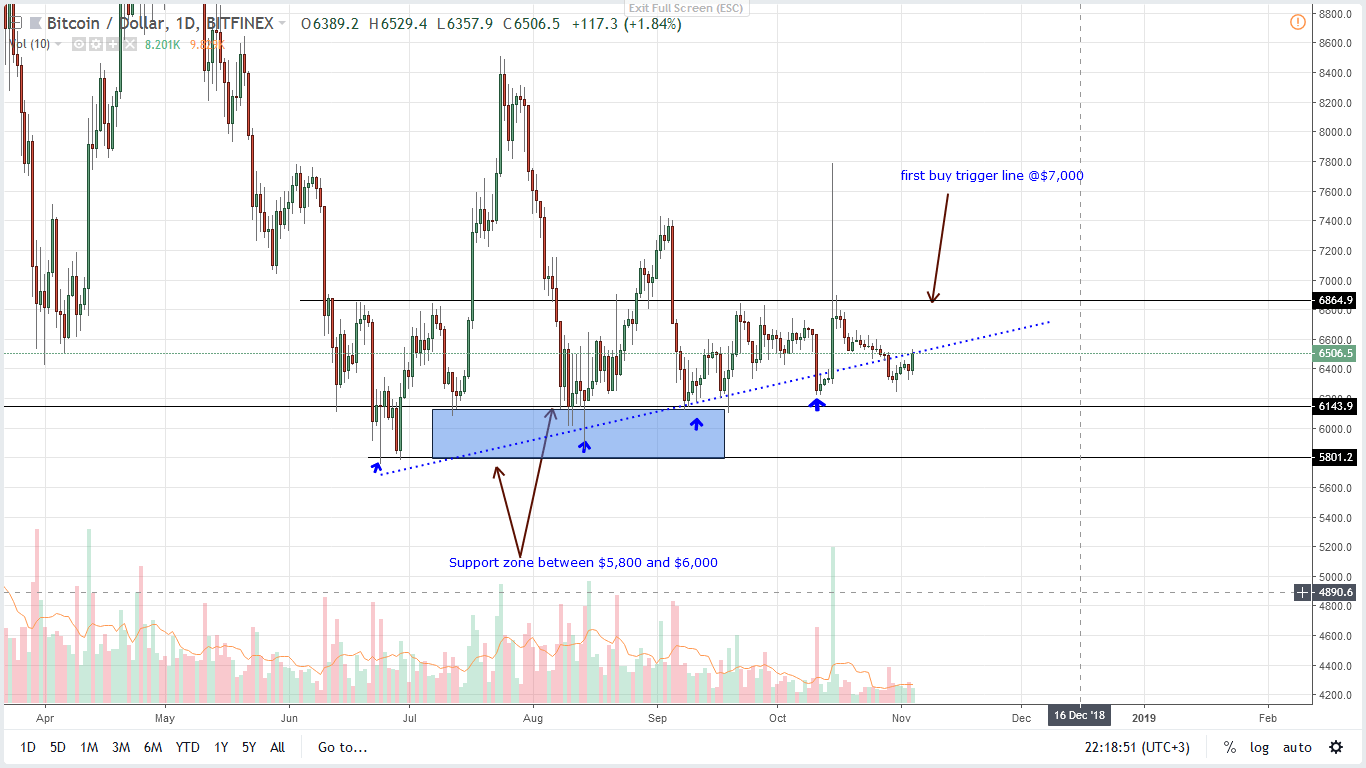 Technically, BTC/USD pair is trading within a bear break out pattern following Oct 29 price action. But, after yesterday's rapid gains, we now have a three-bar, bull reversal pattern. Besides, our last BTC/USD plan will most likely be null after today. Regardless of the greens, we recommend patience until we see gains above $7,000 resistance level. Then, the trend would be clear and price action would be trading above a key resistance level at the back of high reversal volume.
Disclaimer: Views and opinions expressed are those of the author and aren't investment advice. Trading of any form involves risk and so do your due diligence before making a trading decision.