Cardano price stable but bullish
Development and consequent release of Cardano 1.5 test-net positive
Average volumes low, pumps must be accompanied by volumes above 210 million
Project Shelly is on the horizon thanks to Cardano 1.5. That means an improved consensus protocol that could possibly drive Cardano (ADA) above 4.5 cents towards 6 cents.
Cardano Price Analysis
Fundamentals
That Cardano is special is true. The evidence is littered all over the inter-webs, and as they continue to research, their priority is not on speed but quality. While they admit that the community is their backbone, they are not taking chances on quality. Every release must pass through a rigorous test phase under the oversight of IOHK's Charles Hoskinson. Charles is a known crypto and blockchain expert, an important figure in Ethereum Classic.
@justinsuntron you guys should use our mantis client instead of Ethereum Java https://t.co/u2e2pObqYE the code is much better, security audited and consensus is pluggable for a DPoS style protocol.

— Charles Hoskinson (@IOHK_Charles) June 25, 2018
It has been three years now, and after active research and trailblazing, the testing of Cardano 1.5 marks the end of Byron development phase as Project Shelly makes its way through the door. The release delayed, but finally, there is the satisfaction that the next stage of development is on.
Therefore, Cardano 1.5 is as an important milestone that allows for proper consensus protocol transition from Ouroboros BFT to Genesis designed for Shelly. Genesis is unique because not only does it power a proof-of-stake system but it brings with it the security of proof-of-work systems like in Bitcoin.
Candlestick Arrangement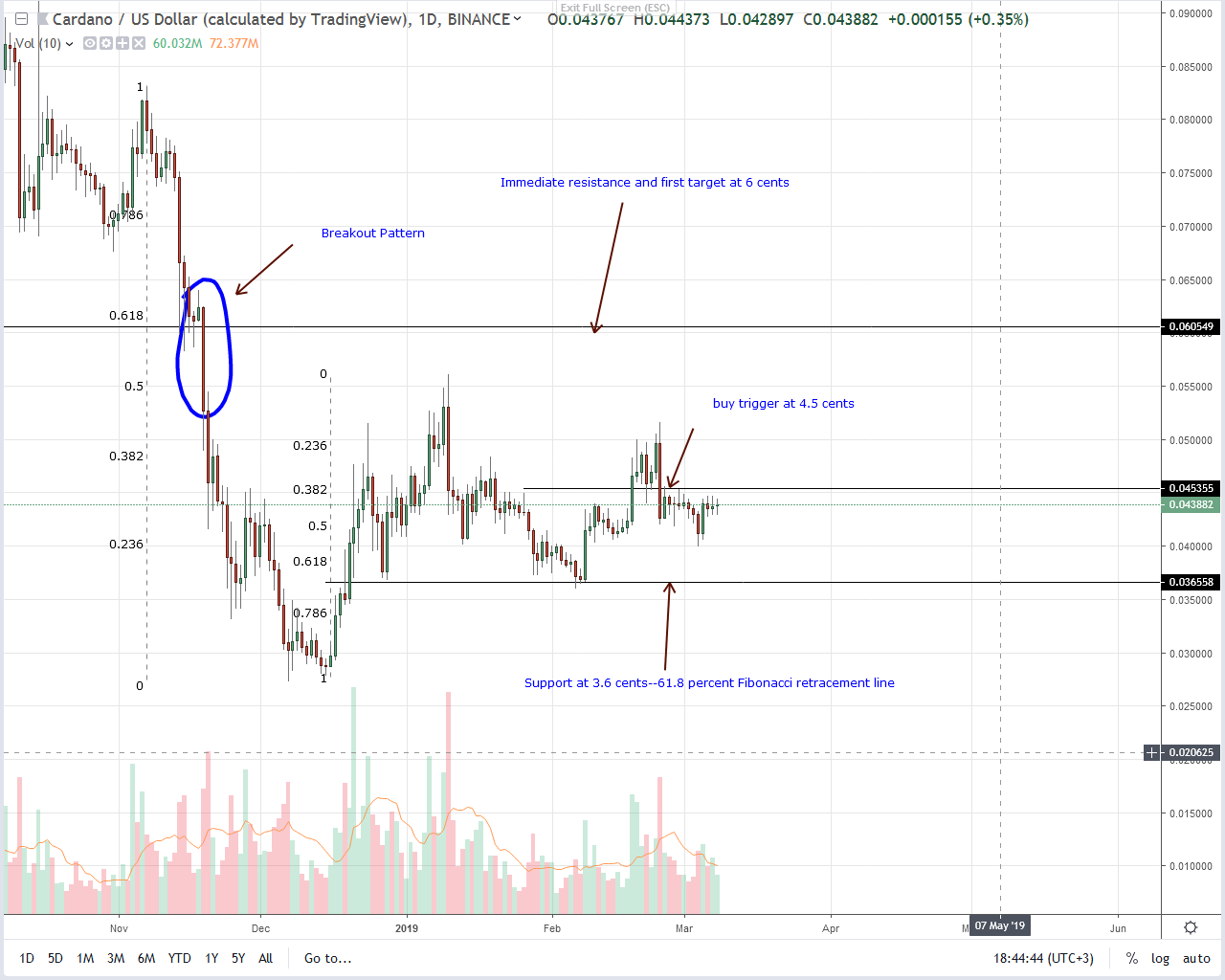 Even so, the Cardano (ADA) is yet to respond. Like most asset patterns, ADA is under pressure 18 days after closing above 4.5 cents in a bullish breakout pattern. Although the follow through losses confirming Feb 24 did lead to further draw-down hitting our stops at Feb 18 lows, buyers have a chance.
This release and recovering Bitcoin prices mostly influence our prediction. If the latter expand above $4,500, it will most likely haul the likes of ADA back above 4.5 cents.
That will be a breakout pattern and trading in line with the trend set by Feb 7-8 double bar bull reversal pattern. First targets will be at 6 cents. Before this close above 4.5 cents prints, we shall retain a neutral but bullish outlook.
Technical Indicators
Despite increasing participation in early Mar, our guide is Feb 24 bear bar. With high trade volumes—207 million versus 112 million, a bullish confirming bar should surge with equally high transaction volumes above average—75 million and most importantly record above 207 million.