ADA is the top performer in the last 24 hours adding an impressive six percent. That injection of momentum at key support means there is a revival happening and traders can take advantage of this surge. CoinBase is huge for ADA because any addition means exposure to 13 million US customers keen on adding ADA to their portfolios if not hodling.
From the News
It's interesting times for cryptocurrency and more so momentous for Cardano's ADA following the intentions of CoinBase to list them at their exchange. Coin listing at this American exchange is always huge news for coins. Already, we have seen what happened to ETC valuation shortly after CoinBase announcement. Prices soared lifting off $12 like a rocket.
Today we are announcing that we're exploring the addition of the following assets to Coinbase: Cardano (ADA), Basic Attention Token (BAT), Stellar Lumens (XLM), Zcash (ZEC) and 0x (ZRX). https://t.co/qoECyR0V1f

— Coinbase (@coinbase) July 13, 2018
That seems to be happening to ADA too. Of course it was a nice coincidence to dole out such positive news. However, we must also consider some few takeaways from CoinBase. First, it's not a guarantee that they will be adding them since this is purely "exploratory" and will have to look into necessary regulations controlling the coin and banks facilitating purchase.
Please note that we are not guaranteeing the listing of any of these assets. We may list them with partial support, or only in specific jurisdictions. In particular, some assets may become available in other countries before the US.

— Coinbase (@coinbase) July 13, 2018
That's not enough; CoinBase will take a cautious stand. Even if there is listing, and some coins won't be available at all jurisdictions at the same time meaning the exchange is willing to smooth out user experience in other countries before opening doors for customers in the US.
Then again, CoinBase are avoiding mentioning a date and naming coins which are most likely to get listed to avoid situations of dumps and even insider trading like it was alleged in the previous BCH listing.
All in all, ADA despite being a platform in development seems to offer a lot in paper and of course is a stand out. News as such is of course positive and most likely help in retracting this coin from the current dredges.
Cardano (ADA) Technical Analysis
Weekly Chart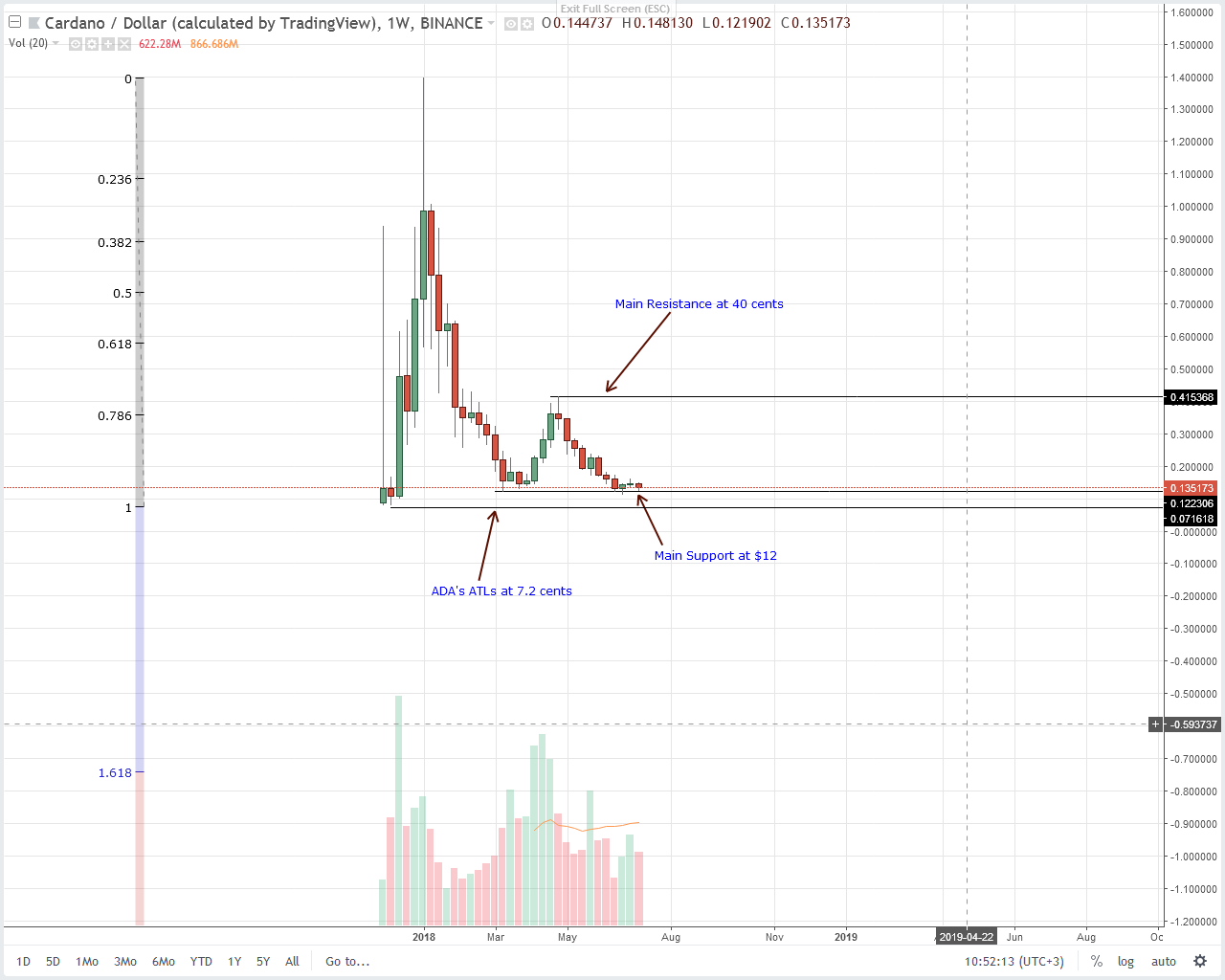 If we paste a simple Fibonacci retracement tool between ADA high lows then it's obvious that bears have been on a rampage. Prices are down more than 90 percent. What's more, at current prices, ADA is trending at the lower limit of its trade range at 12 cents.
Notice that sellers did find rejection preventing further losses. The result is this this three week consolidation with clear support at 12 cents. Remember, if we see price breaking below 12 cents then it's likely that ADA will collapse to ADA's ATLs at 7.2 cents.
Daily Chart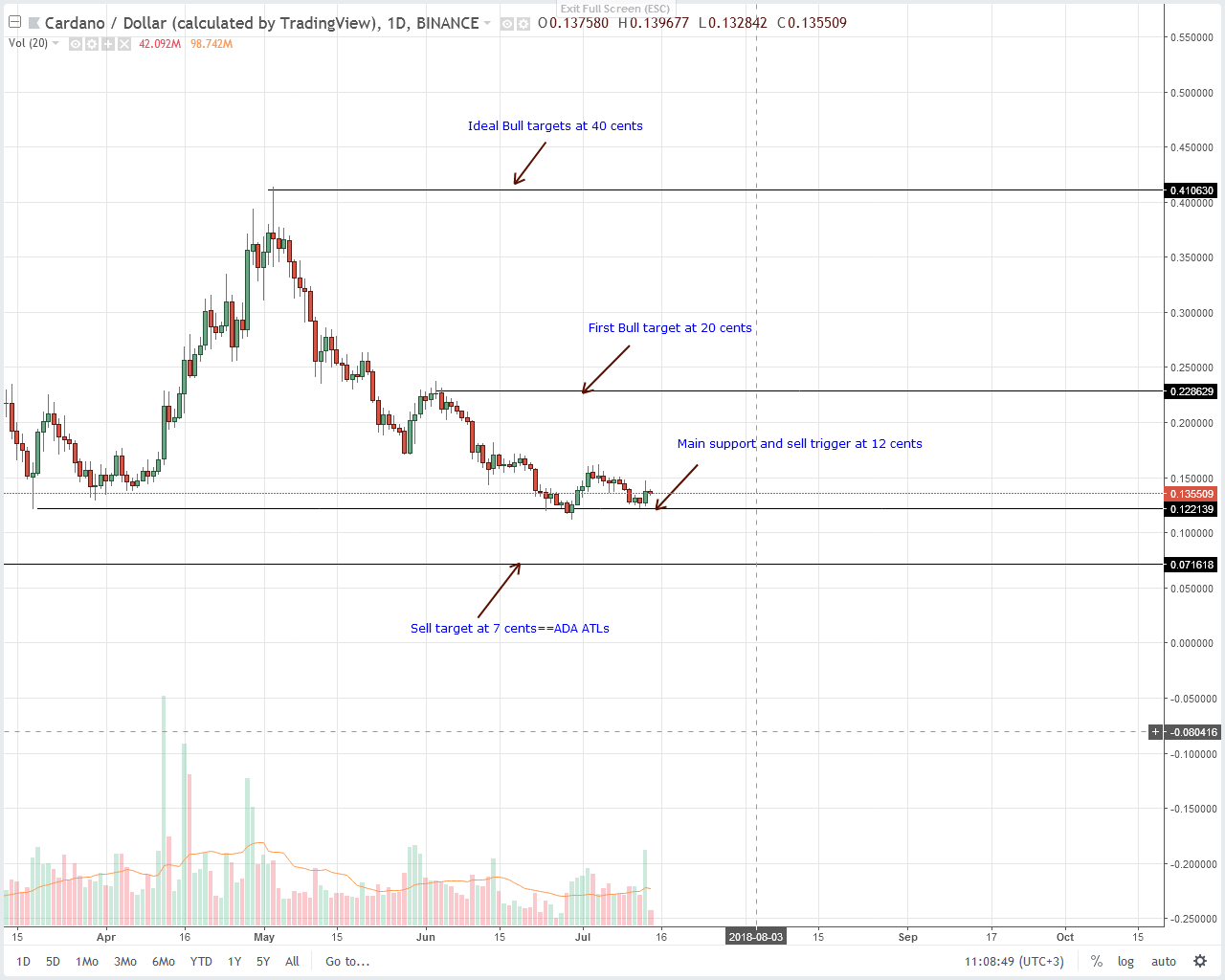 Relative to June 28-29 double bar bullish reversal pattern and July 13 bullish engulfing pattern, we have a nice higher high after periods of consolidation. While our sell trigger has not been triggered-since there have been no close below 12 cents for a while now-aggressive traders can begin ramping longs and trade with CoinBase announcement. However, risk-on traders should better wait and buy after prices thrust above16 cents or July 2 highs. Buy targets are at 20 cents and later 40 cents.
Disclaimer: Views and opinions expressed are those of the author and aren't investment advice. Trading of any form involves risk and so do your due diligence before making a trading decision.