Cardano (ADA) sheds 32.7 percent week-to-date
Emurgo releases Yoroi update
There's a new Yoroi wallet update introducing further improvements like the hide balance option. However, that is not enough to support ADA as prices are down 32.7 percent.
Cardano Price Analysis
Fundamentals
Research and peer-reviewing of code underpin Cardano. Promising to dislodge Ethereum as the king of smart contracting, the Cardano development team is after perfecting their system.
Delaying in phase transition, their leaning on quality and satisfactory experimentation is top priority. Presently, Shelly test net is live. While developers nitpick code, searching for vulnerabilities, the transition from centralization to decentralization is exciting for ADA supporters.
If anything, this phase shift is critical as it could set the ground for a possible listing at Coinbase. Should that be the case, then surely, the native coin, ADA, may benefit from the famed but fading "Coinbase Effect."
Then again, there is Yoroi's update. Aside from guaranteed security, since it is running from a sandbox with APIs to Fasttrack developments, the new upgrade introduces several enhancements to the web wallet. Some of them include:
Ability to add Cardano payment URLs.
A hide balance option
New warning message if the connection to our server fails
Indonesian language
EMURGO is happy to report that Yoroi 1.8 has been released for Chrome and Firefox users (automatically updates).? @YoroiWallet is a digital light wallet to store #Cardano ($ADA). Read about the new features and download using the link below.? https://t.co/69w58umNmH

— EMURGO (@emurgo_io) July 11, 2019
Candlestick Arrangements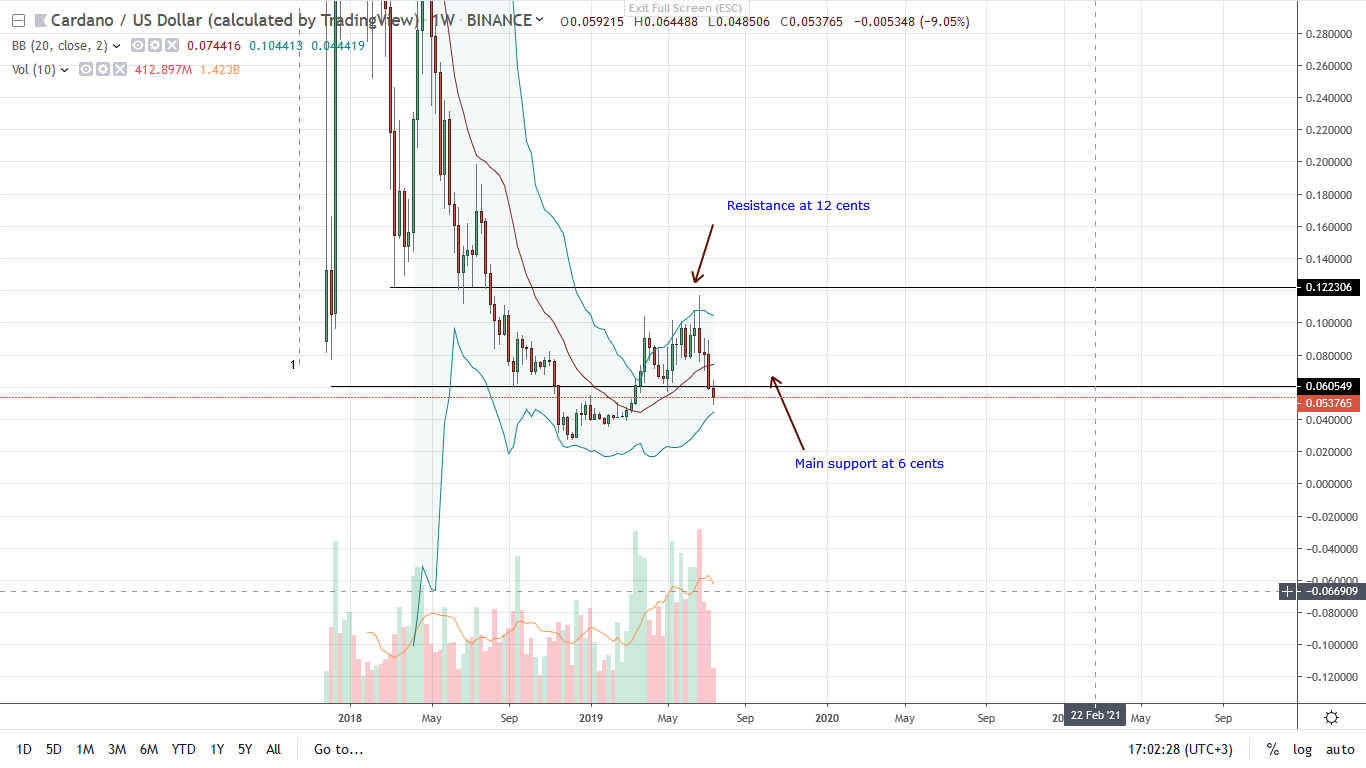 Bullish in the long run, bears are merciless. In two short weeks, ADA is down 32.7 percent in the last week along. Trading within a bullish breakout pattern, buyers have a chance at least in the medium term.
For now, bears are in a pole position following the breach and close below the main support line at 6 cents. Note that the move is in response to the over-extension of the week ending April 7 and confirmation of sell pressure of the better part of 2018.
In that case, like most digital assets, every high is technically a selling opportunity with an awareness that ADA, if BTC continues to drop, could register new lows in a bear trend continuation phase.
However, that is subject primarily to the strength of breakouts driving prices below 3.5 cents and later Dec 2018 lows.
Technical Indicators
As aforementioned, a better gauge for sellers depend on participation in upcoming weeks. If there is a spike, surpassing those of the week ending June 30 at 2 billion, odds are bears of 2018 will flow back. As a result, ADA will likely close below 3 cents, more than halving from June 2019 peaks.
Chart courtesy of Trading View. Image Courtesy of Shutterstock