Technically, we remain net bearish of EOS, Litecoin, Stellar Lumens, Tron and Cardano (ADA). Nevertheless, of all these coins, Cardano is at a point of inflection and should sellers resume last week's momentum then we will see new ATLs for ADA. The same applies for Tron and Litecoin which is finding temporary support after yesterday's double bar bullish reversal pattern. Any move above the last three or four days consolidation might trigger a wave of buy pressure towards Sep 5 highs.
Let's have a look at these charts:
EOS Price Analysis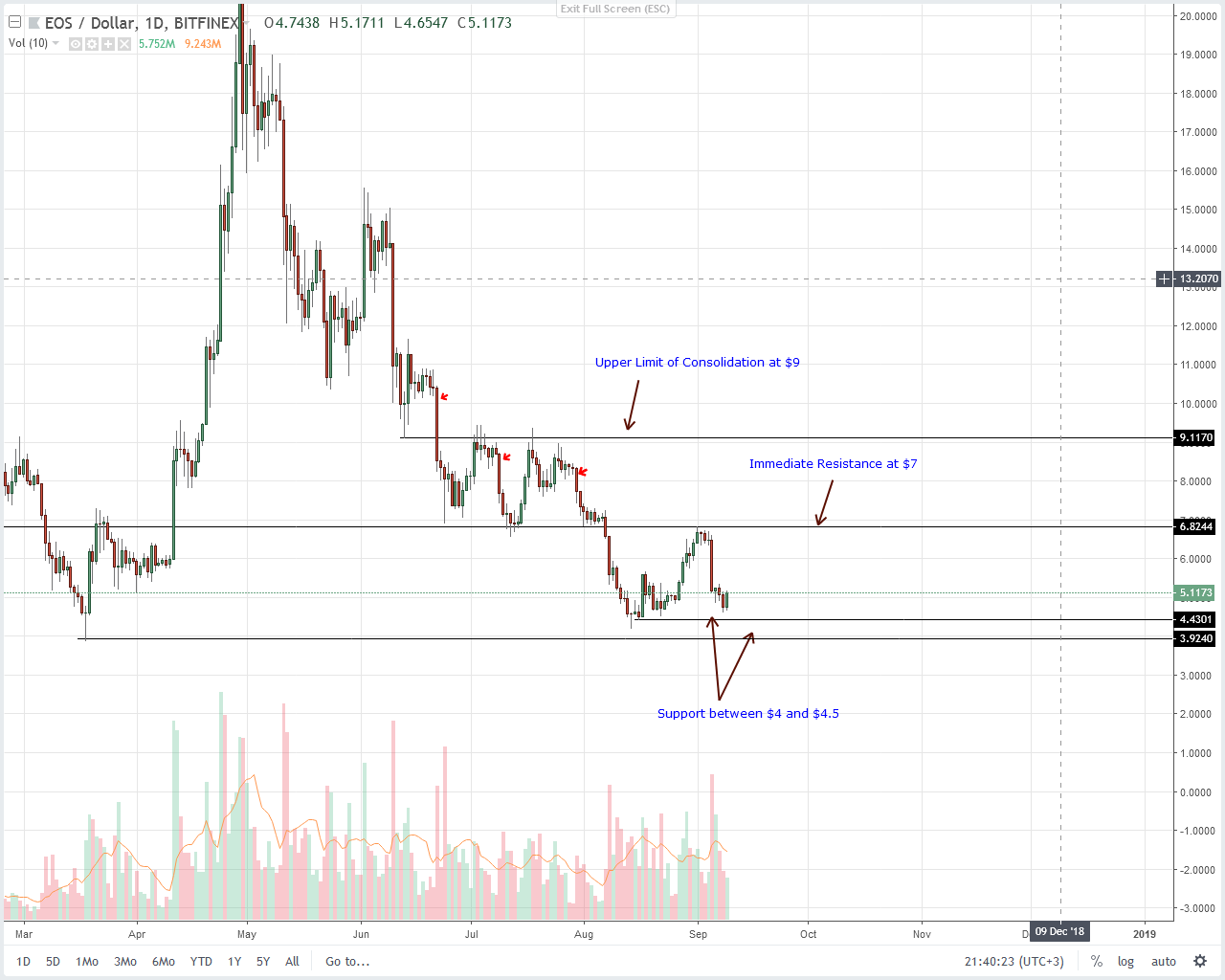 On a weekly basis, EOS is down 20 percent but on a day to day basis, prices are relatively calm. Even if prices are following through on Sep 5 bears, the last three or four trading days have been slow to say the least.
As a matter of fact, yesterday's candlestick was bullish effectively reversing Saturday's losses and completing a double bar bullish reversal pattern in the process. Needless to say, EOS bears are technically in charge but if today end up bullish then $4.5 would be our first level support line meaning buyers can buy on dips on lower time frames with first targets at Sep 5 highs at $7.
However, should that not be the case and today end up as bearish, then we recommend trading in line with previous EOS projections expecting sellers to drive prices below the second and main level of support at $4. In that case, targets will be $1.5.
Litecoin (LTC) Price Analysis
From the News
Another update of the Litecoin core has been released. The Litecoin Core version 0.16.2 is now available and with it, there have been some additions as well as removal. Developers did away with the blockmaxsize option instead introducing the blockmaxweight option enabling miners to limit the weight of their blocks. Plans are underway to introduce privacy features with many preferring Confidential Transactions from zk-Snarks. As demonstrated in other networks, CTs solve the issue of fungibility as well as privacy.
It's here, @litecoincore 0.16.2 has been publicly released! ? #Litecoinhttps://t.co/XLsmO4hV8G

— Litecoin.com (@LitecoinDotCom) September 8, 2018
Technical Analysis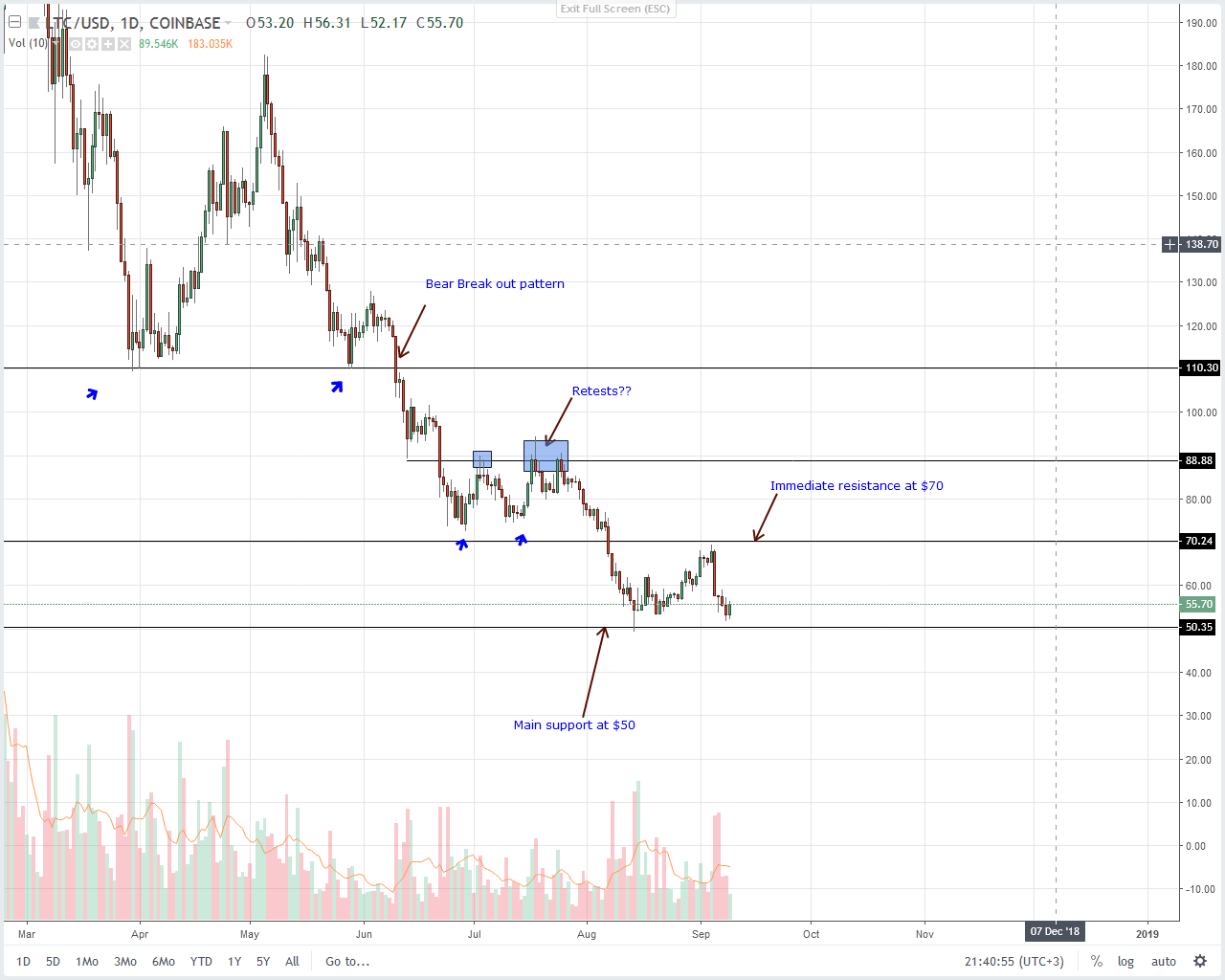 Like the rest of the markets, Litecoin is struggling against sellers and even as they trade in line with the bear break out pattern set in motion after Aug 7 break below $70, recent events project further erosion.
From our last LTC technical analysis, Sep 5 candlestick set in motion the trend resumption phase, the third stage of a break out pattern. Though we remain sellers, $50 is an important support level and once broken, there is a possibility of Litecoin testing $30.
However, if buyers triumph today, LTC could bounce back towards the $60-$65 zone. Therefore considering these possibilities, today, we suggest small lot buys but conservatives can wait for proper rejection at around $60-$65 zone before selling with targets at $30 as laid out in our last LTC trade plan.
Stellar Lumens (XLM) Price Analysis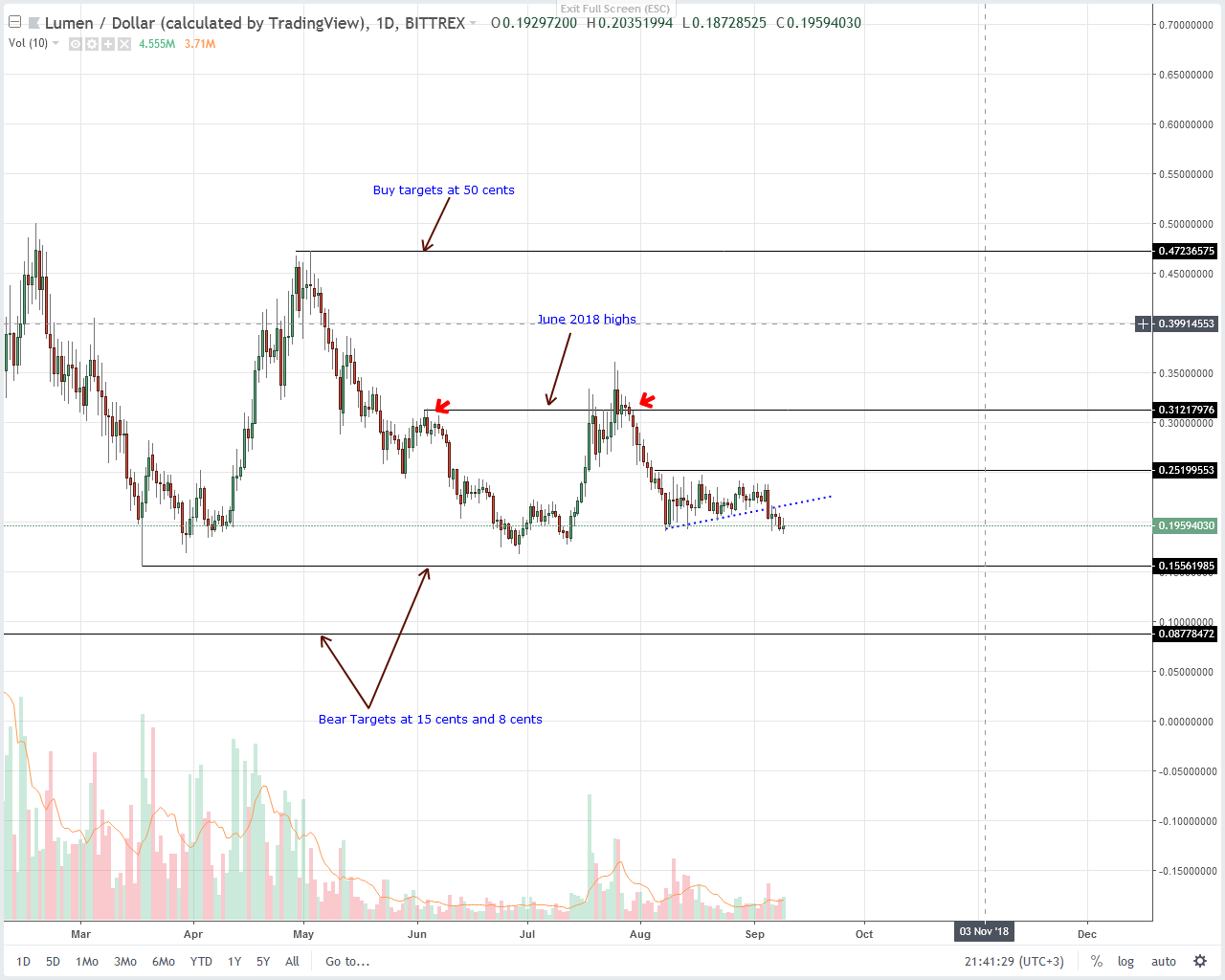 All things constant, our Stellar Lumens trade plan remains constant. From the daily chart we can see that not only are sellers in charge following that breach below the minor support line and wedge at around 22 cents but the sustained sell pressure after the breach hints of strong sellers.
Still, we retain a neutral to bearish stand aware that our sell trades are live but any drive below the 18 cents to 20 cents support zone would trigger the next wave of sellers aiming for 8 cents. On the reverse side of the equation, in case Stellar Lumens bulls muster enough momentum blasting past 25 cents, then our shorts would be null. In that case, short term bull targets would be 30 cents and later 50 cents.
Tron (TRX) Price Analysis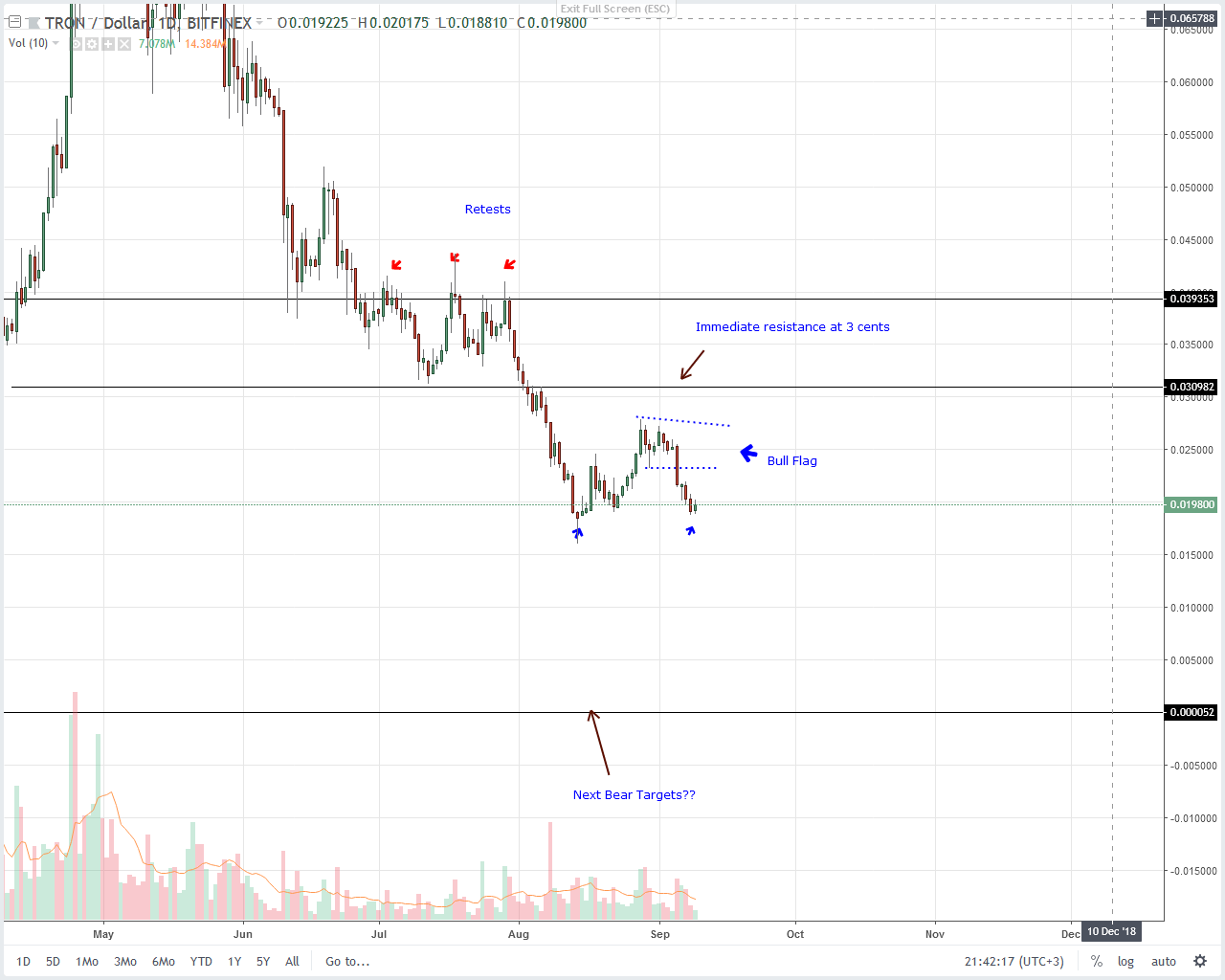 If anything, TRX candlestick formations did print a double bottom after yesterday's bullish candlestick in the process confirming supports at 2 cents after Aug 14 high volume pin bar.
Because of this, we shall hold off from trading but if there is a close below this level then we suggest trading with the overly bearish candlestick of last week.
On the flip side, any confirmation of yesterday's bulls and traders should exit their previous shorts while simultaneously small positions of TRX with stops at 2 cents and first targets above Sep 5 bears at 2.5 cents, 3 cents and later 4 cents.
Cardano (ADA) Price Analysis
From the News
It's is yet to be substantiated but rumor has it that Cardano plans to launch several ADA ATMs Japan. History has it that Japan is warm towards cryptocurrencies but in the face of hacks and scams, the country's FCA is stringent and do vet exchanges before issuing operating licenses. If Cardano get the green lights then ADA could find direct support and perhaps recover above 12 cents.
Technical Analysis
Sellers continue to run supreme. From our previous ADA analysis, our trade plan hold true and though we recommend selling on every high, prices are approaching the 7 cents mark an important support level in our ADA trade plan.
We expect ADA to react at this level and since yesterday was a doji, prices might end up higher or breach ADA's ATL printing new ATLs in the process. It's simply uncertain and that's why taking a neutral approach is important. However, any movement above 9 cents could likely attract buyers aiming for 12 cents.
Disclaimer: This is not investment advice and views represent that of the author. Do your own research before making an investment decision.