Development in Cardano is slow but sure. There is a third party auditing of product launches and IOHK are responsible in case of failure. Thus far, Yoroi and Rust have been launched three days after marking the platform's first anniversary. While effect on price is negligible, it is massive for Charles Hoskinson and other developers. Whether this will affect price, we are not sure yet. But, volatility will resume once ADA prices expand past 9.5 cents. This increase odds of bulls retesting 12 cents and higher this quarter.
Latest Cardano News
The Cardano development team is jubilant. Not for the many milestones and partnerships that they have struck one year after inception but for launching a "proof of concept" project. Cardano Rust Project proves that indeed that platform can stand on its own. Undeniably, Cardano is banking on willing, third party developers making use of its SDK to launch their own projects on the platform. On its own, Rust is a simply programming language that allow developers to compile through third party platform.
Cardano Rust Project is the first open-source project that provides a library of wallet and node functions & a wallet for Ada! If you want to learn more about this toolbox, head to: https://t.co/3VJvwwnce0 pic.twitter.com/kZx6CiK7cd

— Cardano Community (@Cardano) October 2, 2018
The programming language is easy to use, lightweight and portable. It functions as a toolbox that will allow the community to expand. This is because it is inviting for developers without Haskell programming knowledge who wish to test Cardano's smart contracting platform. According to Charles Hoskinson, this implementation allows anyone, anywhere to build using any programming language.Rust is part of the wider decentralization objective of Cardano as they prepare for Project Shelly.
This launch comes a few days Yoroi went live. It is a light-client wallet that is simple to use, secure and run as a chrome extension. The wallet is built on Icarus and can be an alternative to Daedalus but in this case, a user need not to download the whole copy of the blockchain.
Cardano Price Analysis
Weekly Chart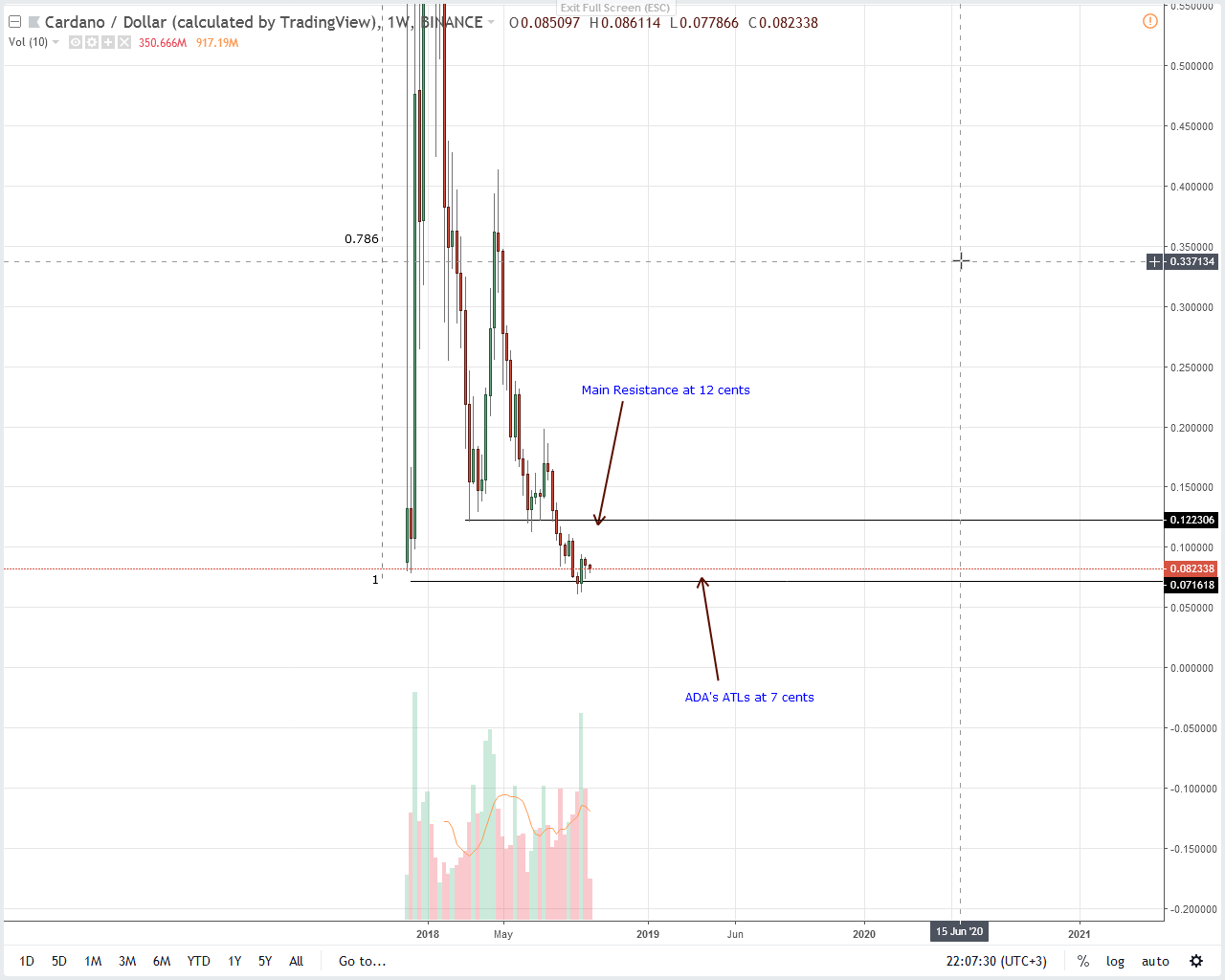 Price wise, the ADA's correction has been deep and extensive. From price charts, ADA retracement saw prices sink roughly 110% from 2017 highs. For now, prices are recovering and could print higher in Q4 2018. This conclusion is according to the set our rules of Fibonacci retracement.
As it is, ADA is around the 100% mark at 8 cents, 1 cent away from the coin's all-time-lows at 7 cents. Quite encouragingly, fading bear pressure is a huge bull candlestick with high trade volumes printing out from main support line feeding bull momentum.
We can easily see that sellers are finding resistance in the last two weeks with last week in particular ending up with a long lower wick signaling entry of bulls in lower time frames. Furthermore, ADA prices are trading inside Week ending Sep 23 high low giving buyers a head start as far as momentum is concerned.
Regardless of this, conservative traders will only enter the market once there are solid, high volume breaks above Sep 2018 highs and 12 cents. This level is an important resistance, previous support line, and close above ushers a wave of buyers aiming for 20 cents.
Daily Chart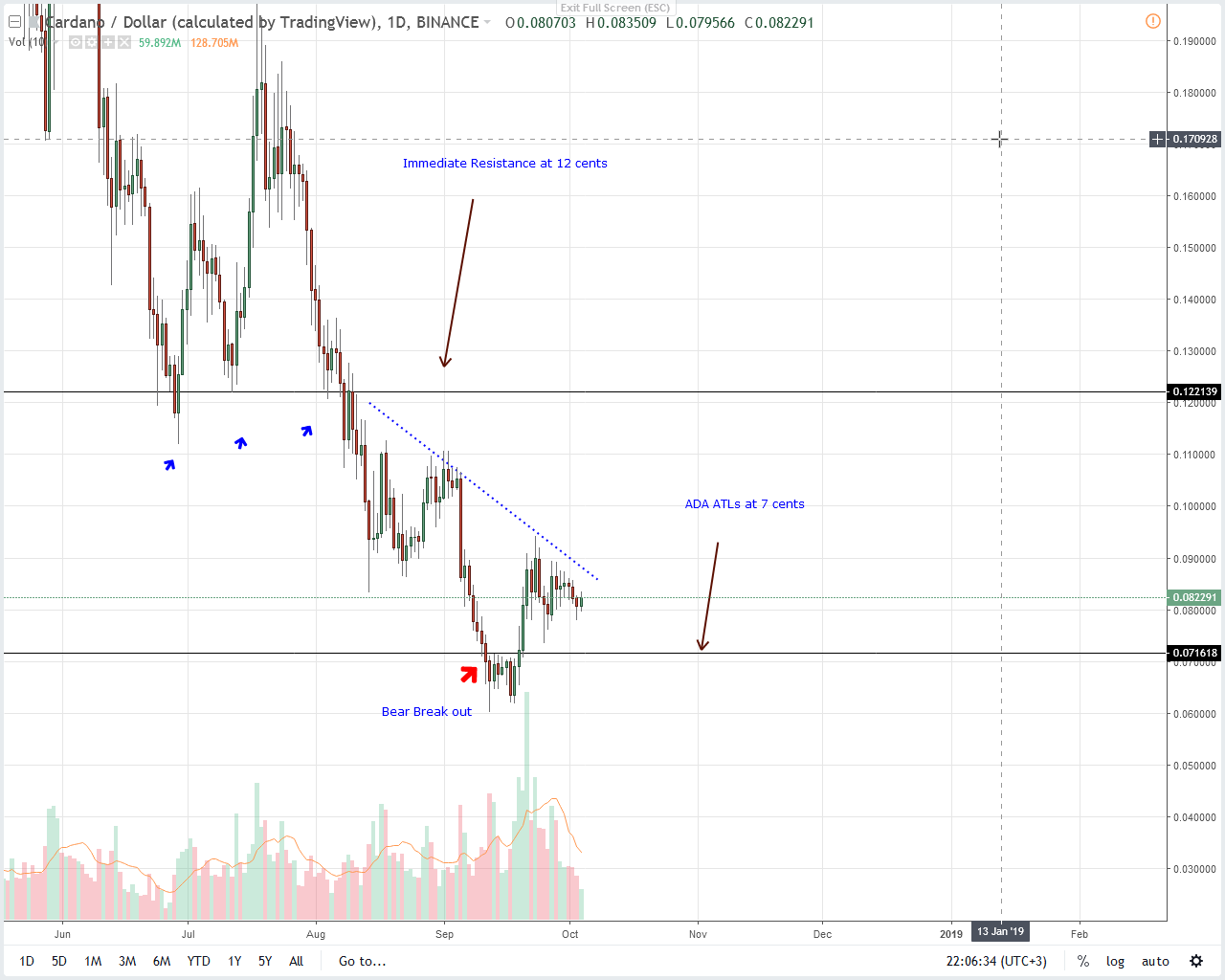 The decline of bull momentum following sharp gains of Sep 20-23 was expected—and is good for re-entry purposes. As it is, prices are edging lower and moving inside a wedge. However, a break out is imminent simply from an effort versus result scenario.
From previous Cardano price analysis, our first buy trigger line is at 9.5 cents. A convincing break and close above that line will trigger aggressive buyers aiming for 12 cents. Suitable stops shall be at Aug lows at 8 cents. On the reverse side, losses below Sep lows at 6 cents negates this projection.
Disclaimer: This is not investment advice and views represent that of the author. Do your own research before making an investment decision.