Latest Cardano News
Underpinning Cardano are three core objectives guiding its roadmap: the growth of the community and its needs, a distributed and resilient network true to the original vision of Satoshi Nakamoto and creating checks and balance between research and development so that commercial interest never eclipse the peer review foundation of the platform.
This is why Cardano isn't caving to pressure and with several external auditors as Grimm, RPI Cryptography Group and FP watching quality and holding IOHK accountable, operation guidelines are clear. During the Malta Blockchain Summit, Charles Hoskinson the de facto leader of Cardano said there were plans of IOHK relocating and opening offices in Wyoming.
Read: CoinBase Chief Policy Officer Calls It Quits, Is Crypto at Risk of Losing Talents?
For activation of Voltaire, the final phase of Cardano development where the platform will be completely decentralized and fully functional, IOHK oversees development and currently work is on-going at Byron—the boot-trap phase. Byron is coded from the ground up using Haskell programming language. On the other hand, Haskell is debugged using Formal Verification where math cross checks every section of code before deployment.
Meanwhile the Cardano Foundation core objective is to promote the network, ensuring compliance and coordination with different exchanges for listing. Michael Parsons didn't satisfy the community and in an open letter Charles Hoskinson and Ken Kodama of Emurgo were quick to convey their concerns. Weeks later the chair was sent packing.
ADA/USD Price Analysis
Weekly Chart
At ninth, ADA is down 30 percent in the last week and could lose more partly because ADA/USD is now trading within a bear breakout pattern, printing new all time lows.
Like in our previous ADA/USD trade plans we had said that losses below 6 cents would trigger a wave of sell pressure. Now that our trade conditions are active, conservative traders should fine tune entries in lower time frames.
Ideally, pull backs retesting 6 cents are perfect but that depend on the resilience of bulls and how strong they reject sells.
Daily Chart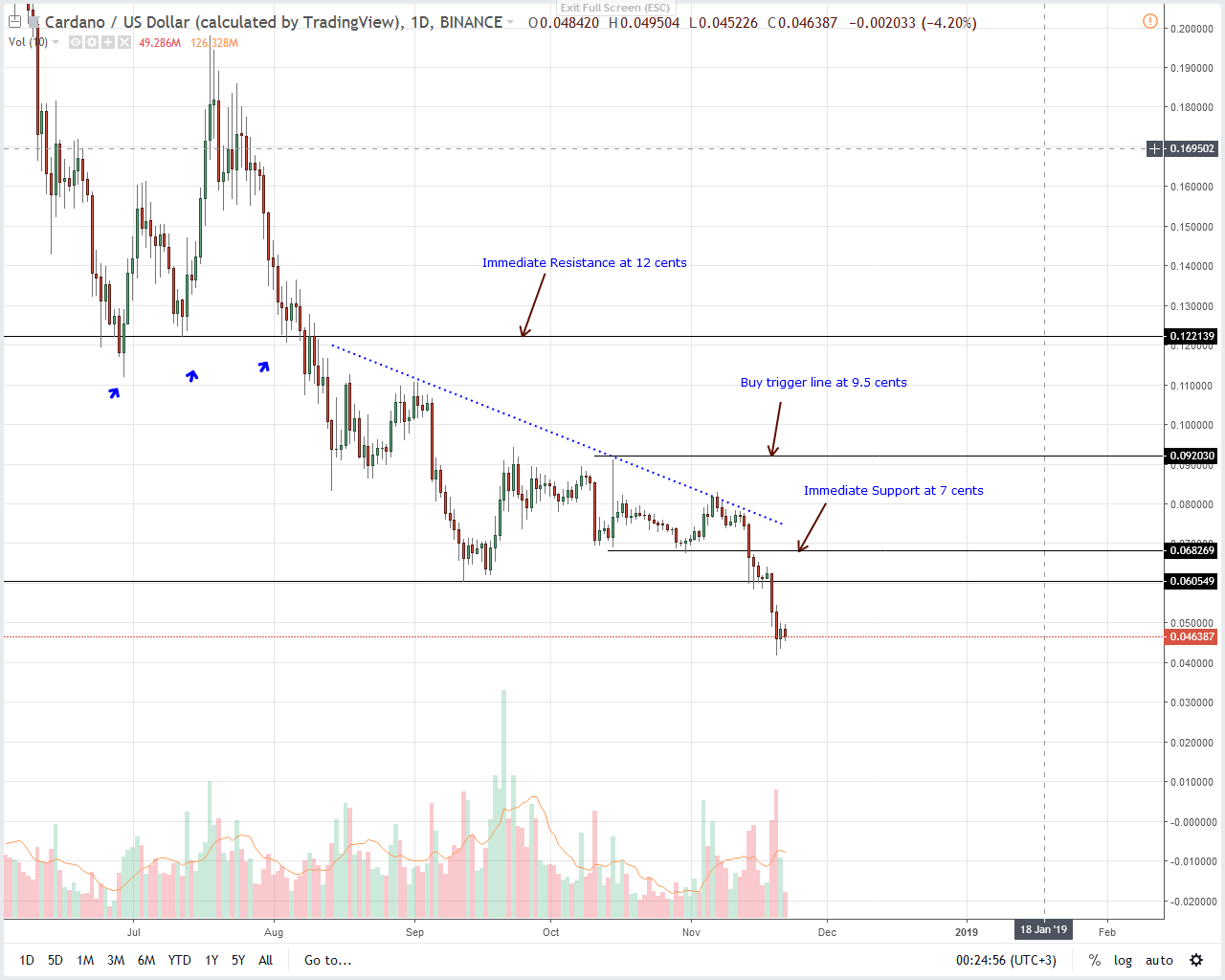 Here ADA/USD is stable and consolidating in lower time frames as bear momentum wane. However, as prices reject lower lows below Nov 20 it shouldn't be interpreted as bullish.
This is so because in our previous ADA/USD price analysis, we had said buyers would be in charge once there are solid price gains first above 6 cents and later the resistance trend line and 9.5 cents marking Oct highs.
Before then, every retest of 6 cents should be a chance for unloading ADA unless otherwise our bull trade conditions are filled at the back of abnormally high trade volumes.
All Charts Courtesy of Trading View
Disclaimer: Views and opinions expressed are those of the author and aren't investment advice. Trading of any form involves risk and so do your due diligence before making a trading decision.