Cardano is one of this week's top performers adding 15 percent in the last week. Overly, we retain a bullish stance thanks to surging trade volumes driving prices across wide trade ranges. That's why despite recent price slides, we recommend traders to buy at spot rates with first targets at 12 cents and later 20 cents.
Latest Cardano News
Here's the good thing: CoinBase, the US crypto exchange is facing stiff competition forcing them to forego their prudence. It's understandable. The exchange needs to cushion itself against potential lawsuits from disgruntled investors. While this recent "asset addition" announcement is positive, it only applies to projects that embrace decentralization with working products.
Aside from decentralization and utility, the company representing the token or coin must comply with KYC and AML rules. This locks out privacy coins and the likes. Cardano, as we know, is a work in progress. Developers are busy writing code completing the Byron stage and with negligible full nodes it's an uphill task because it doesn't satisfy CoinBase's Network Guidance stipulations.
Cardano has three full nodes across the globe and this is the single point of failure, the centralization that deters CoinBase from listing such projects. In the next stage of development–project Shelly plans, fronts decentralization.
Surely, it's deflating but investors should face the reality that Cardano's listing chances are slim unless CoinBase executes on "its own discretion". Or, Cardano accelerate development and launch a working product before end year.
Cardano Price Analysis
Weekly Chart
Two things are clear from the weekly chart: First, swells in trading volumes signal a bottoming market and emergence of buyers. Secondly, a nice double bar bullish reversal pattern. Coincidentally, this prints when ADA prices are down 95 percent from 2017 peaks.
These are important in our analysis and as buyers snap back to trend following this week's declines, traders should find loading positions in lower time frames. Thereafter, they can trade with changing sentiment buying on dips in the direction of the new-found momentum.
Because of this, we suggest taking longs only when prices are above 12 cents. From the charts, 12 cents is an important resistance previous support.  A bear break out above 12 cents will surely revitalize buyers eyeing 20 cents.
Daily Chart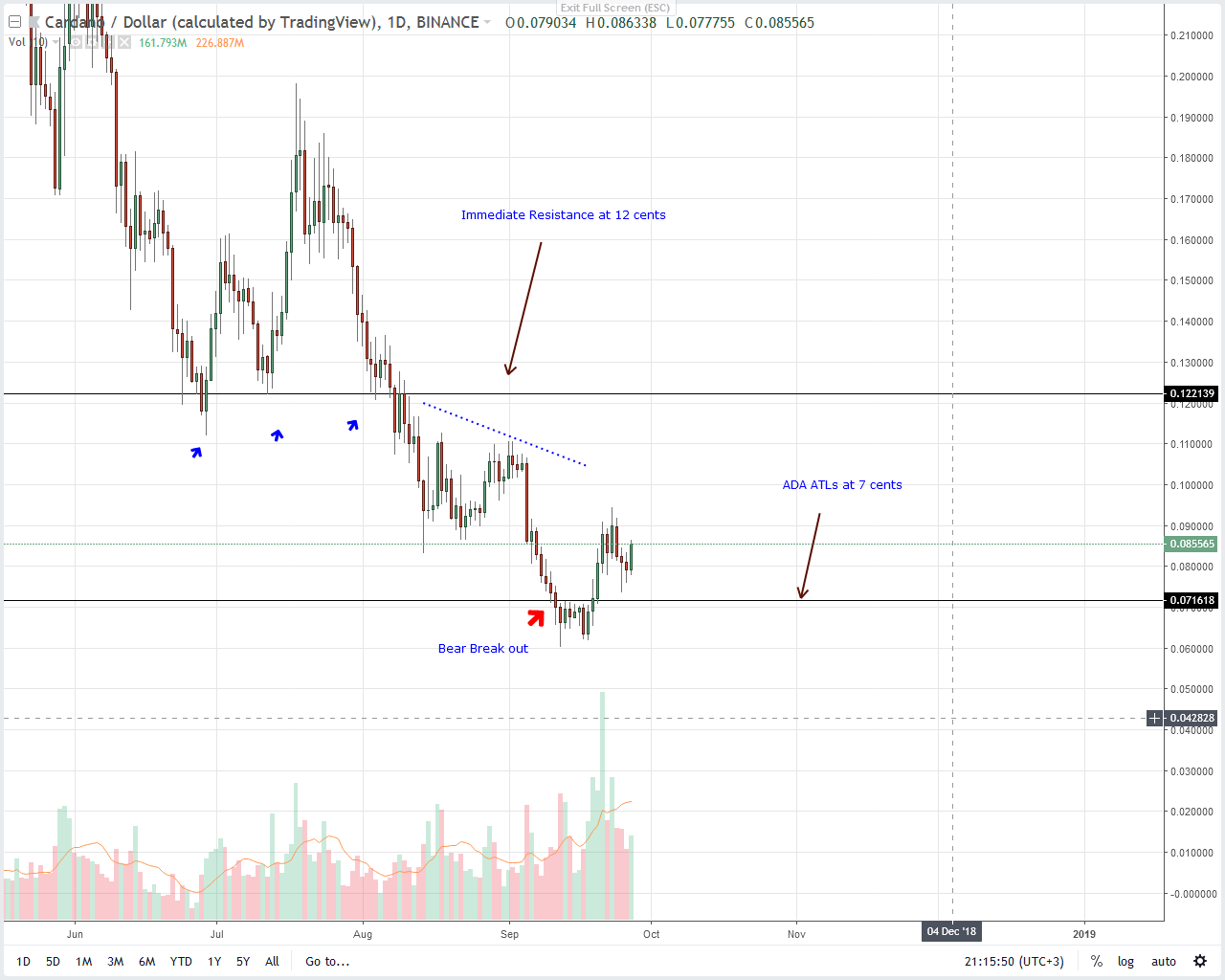 Sep 25 pin bar is a mark of bulls. Besides signaling entry of buyers in lower time frames thanks to the long lower wick, it confines price action.
It's likely that prices will edge past its minor resistance at 8.5 cents triggering entry of small position longs with targets at 12 cents as highlighted in previous Cardano price analysis.
Solely because of the last three days consolidation and rejection of lower lows, we suggest buying at current prices with stops at 7 cents.
Disclaimer: Views and opinions expressed are those of the author and aren't investment advice. Trading of any form involves risk and so do your due diligence before making a trading decision.