Aside from Monero which already broke below the two-month support trend line and is bearish, EOS, Stellar Lumens, Cardano and Litecoin did register minor losses. But even if we were bullish, we expect further gains and bulls to follow through on Oct 8 gains thanks to shifting momentum and favorable candlestick formation. All things constant, our last altcoin trade plans for EOS, Litecoin and Stellar Lumens is applicable.
Let's have a look at these charts:
EOS Price Analysis
12 days later and EOS prices are moving within a consolidation with clear resistance at around $6. Apart from $5, the minor support trend line could influence the short time trajectory of EOS as buyers join in on every pull back.
Anyhow, our last EOS trade stays constant. Though traders are expectant, execution of short or long positions depend on how prices react at $7 and at main support marked by $5 and the minor support trend line.
While we retain a bullish outlook, patience should command our trading. Therefore, before EOS prints a break out, we recommend taking a neutral stand.
Litecoin Price Analysis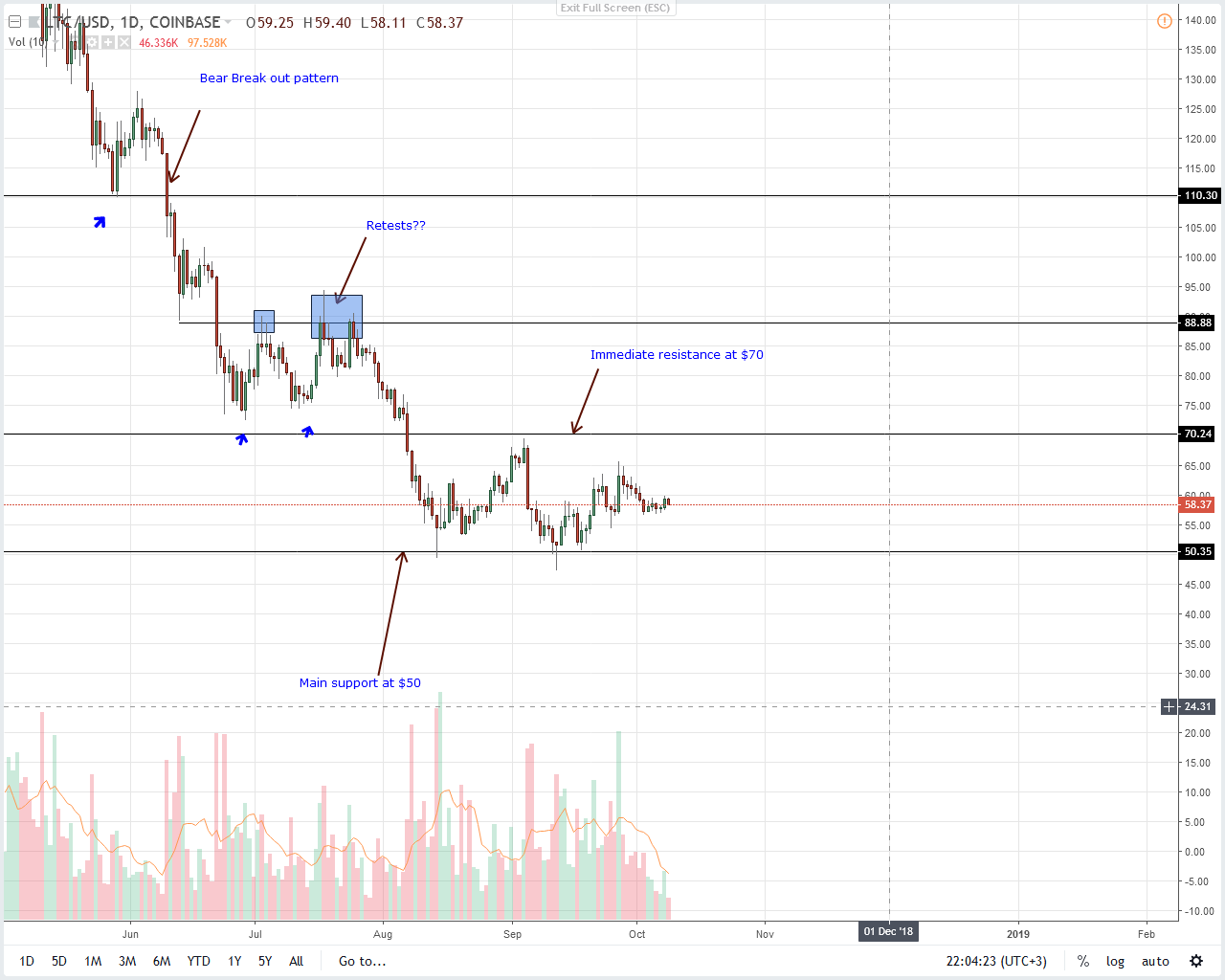 Even at the back of Oct 8 bulls, LTC is facing resistance for upsides. From yesterday's price action, we can see that prices are oscillating between bearish and neutral. Usually this stagnation print whenever there are sharp gains or losses like the revival from around $55 on Oct 8.
All in all, our last Litecoin trade plan stay as it is. As such before there are gains above $70 triggering bulls, risk off traders can load up at spot rates with stops at $55. That will be a follow through confirming bullish activities before Oct 8 bull bar further cementing our decision to place stops at $55. Like before, eruptions above $70 will invite risk on traders eyeing for $90 and later $110.
Stellar Lumens Price Analysis
Smartlands and Colliers International now have a partnership. The latter is a real estate and investment company that plans to tokenize the global trillion-dollar market.
@Smartlands is now partners with @Colliers. Together we'll explore the possibilities of securitizing real estate in a digital world!https://t.co/Ht5fuarmjE@StellarOrg $SLT $XLM #Tokenization #SecurityTokens #Blockchain #Stellar #Cryptocurrency

— Smartlands (@Smartlands) October 5, 2018
Colliers International is present in 69 countries managing close to $3 of revenue in 2017 alone. This partnership will see investors in Smartlands benefit because Ramune Askiniene say the Stellar-based company "appears to have a perfect grasp on asset tokenization on Stellar."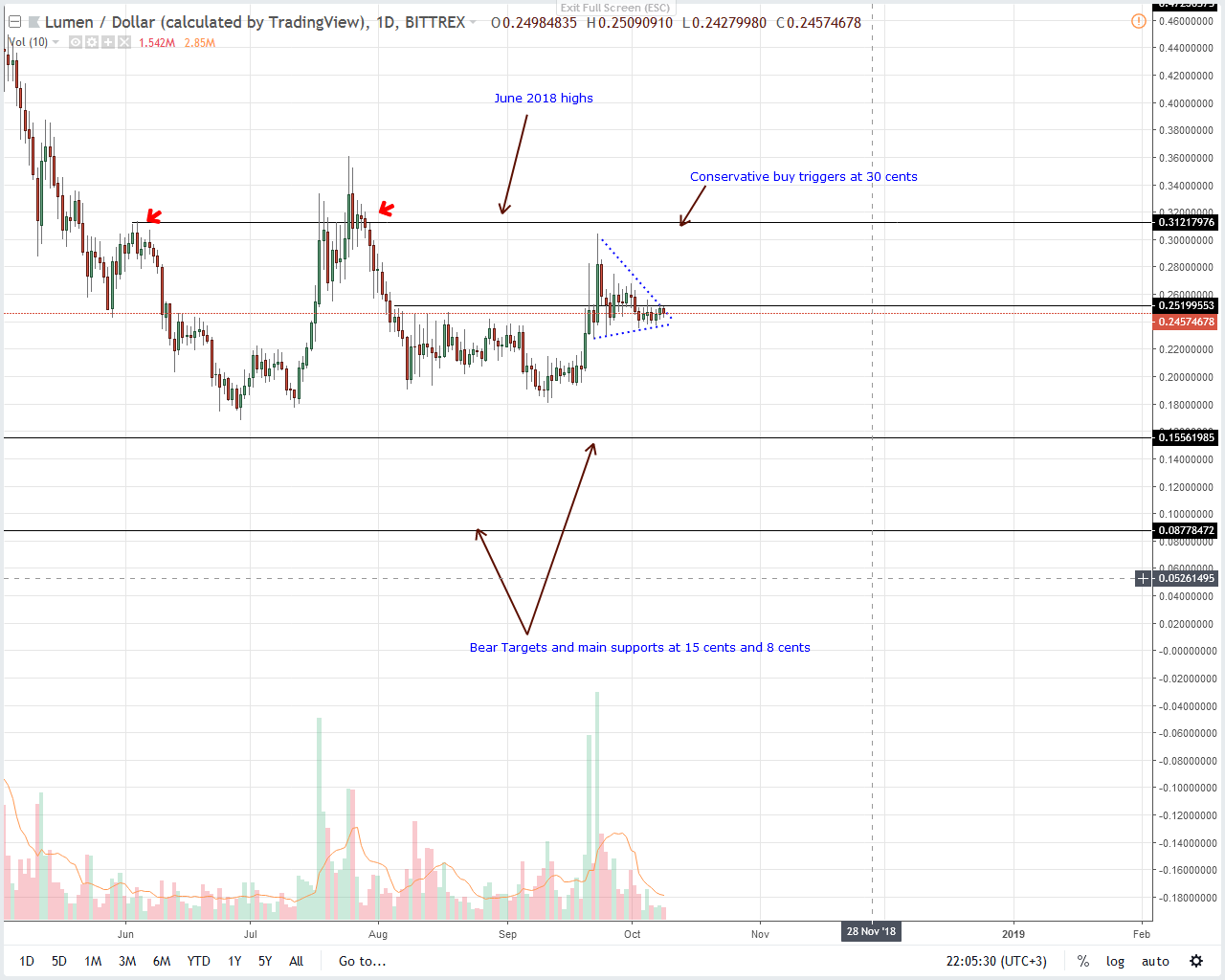 Back to price and the XLM taper mean prices are yet to close above the bull flag countering Oct 8 bull bar. Because our last Stellar Lumens price analysis is valid, we recommend risk-off traders to buy at spot rates with stops at 22 cents. This should be a precursor for buyers eager to see gains above 30 cents as per our last iterations. Needless to say, losses below Sep 23 lows and 20 cents shall be inviting for sellers aiming for 15 cents and later 8 cents.
Cardano Price Analysis
After periods of consolidation and lower lows in the last days of Sep, ADA prices are now trading above the two months resistance trend line. Although it might look miniscule for traders since prices are still below the 9.5 cents buy trigger line, Oct 7-8 surges hints of the underlying bull momentum. It's a minor but a two level break out because buyers did muster momentum to close above Sep 27 bull bar and the resistance trend line.
As a result of this, it's likely that we might see gains above our minor buy trigger today but we shall not recommend buys at spot rates until the conditions laid out in the last Cardano trade plan are met. Afterwards, as emphasized, bull targets would be at 12 cents. On the reverse side, losses below 6 cents could see ADA print new ATLs.
Monero Price Analysis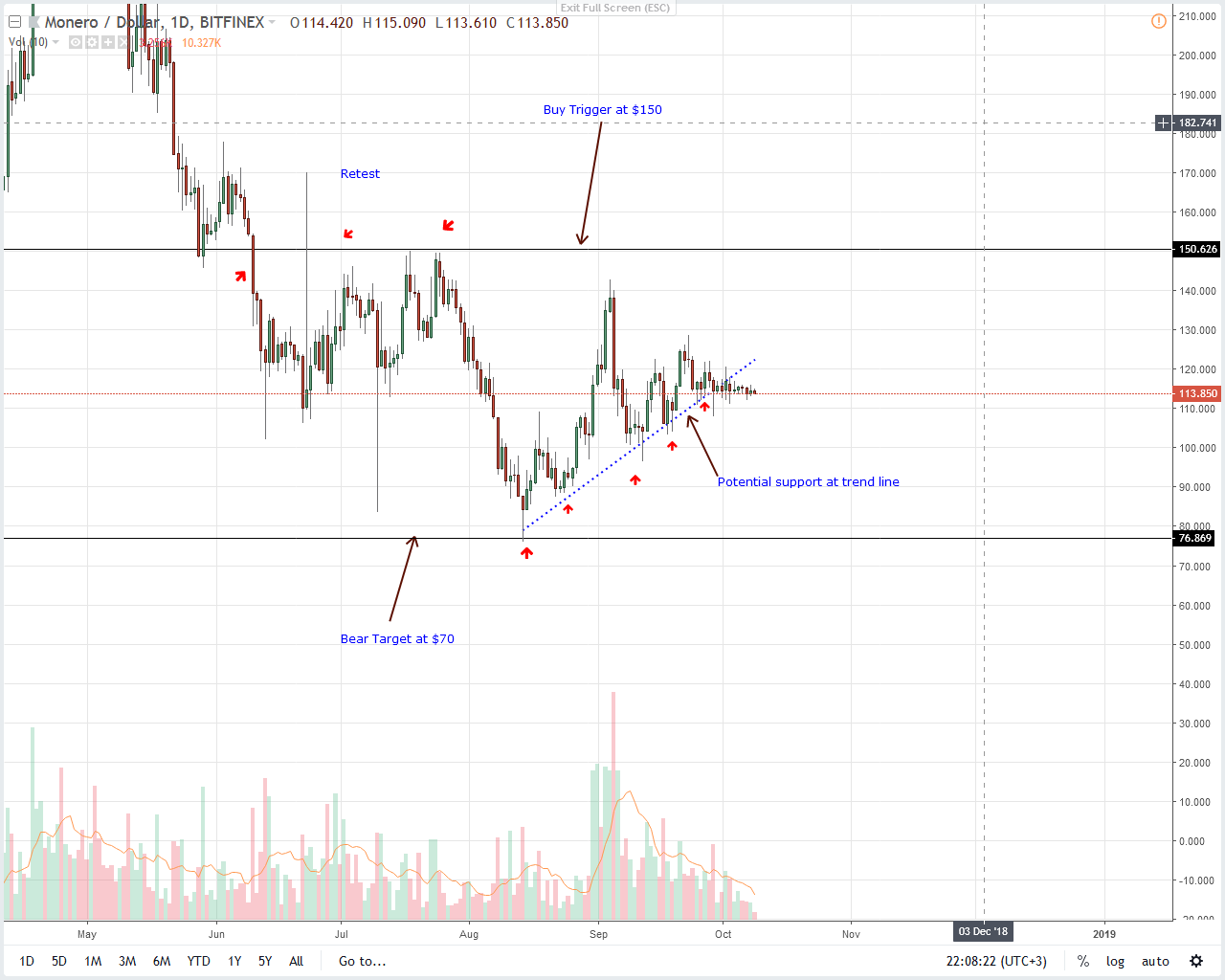 Unless otherwise, our last Monero price analysis is valid. Notice that Monero is ranging below $120 as sell momentum neutralize bullish attempts.
Like as before, we suggest taking sells on every pull back in lower time frames with stops at $120 as before. First targets remain at the psychological $100 support level while further depreciation confirming the break out trade shall most likely drive prices towards $70, our main bear target.
Considering our prices are laid out, Monero sellers stand a chance to edge lower.
Disclaimer: Views and opinions expressed are those of the author and aren't investment advice. Trading of any form involves risk and so do your due diligence before making a trading decision.