Cardano (ADA) prices are oscillating below 10 cents
Shelly is the Reward Era. Cardano is right on track, building towards Voltaire
Shifting from Byron to Shelly, Cardano is firm on their roadmap. Promising to be efficient, the migration of blockchain projects from competing platforms to Cardano will draw demand for ADA. In that case, ADA will likely print higher above 10 cents.
Cardano Price Analysis
Fundamentals
Blockchain is said to be the base of the next revolution. Complementing other developments as machine learning and artificial intelligence, it will mastermind the era of decentralization.
Piquing interest from different players, blockchain, as an equalizing technology, is the focal point of venture capitalist and enterprising retail investors. Of the many projects in existence, Cardano is unique.
In development, the platform prioritizes research and peer review. Upon rollout, Hoskinson, who is also an influential figure in the Ethereum Classic development arena, said Cardano will be 100 times more decentralized than Bitcoin.
Achieving this feat, Cardano will be distinctively energy-efficient but community-driven. Working towards this goal, Cardano is now at the Reward Era, following their shift from the Bootstrap Era, that is, Byron.
The Shelly Phase, or the Reward Era, is a vital stage as far as Cardano development is concerned. Migrating from federate nodes to a more decentralized style where network participants can not only stake but run nodes, Cardano would truly adhere to blockchain principles.
Candlestick Arrangements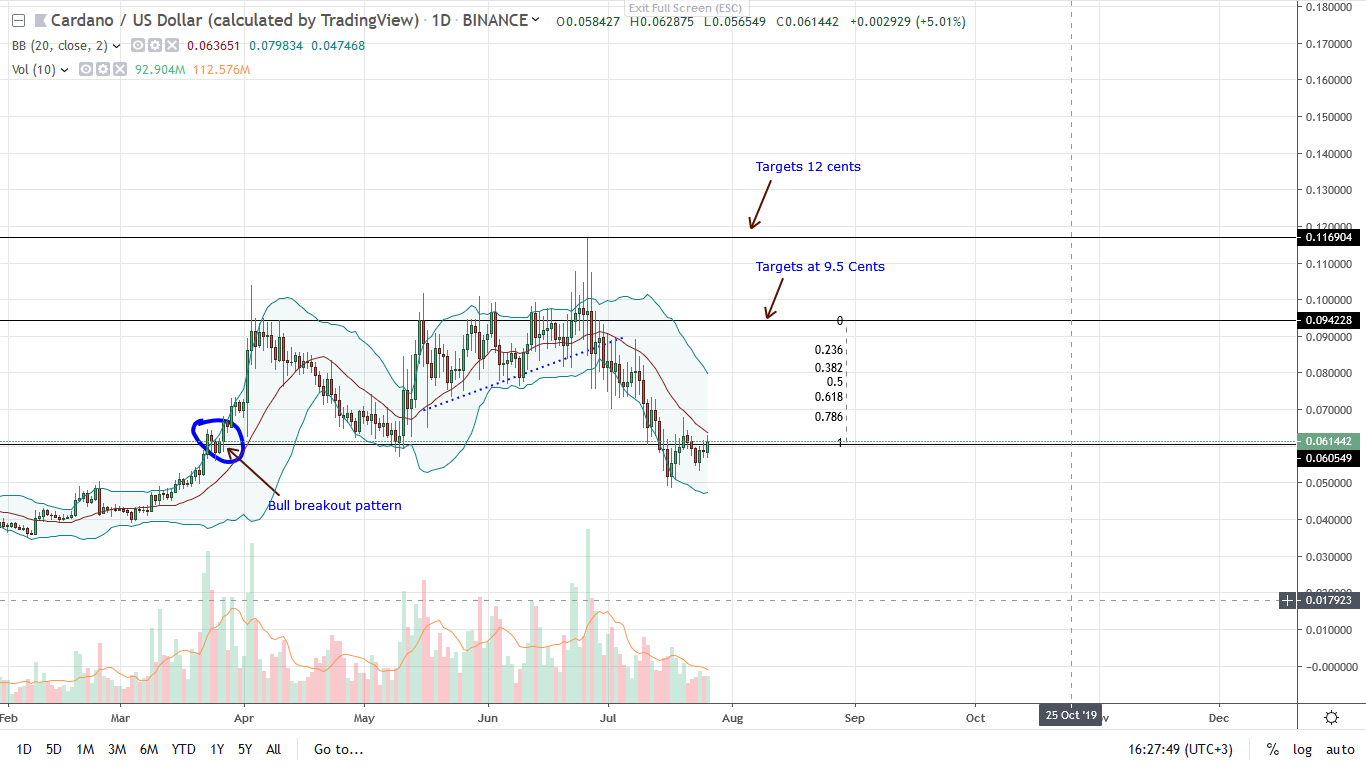 With decentralization, there are higher chances of ADA listing at Coinbase. Benefiting from the "Coinbase Effect," prices will likely correct higher. Presently, ADA is relatively stable and oscillating at 6 cents, a critical resistance level.
Imperative, as laid out in previous ADA/USD trade plans, bulls must build enough momentum required for a break above 6 cents. That will not only be a hint of demand and a probable trend continuation, but it would be a morale boost for ADA investors mauled by bears of July.
An uphill task, the stability of prices following last week's slowdown is bullish. Besides, the fact that this reaction is from the 61.8 percent Fibonacci retracement level from H1 2019 trade range is indicative.
Therefore, while there is a possibility that ADA will edge higher, traders should be cautiously optimistic. Defining bull signals will print once prices conclusively close above 6 cents at the back of high trading volumes.
However, aggressive traders can, nonetheless, load up ADA on every dip with stop limits at 4.8 cents. Targets will be at 10 cents.
Technical Indicators
As a result, the June 26 bull bar is leading this trade plan. Since June highs and 6 cents are significant resistance levels, any break out above these lines should ideally be with high trading volumes surpassing 603 million of June 26.
Chart courtesy of Trading View. Image Courtesy of Shutterstock