Bitcoin (BTC) is down 8.3 percent week-to-date
Binance CEO said cryptocurrencies would survive
Changpeng Zhao, the CEO of Binance, is of the view that President Trump's mentioning of Bitcoin is positive. As an unstoppable force and an innovation, Bitcoin won't die. At the time of writing, BTC is under liquidation pressure, shedding 3.1 percent in 24 hours.
Bitcoin Price Analysis
Fundamentals
Often, change is hard, especially for the privileged. However, change is inevitable. For a long time, central banks and financial institutions have enjoyed the benefit of monopoly. Their power lies in their control of monetary policy, which equates to money and limitless capabilities. Now, Bitcoin is prodding their influence. Expectedly, the response from governments has been immediate, just look at Donald Trump's tweetstorm.
Clearly, Facebook's Libra is ruffling feathers, and the ensuing debate is whether Bitcoin is worth the chance of leading the next financial revolution. If anything, the possible notion that private currency, offered by firms or the community, had a chance to compete with the "mighty" USD couldn't be envisioned.
As it is, that is the scenario. President Trump's discrediting digital money further legitimizes Bitcoin. According to Changpeng Zhao, the CEO of the world's largest exchange by adjusted volumes, criticism is actually buoying BTC. Because of Trump, the general population is curious and desirous of more. In an interview with the CNBC, the cryptocurrency leader said:
"Trump so far has not done anything positive or negative. He just said he's not a fan. The fact that he tweeted about it and the president of the United States is talking about cryptocurrency. It's a good thing."
He further adds:
"Cryptocurrency will survive regardless of any one country. Most countries that try to ban Bitcoin cause their citizens to want cryptocurrency more."
Candlestick Arrangements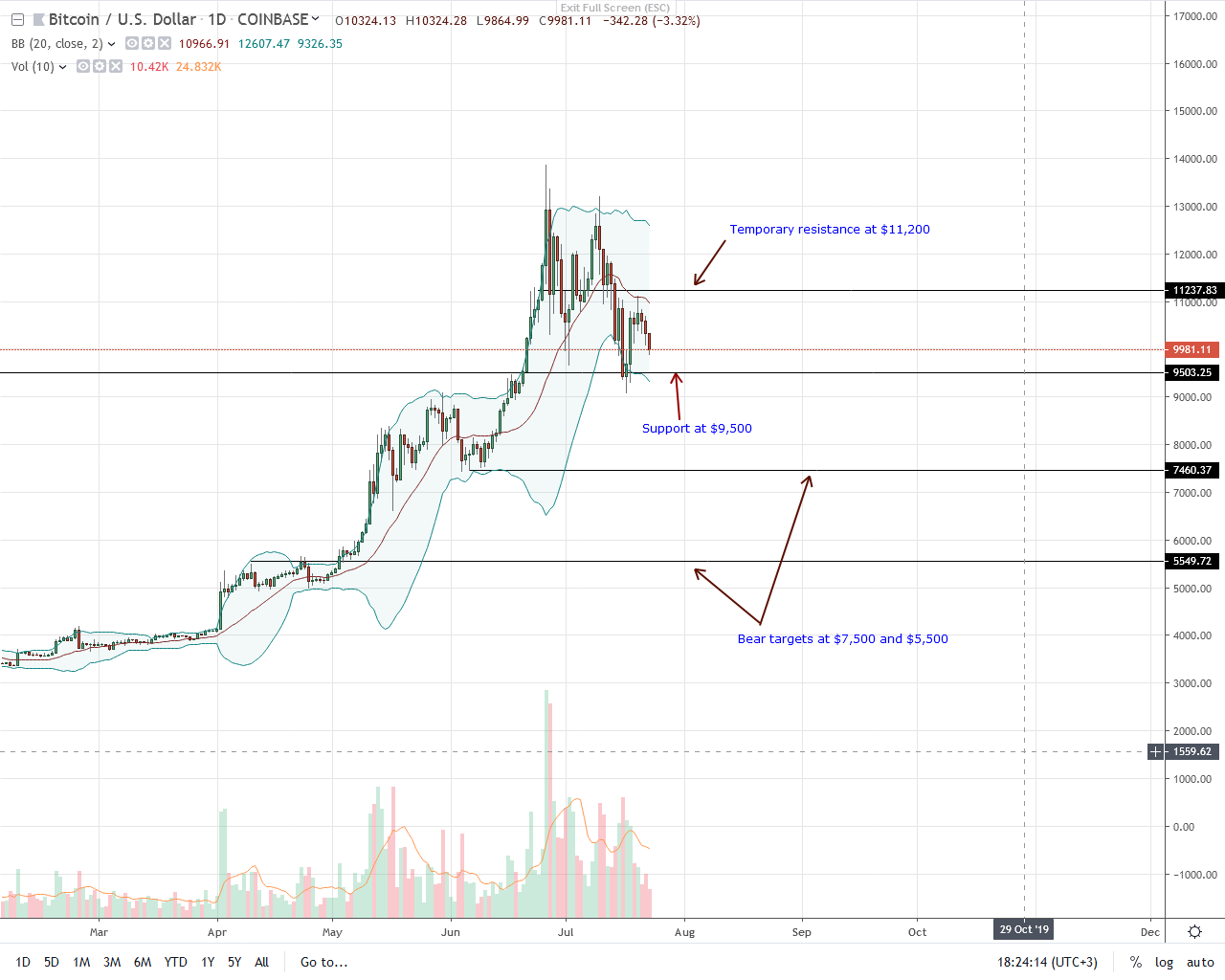 Bitcoin is ranging inside July 18 candlestick. While it could be bullish from an effort versus result point of view, the simple fact is that the trend trajectory is negative. Connecting peaks of the last two weeks yield a negative gradient. Therefore, the path of least resistance is southwards.
Even so, and in line with previous BTC/USD trade plans, any surge past $11,200 confirms the under-valuation of July 17 candlestick. Remote as it is, that possibility could spur demand, lifting BTC to $14,000 and even $18,000 if the push is sustained.
Regardless, the current state of affairs is leaning towards bears. As a result, every high is technically a liquidation point with the first target at $9,500 for aggressive traders. Fitting stop limit will be above $11,200.
Technical Indicators
Leading this trade plan is July 16 candlestick. Extensive and bearish, buyers must rewind that day's losses with equally high participation. Upswings past $11,200 invalidating this short-term projection ought to be with high trading volumes exceeding 43k of July 16.
Similarly, endorsing sellers, losses past $9,500 with high participation will be the basis for possible losses to $7,500.
Chart courtesy of Trading View. Image Courtesy of Shutterstock