Bitcoin prices stable above $5,000
NDRC of China propose Bitcoin and cryptocurrency mining
China's National Development and Reform Commission (NDRC) of the opinion cryptocurrency and Bitcoin (BTC) rigs don't adhere to relevant laws and regulators, pollute the environment and unsafe and therefore propose a ban. If that is the case, the network's hash rate will drop and so will prices.
Bitcoin Price Analysis
Fundamentals
Hours after reliable sources revealed that Bitcoin traders were circumventing state restrictions and funneling funds to BTC via stable coins with OTC facilitation, news is China could ban Bitcoin mining. Yesterday, we reported that Chinese traders were flowing back and thanks to OTCs, they could at any time convert their CNY to USDT albeit at a premium taking advantage of increasing BTC prices further boosting a recovering market.
As it is, trading volumes, mainly from SE Asian countries like South Korea, are accredited for stabilizing the market as crypto trading and general adoption is high in these jurisdictions. Despite the ban, China is still a central player in Bitcoin mining and most of Bitmain's rigs across the country. Bitmain has solid plans of rolling out 200k miners as the chipset manufacturer take advantage of low electricity prices this rainy summer.
Now, Bitcoin mining may end up being illegal just because the National Development and Reform Commission (NDRC) is of the opinion that cryptocurrency mining and 450 other activities "should be phased out as they did not adhere to relevant laws and regulations, are unsafe, waste resources or pollute the environment."  According to Reuters, the general public has until May 7 to respond to this draft proposal.
Candlestick Arrangement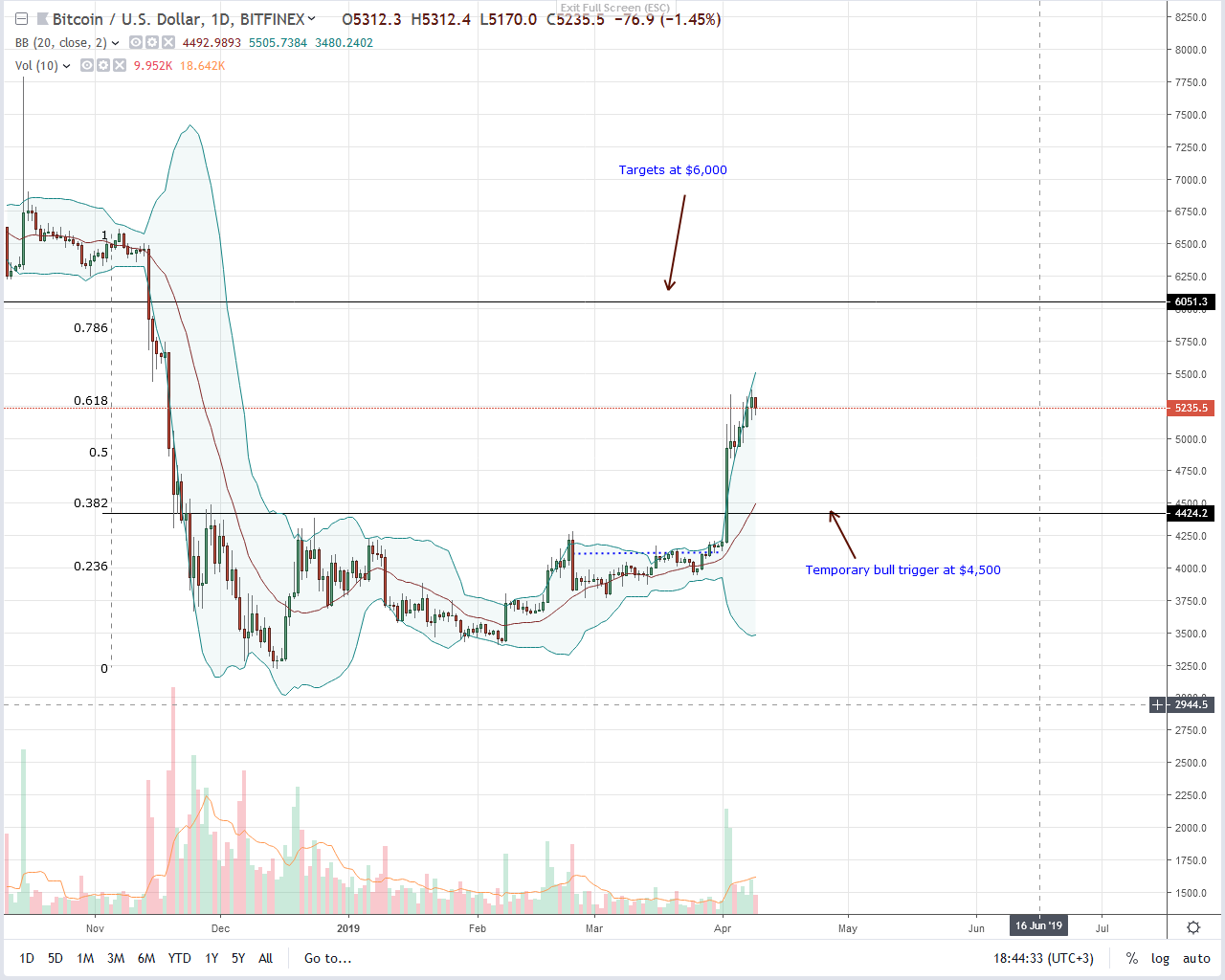 At the time of press, Bitcoin (BTC) bulls are firm and up 25 percent in the last week. Although prices are stabilizing in lower time frames, we expect prices to drop towards the $5,000 mark in a healthy correction before prices rally back towards our first targets at $6,000.
To reiterate our stand, Bitcoin (BTC) is trading within a bullish breakout pattern, above a five-month resistance trend line, which is evident in the weekly chart. However, bears still have the upper hand if we break-down price action from a top-down approach.
Therefore, unless otherwise there is high-volume surge above $6,000, there is always a risk of BTC melting down mirroring losses of Nov-2018 driving back prices to $3,200 or lower.
Technical Indicators
Volumes are low averaging 18.1k by yesterday's close. In a bullish breakout pattern, this is normal. Prices may drop towards $4,500–$700 zone in a natural correction with light volumes below 54k of Apr 2. It is from this zone that bulls can ramp up at fair prices to targets at $6,000.
Chart courtesy of Trading View