Popular Chinese Bitcoin exchange Bter went offline after being struck by a 7,170 BTC theft.
The incident first came to the spotlight when some of the Bter users noticed a number of elite transactions moving from Bter's cold wallet to a random Bitcoin wallet address. After their successful completion, the aforesaid amount was further transacted to another wallet, a screenshot of which can be seen below.
A few hours after the suspicious Bitcoin fund transfers, Bter issued a notice describing the actuality of this event. "7,170 BTC got stolen from our cold wallet in the transaction," the exchange informed followers by a transaction status link. "All wallets have been shut down and withdrawals of unaffected coins will be arranged later," it added.
In between the aforementioned notices, Bter also announced a bounty of 720 BTC to whoever will bring the stolen funds back.
Post Bter, HitBTC Also Went Offline
Soon after the notification of Bter, some users also complained about their inability to withdraw funds from their respective HitBTC accounts. It might be possible that this exchange simply froze their services as a matter of precaution. We would soon update our readers as soon as the story progresses.
Bitcoin Market Crashed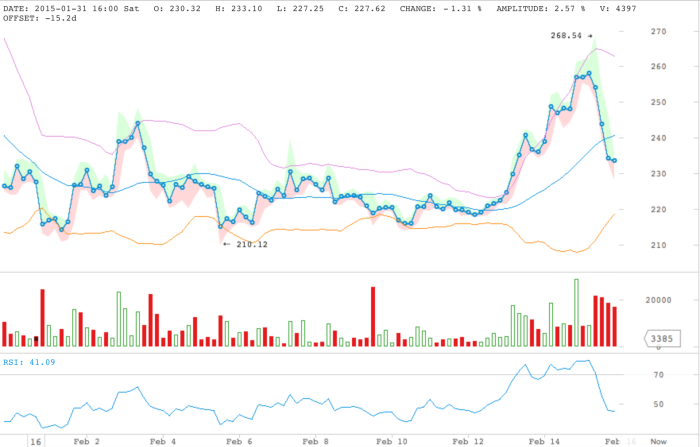 Right after enjoying a steep $40 surge, Bitcoin value crashed back to near 230 in the last few hours. A conspiracy theory is circulating in the market that the previous bullish rally was nothing but manipulated, probably inflated artificially by the hacker to inject optimism inside the market. As the value topped its intra-week best, the hacker dumped a substantial chunk of its steal in USD markets and eventually went away with an inflated amount.
We will continue to monitor this entire event. Kindly stay tuned to newsbtc.com for more updates.