On the back of strong bullish pressure, Dash continued with its upward march before peaking out at 0.01610BTC. Dash then fell roughly 10% from the high to touch a low of 0.0145BTC. I had advised in my earlier analysis that the cryptocurrency was highly overbought and that it may be time to take some money off the table.
Since the cryptocurrency is currently trading close to its strong resistance level, booking partial profits is the wise thing to do. Each Dash is now worth 0.01505BTC.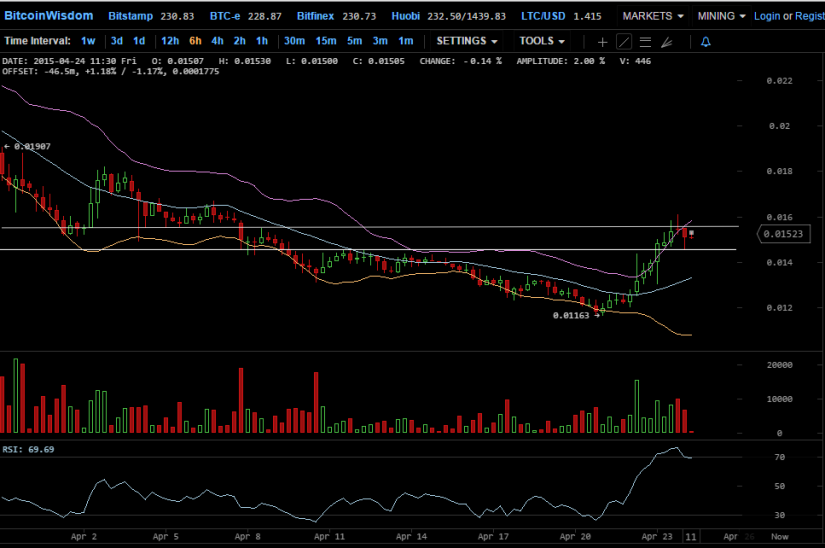 A technical check of the 360-minute DRK/BTC price chart indicates that the virtual currency may witness more rounds of profit booking.
Dash Chart Structure – As can be seen, Dash has erased most of the gains achieved in the past 24 hours following intense profit booking; the virtual currency is only marginally higher than yesterday's level of 0.01500BTC. Additionally, the price seems to have hit a strong technical ceiling (drawn as the upper horizontal line).
Bollinger Bands – Dash, which had been sustaining above the upper range of the BB, has now been brought just below the crucial resistance level.
Volume – Volume has been fairly strong during the selloff, suggesting that the market is trying to pull down the price.
Relative Strength Index – The underlying strength in Dash remains very formidable. The RSI indicator reading of 69.69 is proof that the bulls are unwilling to quickly lose control of the situation.
Conclusively, it can be advised that Dash looks poised to post further gains however, the next leg of the rally may come after considerably more long positions are liquidated. For those who are long in Dash are advised to book partial profits in order to avoid complete disappointment if the cryptocurrency plummets. Market participants are also advised to not resort to impulse buying and wait for inexpensive levels to make an entry.