In their recent SEC filing, eBay and PayPal confirmed plans to allow merchants with a standard account to accept bitcoin payments through third-party processor Braintree. This company was acquired by eBay for $800 million in September 2013 and will now be part of PayPal Holdings.
In the same SEC filing, eBay and PayPal have announced the formation of a new corporation called PayPal Holdings that will take over the businesses in eBay's payments segment. Meanwhile, eBay will continue to operate its marketplace business as a publicly traded corporation.
"As two distinct publicly traded corporations, eBay and PayPal will be better positioned to capitalize on significant growth opportunities and focus their resources on their respective businesses and strategic priorities," according to the eBay announcement.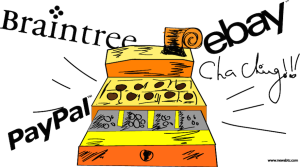 Bitcoin Payments Structure
Braintree works in partnership with Coinbase in allowing online sellers to merchants to accept bitcoin payments seamlessly. It also enables customers to pay with bitcoin instantly and securely on any device without manually transferring bitcoin or scanning QR codes.
Currently in public beta, Braintree's bitcoin payments service claims to have zero transaction fees on the first $1 million in bitcoin sales and a 1% fee for cashing out to a bank account.
With the increased focus on the payments sector, PayPal Holdings can be able to explore new transaction methods such as bitcoin payments, along with Apple Pay and Venno Payments via Braintree. In addition, management can better enjoy the flexibility to pursue new partnership and strategic opportunities that may have previously been unavailable.
Merchants and online shoppers are hopeful that the acceptance of bitcoin payments by these companies could help foster mainstream acceptance of the cryptocurrency. According to Braintree, it will take care of the conversion, transfer, and transaction reporting that fits in with the existing Braintree workflow. "Bitcoin transactions are confirmed in less than a few seconds, eliminating chargebacks, which reduces your exposure to online fraud," as indicated in its invitation to clients.