EOS slides 15.8 percent
Interim constitution replaced with a new user agreement
A new user agreement is in a place replacing the contentious Interim constitution. Even so, due to low voter turnout, block producers voted in their favor. As such, they retain a dominant role. Meanwhile, EOS sellers are pressing lower as prices tumble 15.8 percent in last week.
EOS Price Analysis
Fundamentals
Above everything, despite their achievements since launch, EOS and Block One reception has been lackluster. While it dominates the the Center for Information and Industry Development (CCID) rankings and considered technologically superior to Ethereum or Tron by the Chinese firm, there are serious concerns as far as decentralization and governance are concerned.
Adopting a new algorithm and introducing 21 Block Producers thanks to their delegated Proof of Stake consensus style, there is a level of centralization that is unsettling to the blockchain community in general. Worse still, these block producers, equivalent to master nodes, are selected randomly by EOS holders but can censor and freeze transactions.
In mid-April, 21 of the 30 block producers signed, approving, a new user-agreement following months of intense negotiation and a referendum gridlock. Passing the new user agreement despite hitches and unresolved grey areas meant Block Producers shall continue to hold dominant roles in the network.
That includes spearheading arbitration claims, a reason for outcry sparking debate between purists against dPoS and Block Producers and realist who see this as a choice between decentralization and scalability.
Scalability limitations continue to disorient public blockchains especially during periods of high activities often following price surges. EOS, on its part, is highly reliable with most dApps launching from the platform.
Candlestick Arrangement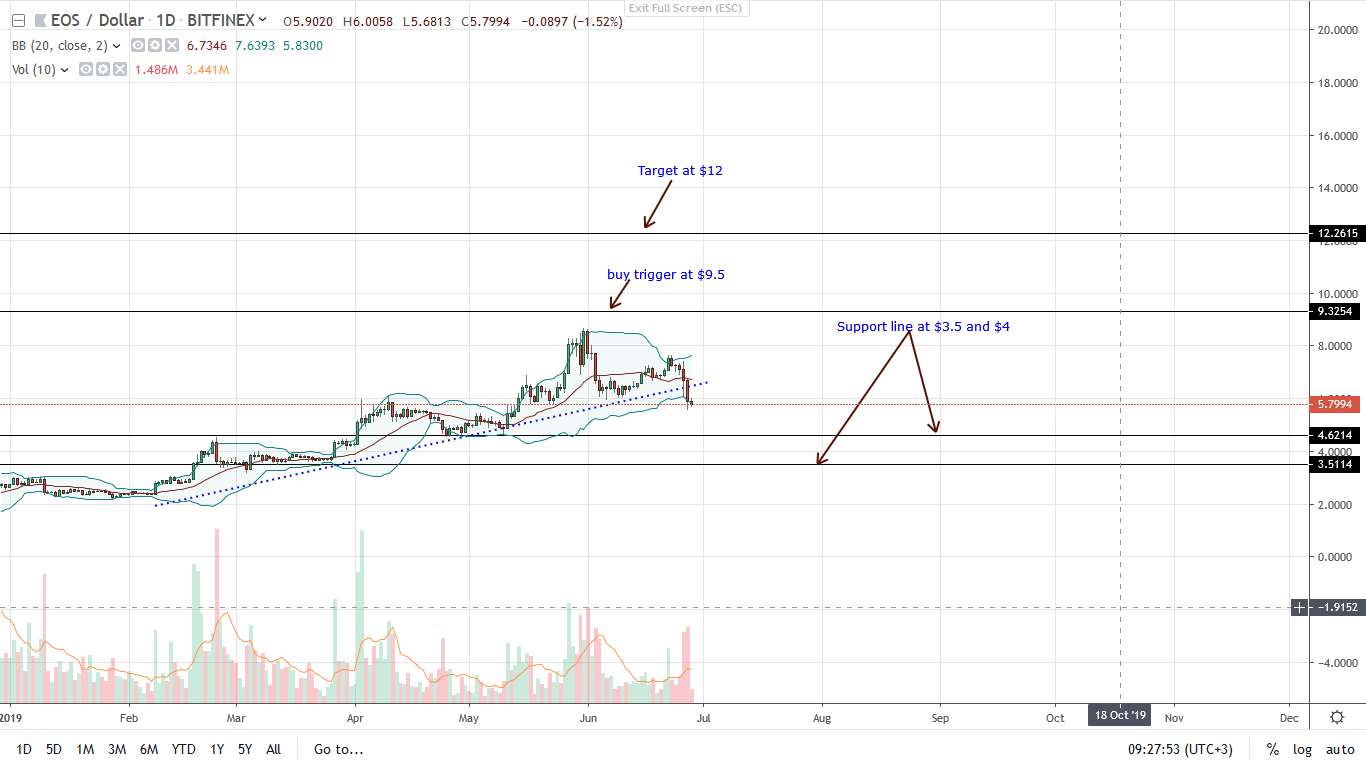 At the backdrop of Weiss Ratings downgrading, EOS, as a tradable asset, is bearing the brunt. The coin is one of the top losers, dropping 15.8 percent week-to-date. Worse still, candlestick arrangements reveal that sellers are in control.
By breaking below the main support trend line, previous EOS/USD trade plans are now invalid. Because bulls didn't muster enough momentum to reach $9.5, the correction of the over-extension of May 27 continues as bear pressure below April high.
All the same, traders should exit their longs. In that case, EOS prices will likely find support at $4 or $3.5 if the correction is deep.
Technical Indicator
After a solid half of the year, bears seem to be back. Optimistic as traders are, June 27 bar anchors this trade plan. With high trade volumes of 7.8 million, any bull candlestick rewinding these losses must be with high participation as EOS rally above June high at $7.5.
Chart courtesy of Trading View. Image Courtesy of Shutterstock