A single day of BTC dip was enough to wreck havoc in altcoins valuations. It's because of that, that most coins under review as EOS, Cardano, Stellar Lumens, Tron and IOTA will end up bearish and likely resume a trip to new 2018 lows throughout this month. The only stand out in this red is Stellar Lumens. Jed MacCaleb's coin might reject lower lows and print higher more so if buyers reverse Sep 5 losses closing above 25 cents. It even gets better. Recent reports indicate that Australians are accumulating even as sellers step up.
Let's have a look at these charts:
EOS Price Analysis
From the News
It's true that in EOSIO, users have to pay for an account—and that's a deal breaker especially in a platform that wants to go global. Block One through its CTO have been looking for innovative solutions to rid this problem especially now that some block producers have been accused of hoarding network resources. At the moment, Block One is trying to circumvent this by slashing the cost of account creation and offering free 1400B of RAM. Two months ago, Dan had talked of a game changing development to potential bring an end to this. Needless to say, there has been no progress and/or update of the same.
Technical Analysis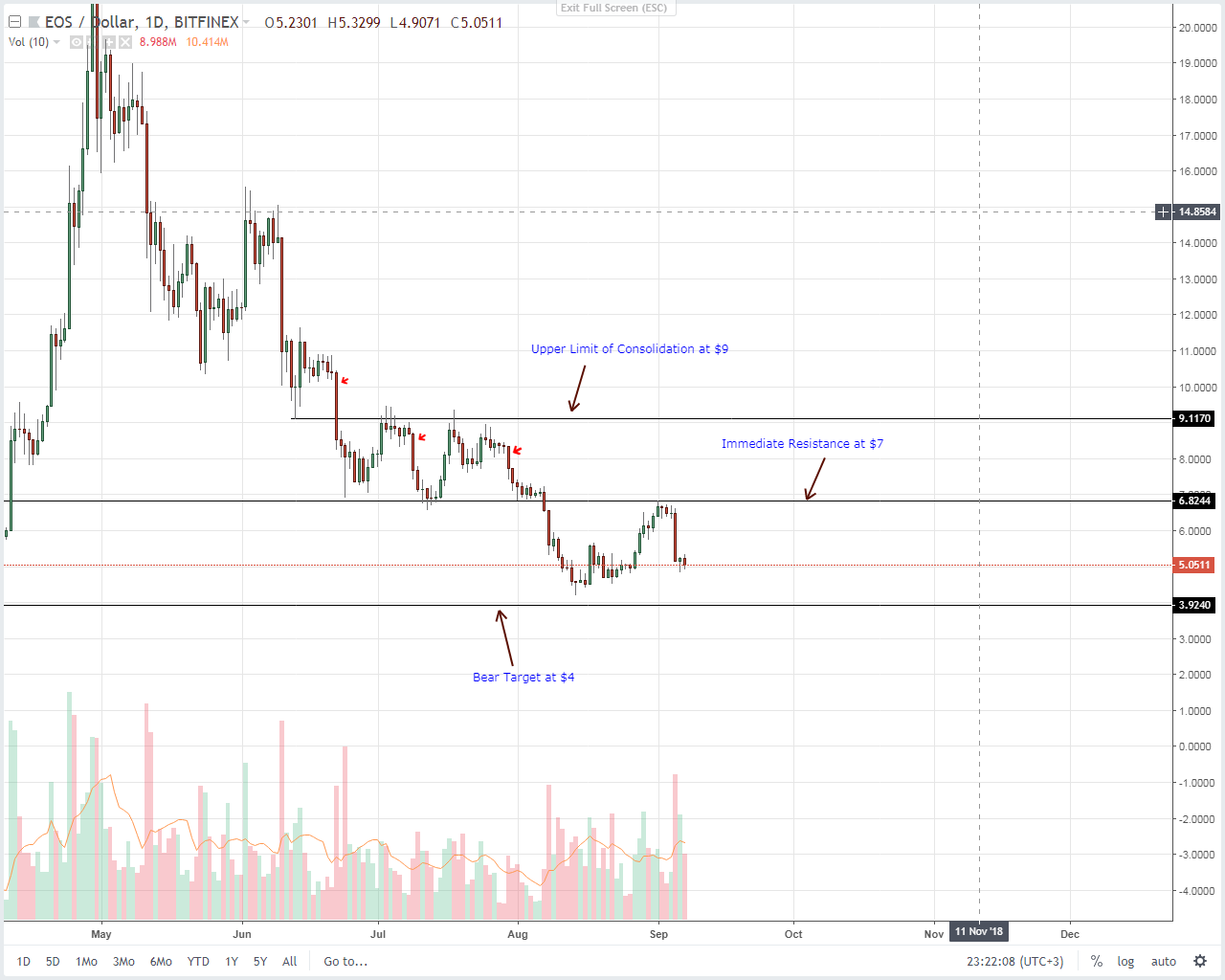 In an otherwise steep market, EOS prices are stable and fluctuating between neutral to bearish. All in all, we retain a bearish outlook and in line with our EOS trade plan, we recommend shorts on every high in lower time frames. That's all because of Wednesday's high volume, wide trade range bear candlestick rejecting higher highs and collapsing from $7 triggering the next phase of a bear break out pattern set rolling by Aug 7 bear candlestick.
Cardano (ADA) Technical Analysis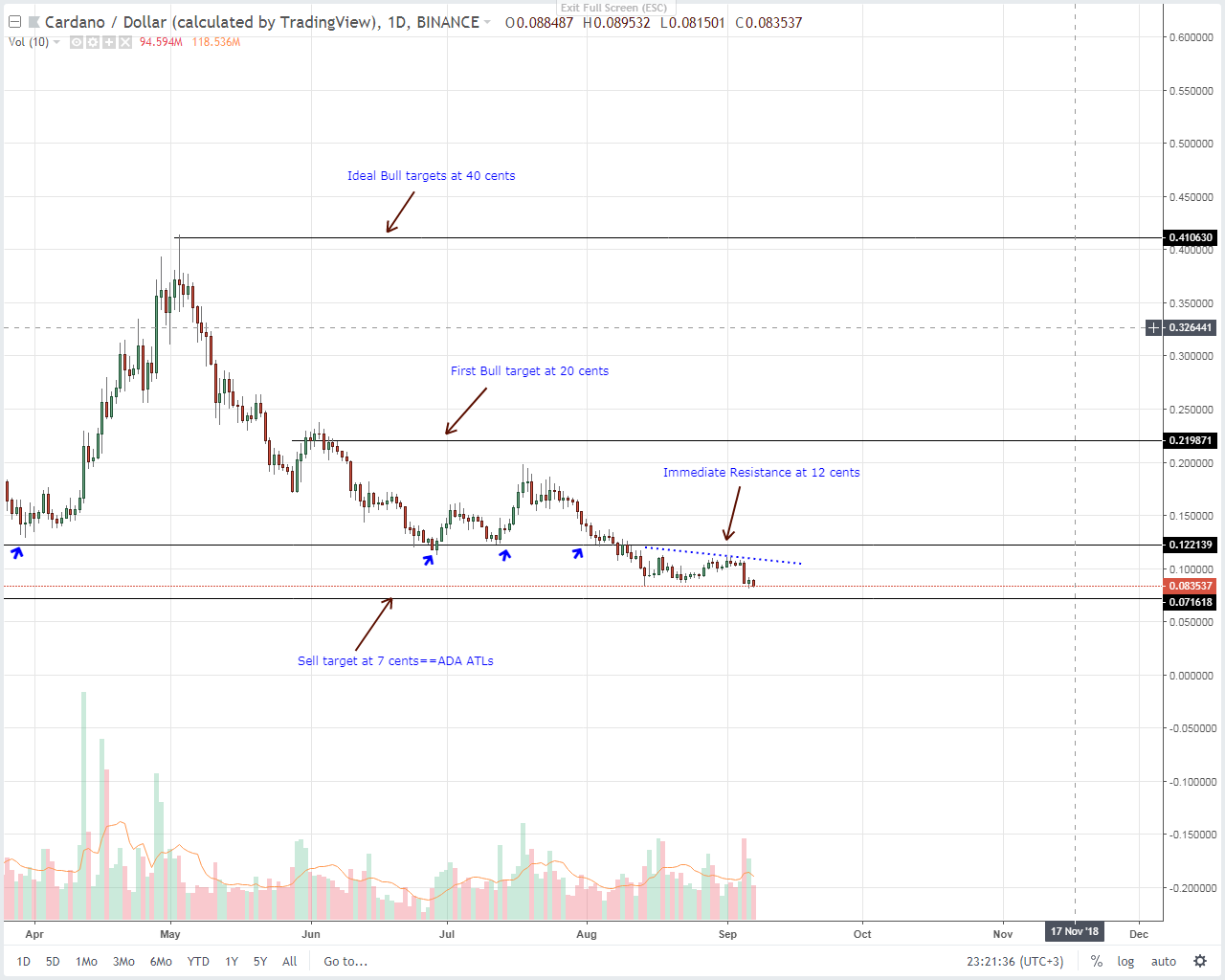 From neutral point of view, ADA is in some sorts of consolidation and that's when we take into account that conspicuous dark cloud cover of early this week. While there is extra liquidity due to Bittrex addition of ADA/USD pair, we might as well see ADA print new lows. The best approach right now is to tow in and trade with the bear break out pattern set in motion by Aug 7-8 bears. In that case therefore, we consider recent near retest of 12 cents as a completion of a retest phase just like in EOS and Sep 5 collapse as resumption of bear trend. That's why selling at spot price with stops at around 10 cents and targets at 7 cents is modest if not safe.
Stellar Lumens Price Analysis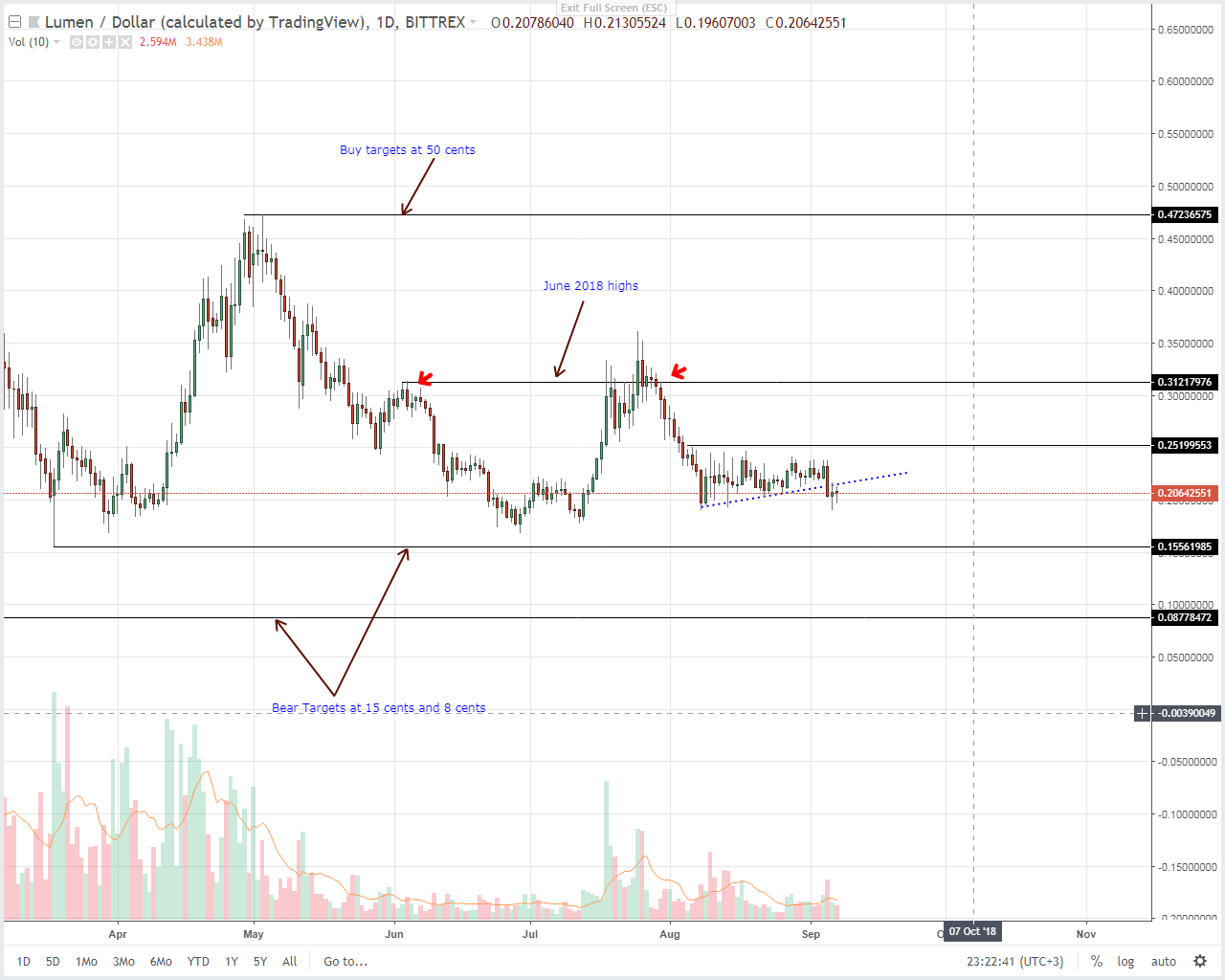 Contrary to most altcoins, our previous Stellar Lumens trade plans are solid despite the obvious volatility. According to our last trade recommendation, traders—risk off and on, can short at spot prices with stops at around 25 cents and first targets at 18 cents and later 8 cents. This is when we project a situation where sellers press on the gas pedal as they trade according to the set momentum of Sep 3.
In that line of thought, sell pressure would gain enough momentum to clear the 18 cents and 2018 lows and hit our targets with increasing volumes. On the reverse side though, our stops at 25 cents acts as a caution now that prices were in accumulation mode in the second half of Aug. Should prices spike, traders can mitigate losses and get a chance to trade with the trend.
Tron (TRX) Price Analysis
From the News
After Ledger Nano S, Tron has announced its support for Ledger Blue
? $TRX now supported on Ledger Blue! @LedgerHQ https://t.co/jeAx1nWXpp

— TRON Foundation (@Tronfoundation) September 7, 2018
Technical Analysis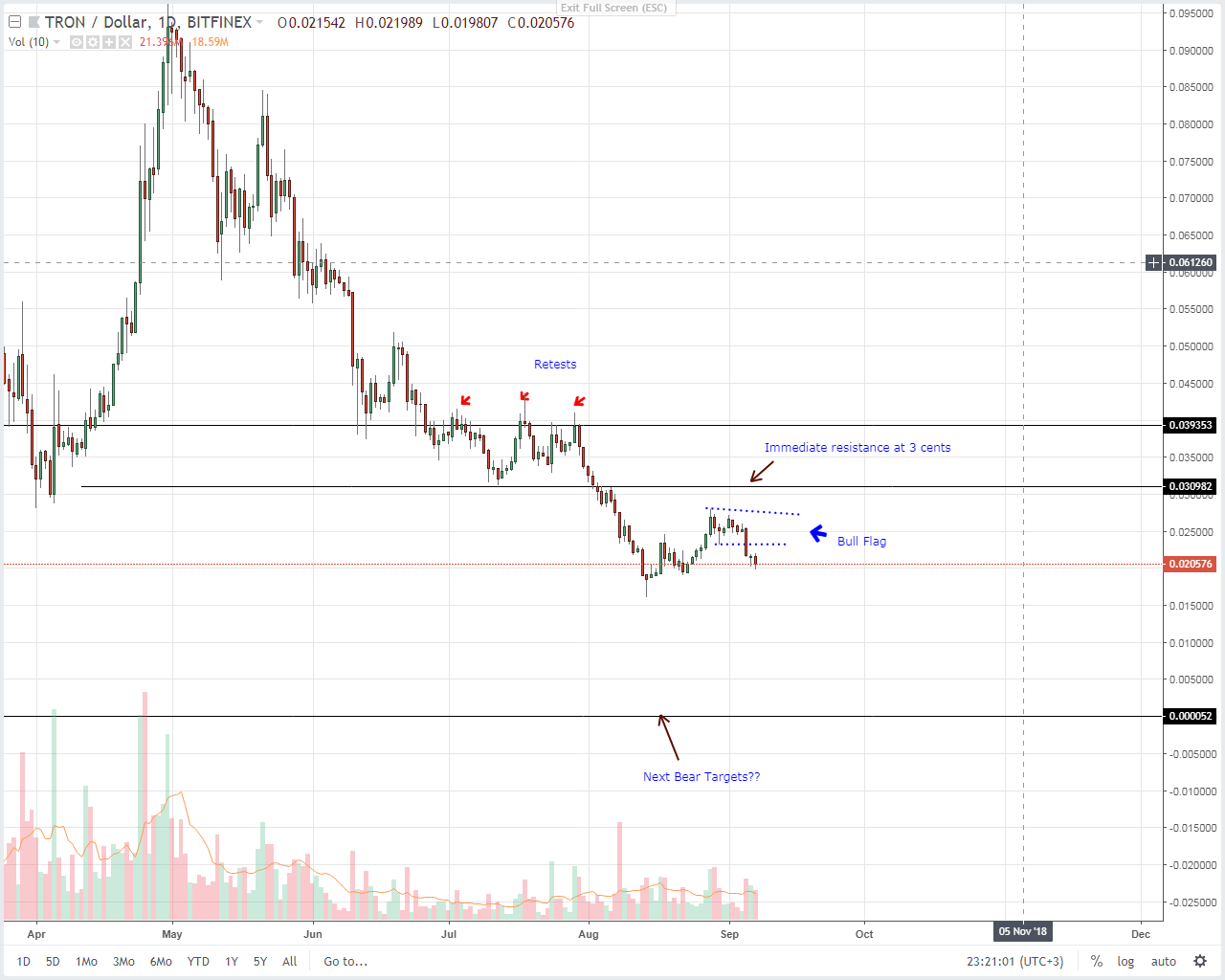 As expected, periods after rapid gains or losses are followed by a slow down. That's happening to TRX right now. Even if Tron Foundation is padding the way for future mass adoption, prices are not responding—at least at current valuation. Regardless, we expect fundamentals to be the impetus behind TRX revival and before that happens; selling at current prices with stops at around 2.2 cents is safe. Our ambitious targets at Jan 24 lows still hold true.
IOTA (IOT) Price Analysis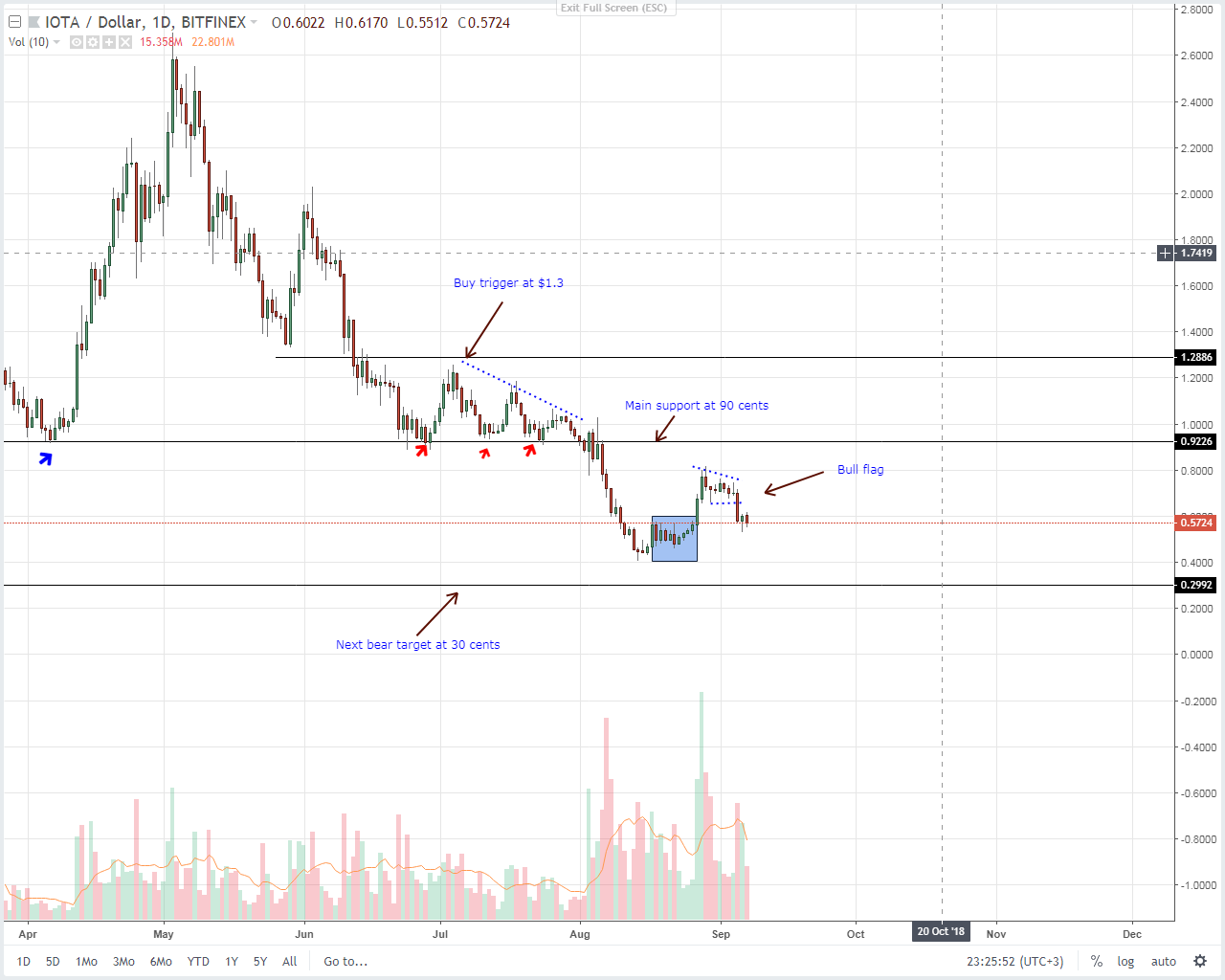 Like TRX, IOTA did break below the past two week's bull flag reversing those gains in the process. As they did, bears poured back into trend cancelling our previous bull proposals and instead triggering the wave of sellers which we recommend selling every time IOTA prints higher in lower time frames. So, with a one percent lose in the last day, we expect IOTA to end bearish this week setting the stage for trend resumptions below 50 cents.
Disclaimer: This is not investment advice and views represent that of the author. Do your own research before making an investment decision.