Alt coins prices are correcting after last week's extraordinary performance. If it remains as it is, then IOTA, EOS, Stellar Lumens and Litecoin traders can remain neutral and wait for reversals at previous inflection points. We place those levels at 5.5 cents for Tron which is racing lower and complementing the previous week's bear move as it completely negate our expectations.
Let's have a look at the charts:
EOS Price Technical Analysis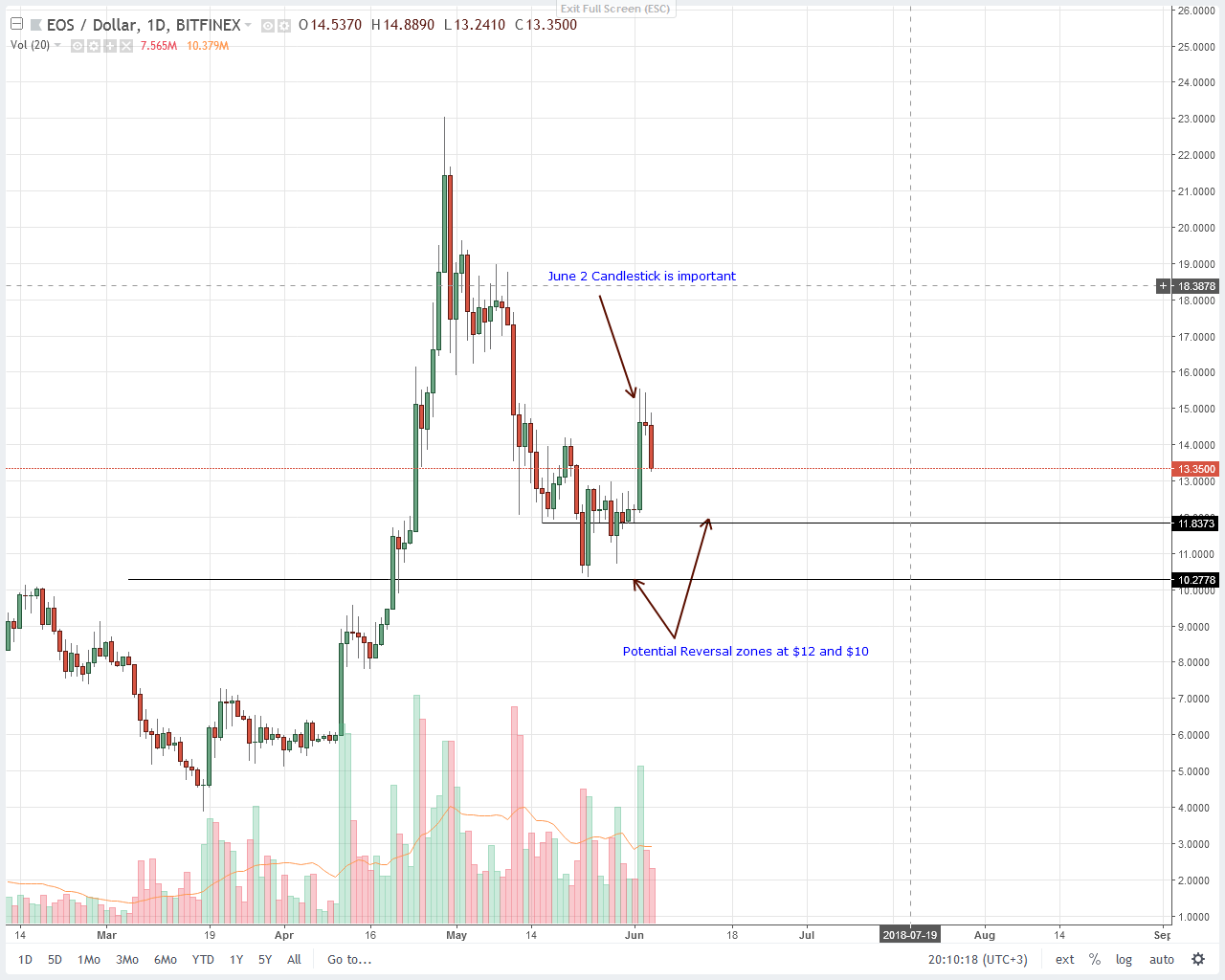 The influence of whaling is playing out in EOS. Why? Well, solid data reveals that 10 addresses holds up-to 50 percent of EOS coin supply. That's 500 Million EOS coins under 10 addresses of which Block One is one of the biggest hodlers. It's ridiculous because aside from raising $4 billion from their one year long crowd funding, they hold an additional 100 million EOS coins.
This gifts them an extra $1.5 billion if we make deductions from spot USD rates. In the top 10 list, the least address has 20.39 million EOS coins and the rest which many believe to be exchanges controls upwards of 150 million EOS coins. That's not all. When it comes to "decentralization", the top 1000 addresses control 86 percent of the total supply meaning when it comes to voting and governance, your vote won't be influential as you have been made to think.
When it comes to price action, we shall retain our bullish projection but in this case of long covering, bears might continue pushing EOS prices lower. In this regard, June 2 bullish candlestick would act as a minor resistance and support in the days to come. After all, volumes are low and pales in comparison to June 2 price action. As such, if you want perfect long entries then wait until bears test $12 or there about. Thereafter enter in the 4HR chart whenever a strong bullish candlestick prints.
Litecoin (LTC) Price Technical Analysis
Charlie Lee brother thinks blockchain is not what the worlds need as every user input is subjective as network consensus dictates. In an interview with CNBC, Bobby Lee came to this conclusion after "thinking very hard" about the whole protocol thing.
My #controversial interview with @cryptomanran in #Berlin this past week:

A TRUE #Blockchain cannot be used for Real World applications, as everything we see & measure is subjective (and contentious) by nature, and thus CANNOT be written in objectively!https://t.co/z9mdVRTYW4

— Bobby Lee – Ballet: Simple & Elegant Wallet (@bobbyclee) June 2, 2018
He eventually deduced that real world businesses need a central database and not a blockchain arrangement as many ICOs model their businesses around. In his view, every measurement is contentious and some private data require a central data base where there is absolute control and verification.
Following yesterday's rejection of higher prices and collapse, odds are we may see a follow through today. Our analysis will anchor on June 3 candlestick which had high volumes but price oscillations were within a tight range. This "subtle" rejection of higher highs came to pass with yesterday's candlestick. Because of this technical development, potential support lies between $110 and $115. That range would be an ideal zones buyers in the 4HR chart. If not and this applies to conservatives, Litecoin buyers must have to wait for close above $130 as we have been insisting in previous trade plans.
Stellar Lumens (XLM) Price Technical Analysis
Week over week, Stellar prices are up 10 percent but in the last 24 hours, they are down five percent. Most notably though is the high volume injection visible in yesterday's double bar bearish reversal pattern. As a confirmation of those spike in market participation, Stellar Lumens sellers may end up dominating price action today. In that case and in respect to last week's bullish pattern, immediate support and possible reaction point would be at 25 cents on the lower edge and 27 cents if this correction is not very deep.
Tron (TRX) Price Technical Analysis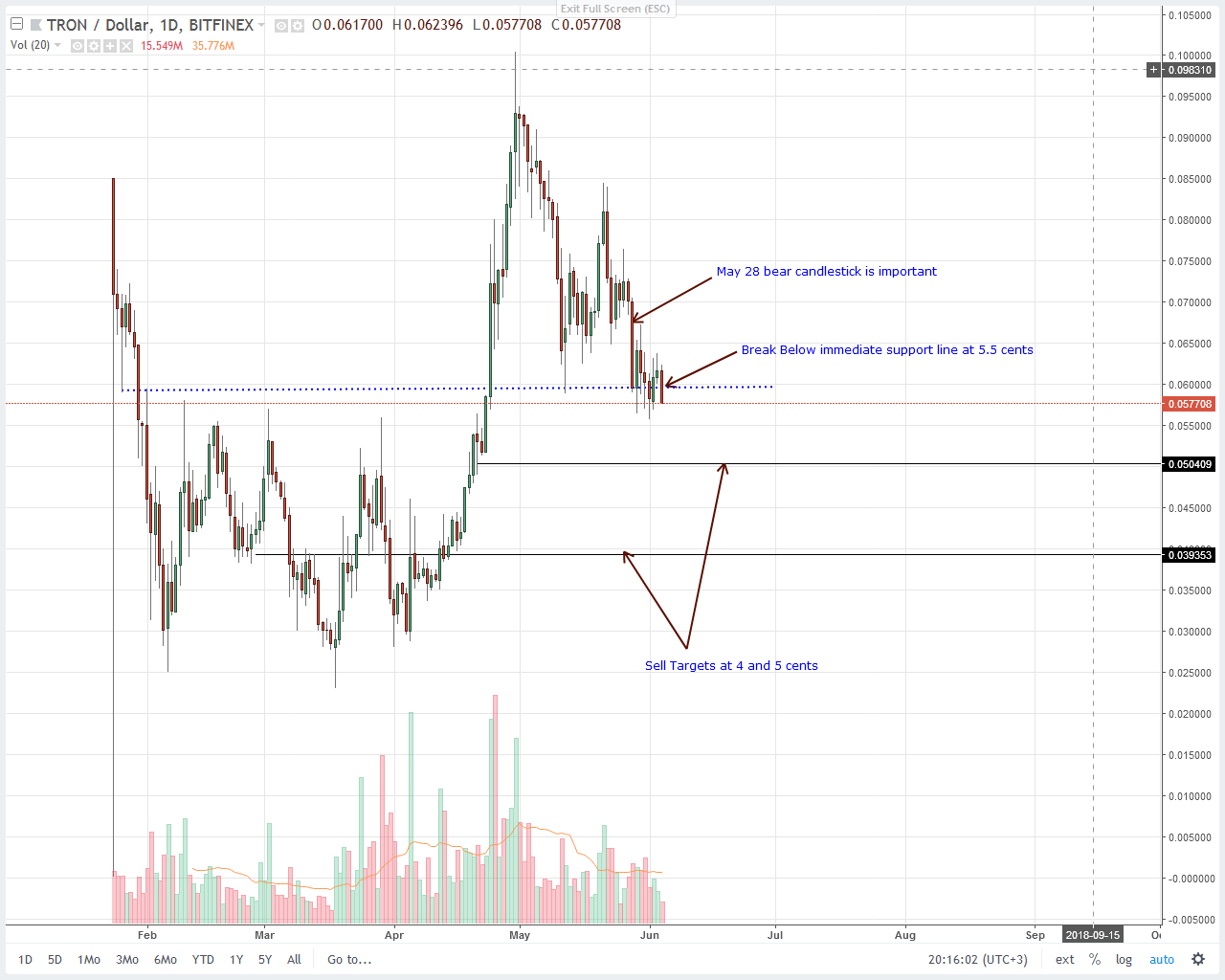 The robustness and security of any network supersedes all other incentives. That's why the Tron Foundation is concentrating all their effort in ensuring the network is above all secure. Through Project Genesis which was set rolling sometimes back in April, developers have a way of taking part in network secure and getting rewards in the process.
Besides, there is a bounty reward program where white hackers would receive $100,000 for every bug they discover and an irresistible loan program for Ethereum DApp developers wishing to build their apps using Tron's VM. These are measures that are in place before their full migration by June 2018. Later on in September they shall schedule a convention and a Hackaton to further scrutinize the network.
#EOS Global #Hackaton – June 2018 – #AreYouReady ? @go_eos @EOS_io @BrendanBlumer @bytemaster7 @brockpierce @eosforumorg @eosnewyork @eos_la @eosphere_io @EOSNordics @EosArgentina @EosRussia @eosatlanta #goeosgo pic.twitter.com/9w4VIIVMPE

— EOS Italy ?? tlosimperabp~eosimperabpi (@EOS_Italy) March 10, 2018
While measures are in place to ensure network integrity, prices are printing lower lows. In fact it looks like our stops at 5.5 cents would be hit if today end up bearish like yesterday. If that happens and we see a strong break below this minor distribution whose support lies at 5.5 cents then our next bear targets would be at 5 cents and then 4 cents depending on the strength of Tron sellers.
IOTA (IOT) Price Technical Analysis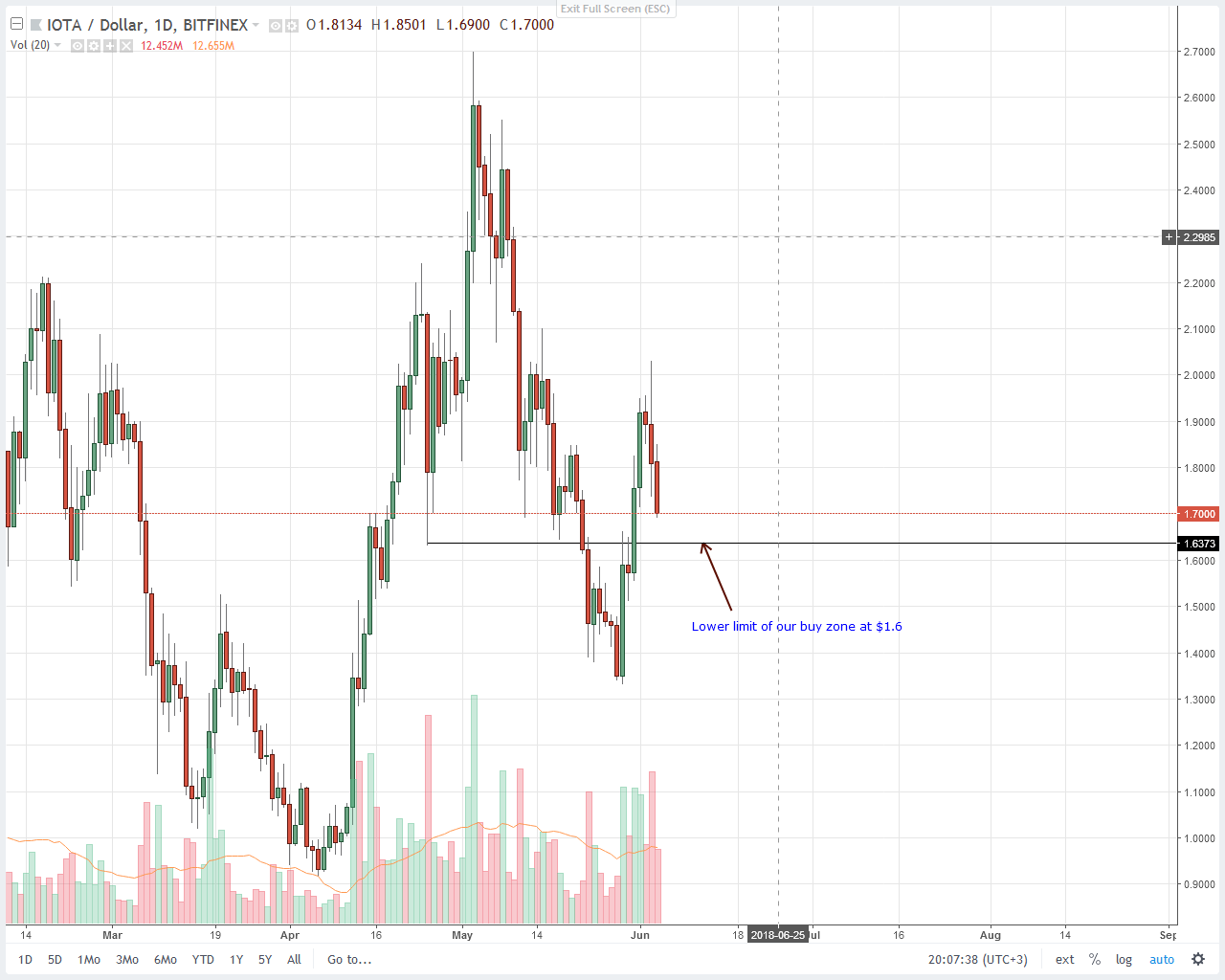 Despite Qubic announcement and how futuristic it is with their Trinary and energy efficient systems, we are yet to see the same sentiment translate to price action. All we are seeing are sellers overclocking their pumps as they eyeball our immediate support at $1.5-1.6.
The Qubic platform will be the most significant contribution to the IOTA stack, it will enable unlimited new use cases and turn the IOTA Project into a full solution. Information and details are beginning to be unveiled right now at https://t.co/U87nKaZWnI#IOTA #Qubic

— IOTA (@iotatoken) June 3, 2018
Fact is, in the last 24 hours alone, IOTA prices are down 14 percent and look likely to add to their losses today. Regardless, we still hold a bullish skew and we anticipate prices to edge higher this week in line with last week's bullish reversal pattern.