As altcoins prices fluctuate, out trade plans continue to hold true. While we remain bullish on most coins as EOS, Tron, Litecoin and IOTA, the latter shows promise. It all has to do with on chain development and with Roman simulation prove that it's possible for the tangle to reach consensus within seconds and process up-to 11,500 TPS, IOTA investors should be upbeat—and they are.
Just finished a basic test of ~95.000 network simulations for our consensus theory. Confirmation time from few seconds up to few minutes depending on the safety setting (almost instant paying for a coffee, or few minutes when buying a car?).

All simulations passed 100%! ? ->

— Roman Semko (@RomanSemko) August 29, 2018
Let's have a look at these charts:
EOS Price Analysis
As the week concludes, EOS is ending on a high shaking off Aug 30 bear attempts. While our trade plan is live and edging higher as laid out in prior EOS price analysis, taking a cautious stand as prices approaches the first level of resistance at $7 is ideal. After all, considering the general set up—prices are moving within a bear break out pattern primarily ignited by Aug 8 bear bar—, it doesn't  make sense to buy as risk reward ratio is prohibitive.
Instead, a more sober approach is to wait for a reversal at $7—now that prices are slowing down OR a high volume break above $7 steeling bulls and allowing buyers to flow into EOS with first targets at $9 and later $15.
Litecoin (LTC) Price Analysis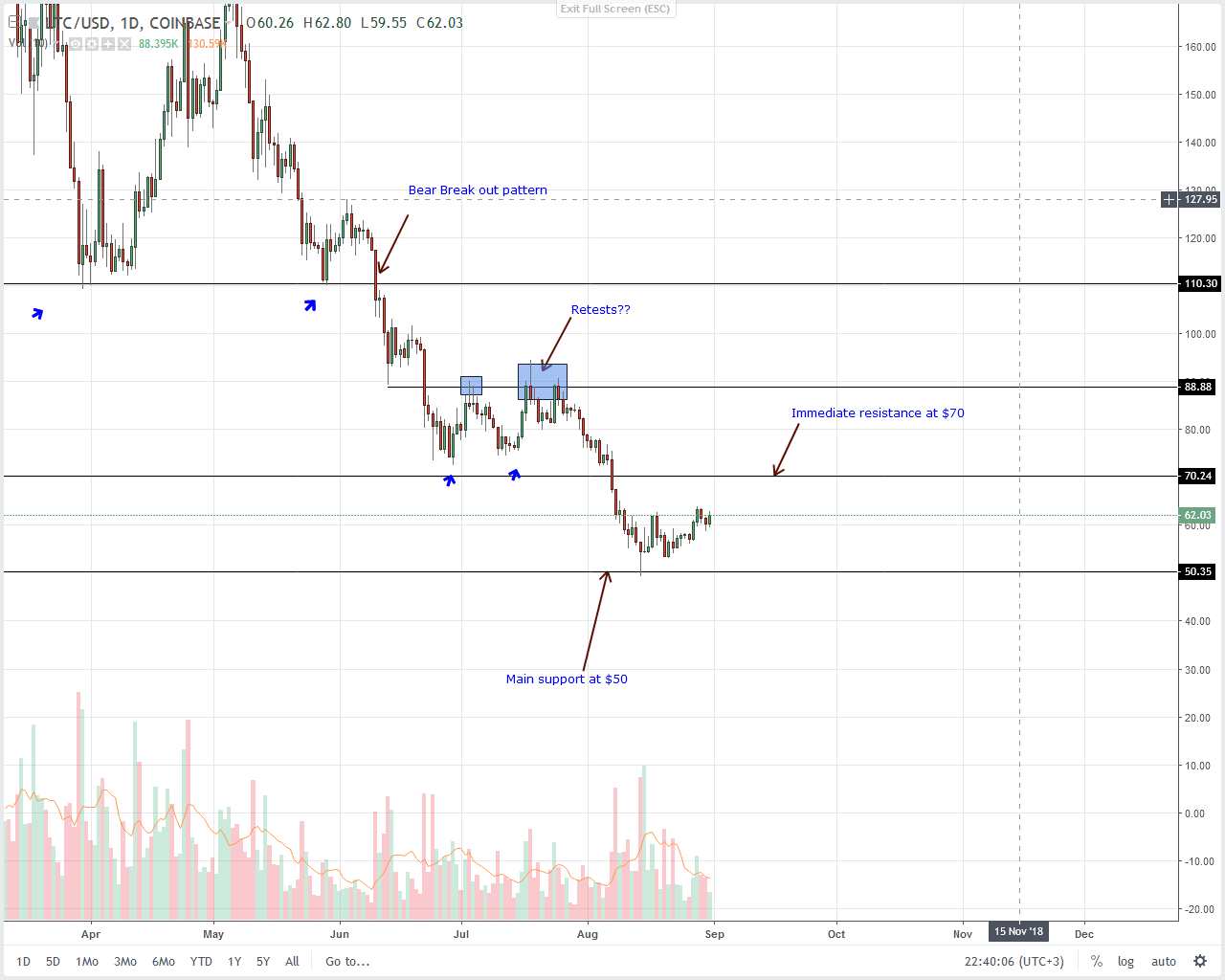 Even with a four percent gain, it's obvious that Litecoin bulls like in most coins are slowing down. Regardless, taking a temporary bullish stand-with lofty expectation of a break above $70-syncs well with recent higher highs set in motion by Aug 17 and 27 high volume thrust.
As spelled out in our last LTC trade plan, taking a neutral stand and halting trading in the time being might present a better entry position once there is a trend defining break out above $70 or dips below $50. If the latter is the case, then odds are LTC might drop towards $30. The level is our previous bear target in the process re-affirming the third stage of a bear break out pattern.
Stellar Lumens Price Analysis
Relative to prior moves, XLM is technically in a range mode. It is  moving within the monthly support trend line capping losses and 25 cents on the upside in a perfect wedge.
Though the market buyers are losing steam, taking an upbeat approach considering Stellar Lumens is oscillating at historical reversal levels clear when we paste a Fibonacci tool between 2017 high lows.
Nonetheless, any move below that support trend line asserting bears will be pointers to weak bulls. On the contrary, a move below 18 cents will open doors for 8 cents as highlighted before.
Tron (TRX) Price Analysis
From the News
The super hyped Tron's Virtual Machine which the foundation says is lightweight, faster, better and compatible with the market pioneer Ethereum Virtual Machine (EVM) is now live.
Blockchain The Global Ecosystem, #TRON to the future. #TRON virtual machine launch event. #TRX $TRX #TVM
Youtube: https://t.co/q553J2pHjW
Facebook: https://t.co/gMnFAULfyr
Periscope: https://t.co/ulCs9Gu1t3

— Justin Sun (@justinsuntron) August 30, 2018
Technical Analysis
Even with a well-orchestrated marketing campaign, the launch of Tron's virtual machine has been deflating for many anticipating "action and volatility".
Like their prior beta announcement, TRX is picking up slow and up just six percent. This means our trading plan is active. However, taking a more conservative approach today as the markets digest the impact of EVM especially on developers is better.
For these reasons, we shall remain neutral for today. But from the way candlesticks are set up—we have a potential retest and trend resumption here—taking shorts with stops at 28 cents should bode well with aggressive traders.
IOTA (IOT) Price Analysis
From the News
Marwen Trabelsi and Sam Chen are the latest members of the Iota Foundation.
There is a potential breakthrough in IOTA after the development team printed a theoretical CTPS of 11,363 and reaching consensus in just 88 seconds for one million transactions all done from 900 virtual nodes.
#DeviotaNikita First load simulations. 300 virtualised nodes bombarded with up to 9 concurrent versions of a TX (nonuple-spend!).

Excluding database and network latencies, it takes only 88 seconds to find consensus for 1 million TXs. 100% success rate. ?? pic.twitter.com/AJHGnXvZxK

— Roman Semko (@RomanSemko) August 30, 2018
Technical Analysis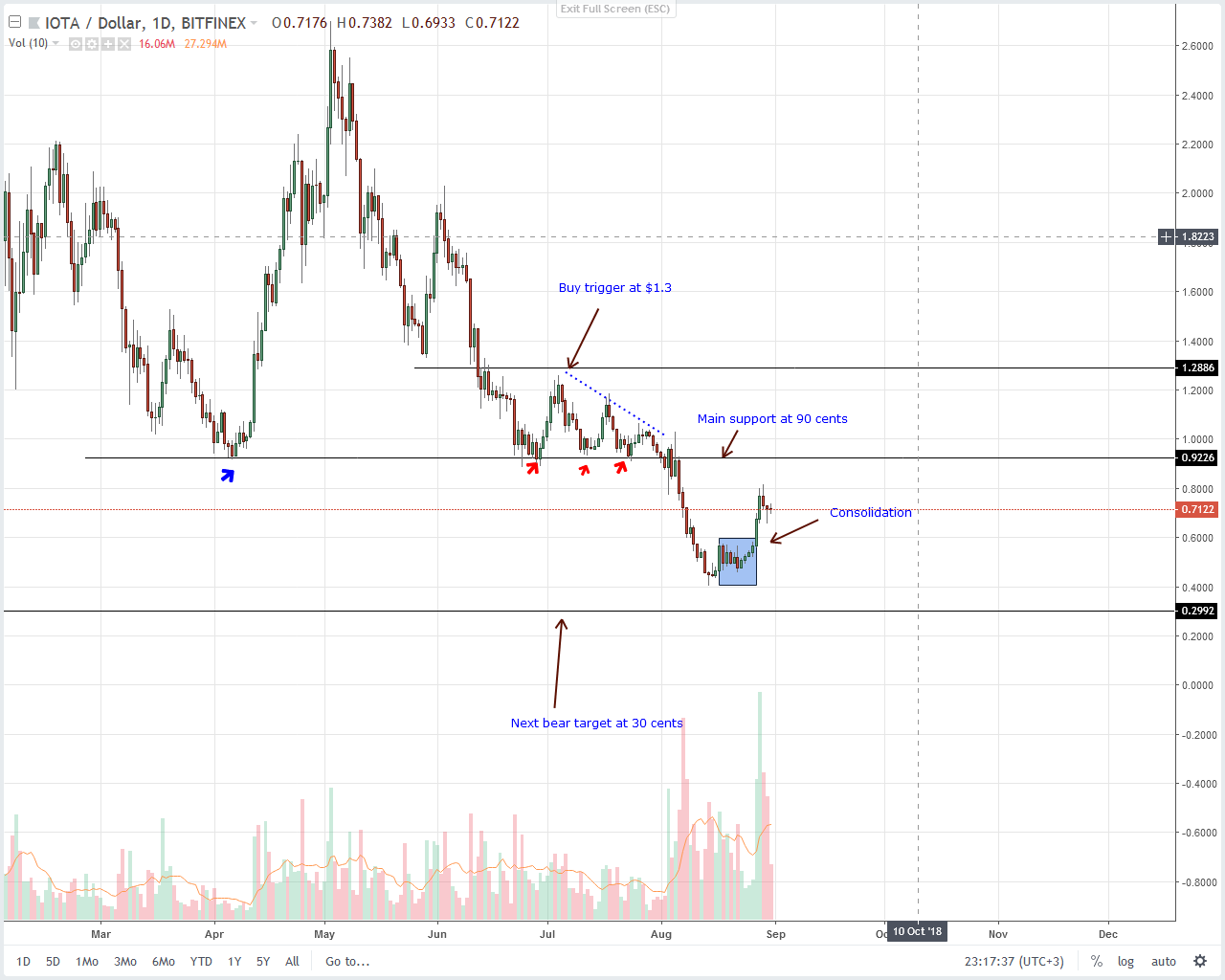 Going by yesterday's development, previous IOTA trade plans hold true even as IOTA gains four percent as statistics shows. Those apparent gains mean nothing by the way. From the chart, IOTA prices are moving inside Aug 27 candlesticks. That's another reason why bull momentum has an edge over sellers.
While spot rates won't allow for buys—risk reward ration won't allow, conservatives can wait for better moves above 90 cents before loading up longs. On the flip side, any dip high volume dip reversing Aug 27 bulls would definitely hint of a slowing momentum and a possible resumption to bears. Sell triggers should be around 55 cents—Aug 17 highs.
Disclaimer: This is not investment advice and views represent that of the author. Do your own research before making an investment decision.