Of all the coins under our review, EOS, Litecoin and Tron are technically stable and moving within a tight trade range. EOS for example is yet to add to last week's gains but is confined within July 20 high lows. Now, despite our bullish stand on Stellar, prices are stalling and once we see gains above 30 cents, our trade plan would be active.
Let's have a look at these Charts:
EOS Technical Analysis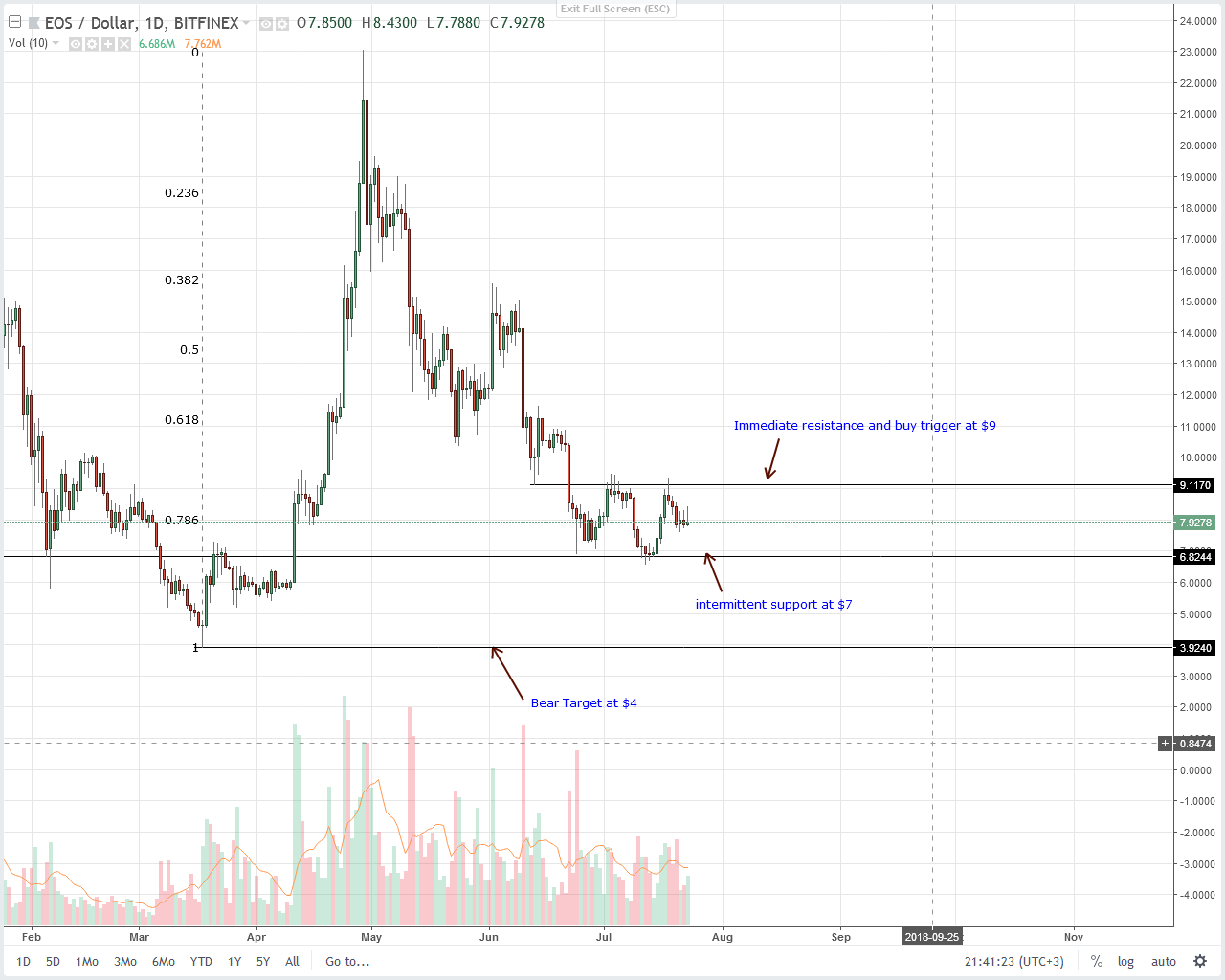 It's cool that Novogratz think that EOS will in the coming days process more than 50,000 TPS per second. After all, it's what many investors are excited about this scalable, smart contracting blockchain platform that is specifically designed to handle enterprise grade dApps.
The tricky question now is when and how the cost of doing business at the platform will diminish to near zero. It's no doubt a hot subject since while Ethereum transfers the cost of transaction and storage to end users, dApp developers bears the cost in the EOSIO blockchain. Basically what that means is that developers wouldn't be in a position to rack in huge profits as that would be determined by the community valuation of his/her dApp.
On the charts, EOS prices are still oscillating within a $1 range defined by July 20 high low. Based on our previous analysis, our trade plan remains constant that's unless we see our entry conditions being met to satisfy our long trades.
Otherwise, cognizant of the fact that sellers are generally in charge, we shall maintain our EOS neutral view until there are signals of momentum shift from bearish to bullish once we see EOS appreciating past $9, our main bull trigger line.
Litecoin (LTC) Technical Analysis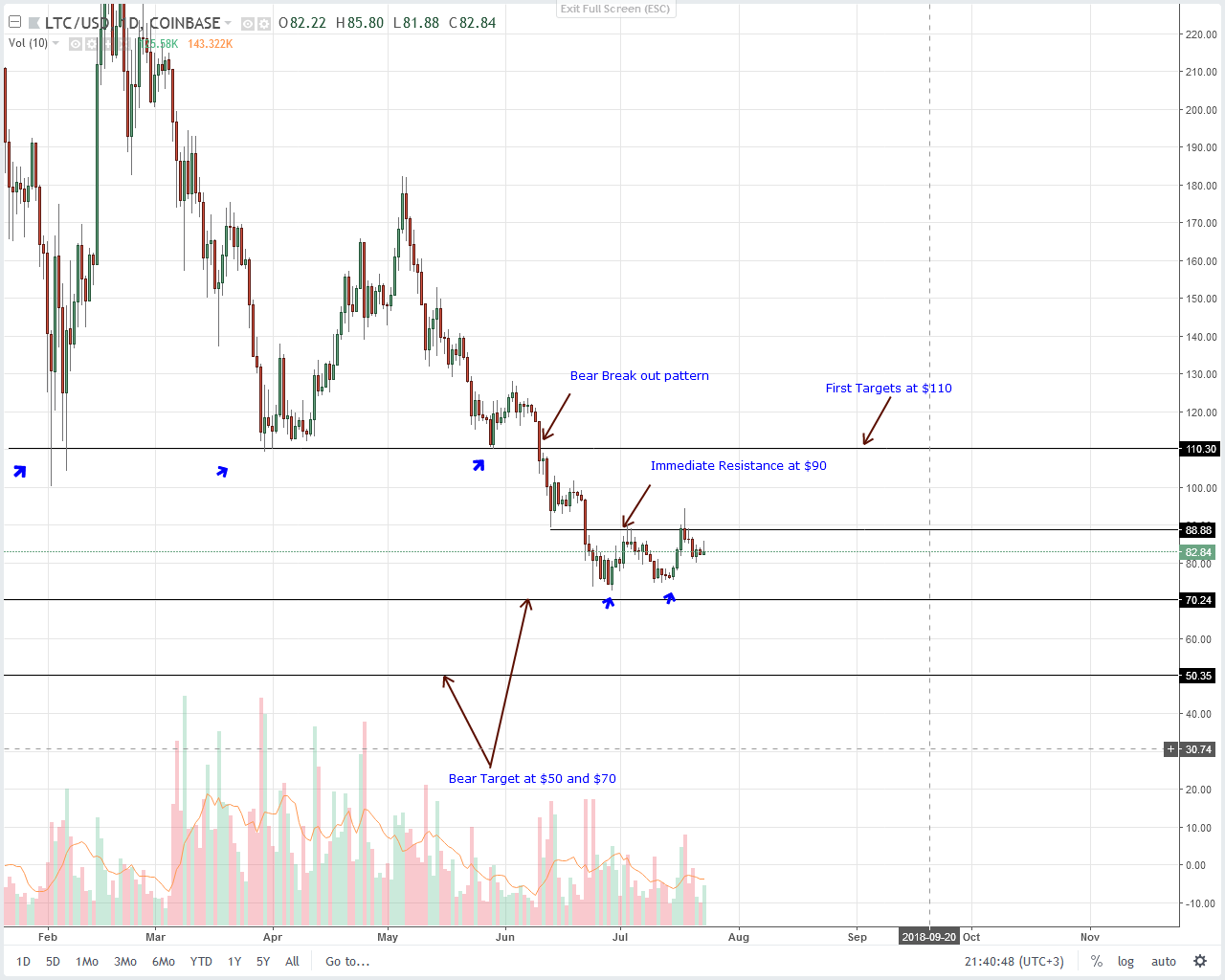 For LTC prices to print $400 as Charlie Lee says, then it must gain five folds if we consider current spot rates. After selling his Litecoins early this year and precipitating a down fall, Charlie has had to contend with criticism with some even losing confidence on the platform all together.
The Litecoin founder has summarily dismissed these claims as hog wash and in a recent tweet, he called on the community to form a foundation to support Litecoin prices which is currently struggling at $85. In his part, he emphasized that the Litecoin Foundation has nothing to do with prices as its objective is to advocate LTC cause to the society.
While Charlie is trying to decouple himself from critics, LTC prices are flat and stuck within an energy sapping micro-consolidation with immediate resistance at $90. So, unless otherwise, we remain bullish expecting gains considering the general upbeat environment in the crypto verse.
However, for execution of longs, we want to see Litecoin prices edging past $90. Thereafter and in line with our Litecoin trade plan, we shall buy on dips with stops at $80 and targets as laid out before.
Stellar Lumens (XLM) Technical Analysis
So far, Stellar Lumens is the top performer adding 27 percent in the last week alone. Even though XLM prices are not advancing like the fast half of last week, we expect further XLM gains and in that case my suggestion is to ramp up at current prices with stops at May lows at around 23 cents.
Alternatively, since we are trading a bullish break out pattern, we can take a wait and see approach as we wait for gains above 30 cents. Ideal first targets, as laid out before, will be at 50 cents.
Tron (TRX) Technical Analysis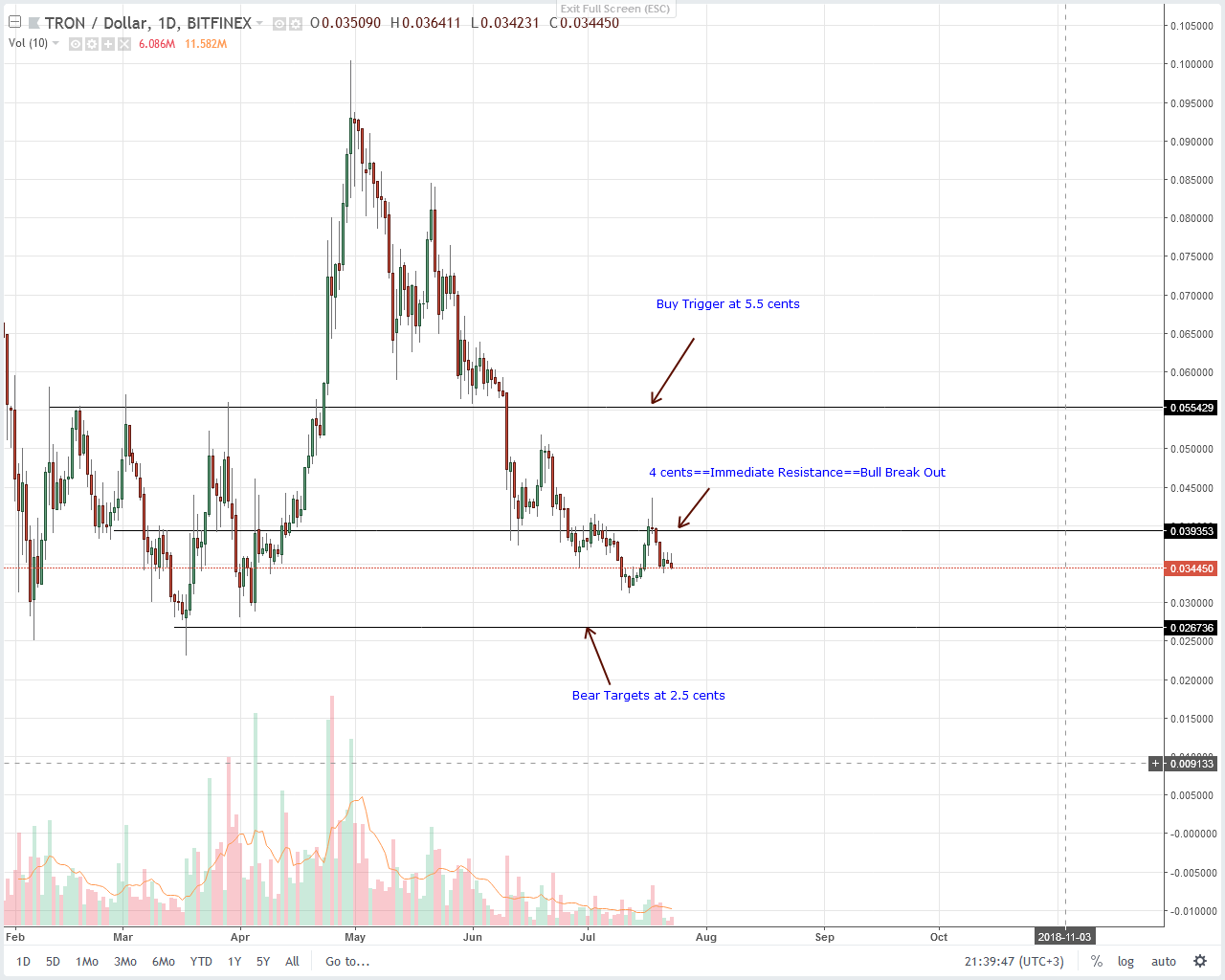 Seven days before Tron VM launch and excitement is palpable in Tron streets. The reason might be well beyond this launch and might be solely because of the secret project that Sun teased about earlier this month.
We are a roughly a week away from learning about the #Tron secret project. Let's hope this endeavor starts with an "Ali" and ends in a "Baba"!#trx $trx #ocn $ocn #Crypto #cryptocurrency #hodl #buythedip #hodlgang #altcoin #altcoins #TRONICS #TRONSR

Don't be shy, follow me!

— Buell Stocks (@buellstocks) July 22, 2018
Well, this is exciting and plays well in this game of Tron where traders and investors demand nothing less than good price supporting news. Could it be that Tron is partnering with Alibaba? Or are they laying out steps to better leverage on Bit Torrent their latest acquisition.
As far as trading is concerned, we have a clear trading plan. Clearly, the trend is negative and for us to change that narrative then we must see gains above 4 cents, our main resistance line and buy trigger line.
If we don't see those gains then in line with yesterday's trade plan, we shall initiate sells once sellers breach 3 cents. Before then, my recommendation is to take a wait and see approach with bullish expectations.
IOTA (IOT) Technical Analysis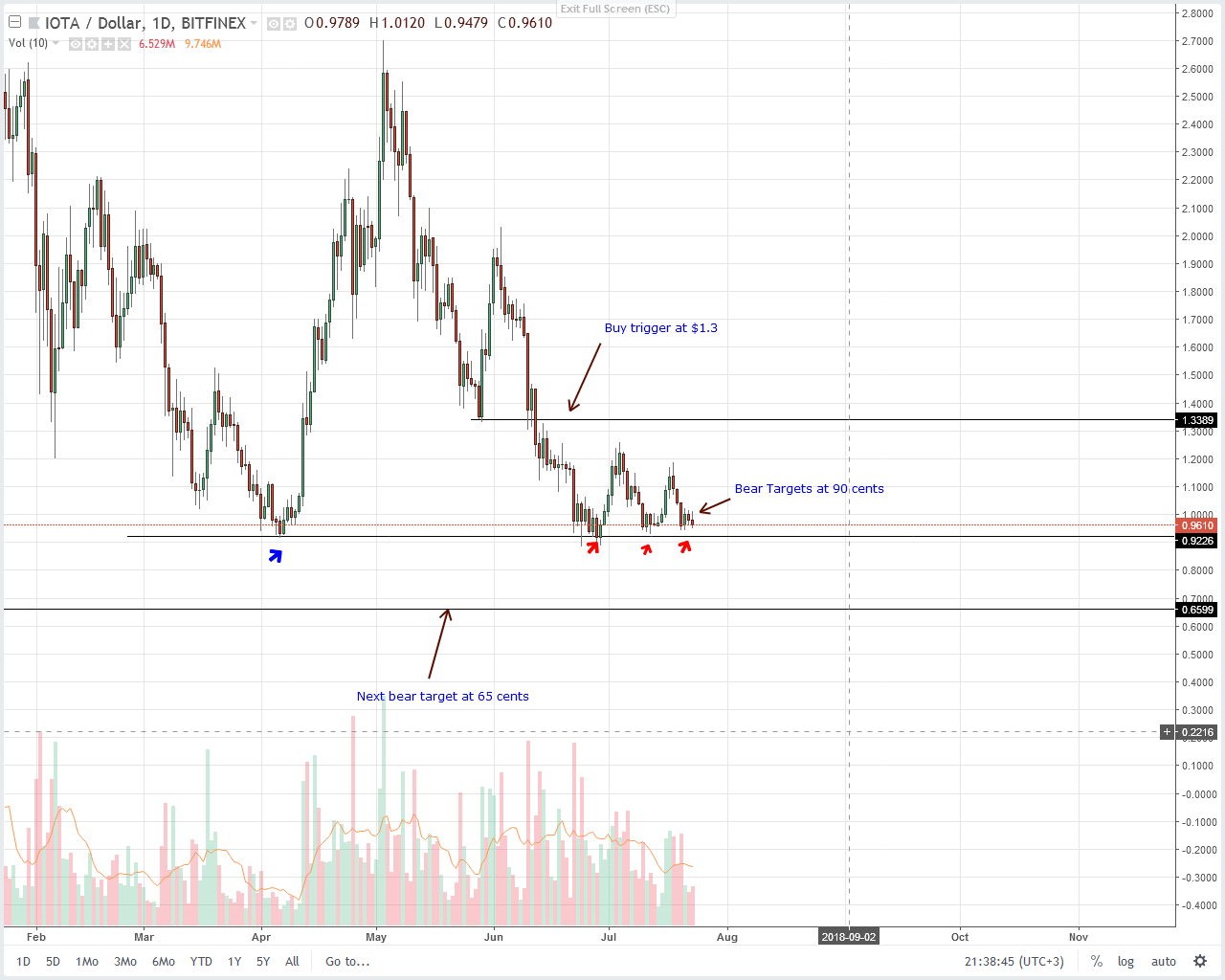 Not only do we have a nice triple bottoms at main support, but the fact that IOTA sellers are resilient increases our odds of a break below 90 cents.
Remember, even though the crypto verse is bullish, there are no conclusive moves above key support and resistance lines to warrant buys or sells in the daily chart. As such and just as spelled out in our previous trade plans, we take a neutral stand until after our trade conditions are met.
Disclaimer: Views and opinions expressed are those of the author and aren't investment advice. Trading of any form involves risk and so do your due diligence before making a trading decision.