Regardless of our EOS bullish proposals, bears are keen on driving prices lower. In the last 24 hours, EOS slid one percent and perfectly aligning itself with the general sell trend. This comes even in the back drop of Ledger Support and several EOS coin deposit and withdrawal support at BitFinex and Kraken. If anything, we are still neutral because none of our trades-sell or buy, are live as laid out in previous trade plans.
From the News
It's next to perfect, news of Ledger hardware wallet support is a big plus. If you have been keeping yourself updated on the crypto verse for a while then by now you know that the only safe haven for these digital coins are offline hard wallets.
The logic goes that hackers cannot infiltrate a gadget that is cold, those that aren't plugged to the internet. Ledger has tailor made solutions to meet this demand and besides, they schedule a desktop app mid next month though it wont be that open source.
Please @EOS_io community, vote for @LedgerHQ on official roadmap. https://t.co/r1JQZQIjNz#EOS

— Kevin.P (@Shakur0o) June 21, 2018
Even though Ledger mobile version will see light anytime in Q4, hawk eyed critics has it that their Desktop App won't be open source after all. And indeed, skimming through the sentences you notice that some extracts explicitly say that some "elements of the code won't be published" but then "that's not because our security relies on keeping it private". They insist that it's the contractual elements of the companies they work with makes the whole case "legal" and "contractual".
EOS Technical Analysis
Weekly Chart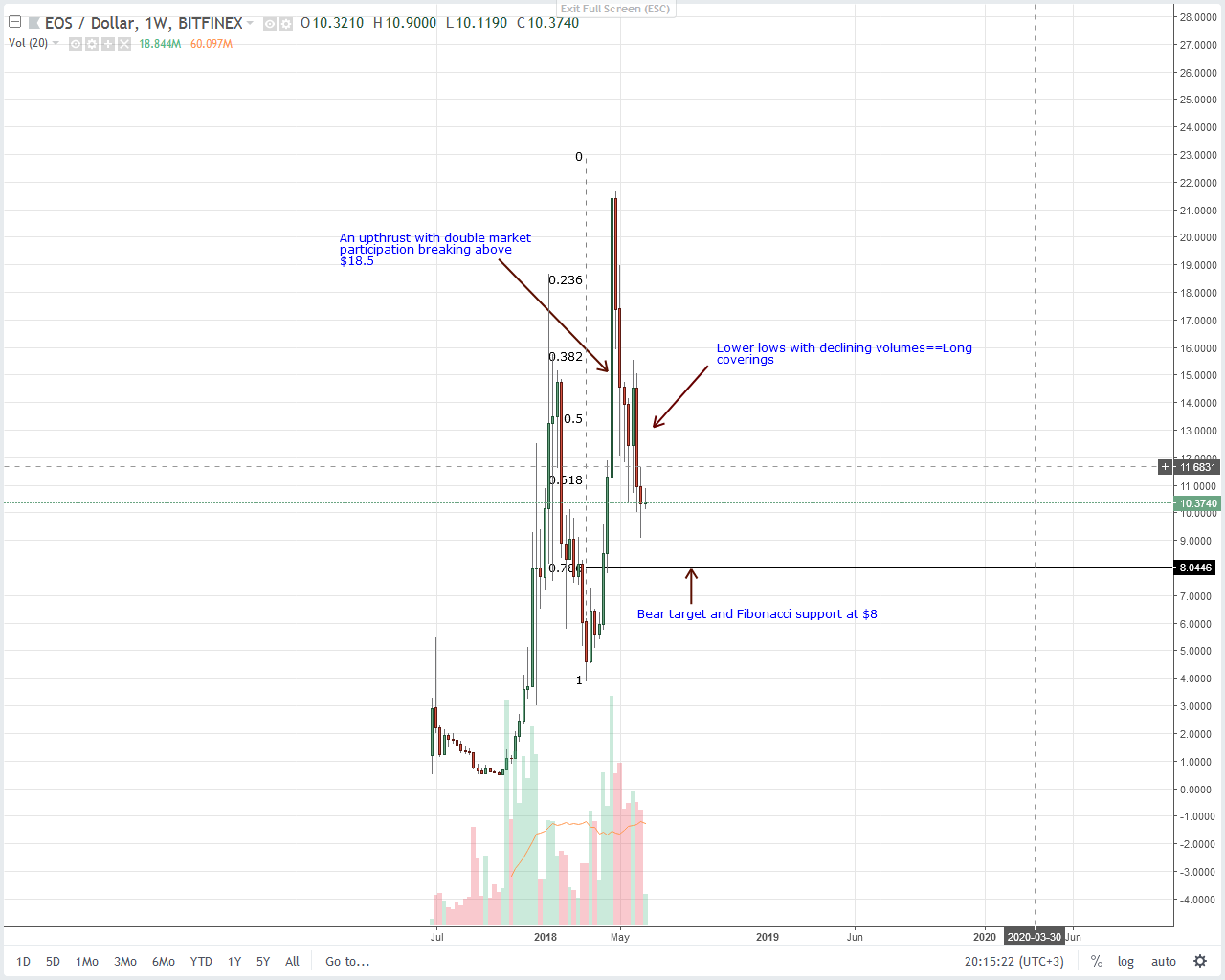 Besides Tron, EOS remains robust in the top 10 of all the coins under our radar. Fact is, in the last week alone, it's up three percent and this is despite all the negative media that has been under their case since after launching. However, that's not the whole point. The thing is: will we see a recovery? Well, not likely.
In the weekly chart for example, it's likely that last week's bears will spill over and continue to push prices towards EOS minor support at $9. There are hints of that happening. See this long upper wick? That signal bear pressure and as long as market participation and bull volumes wane, the consequent on price is always negative. After all, like we have mentioned several, events of May and June because of these consistently low volumes overwhelmed by April ultra high volumes averaging 100 million means we are witnessing a long covering. It's an effort versus result scenario panning out in my view.
Then again, if we past a Fibonacci tool between April high lows then we notice that possible region of support is around $7 at the 78.6 percent level. So, odds of further depreciation if we compare recent trends and resistance to upsides mean there is more room for down side. Anyway, $7 is our bear support as per our previous trade plans.
Daily Chart
Here, our trade range can't be clearer. As it is, prices are moving within June 14 high lows and as long as our buy and sell triggers at $13 and $9 are not tested, we remain neutral. However, take note that the longer the consolidation, the stronger the break out will be. As such, rather than guessing, taking a neutral stand even with bullish proposals is safer.
Disclaimer: This is an opinion piece and views/opinions expressed are those of the Author. Do your Due Diligence before making an investment decision.