All coins in the top 10 are in a decline printing losses in the last 24 hours. Even EOS and Tron are in negative territories despite major market moving events coming in less than two weeks. Well, this is good for value traders who are busy buying on dips in lower time frames. In my view, Tron, IOTA, EOS and Litecoin have high chances of appreciating especially if they find support today or tomorrow. If EOS for example spring back above $13, buying would be a good move. Otherwise, $7.5 can be a reality sooner than later.
EOS Price Analysis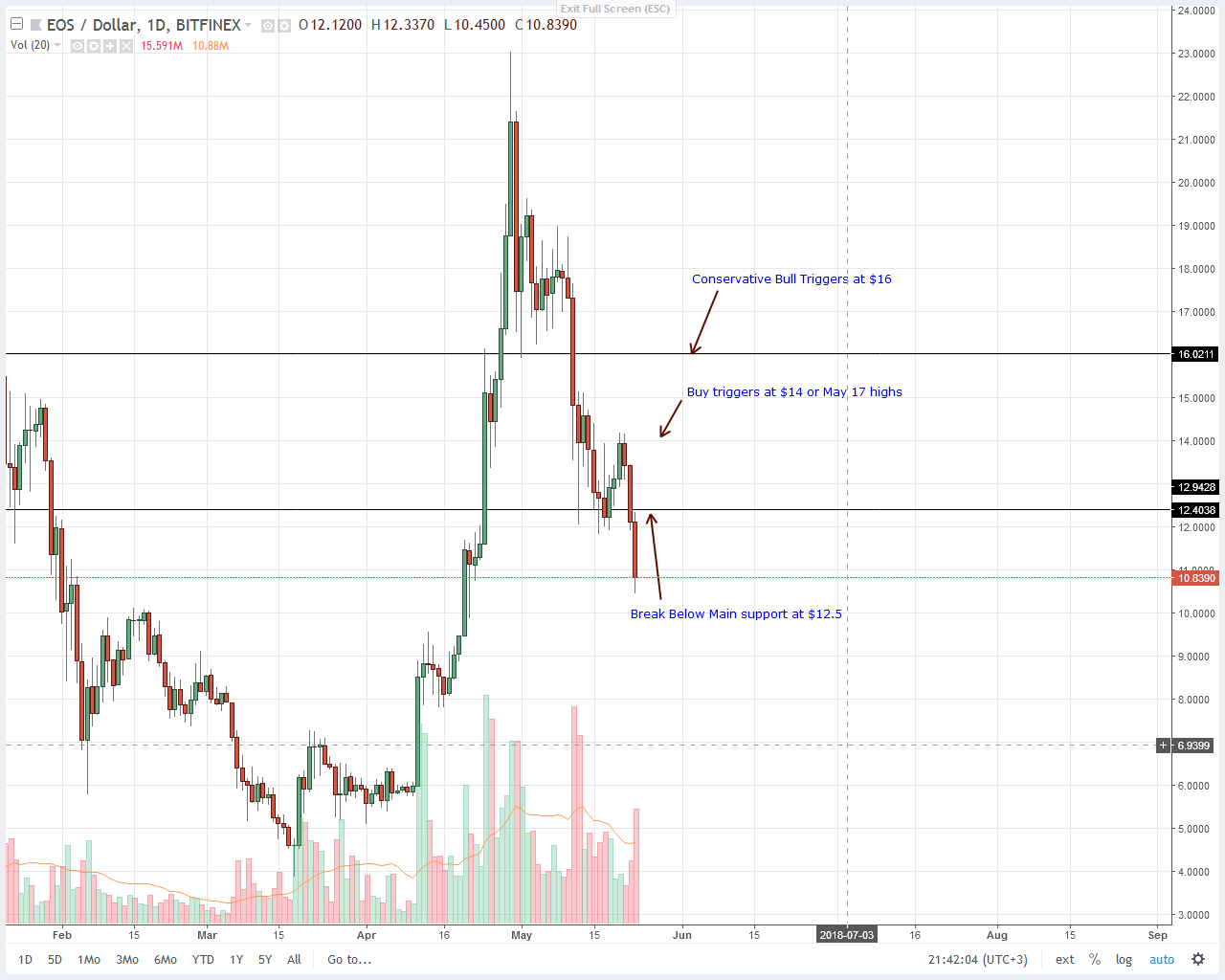 Like the rest of the market, EOS is on a slide losing 11 percent in the last 24 hours. It's but a counter move and completely fading our upbeat feel. Yes, we have a mainnet launch on June 2 and with less than 10 days to go, there is a wriggling room for EOS sellers to drive prices lower. Now that prices are trading below our previous support line, now resistance at $13, it's likely that EOS might find support anywhere around $7.5 and $10. These levels are previous reaction points and mark the upper and lower limits of a previous consolidation. However, if there are reversals today and buyers pump EOS above $13 with extra ordinary volumes, then it can be a conspicuous shift of sentiment and a potential invite for buyers to join. Otherwise, keep selling on every high on lower time frames.
Litecoin (LTC) Price Analysis
After Tap Jet, CheapAir.com now allows payment in Litecoin. Cheap Air became the world's first flight and hotel booking company to allow payment in Bitcoin back in 2013. They also allow payments in Bitcoin Cash and DASH helping diversify payment options for their customers when making hotel or flight bookings. Citing demand, a representative from Cheap Air said they have been listening to customer requests and are now acting by availing alternative currencies to their clients.
Technically, Litecoin is bearish and trending below $130 following that spike on March 22. While odds are this may continue towards $110, any attempts of higher highs and rejection of lower prices may lead to reconsideration of our sell projection. So, aggressive traders might sell and if prices edge below $115 today then look for sells in lower time frame on May 25 and load.
Stellar Lumens (XLM) Price Analysis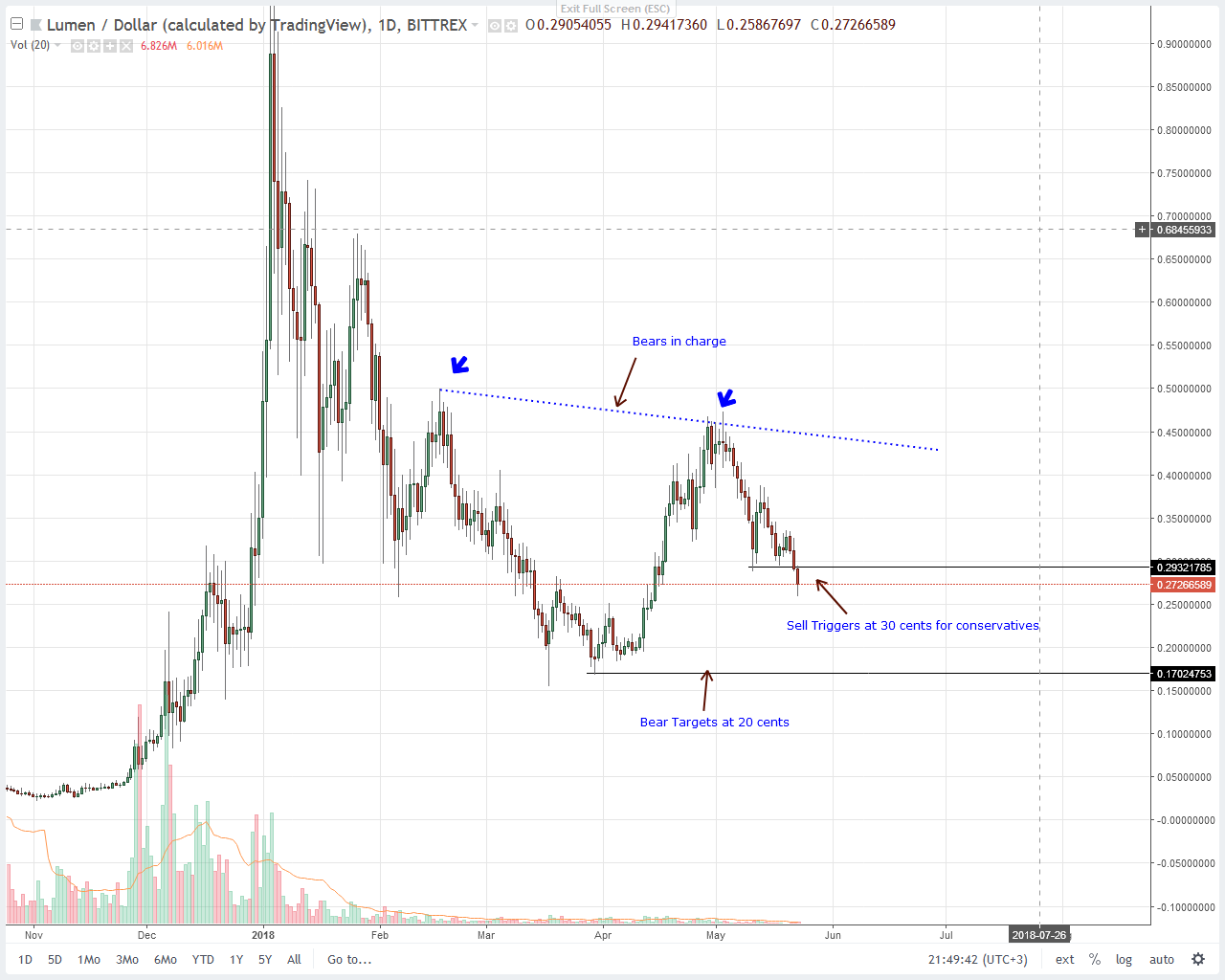 Notwithstanding, regardless of our positive assertions, Stellar Lumens prices dipped, taking our stops at 28 cents with it. Now, what we have now is a bearish break below just like what we are seeing in most coins under our focus. The thing is, will there be a confirmation today and increase of yesterday's 12 percent price erosion?  Advised by this, I will remain neutral unless otherwise.
Tron (TRX) Analysis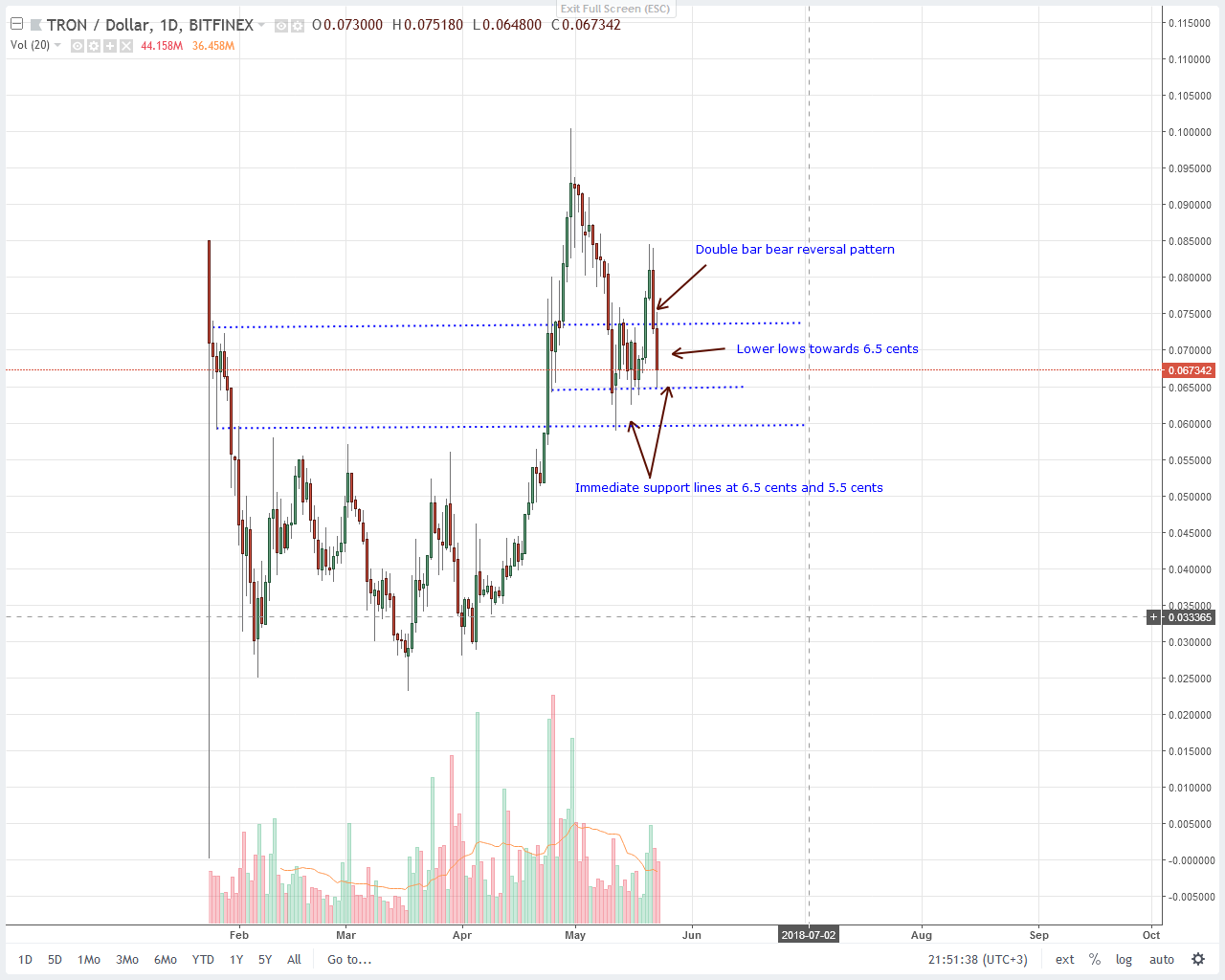 If you invite a bud to the Tron Telegram channel, you qualify for a Justin Sun initiative, the Tron Candies. Through Twitter Justin said he has "millions of TRX Candies" and all you have to do is click on to an invitation link and use your ETH public address to receive funds. Though the promotion is not available in the US, China, New Zealand, South Korea and Canada, it will be a chance to earn free TRX tokens simply by sending invites. This marketing stint ends on June 1.
Despite these sharp declines, Tron is down 13 percent in the last 24 hours. It was inevitable especially if we consider technical formations in the last 48 hours or so.
Talking of news, there are unconfirmed reports that the much anticipated Tron-Alibaba partnership is already signed. Announcement would be made shortly after mainnet launch and later Tron shall be listed in a leading exchange for liquidity and price stability purposes.
Note that even though there was an elevation in market participation, bears commanded the day pushing prices back to May 18 lows at 6.5 cents. Volumes are not that great and if there is a confirmation of that double bar bear reversal pattern we saw on May 20 and 21, it's likely that Tron sellers might penetrate support and test 6 cents. Anyhow, without speculating, let's see what happens. We remain net bullish and looking forward for buys anywhere between 6 cents and 6.5 cents.
IOTA (IOT) Analysis
Of course their partnership with the UN was a CSR and a good gesture by the IOTA Foundation who are an NGO. With IOTA, the UN and their partners would be in a position to access and leverage on the DLT ability to secure and time stamp all of their documents in an efficient manner. Besides, DLT technology tags with it transparency as everything can be tracked within the network.
Price wise, IOTA is on a down trend just like their peers. Nevertheless, IOTA remains a long term buy hold and we shall be looking to buy at better value suppose there is a break below our main support line at $1.5. As we can see, IOTA is down 19 percent in the last week and 15 percent in the last 24 hours meaning sellers are indeed in charge. We are short term bearish and should there further losses, sellers should aim for $1 or 90 cents.