Ethereum Classic (ETC) down 7.8 percent
Atlantis may prime ETC bulls aiming at $25
By syncing with other assets, ETC gains were decent. At a precipice, there must be upswings above $10 to reaffirm the presence of buyers ahead of September 2019 Atlantis upgrade.
Ethereum Classic Price Analysis
Fundamentals
Like Ethereum, Ethereum Classic retained smart contracting capabilities and immutability. Following the Decentralized Autonomous Organization (DAO) hack, Vitalik and team forced a split. Meanwhile, Charles Hoskinson, and purists of blockchain principles, rejected tweaks to recover the lost millions.
All the same, it has been a tough journey for Ethereum Classic. Last year was mainly testing. One of the development wings closed doors citing lack of funds. Ethereum Classic is bouncing back, quite literally.
Announced earlier this week, Metronome and ETC Labs will be partnering to improve interoperability. Through this arrangement, Metronome, a blockchain project with a focus of enhancing dApp portability, reliance, and governance, will reap huge benefits. Specifically, its currency, MET, will be fluid, interoperable between Ethereum and Ethereum Classic blockchains. And it gets better.
Atlantis will precede Agharta. The objective in this definitive hard fork is to incorporate ten Ethereum Classic Improvement Proposals (ECIPs). According to Steven Lohja of ETC Labs Core, the goal is to "add support for a subset of protocol-impacting changes introduced in the Ethereum Foundation (ETH) network via the Spurious Dragon and Byzantium hard forks."
Later, Agharta will "enable the Ethereum Foundation Constantinople and Petersburg network protocol upgrades on the Ethereum Classic network, further maximizing ETC–ETH compatibility."
Candlestick Arrangement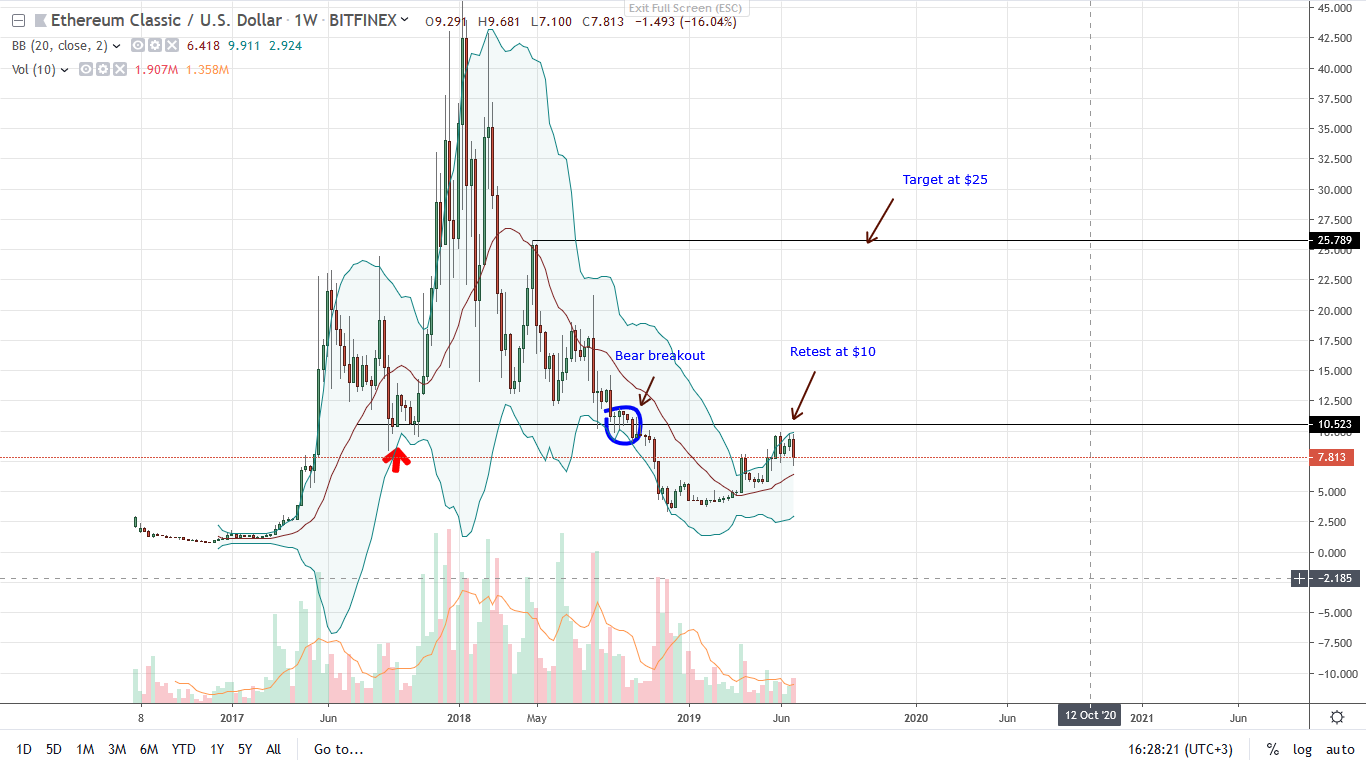 Presently, ETC is down the liquidity leader board. Week-to-date, the coin is down 7.8 percent but could slide lower if candlestick arrangement leads. ETC is under pressure.
Even though the rebound has been impressive and aligning to BTC's good fortunes, bears are firm. In a bear breakout pattern, stops are at $10.
From the chart, there is resistance for higher high following this week's drop and the printing of a bear candlestick, cooling off May upsurges.
Unless otherwise there is a high-volume breakout, canceling losses of Q3-4 2019 and shaking out losses of this week as ETC surge past $10, then traders can buy the dips.
For now, and in light of the above, a safe bet is to exit longs and wait for a pullback preferably back to $5.5.
Technical Indicators
This week's bar is conspicuous with high participation of 1.8 million. Aforementioned, confirmation of bulls driving prices above $10 ought to be with high trading volumes exceeding 1.8 million. After that, targets will be at $25 as ETC chart a new trajectory. Conversely, odds are ETC will temporarily dip to $5.5 in a retest before bulls snap back to trend.
Chart courtesy of Trading View. Image Courtesy of Shutterstock