Ethereum (ETH) price is up 5.1 percent
Institutions driving demand for Grayscale Investment's Large Cap Fund
According to Grayscale Investments, institutional demand for cryptocurrencies, including ETH is high. Last quarter, their Large Cap Fund rose 178.8 percent. Currently, ETH is stable but vulnerable in a bear breakout pattern.
Ethereum Price Analysis
Fundamentals
Cryptocurrency "detectives" report that this week's Bitcoin's drop below the $10,000 round number was because of whales' rapid accumulation of Ethereum (ETH). As per observers, a single 15,000 ETH buy order did cause a demand shock with the temporary oversupply causing ETH prices to drop as price action sought equilibrium.
He's back$ETH@binance pic.twitter.com/QfdpHrdu3S

— Su Zhu (@zhusu) July 18, 2019
Since BTC and ETH prices are highly correlated, the price of BTC also declined in response. If anything, this could be a possibility. Worse, critics can insist that these were deliberate attempts to prop ETH prices.
Regardless, fundamental factors around Ethereum and even Bitcoin are bullish. That's despite all the slew of negative news from US politicians. By cushioning the USD, their eyes are at cryptocurrencies, which is a necessary creation borne out of fiat's vulnerabilities.
Meanwhile, the latest quarterly report from Grayscale Investments reveals demand from institutions. As per their report, the assets under management, held in their Bitcoin and Ethereum Trusts, tripled, rising to $2.7 billion from $927 million of Q1 2019. From this, the Grayscale Digital Large Cap Fund with ETH investment gained 178.8 percent in Q2 2019.
Candlestick Arrangements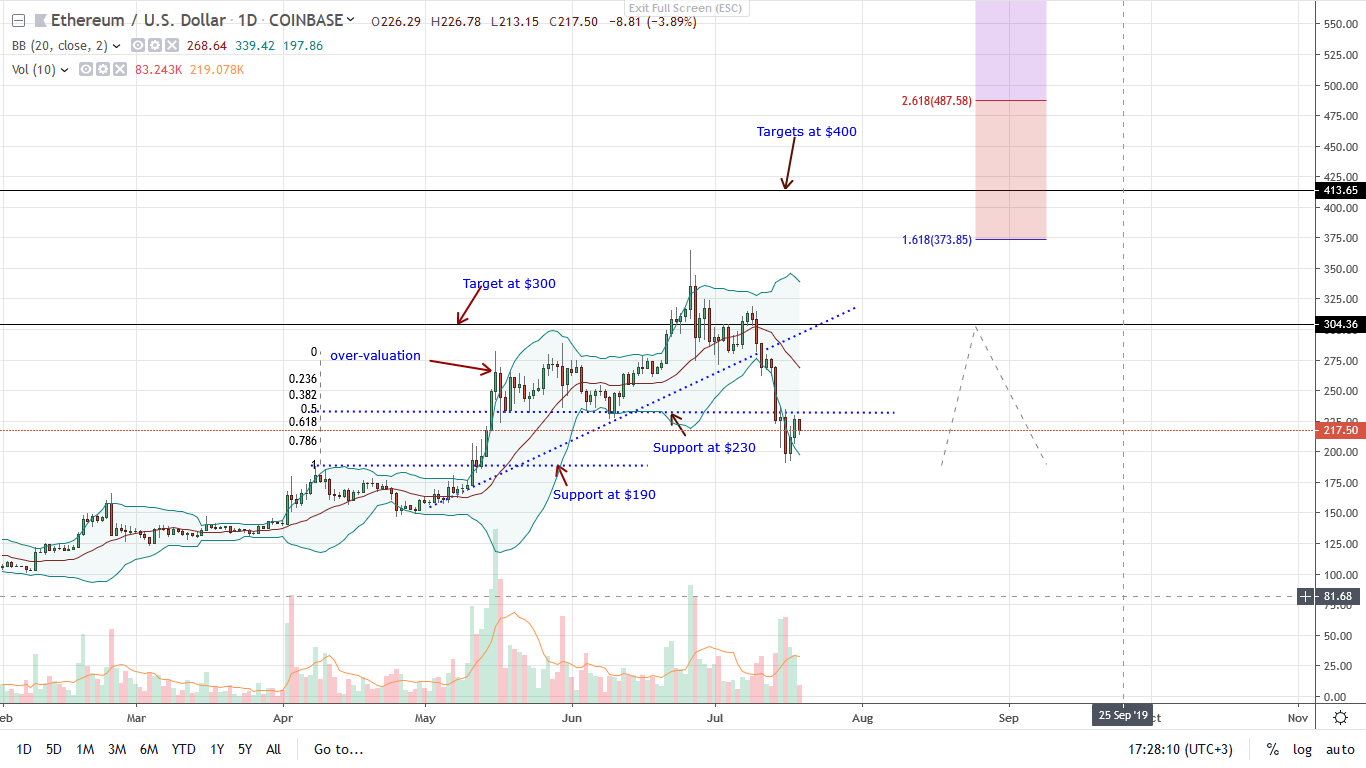 At the time of writing, ETH is down 18.7 percent in the last week but stable in the past 24 hours. Up 5.1 percent, the ceiling is at $230. Even so, note that sellers are firmly in control.
Following the drastic fall in prices below two levels of support-in the main support trend line and $230, the current pullback is likely a retest. In that case, and despite impressive gains in Q2 2019, every uptick towards $230 is an opportunity for bears with sights at $170 or even $150.
The projection is valid and in expectation of a possible correction of Q2 2019 steep gains. Similarly, a retracement to the $170-$190 zones will be perfect for traders aiming for $300 and June 2019. However, if ETH prices blast past $230 with high trading volumes, this trade plan will be null.
Technical Indicators
As aforementioned, June 26 bull candlestick anchors this trade plan. It has high trading volumes of 554k. As a result, for buy trend continuation, any surge past $230 or the previous support trend line now resistance must be with high participation exceeding 554k. Equally, drops below $190 with a distinctive breakout bar propelled by high trading volumes would trigger a possible dump to $150 and $100.
Chart courtesy of Trading View. Image Courtesy of Shutterstock