Ethereum prices up 21.6 percent in the last week
Afri Schoedon quits Ethereum after Polkadot, Serenity comparison
Transaction volumes picking up
Compared to other coins in the top 10, Ethereum (ETH) is leading the bulls procession. Changing hands at around $150, we expect ETH bulls to gain ground ahead of Constantinople.
Ethereum (ETH) Price Analysis
Fundamentals
Blockchain-based projects are unique and special. A genuinely decentralized network will have a healthy mix of developers, investors, and speculators. All of them will contribute in one way or another. Everything else constant, the success or failure of a project depends on the number of dedicated developers. Afri Schoedon, the Ethereum core coder, was one of them. Due to online criticism, he announced his decision of stepping aside and in days ahead would "no longer respond on Gitter, Skype, Discord, Slack, Wire, Twitter and Reddit" directly to any member of public on technical questions or improvement requests regarding Ethereum.
In a tweet, the quitting Ethereum servant said:
"I did not quit social media, I quit Ethereum. I did not go dark, I just left the community. I am no longer coordinating hard-forks, building testnets, or contributing otherwise. I did not work on Polkadot, I never did, I worked on Ethereum. I did not hate Ethereum, I loved it."
Critics started pouring thanks in part to his honest comparison on Thursday last week between Polkadot, a multi-frame network that supports interoperability between wildly different blockchains and Serenity, a scaling solution proposed by Ethereum.
Candlestick Arrangement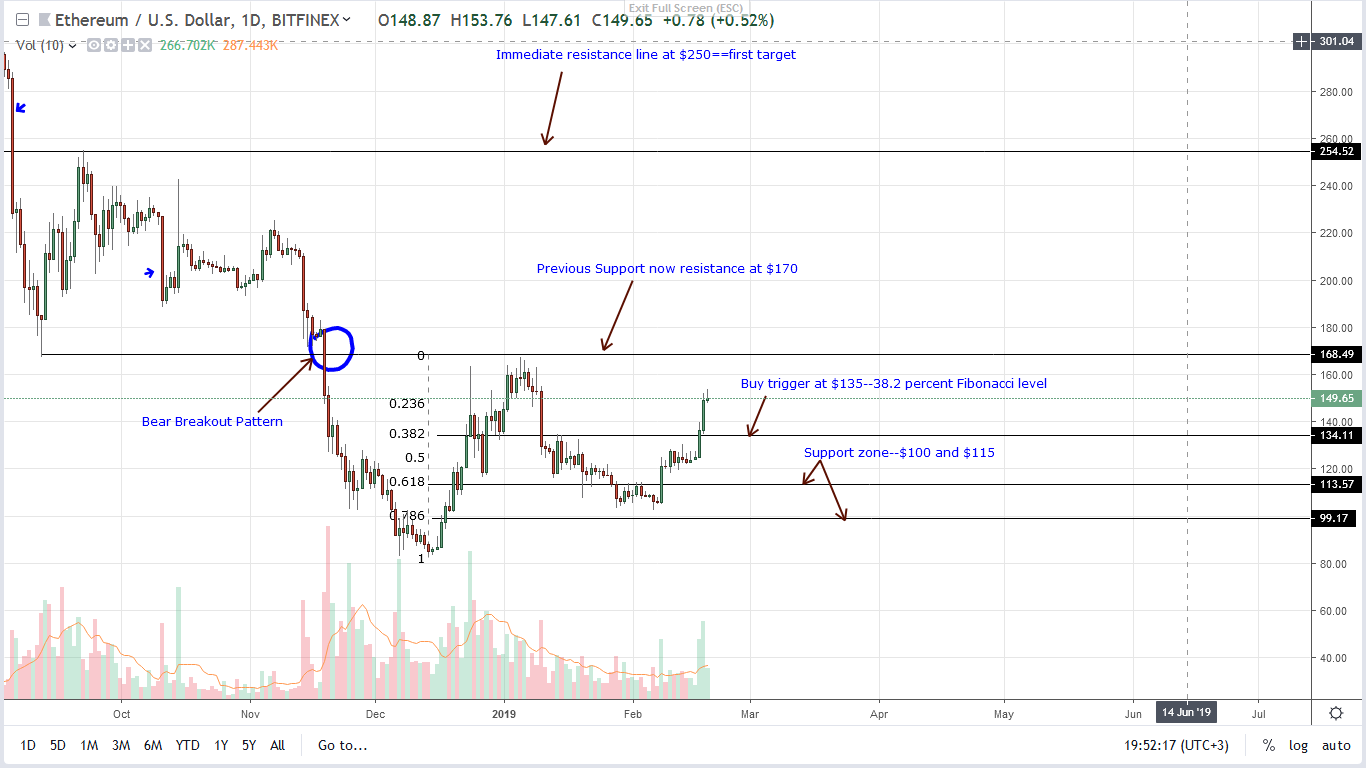 At the time of writing, ETH is up 21.6 percent in the last week. Despite Afri quitting, bulls are resilient, and prices are trending at new highs at the back of decent volumes. Although ETH is technically bearish unless of course prices breach the $170 ceiling, we shall retain a bullish outlook in days to come. It is easy to see why.
Firstly, ETH is up above the $135 resistance level, and in a minor breakout pattern, these upswings did confirm bulls of Feb 8 which in turn validate price gains of mid-Dec 2018.
Secondly, ETH found support at around the 78.6 percent Fibonacci retracement level, and as Fibonacci reversal rules dictate, ETH bulls will likely pump prices towards $170– a critical resistance level. Combined with fundamental reasons as Constantinople, we may see a situation where the march towards $170 will hasten.
Technical Indicators
There is a remarkable shift of momentum and as aforementioned, confirming price swells of Feb 18 are high volumes–520k, exceeding those of Feb 8–519k. While bullish, market participation levels are lower than those of Jan 10–684k. Therefore, it is imperative that ETH bulls surge above $160 for a complete reversal of Jan 10 losses in a three-bar bull reversal pattern as prices bottom-up from $100 pits.