Ethereum (ETH) adds 7.6 percent
Facebook's Libra is more popular than ETH
An independent research from eToro reveals that investors are more aware of Libra, a Facebook stablecoin set for launch in 2020, than Ethereum (ETH). Meanwhile, ETH is back to green, adding 7.6 percent in 24 hours
Ethereum Price Analysis
Fundamentals
The discourse around Facebook's Libra, a centralized stablecoin, is at fever-pitch. Unfortunately, the consensus is not favorable for the global stablecoin. Facebook has a bad track record on privacy.
Worse, their foray into finance is agitating Congress. Visibly, most are concerned about the Libra's effect on the USD. The US President, Donald Trump, for example is categorical stating that Facebook must acquire a banking charter before issuing Libra.
However, the bad news is that there is nothing binding Facebook from launching elsewhere. Theoretically, Facebook is not in charge of the Libra Foundation. The latter is a group of American and European companies ready to launch in approving jurisdiction.
After polling 600 people, eToro, a social trading platform, found out that Bitcoin is the most popular digital asset. 58 percent of the those surveyed were aware of BTC. Surprisingly, 16 percent knew Libra, and a mere 12 percent had heard about Ethereum (ETH).
Concluding this finding, Guy Hirsch, U.S. managing director of eToro, said:
"We believe that crypto and the blockchain technology that underpins it will be essential to 'tomorrow's economy. By introducing the concept to a new audience, Libra could play a vital role in the evolution of decentralized and more democratized finance."
Candlestick Arrangement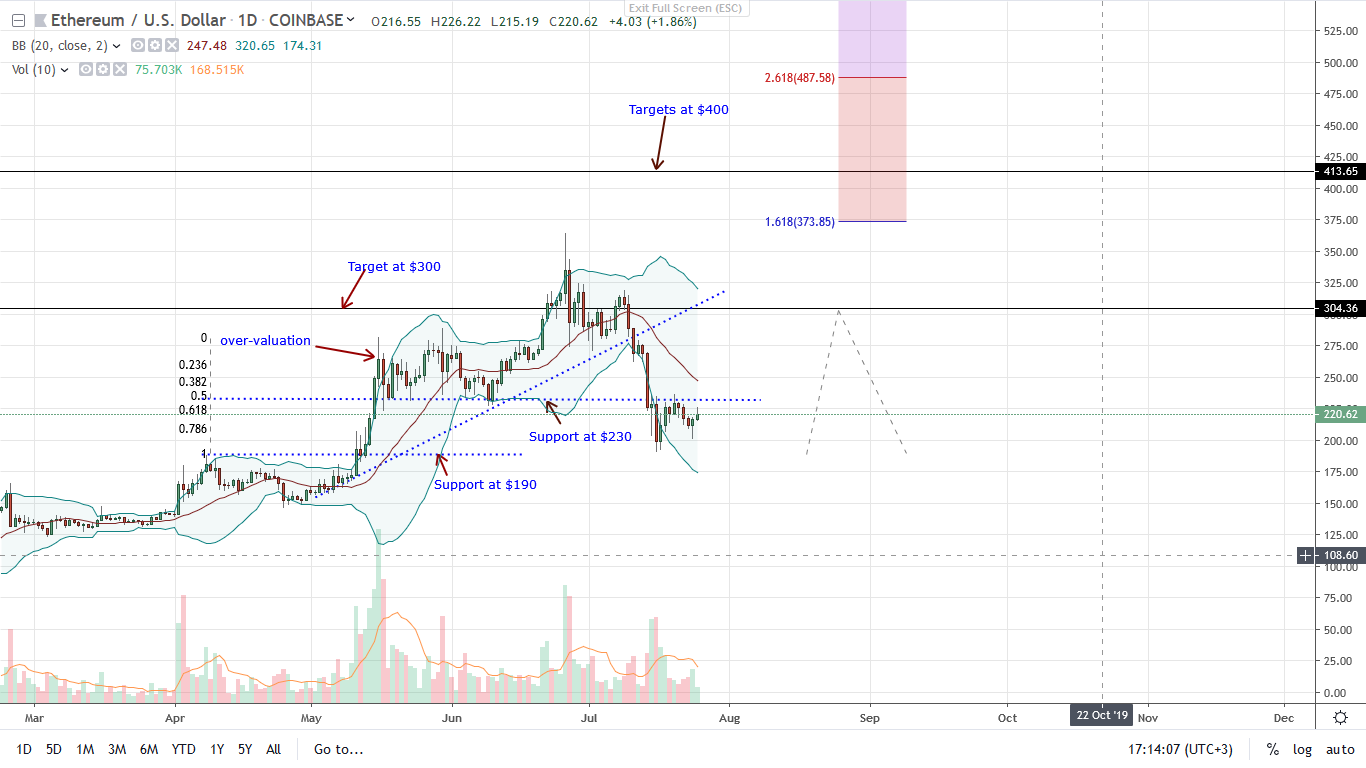 Battered by BTC, ETH is relatively stable against the USD. Even so, that is not to say bulls are back. Generally consolidating in a $30 range, with caps at $230, bears are evidently in control. Unless otherwise there is a sharp upswing above $230, every high will be a selling opportunity.
However, should the breaching bar be unique, marked with high trading volumes, odds are ETH will rally to $300, and to June 2019 high in a trend continuation phase. Before then, bulls are at a disadvantage. Technically, determining the short-term trajectory of ETH will be price reaction at $230 and $190.
In light of the above, the best course of action is to stay neutral with bearish leanings until a defining breakout prints.
Technical Indicator
From above, June 16 bear candlestick is leading. Visible and wide-ranging, it has high trading volumes of 405k. Therefore, as aforementioned, whether ETH will rally to $300 or sink to $150 is dependent on the strength of the breakout.
If the breaching bar has high participation exceeding 405k, then ETH will quickly tumble to $150. Conversely, sharp rally past $230 could see ETH soar to $300.
Chart courtesy of Trading View. Image Courtesy of Shutterstock