The Ethereum (ETH) blockchain has different user case application and undoubtedly, that what generates value. It's a proven platform that is secure and investors stand to reap big. At current prices, Ethereum (ETH) is stable, decoupling from BTC influence and likely to sink if at all bulls cannot overcome sellers aiming to reverse July 24 gains.
From the News
The Commonwealth Bank of Australia used the Ethereum blockchain for their international shipping and logistics. For demonstrations, they successfully exported and tracked 17 tons of Almonds from Australia to Hamburg, Germany.
Constantinople will be the next major Ethereum blockchain upgrade after Byzantium whose implementation was done one year ago. Constantinople aims to improve efficiency and most importantly lower the cost of on-chain transaction fees. Full activation would be done in October.
The second part of a series of upgrades to make the #ethereum network more efficient and less costly in terms of fees, #Constantinople will be activated sometime before October's #Devcon4 #EthereumConference, according to stakeholders during a core developer meeting Friday. pic.twitter.com/xbqSAJldTt

— CryptoGround (@CryptoGround) July 30, 2018
Quantstamp, the smart contract security firm says Binance ERC-20 tokens are free from Batch and Proxy Overflow bugs.
Great, Binance partnered with @Quantstamp to audit ERC-20 tokens for security flaws. Even more awesome that Quantstamp successfully finalised the audit and found none. $QSP providing real value and doing what they promised to do since the beginning.https://t.co/JIfNSlYwbX

— Crypto Accountant (@CryptoCountant) May 2, 2018
Ethereum (ETH) Technical Analysis
Weekly Chart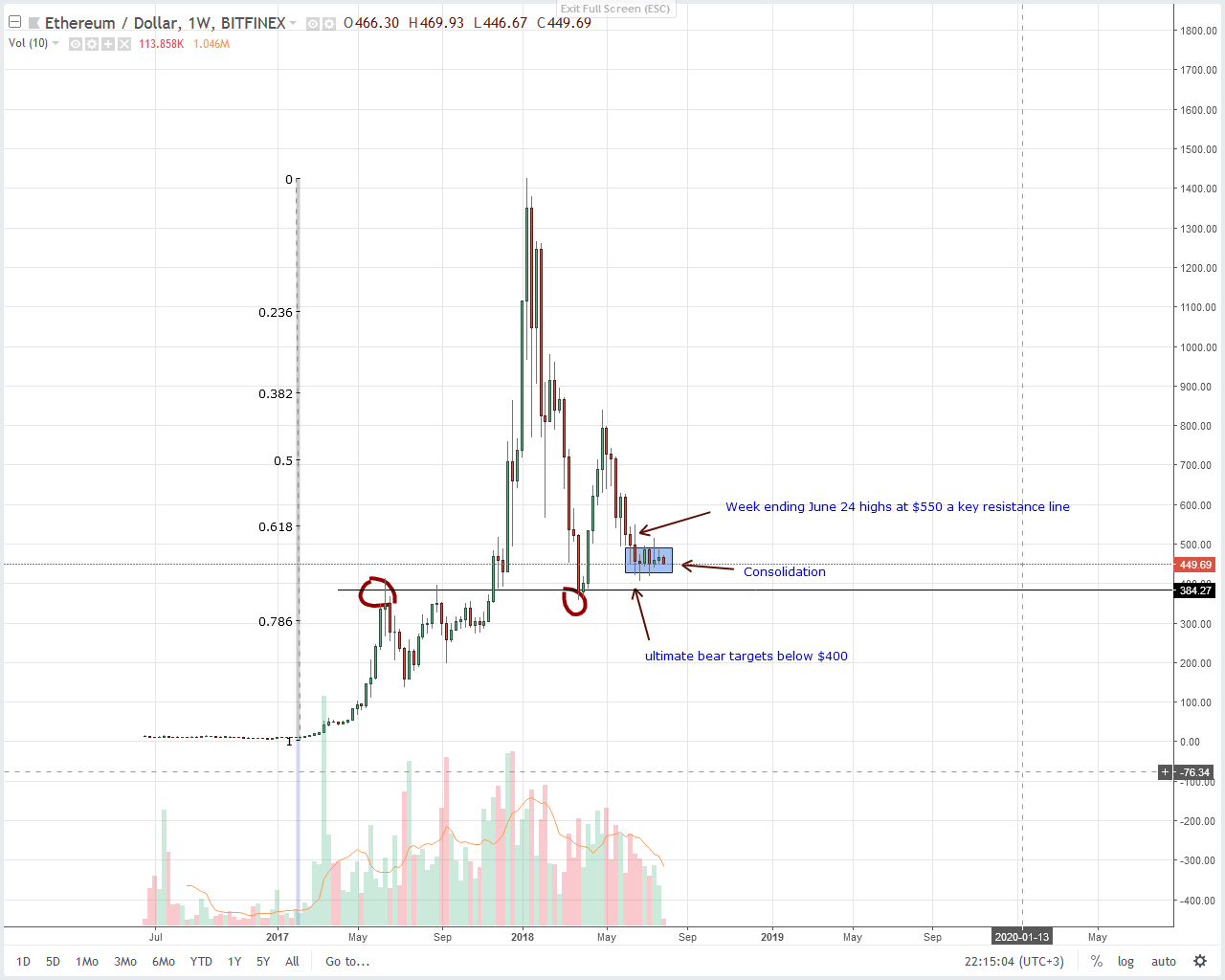 Like before, $400 is where traders are looking at. Not only is it the main support line but it also doubles up as 2018 lows and previous resistance and now support. Besides, when you past a Fibonacci retracement tool between this 2017 high low you notice that ETH prices are finding support in between the 78.6 percent and 61.8 percent retracement level. All these are important levels that influences our analysis in one way or another.
Now, on the chart, we realize that ETH is pretty stable and still moving within that high volume bear candlestick of week ending June 24. As such and as dictated by our previous Ethereum (ETH) trade plan, ETH bulls need to thrust strongly above that bear candlestick highs printing a three-bar bullish reversal pattern-the morning star in the process. When that happens, Ethereum shall have a clear way for further gains towards $1,000.
On the flip side though, sellers are technically in charge. That's why $400 is important as it acts as a strong support line and sell trigger. Any close below will open doors for $350 and later $150 especially if it was accompanied by high volume break bellows.
Daily Chart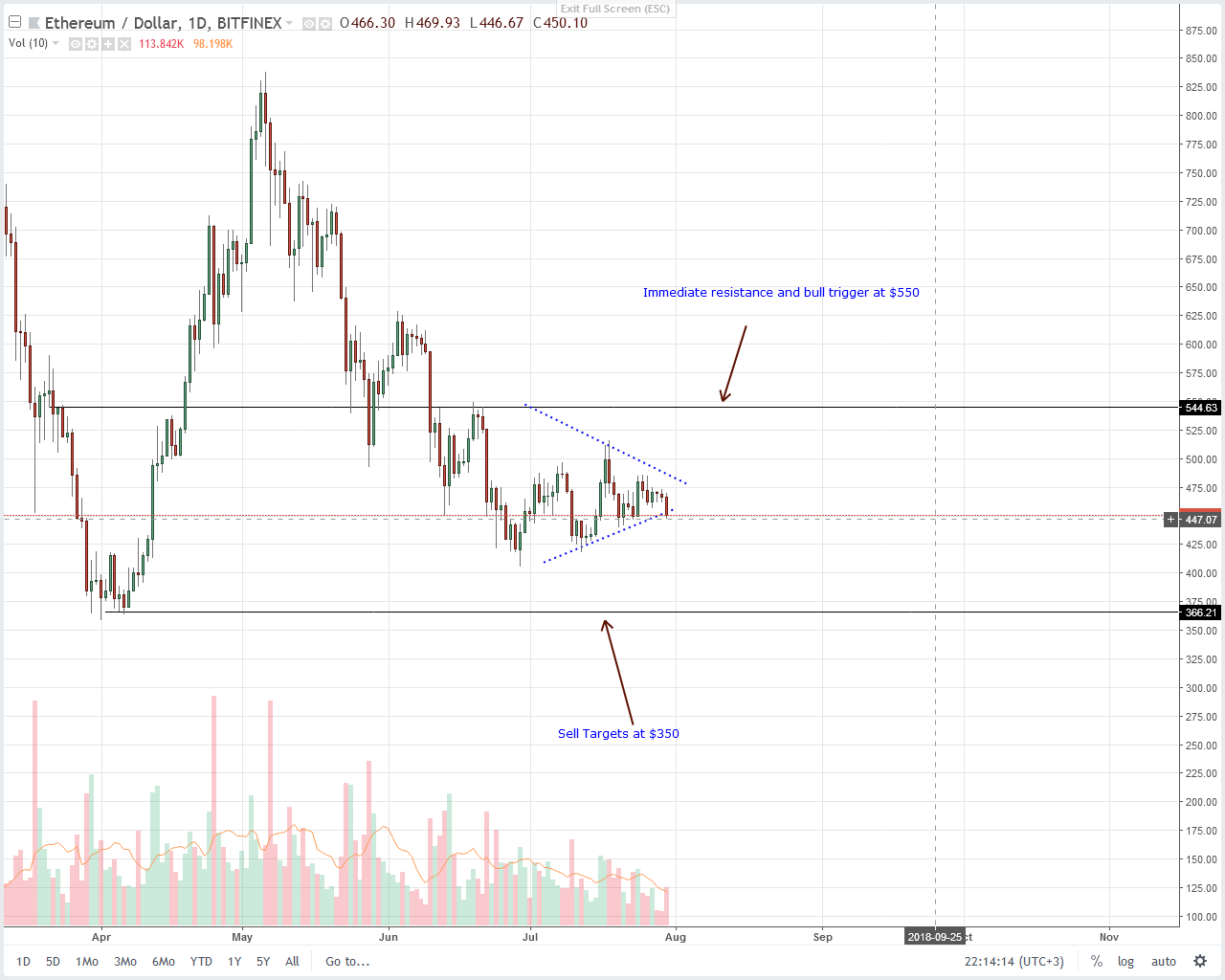 If anything, ETH is trading within a bear break out pattern set rolling by June 20 bear candlestick. Not only did we see strong volume spikes but Ethereum (ETH) buyers are yet to reverse those gains and print above $550.
What we do have is a 35 day consolidation with clear limits at $550 and $400. As aforementioned, we shall take a neutral stand until we see a break out in either direction. However, since we are technically bearish, risk off traders can initiate small size ETH positions once prices close below $430.
In that case, fitting stops will be at July 24 highs at $480 while targets would be at $400 and later $350.
On the reverse side, should bulls find enough momentum and break above this descending wedge closing above $510, then aggressive bulls can do the same with first targets at $550 and later $850 as laid out in our last Ethereum (ETH) technical analysis.
Disclaimer: Views and opinions expressed are those of the author and aren't investment advice. Trading of any form involves risk and so do your due diligence before making a trading decision.