Like most coins in the top 10, Ethereum prices is making a recovery. It is up 12 percent in the last week and with this shift of sentiment from the SEC, it is likely that we might see higher highs in the coming sessions. Besides, Casper FFG is now live at GitHub for wider scrutiny meaning that there is a real push from behind the scenes to finally cement Ethereum as a go to platform for DApps and smart contracts.
From the News
Pound to pound, Ethereum performs better than Bitcoin. Yes, we can argue about the total network value where Bitcoin remains king while Ethereum crawls at its shadow. However, when we talk results and efficacy the later thrashes Bitcoin by far. In case you want to have a feel and gauge by yourself, combing through stats can be illuminating.
On a typical day, Ethereum processes more than 800,000 transactions while Bitcoin do a mere 275,000. Then again, there is smart contracts and DApp development within that space that gives Ethereum a edge over Bitcoin. This is the exact reason why Reddit co-founder is asking investors to look past Bitcoin and focus on Ethereum.
On the same vein of superiority and ease of development, Casper's first release, Casper FFG, has been published on GitHub. This will allow auditors and doubters to have a wider look on this new protocol which Ethereum plans to adopt in the future.
Can Casper, Plasma & Sharding Elevate #Ethereum To New Heights? https://t.co/XjzL1rRFiv #ETH pic.twitter.com/u8tr3CIqEn

— NEWSBTC (@newsbtc) May 3, 2018
Casper FFG will change the way consensus is done on Ethereum blockchain. Once it goes live, any fork will involve a PoW and PoS where the former will do the heavy lifting with PoS validating key points periodically.
Ethereum (ETHUSD) Technical Analysis
Weekly Chart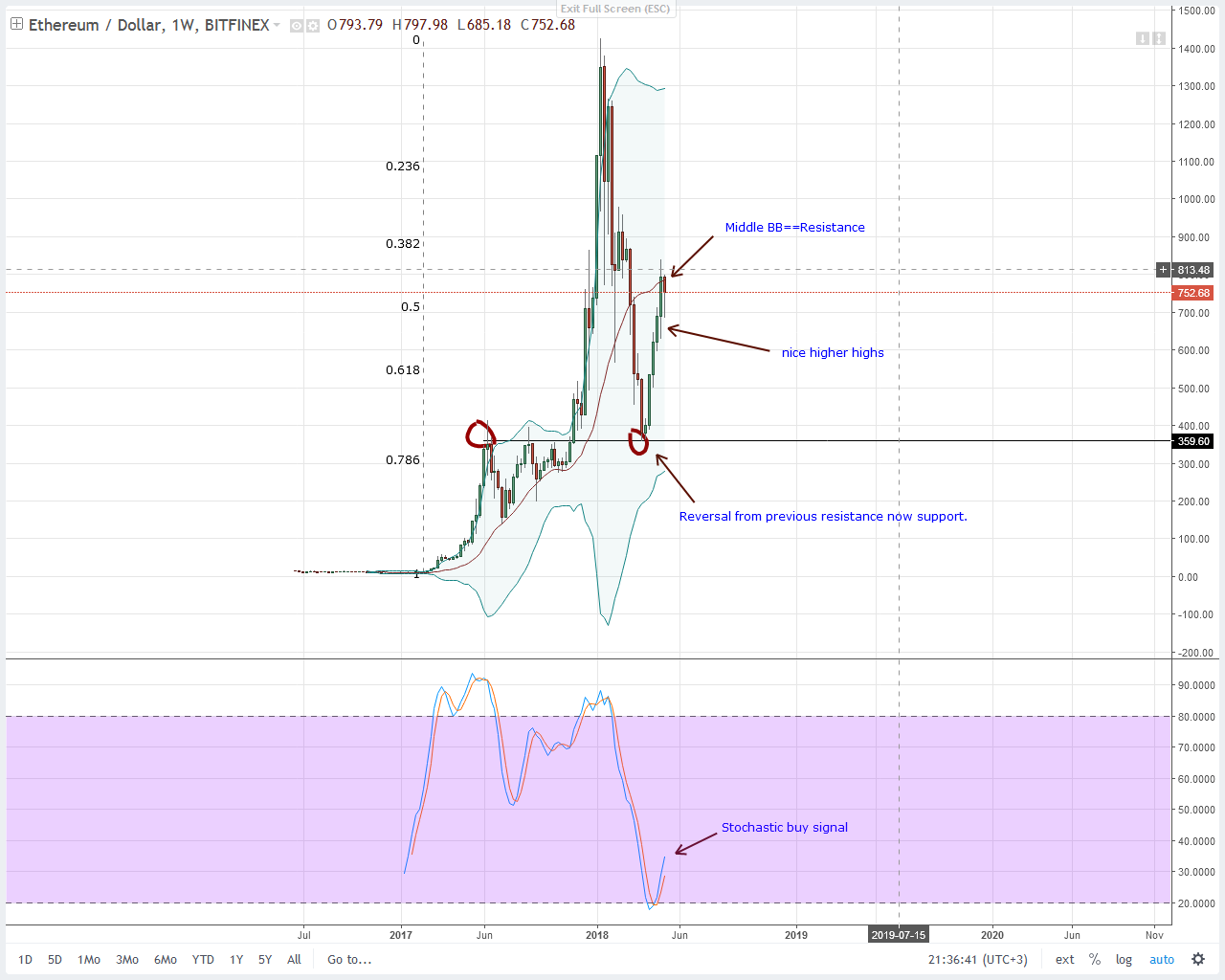 After Bitcoin Cash, Ethereum is follows in performance. To put it in perspective, it is up 12 percent in the last week outpacing Bitcoin 6X. Besides, in the daily chart, Ethereum prices were up three percent in the last 24 hours and we expect more to follow.
As we can see in the weekly chart, which by the way determines our general trend, there is this nice stochastic buy signal turning from deep the oversold territory. Well, the confirmation is nothing short of impressive. To put it in perspective, Ethereum was up 90 percent in that duration after that rebound off last year's resistance lines now support at $350. Coincidentally, that is around the 78.6 percent Fibonacci retracement line meaning if we base our reversal basis purely on Fibonacci dicta, Ethereum is deeply oversold. That's precisely what is happening.
Currently, what we have is a retest of previous support, now resistance, at around $800. That is the middle BB which is a very significant level in our analysis. Going forward, I shall be looking for buy opportunities in lower time frames.
4HR Chart
In the 4HR chart, Ethereum bulls are picking up at previous resistance levels now support at $700. Besides, even though it is not perfect, a stochastic buy signal is in progress and likely to print after this candlestick prints. Now, the reason why I shall be recommending longs is the sequence of events in the last 24 hours or so.
Notice those higher highs relative to the lower BB and bullish engulfing candlestick right from $700? That is significant since it is in line with the general feel in the weekly chart and the general rejection of lower lows just like on May 7.
Furthermore, this shift of momentum is happening right at the 61.8 percent Fibonacci retracement level anchoring on last week's high low. Because of this, buying with stops just below $700 can be a good strategy going forward.