Along with Bitcoin, Ethereum had a crazy day this week. Although Ethereum had a more predictable correction right to the previous resistance level of 395. We were expecting the pullback because Ethereum tends to have a pullback every time it reaches new highs.
ETH/USD Technical Analysis
ETH/USD reached a new high of $480 last week. After consolidating in that area for four days, it rode on the Bitcoin mania and reached a predictable level on Wednesday.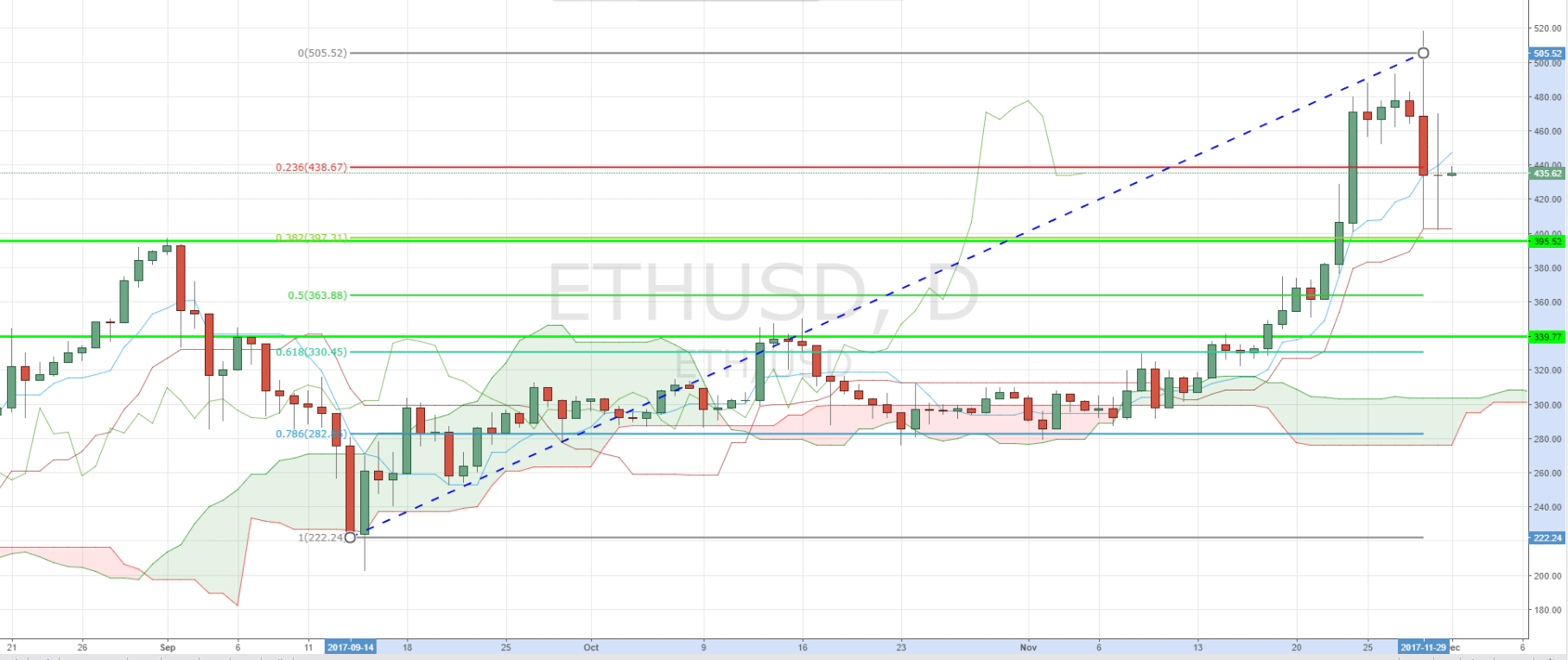 We could see further drops for ETH in the coming days, towards the next support level at 339. However, so far, market participants appear to be indecisive on which direction to take Ethereum next.
Ethereum Founder Unveils Plans for "Ethereum 2.0"
Meanwhile, Ethereum's founder, Vitalik Buterin, unveiled his plans for "Ethereum 2.0" this week, which would be the next-generation version of Ethereum.
The Ethereum network was originally born as an idea for next-generation cryptocurrency network to begin with. It could do a lot more interesting things than just financial transactions. But, in the past years, it has also revealed a few major issues within the network.
According to Buterin, there are currently three major problems that need to be solved to push the Ethereum network to the next level: privacy, Consensus and smart contract safety, and probably the biggest of them all: scalability.
To overcome these, Buterin explained that the next generation of Ethereum will use a new architecture called "sharding," which will enable the network to process thousands of transactions per second — all on the same chain, which means safety will not be sacrificed.
Buterin also noted that sharding will create new types of addresses on the network, which will give Ethereum the opportunity to evolve by adopting new backward incompatible protocols without disrupting the main blockchain. Once Ethereum 2.0 is launched, it could potentially create yet another bullish market for it to bring it to new highs, but of course, this could take some time.
Bitcoin's biggest competitor isn't Ethereum
While we're at it, let's through this idea around.
The biggest competitor to bitcoin and its crypto-empire might appear to be Ethereum. Ethereum has the second-largest market cap of any digital currency, and it's had an even better year-to-date performance than bitcoin. Further, its blockchain is being tested in small-scale and pilot projects by 200 different organizations in the Enterprise Ethereum Alliance.
But the two cryptocurrency giants seemingly have different missions at the moment. Ethereum appears intent on pushing its blockchain to enterprises, while somewhat ignoring its Ether token as a means of payment. Meanwhile, bitcoin has focused extensively on building up its reputation as a payment facilitator, and only recently turned its attention to attracting businesses to its blockchain. While competitive to a degree, bitcoin and Ethereum aren't direct threats to one another.
Instead, bitcoin's biggest competitor just might be Litecoin. As of Nov. 27, Litecoin had the sixth-largest market cap of all cryptocurrencies, at $4.9 billion, trailing only bitcoin gold, Ripple, bitcoin cash, Ethereum, and bitcoin.
We will dig deeper into Litecoin next time!
xox
Kiana Danial
Invest Diva