Binance Coin (BNB) up 5.8 percent
Binance and eBay could link up
There is no official confirmation, but rumor has it that eBay could announce their support of Binance Coin (BNB). The platform is one of the largest in the world, and that resulting demand could thrust BNB towards $42.
Binance Coin Price Analysis
Fundamentals
At spot rates, Binance Coin is trading above $20, up 5.8 percent from last week's close. Well, if anything this is bullish and an indicator of how Binance Coin (BNB) bulls are resilient even after a reputation-damaging hack.
As the native coin of the Binance Chain and facilitator of Binance, it was natural for BNB to retrace in light of the $40-million heist. However, the recovery is impressive, and as the Changpeng Zhao updates the community on progress or system overhauls, BNB is printing higher.  Withdrawals and deposits resume today:
"Our team is making progress and has been working through the weekend. In the past few days, we have made some significant overhauls to our system, with a large number of advanced security features added and/or completely re-architected. We will share details on some of the changes later."
Even so, what could further lift BNB is if eBay offers support for the asset. With 179 million users across the globe, the platform is one of the largest marketplaces in the world. Therefore, its support would no doubt aid in driving adoption, increasing demand for the coin as BNB surge higher.
Candlestick Arrangements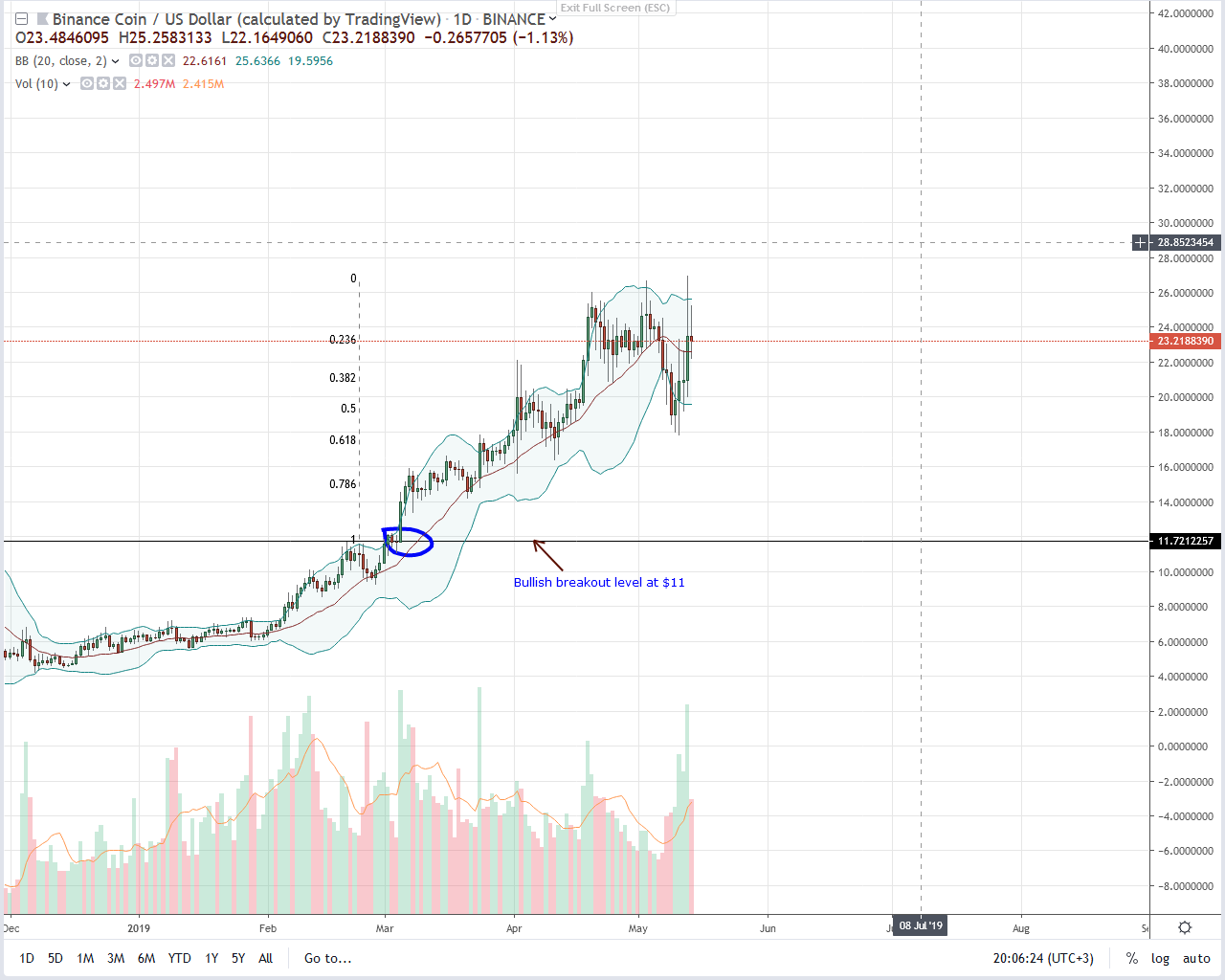 Currently, Binance Coin (BNB) is stable in the last 24 hours but trading within a bullish breakout pattern. Despite the retracement in the first week of the month, bulls are back correcting the under-valuation of May-10 in a bull trend resumption phase. Because of this, every dip is another loading opportunity for traders aiming at BNB's all-time-highs at $26.
Furthermore, note that prices are reacting from the 61.8 percent Fibonacci retracement level of the coin's recent leg up. From this supportive price action and bullish fundamentals, it is likely that BNB will edge higher in days ahead.
However, it is after prices edge past May-13 highs of $26 that risk-averse traders can load up with targets at $40 or the 161.8 percent Fibonacci extension level anchored on BNB's all-time high-lows.
Technical Indicator
Our reference bar is Mar-5 bull bar. It is wide-ranging and breaks above the main resistance line at around $12. For upswings toward $42, then any break above $26 must be with high transaction volumes exceeding 4.88 million of Mar-5.
Chart courtesy of Trading View