Ripple (XRP) react from 30 cents, add 8.1 percent
Supportive fundamentals would likely fan the next wave of higher highs
At long last, Ripple (XRP) is responding. Because of bullish fundamentals, there are a series of higher highs in the daily chart that hint of increasing demand in lower time frames. All the same, it is until prices print above 34 cents that traders can begin loading on dips with ideal targets at 80 cents.
Ripple Price Analysis
Fundamentals
To reiterate, cryptocurrencies must find their way main-street if investors want to register positive ROI. Of the many digital assets, Ripple (XRP) valuation depends on marketing. Since Ripple Labs and Ripple Inc are two distinct companies with the former, the issuer, and the latter, the majority holder, the expansion of XRP prices is bullish for the ecosystem.
Although different from Ripple Inc, the InterLedger Protocol (ILP) is vital to the success of XRP as a settlement tool. ILP is building a platform that fronts interoperability and at the center of this is XRP which will act as a liquidity tool with its main value proposition being its stability. Already, there is work in progress, and even if the momentum is not as high, the foundation is strong. Complementing ILP connection is the success of xRapid.
David Schwartz is on record saying technical reasons are slowing down adoption but there are regulatory concerns which should there be clarification on, then more financial institutions and payment processors will instantly jump to xRapid by upgrading to xCurrent version 4.0 boosting prices as the demand of the third most valuable asset surge to 60 cents or even 80 cents.
Candlestick Arrangement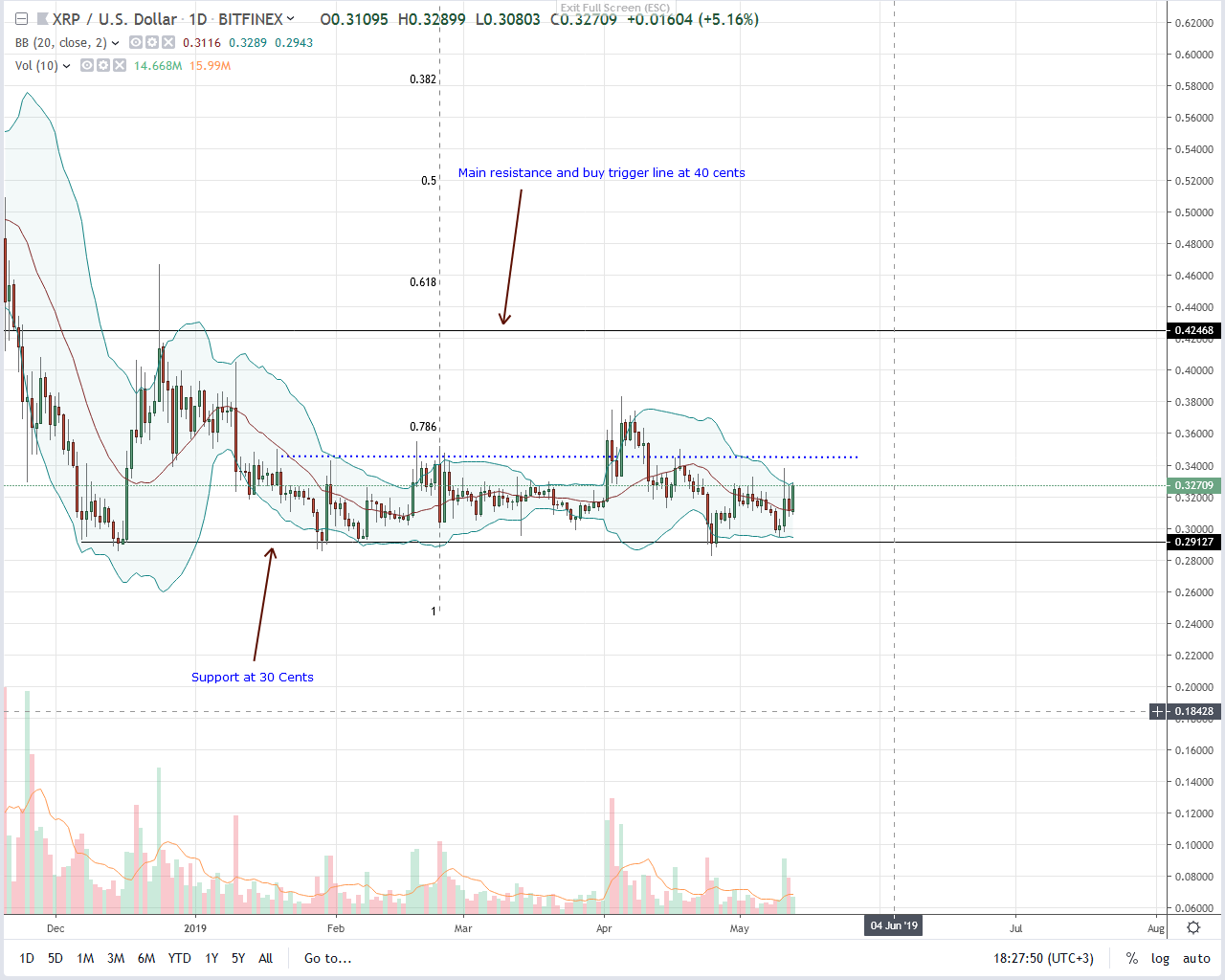 At the time of press, Ripple (XRP) is up 6.4 percent in the last 24 hours as buyers flow back. Of interest is the development in the daily chart. Notice that for the umpteenth time, XRP prices are bouncing back from 30 cents or Q1 2019 lows.
Even though none of our trade conditions are correct in line with our XRP/USD trade plans, odds are prices will edge higher in days ahead. Our triggers lie at 34 cents, the first liquidation level of interest.
If bulls build enough momentum and prices rally, then the resulting wave could see XRP break out of this six-months consolidation drawing demand as traders push for 60 cents—Dec 2018 highs and 80 cents, the tops of our trend defining bull bar of Sep 2018.
Technical Indicator
Our anchor bar is May-11 wide-ranging bar. It has high volumes—47 million against 14 million as it prints higher highs from Apr-25-26 double bar bull reversal pattern. Since prices are ranging inside the bull bar, any break above its top at 33 cents must exceed averages of 16 million or 47 million as demand finally trigger our first lot of bull positions with a target at 40 cents.
Chart courtesy of Trading View