Tokyo-based Bitcoin Security Specialists Wizsec recently published a protracted report, revealing the suspicious behavior of Mt. Gox trading bot Willy.
Due to their non disclosure agreements with the official investigators, the private investigation firm revealed only a handful of details which they believed were "safe" enough to made public. In their censored dispatch, Wizsec elaborated how Willy bought a large number of Bitcoins (around 250,000 BTC) within a specific period. This buyout reportedly was the ultimate source of 2013's famous rally towards $1000 mark. The following graph from the report illustrates it further: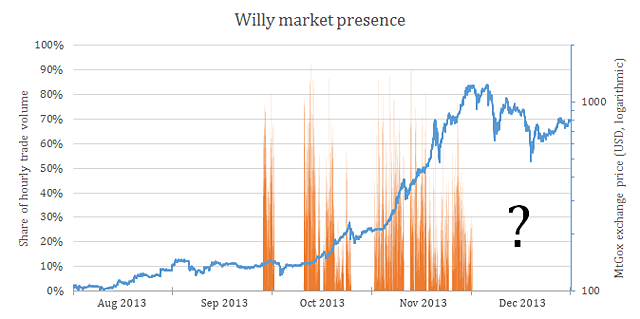 The orange lines in the graph above represents the activeness of Willy, which highly contributed in adding artificial trading volumes to Mt. Gox charts. The price, as you can see, trended upwards due to manipulative buyouts. The small gaps between the orange bars represent Willy's inactiveness. There the price corrects itself for a brief time, as you can notice.
Wizsec report further couldn't expose Willy's trading activities after November 2013 but went on concluding that the bot "kept operating through-out December and January."
Mt. Gox Willy Bot was Static During Japanese Sleeping Hours
Another interesting fact that caught Wizsec's eyes was the Willy's static nature during the Japanese sleeping hours. The Mt. Gox bot was supposed to be automatic, but as it turns out there was hardly any trading activity. This speculation multiplied the belief that the bot was actually being controlled manually — probably by Mark Karpeles.
Reality Still in Dark
The Wizsec report has delicately tried to shed some more light into Mt. Gox scam. But overall, the revelations still leave us with too many unanswered question. The non-official investigation agency had already made it clear that they are legally bound to hold important details. However, it promised to dig deeper into the matter to identify more facts and reveal them accordingly.
"If you possess information relevant to the case, please do not hesitate to contact us and/or any of the official investigators," Wizsec requested. "We have been gathering pieces to the puzzle for a long time, and every piece helps."