Despite our buy projections, sell pressure is evidently strong and quickly reversing previous gains. Even though most coins as Stellar Lumens, IOTA and Litecoin are still trending within June 14 anchor candlestick, it's very possible that bears might break lower and align with the general bear trend. That's patience and waiting for right trigger levels to be hit is the right trading strategy.
Let's have a look at these charts:
EOS Technical Analysis
After raising $4 billion from investors, EOSIO mainnet has been nothing short of disappointments. We can talk of their tumultuous coin staking process which was full of privacy concerns with centralization claims in the last days but that's no longer a cause of concern. Shortly before their bounty program, Guido Vranken while working alone bagged $120,000 after identifying 12 vulnerabilities.
https://twitter.com/ummjackson/status/1008034252200407040
Inevitably and rightly so, allegations were rife that Block One did outsource their platform building to a third party. Luckily, Guido Vranken is now an employee of Block One. He might even help the team to pin point the case of their recent blockchain freeze.
"Earlier today, the EOS network came to a complete halt – an emergency mechanism in the software was triggered automatically to prevent the EOS blockchain from hard forking due to a bug.."
Before diagnosis, their 21 BPs were hard at work dissecting the network to pick out where the problem. Unfortunately, as this was ongoing external connection to the network wasn't possible.
"The EOSIO software is designed in such a way that when an error of this type occurs the chain will pause to prevent a hard fork. All block producers were halted when they detected a break in consensus."
Price movement within EOS has been limited gaining one percent in the last 24 hours and validating our previous view of this coin's trade plan. As long as horizontal consolidation continues, we shall remain neutral until either there is upside past $13 or June 14 lows or a slide below $9. Any move below $9 means the general bear trend is in progress and in that case immediate bear targets would be at $7 and later $5.
Litecoin (LTC) Technical Analysis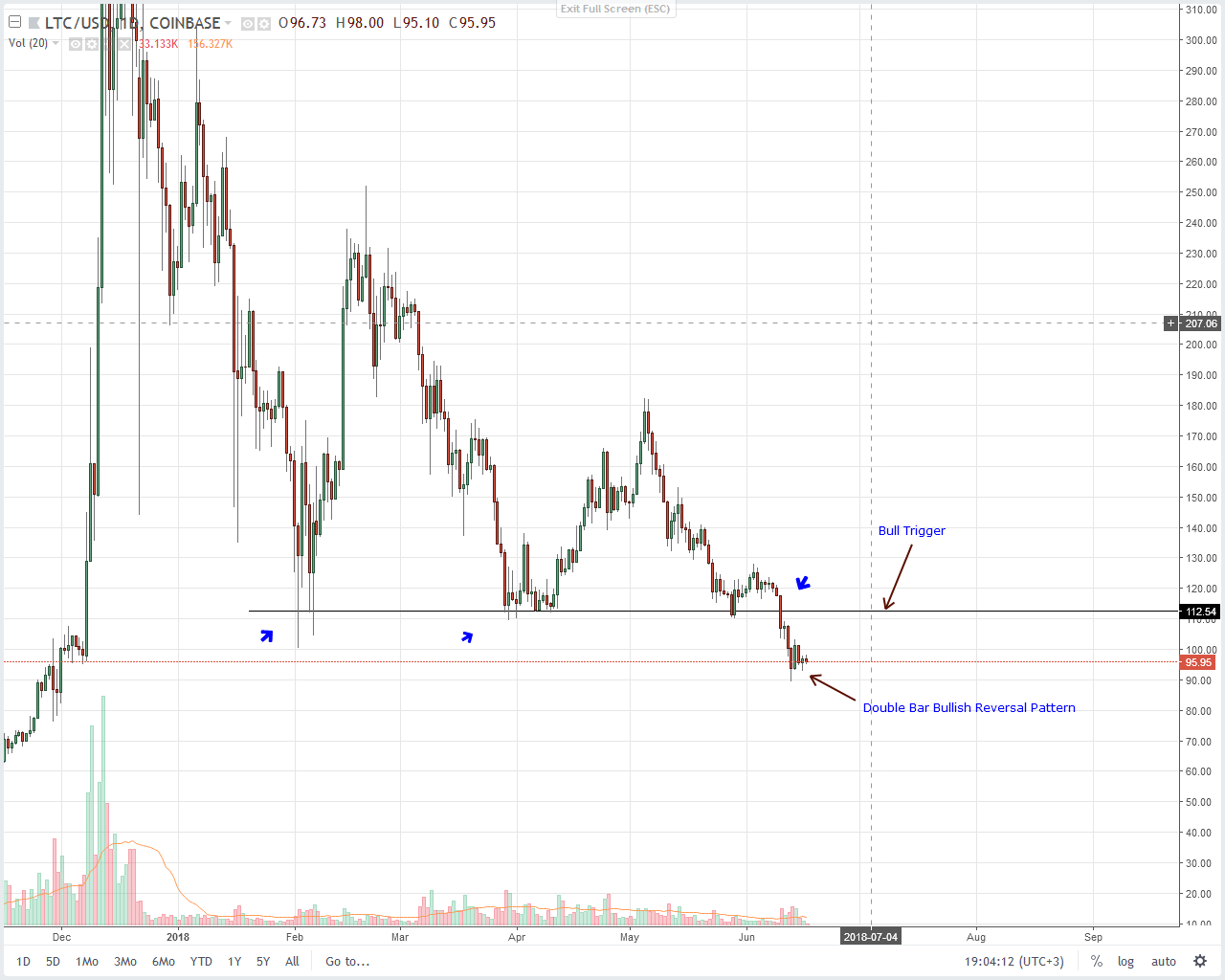 If anything, that LTC bear break below $110 is influential for prices in the short to medium term regardless of recent SEC's classification of BTC as not being a security requiring oversight.
We Are #Bitcoin
We Are #Litecoin
We Are #EthereumClassic
We Are #Cryptocurrency
We Are #Free
We Are The #Future

We #HODL!!! #TokenizeTheWorld #Decentralize#Blockchain #Fintech #IoT #crypto #Innovation #Security #Bigdata #Digital #ETH #Infosec #News $CVC $BCN
#nytimes #reuters

— BitUnits.Club $UNITS (@KingTrump16) June 15, 2018
Needless to say, in the last 24 hours, LTC have been registering modest gains and while they are up one percent, we need to see strong moves above $110 for our bullish projections to hold true. Otherwise, any slide below $90, our immediate support and sell trigger line might see Litecoin prices printing $70 and later $50 as BTC slide to $3,000.
Stellar Lumens (XLM) Technical Analysis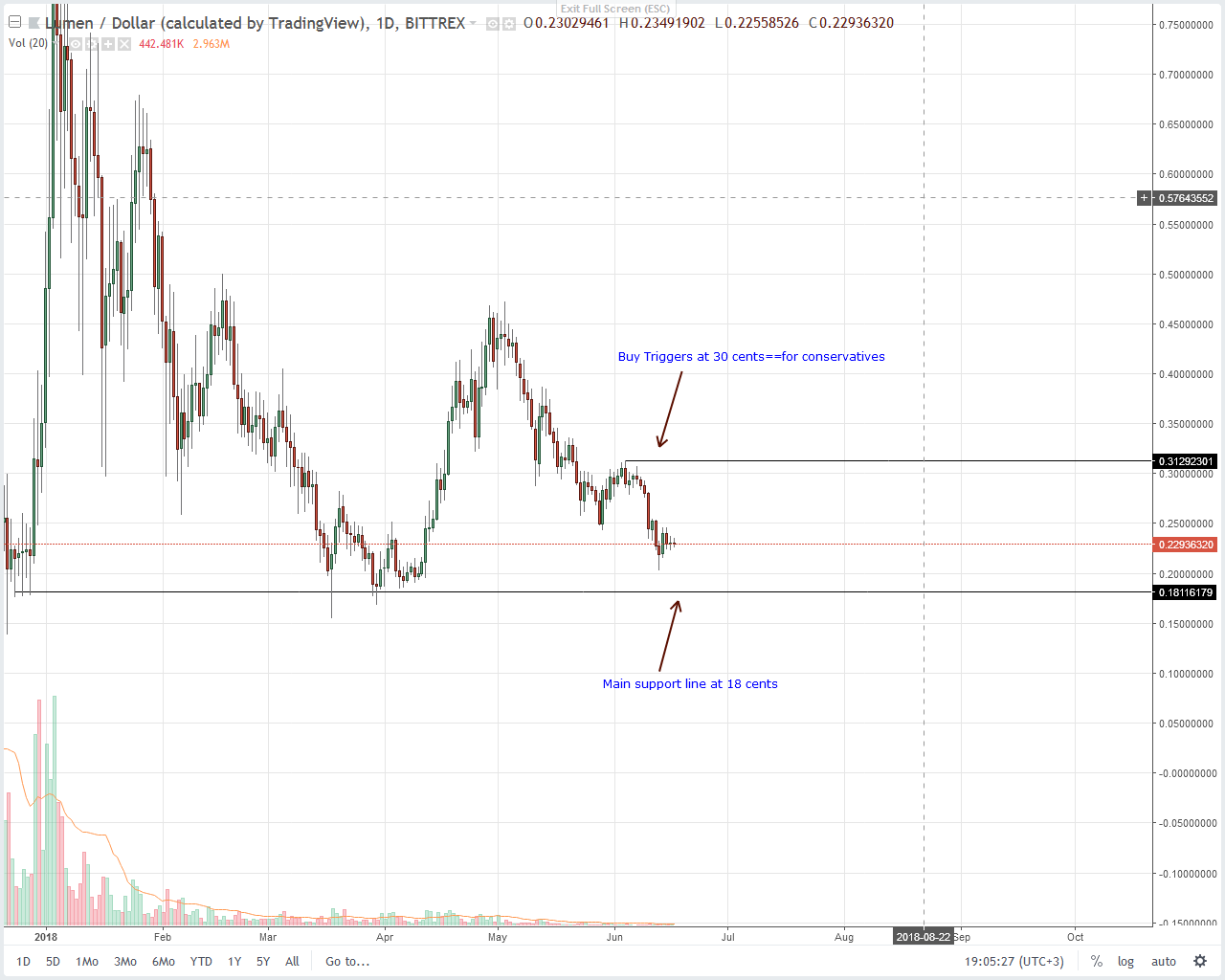 Undeniably, recent bullish up-thrusts are happening right in a steep Stellar Lumens price slide. It's a tall order for buyers keen on reversing recent losses. As it look, its even harder for bulls to edge past 30 cents in the direction set by June 14 bullish engulfing pattern. Before, we were net bullish anticipating follow ups.
However, contrary to expectations, we are stuck with XLM prices moving within tight ranges. That's besides sellers making a comeback slowly eroding our previous stand. In any case, any strong break above 25 cents and 30 cents will signal XLM buyers. Nonetheless, if this consolidation persists then we shall stay neutral and wait to see what happens between 18 cents and at current prices.
Tron (TRX) Technical Analysis
It's no doubt that Tron promises to be a tough competition for Ethereum. With a TVM, a proved scalable platform and high throughput incentivizing developers, TRX could be worth an investment.
✍️ I'm not saying that #TRON will be deemed a Security in the US. If it is,
it would be a good thing imo. It would give more incentive for US Institutions to invest. They would have the regulations and security they're looking for. ALL WE CARE ABOUT IS CHINA ANYHOW.$trx #trx pic.twitter.com/DSVxkh90Hw

— Wolf of My Street (@WLFOFMYST) June 17, 2018
However, that's speculation and "possibilities" especially if their Independence Day spurs market participation. Before then, Taiwanese investors can now buy TRX using their national currencies, the TWD at MAX Exchange.
【MAX x TRON】 Message from Justin Sun #TRON #TRX ?https://t.co/dUDhghh1SW via @YouTube

— MAX Exchange (@MAX_exch) June 13, 2018
On to the chart and the struggle is across the board. Unless otherwise, we remain neutral until after we see movements past 5 cents triggering buys or below 4 cents welcoming sell pressure.
IOTA (IOT) Technical Analysis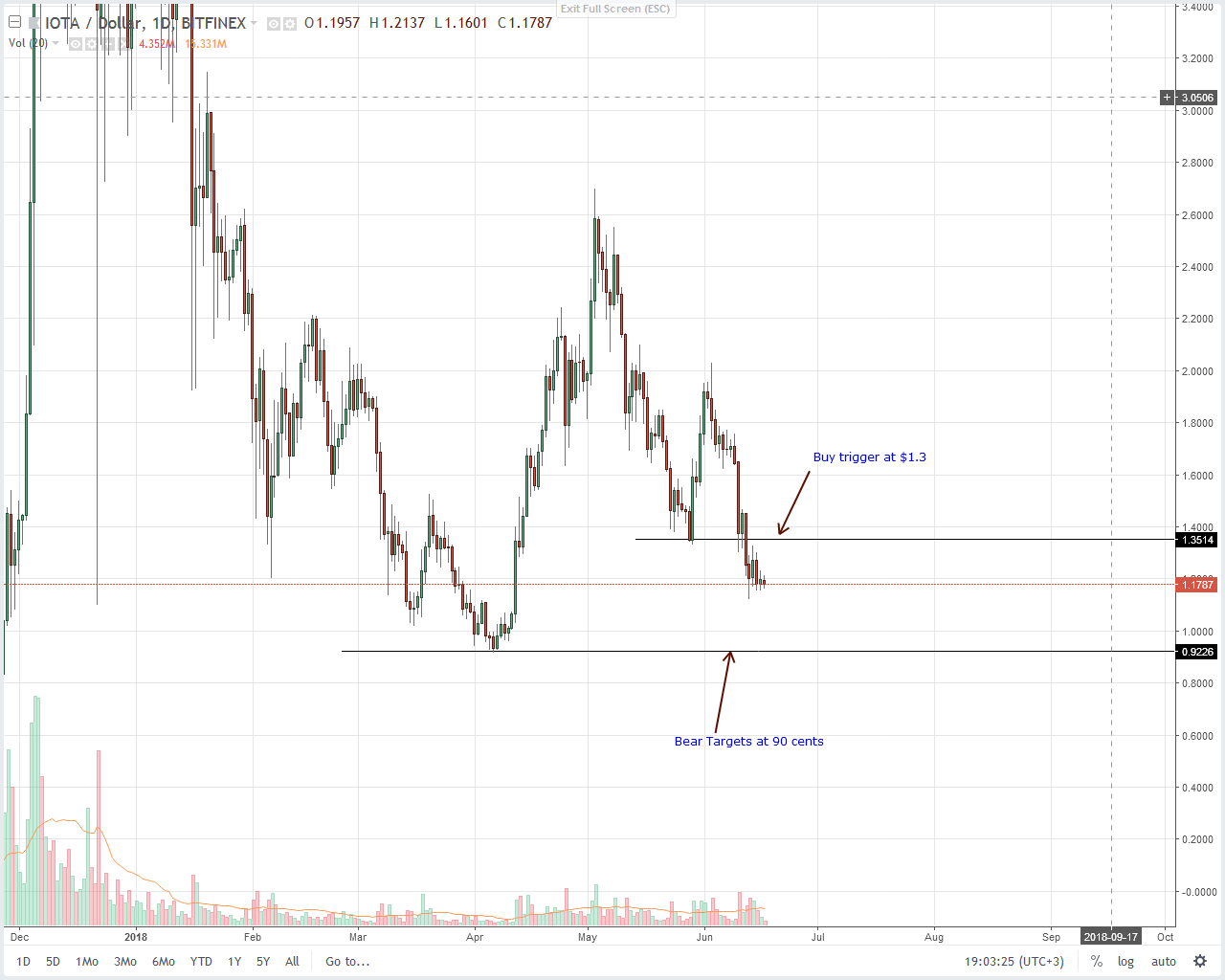 Still, IOTA is a go to blockless ledger for tech companies who wants to leverage the Tangle in their innovations. With IOTA, Volkswagen can comfortably interconnect their cars while allowing seamless transfer of software/ updates via Tangle. The cool thing is that they have their proof of concept live forecasting that by 2020, it would be live in their product line.
Definitely, in a world of IoT, IOTA leads the way and that's what makes it a long term buy-hold coin. However, in the mean time, things aren't so rosy for swing traders. June 14 bullish candlestick is quickly turning out as another zone of unloading IOTA. That's  why selling because of lack of support above $1.3 remains a good idea. I recommend shorting when prices break below $1.1 and targeting 90 cents in line with the general bear trend.