Besides IOTA whose buyers have been consistent in the last three days, others are literally stagnant. EOS is still trending below $9 despite the clout surrounding RAM while Litecoin is likely to break above $90 today. Could yesterday's rally have to do with South Korea declaration that it will invest $200 million by 2022 on crypto projects? Remember, this follows China's CBRC urge to regulators to issue licenses to crypto businesses.
Let's have a look at these charts:
EOS Technical Analysis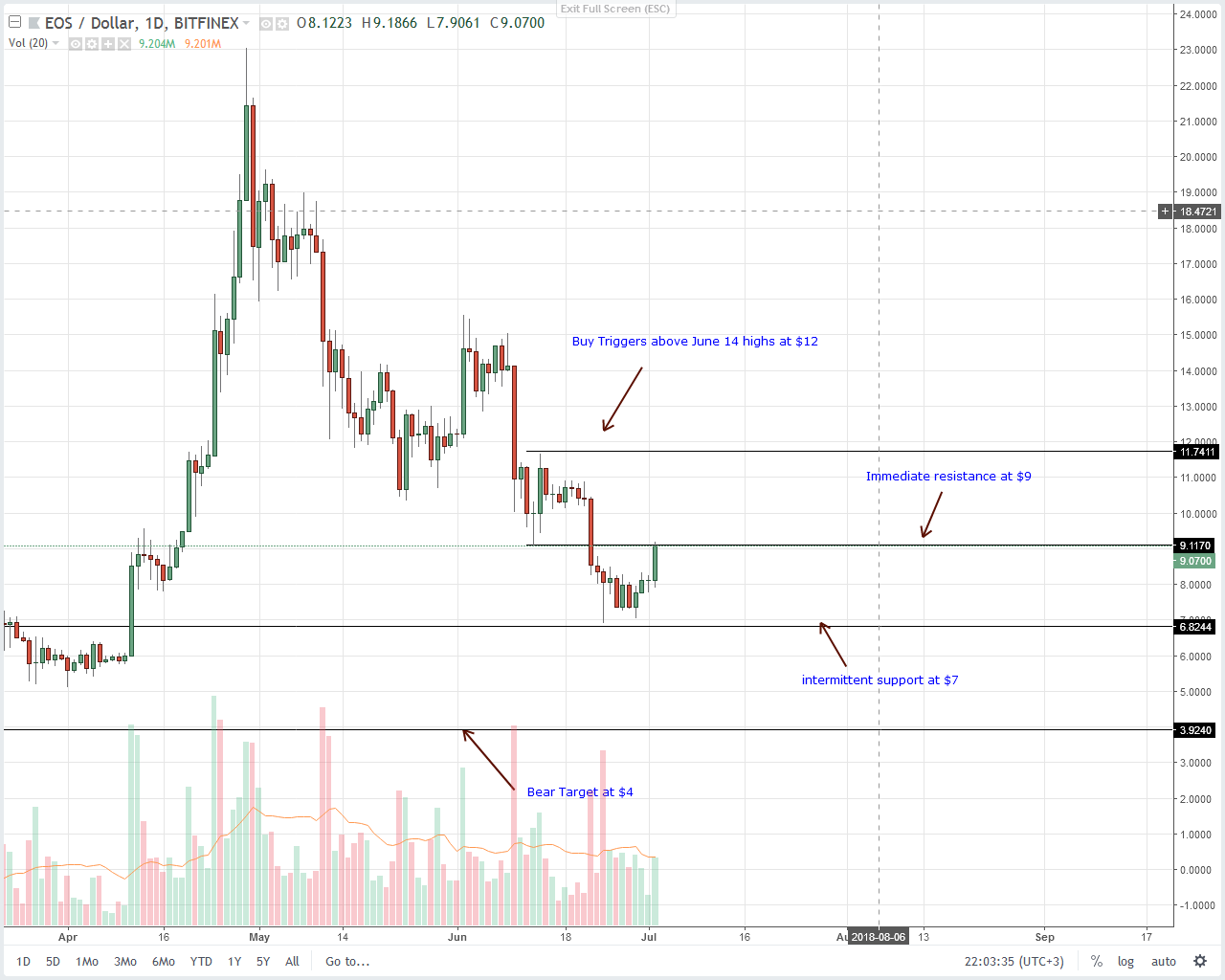 Too much popcorn at EOS making irresistible for commentators to air their 2 cents. Well, as it stands and as mentioned yesterday, the center of debate still circles around the resource en-grained in the EOS constitution-RAM.
It's now subject to speculation and within days, we have seen account opening price tags for dApp developers rocketing and becoming prohibitive for them to make sense of doing business at EOSIO blockchain. That's not all, Block One is set to influence voting as they plan on unleashing their 100 million votes and inevitably determining who get to be BP.
Price wise though, EOS is bottoming up. While there are indications that there is a recovery, we need to see strong moves today complementing yesterday's. But as always, that's subject to sentiment which stems from fundamentals and RAM speculation isn't doing it any good.
As before, we remain neutral with a bullish skew until after there are up-thrusts pushing prices above $9, our immediate resistance line and bull trigger. From there, and it's likely to happen today, we should pick longs on pull backs in the one hour chart and aim for $12 and $15.
Litecoin (LTC) Technical Analysis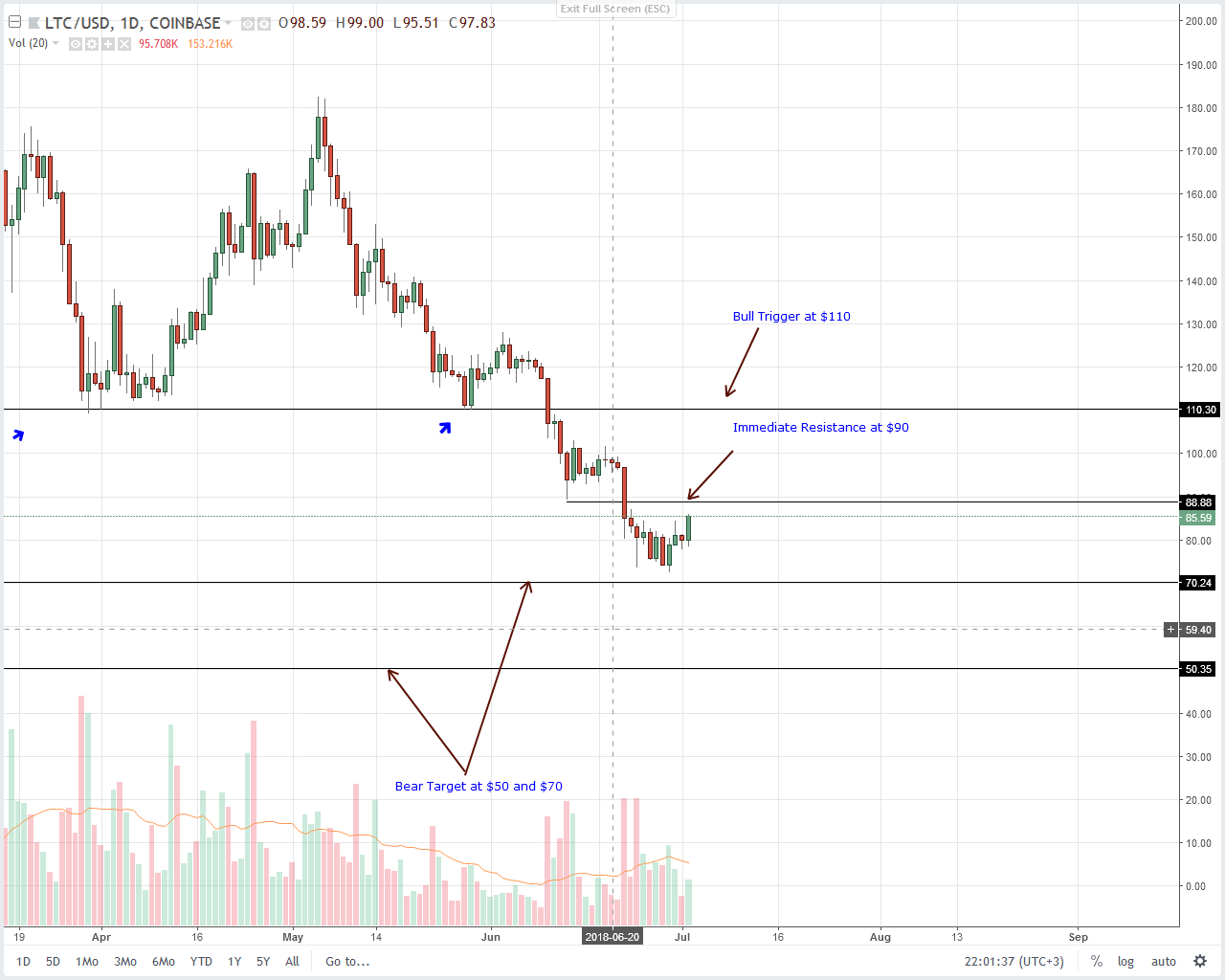 Like most coins, yesterday came with strong gains. As a matter of fact, Litecoin racked in eight percent helping it retest $90, a key resistance line. Remember, as before, LTC prices are directly coupled with BTC prices.
Litecoin is technically BTC's test-net as the Winklevoss twins puts and unless we see movement in the former, LTC will remain stuck trading in tight trade ranges. So, as before, our bull trade triggers is at $90 while sells will be back in trend should there be a push below $70. The former is likely to happen today after yesterday's injection of buy momentum.
Stellar Lumens (XLM) Technical Analysis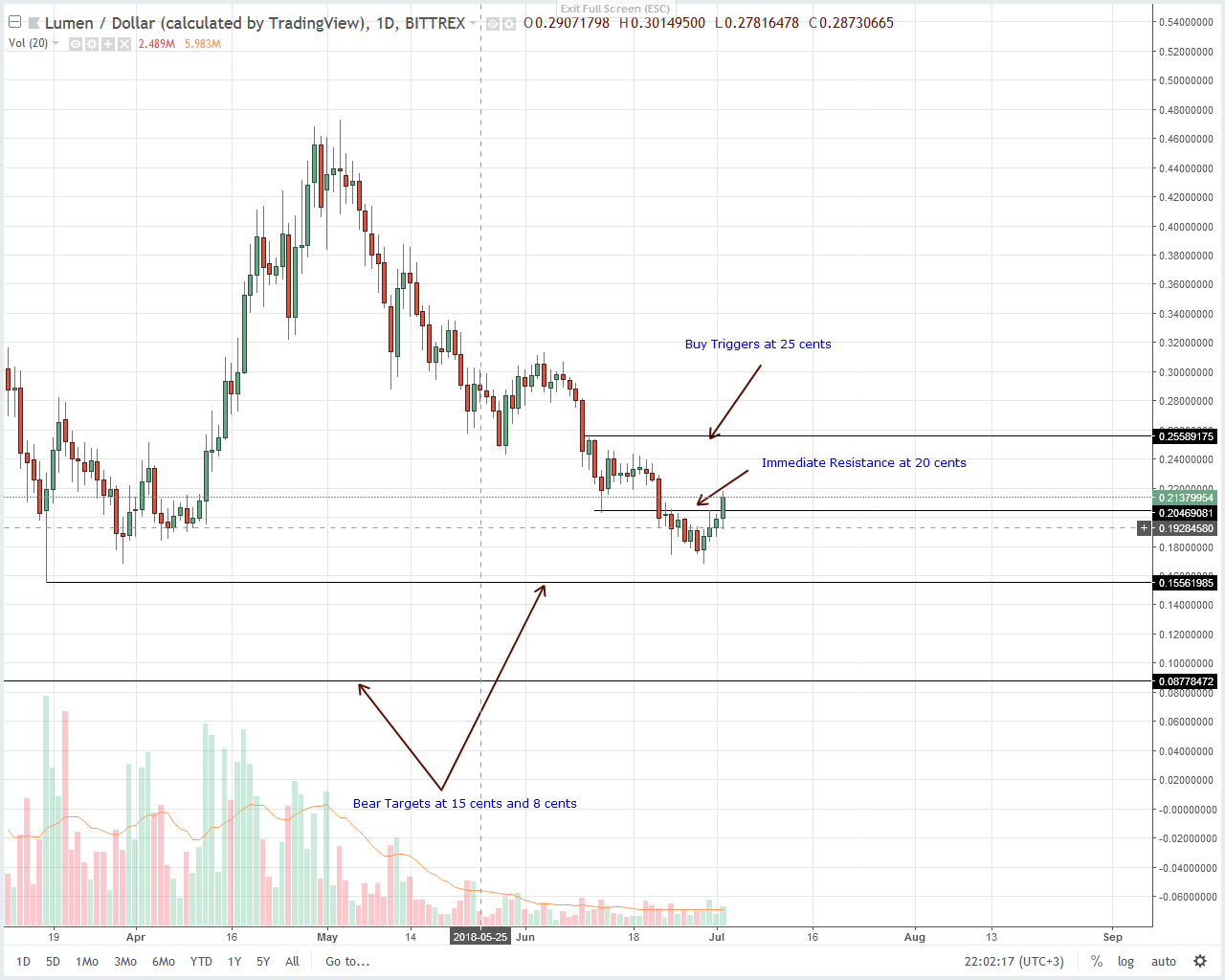 The eighth largest cryptocurrency in the world is one of the top performers gaining three percent in the last 24 hours. Still, we retain bearish to neutral stance but after weekend's higher highs and consequent confirmations yesterday, I suggest buying on every pull back in lower time frames. Overly, bull targets stand at 30 cents and 50 cents. However, should we see depreciation below 15 cents, Stellar Lumens sellers should aim for 8 cents on the lower end.
Tron (TRX) Technical Analysis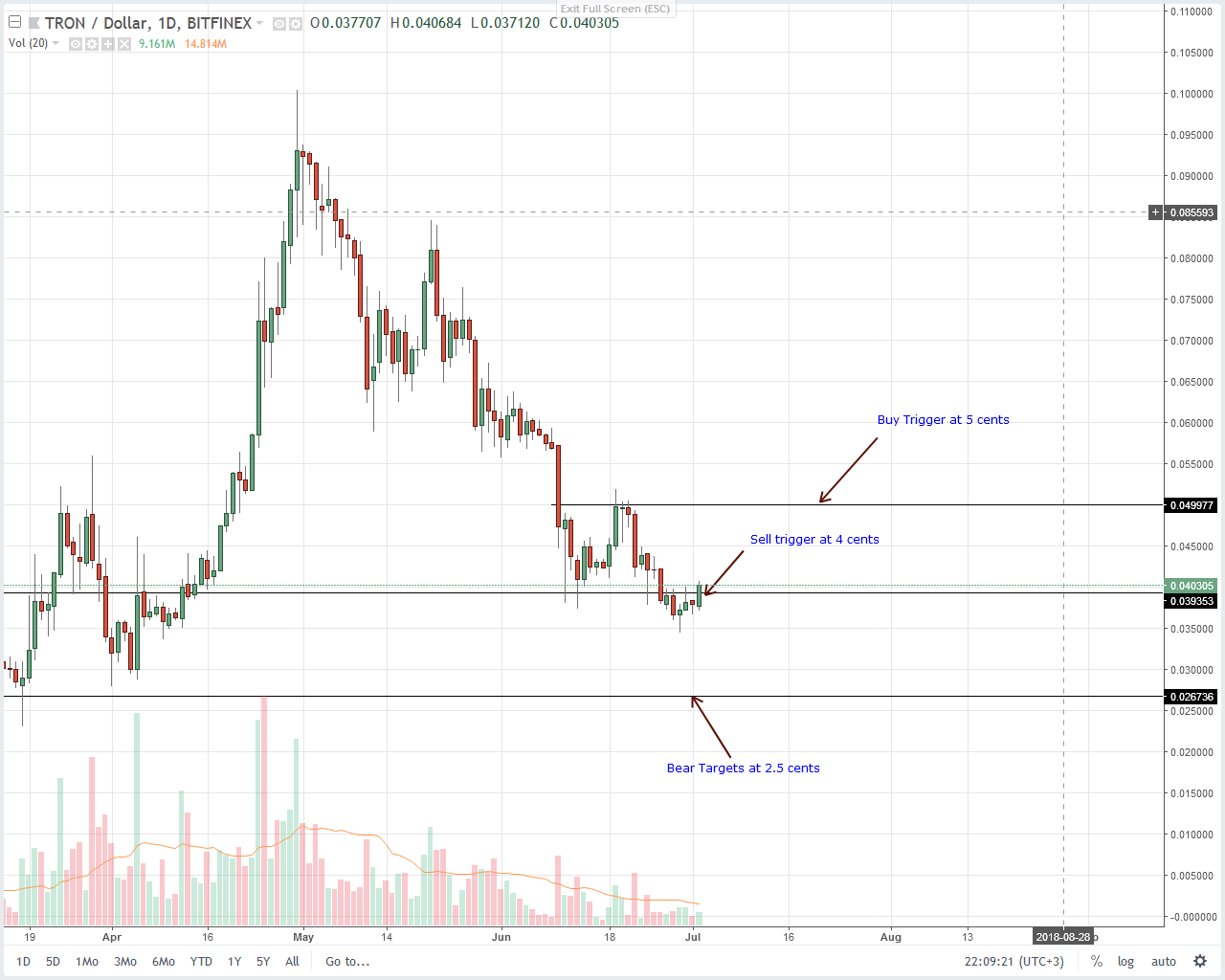 Straight from Pornhub support to in-house decisions of burning close to 50 billion ERC-20 TRX tokens, Tron Foundation and Justin Sun are desirous of seeing Tron mainnet excel. Already, Super Representatives voting is in progress and delayed because most coins were locked at different exchanges supporting their new blockchain. There are 52 different exchanges supporting the new TRX coins and blockchain.
It's obvious that TRX seems to be turning a corner. Yes, we can agree that in the face of this deep bear trend, there are hopes of sellers waning down allowing for a brief recovery. However, that's largely subject to TRX pushing prices above 5 cents. This is the main resistance line and buy trigger. On the flip side, sellers would be back and aiming for 2.5 cents in case there is a drop below 3.3 cents or June 29 lows. But after yesterday's 10 percent push, I recommend buys on dips for risk on traders with targets at 5 cents and 8.5 cents.
IOTA (IOT) Technical Analysis
From yesterday's price action, it's clear that buyers are making a comeback. Not only do we have volumes behind these moves, but the fact that gains have been consistent after June 29 means hints of strong bull pressure.
I recommend buys with targets and stops as before. However, risk on traders can wait until IOTA buyers print above $1.3, triggering our buys. Any move below 90 cents or that double bottoms cancels our bullish projection.
Disclaimer: Views and opinions expressed are those of the author and aren't investment advice. Trading of any form involves risk and so do your due diligence before making a trading decision.