Even if we are in a deep price correction with some instances where sellers are trending below main support lines like in Litecoin, some as IOTA are actually finding support. In the last 24 hours for example, IOTA is up four percent and resisting lower lows at 90 cents, our main sell trigger line.
Let's have a look at these price charts and accompanying fundamentals:
EOS Technical Analysis
Rumor is rife that BitFinex might be using your EOS tokens to vote for their proxies: jedaaaaaa, bitfinexeos and eosgenblockp. The thing is, these three BP candidates won't be block producers unless BitFinex arm twist the process allowing these three to be BPs giving them a pass to a $10,000 per day paycheck while hosting their servers in a cloud service platform that costs roughly $5,000 on the higher side.
Claims that BitFinex are using user coins to vote themselves in has been there for sometimes now and some are actually urging those storing their EOS coins at BitFinex to move them elsewhere until when voting is over. The thing is, it's not for the best interest of the community for supposed "trusted" entities to exploit that trust for their benefit. The constitution is there but are they immune?
The thing is, sellers are technically ahead and pushing prices lower. Even though we have buy pressure spilling in following June 24 pin bar, we need strong injection of hawkish volumes pushing above $9 to invalidate this bear run. If not, the best approach is to trade as per yesterday's trade plan, search for pull backs retesting $9 and sell with stops above that resistance line. Conversely, selling at current prices with tight stops at $9 can be a good trade plan also.
Litecoin (LTC) Technical Analysis
It's no secret that BTC is the most influential coin in this sphere and data from Diar supports this assertion. Well, there are more than 1600 cryptocurrencies with most spawning from BTC source code but they are largely inactive on exchanges.
Statistics shows that at current spot rate, BTC pairing contribute about 33 percent of all trade volumes while LTC and XRP trading provide two percent of the total trade volumes. This finding effectively means that LTC is one of the most influential coin in the world and even though there is a bit of correlation to the peaks and bottoms of BTC, at least it is liquid.
Back to price action and Litecoin is down 32 percent month over month and this is irrefutable considering the strong slide in the last three months or so. However, there is support in the last 24 hours and LTC is actually up, managing losses gaining six percent in the last 24 hours.
All things constant, our previous trade plan is still valid and selling on every highs or retest of $90 is what I suggest in the days to come now that the depreciation wasn't as rapid as previous days yesterday. On the flip side, if there is rejection of higher highs, our minor sell trigger is at $75.
Stellar Lumens (XLM) Technical Analysis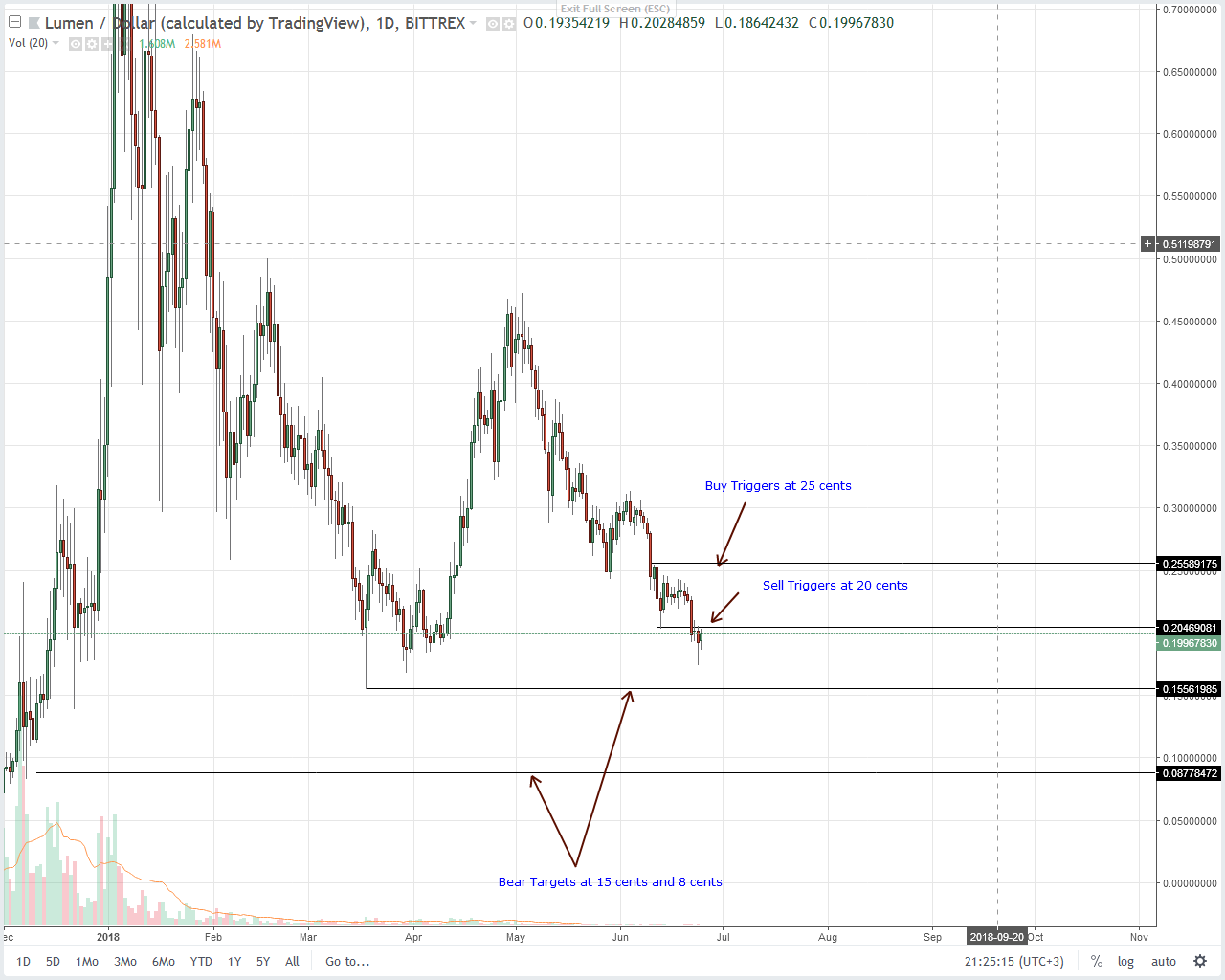 As always, Stellar Lumens news is rare and despite that, it's still the seventh most liquid cryptocurrency in the world. Anyway, in the face of bears, XLM prices are performing relatively well and buyers have actually reversed June 24 losses printing a double bar bull reversal. Of course we remain bearish but we shall cancel this projection when XLM prices are above our minor buy trigger at 25 cents.
So, before we conclude, we shall consider any form of higher highs inching towards June 22 highs as short coverings. Any retests of 25 cents would provide perfect opportunities to sell on highs at lower time frames and aim towards 15 cents and 8 cents as we have highlighted before.
Tron (TRX) Technical Analysis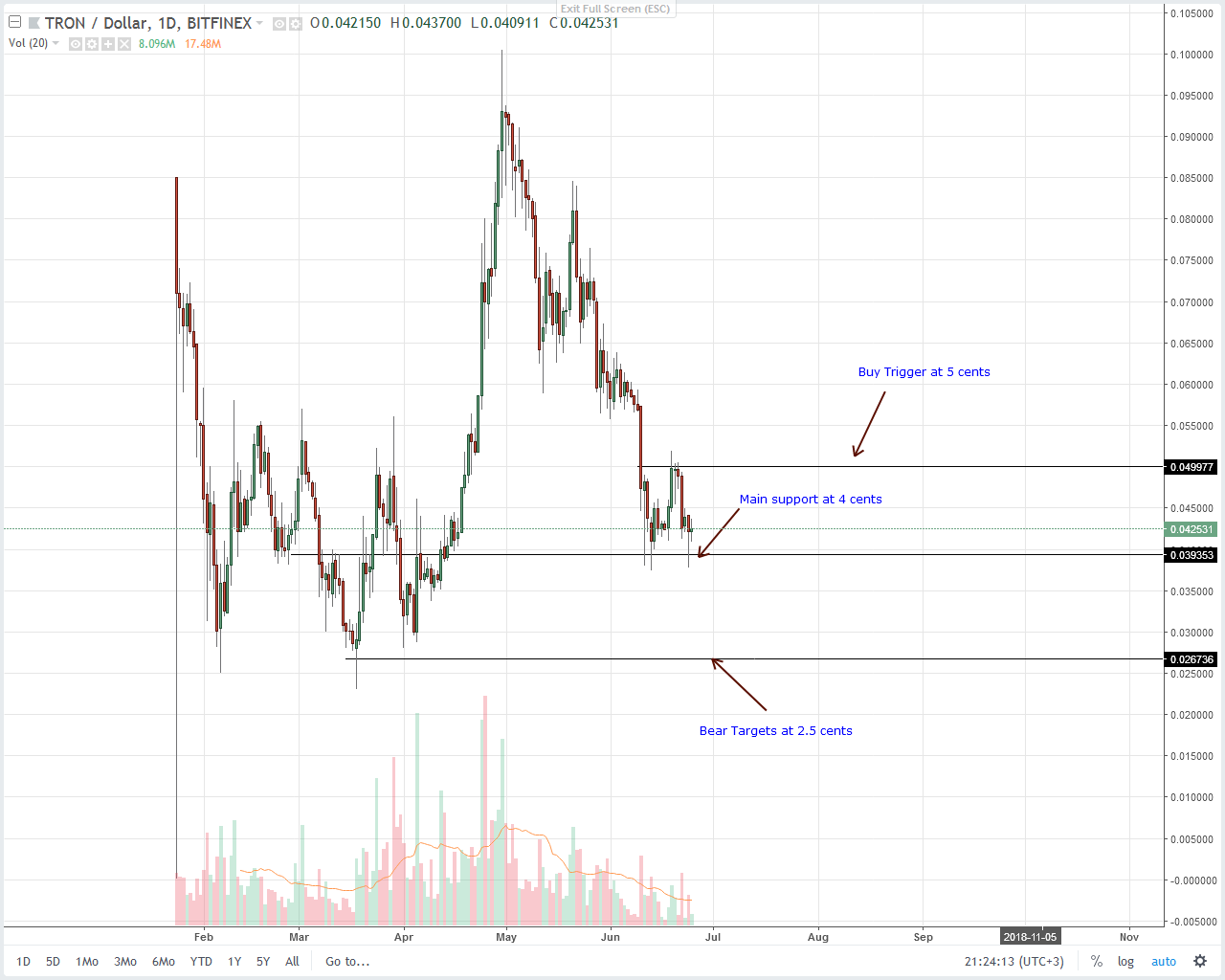 Finally, the Tron mainnet is now live and after three weeks of testing the security and robustness of the platform, their genesis block was printed. This is a milestone for Tron and soon, we shall have the first 1 billion TRX burn.
#TRON Independence Day live stream starts now, join us to be part of the free, decentralized internet. https://t.co/M5uzhyfjYf

— Justin Sun (@justinsuntron) June 25, 2018
Then by July 31, Tron would be launching their TVM which by the way is easy to use and pluggable meaning it's compatible with those of other blockchains including the EVM. Today though, their super node/ super representative election shall begin.
At current prices, TRX prices are moving with very tight trade ranges and oscillating within June 24 high lows. For bear to trend then we need to see lower lows and that's why I recommend trading with the trend and shorting with stops at 4.5 cents. However, conservative traders should wait for TRX prices to dip below 4 cents and main support line before initiating shorts as in our previous trade plans.
IOTA (IOT) Technical Analysis
Prices are up four percent and up one spot to position nine in the liquidity list. Of course, this is something IOTA supporters want to see and is particularly encouraging because IOTA is finding support at 90 cents, our main support line.
#IOTA Foundation: RT bitpanda: You can now also buy iotatoken with cash at over 400 Austrian Post Office branches via Bitpanda To Go! All you need is an email address and your coins will land directly in your integrated wallet #bitpanda #bitpandatogo pic.twitter.com/Y04dcWeHNm #mi…

— IOTA News (@iotatokennews) June 25, 2018
While we retain our bearish preview, any form of higher highs finding resistance at $1.3 would be short coverings and it means we should short and aim for 65 cents in the daily chart. Otherwise, any strong break above $1.3 and even $1.5 on the upper side would signal buys invalidating our bear projections.
Disclaimer: Views and opinions expressed are those of the author. It's an opinion piece and not investment advice. Trading of any form involves risk and so do your due diligence before making a trading decision.