There have been wonderful news in the last two days. Facebook is reversing their cryptocurrency ad ban five months after issuing a directive while Tron is now on their mainnet after successfully completing their ERC 20-mainnet coin swap. Besides, there is VW formation of NAV seeking to bring standardization in the AV systems. All these should be positive and perhaps that is why prices are a little bit stable as they test key support lines.
Let's have a look at these charts:
EOS Technical Analysis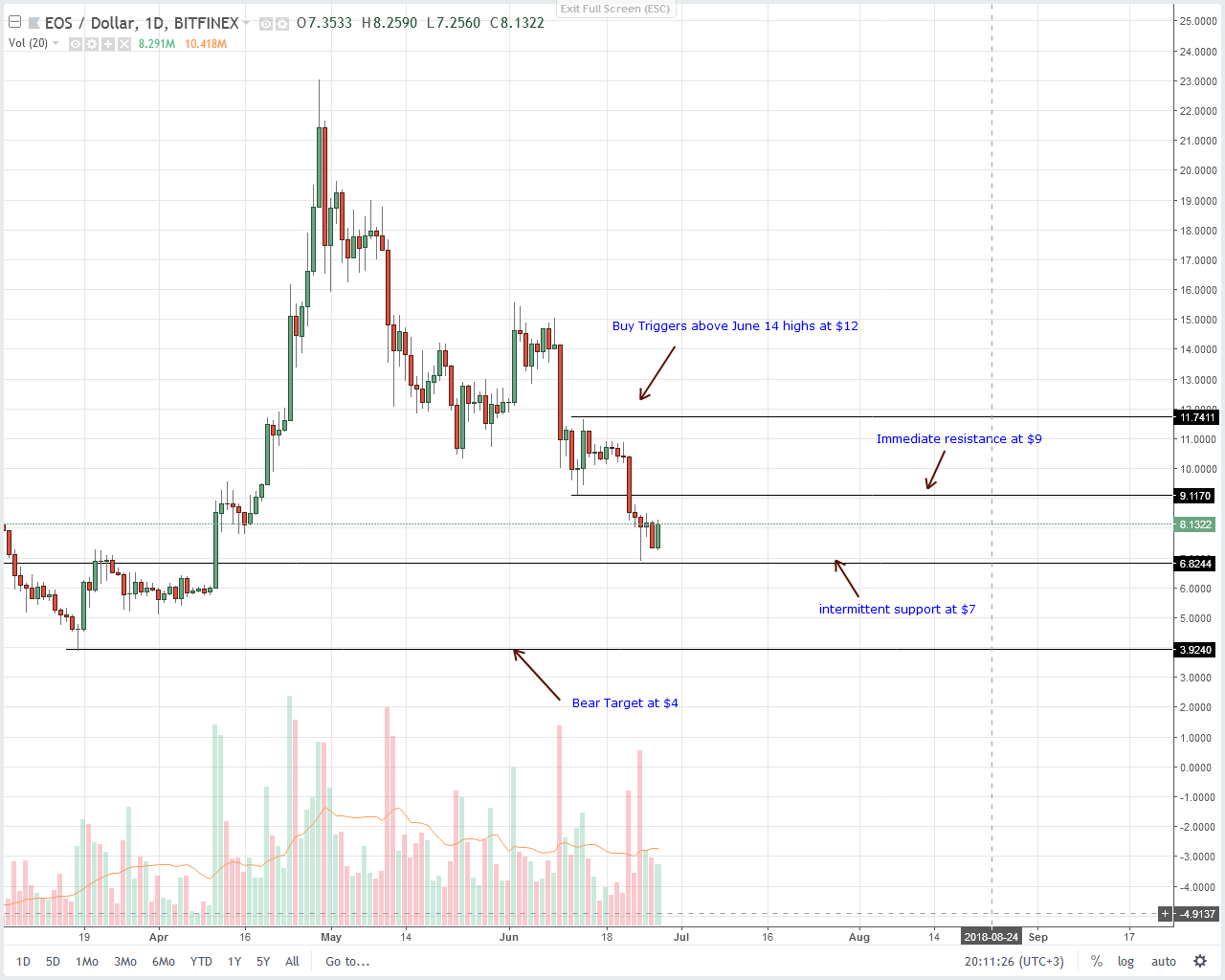 Two weeks after launch and EOS is chocking with centralization accusations and human involvement in governance in a sphere that is supposed to run on autopilot. That everything should be dry and coin holders are solely responsible for their own coins' private keys.
Of course, we may argue that change is after all good but what with all these internal wrangles and law suit threats when orders from the ECAF fails to be implemented? What with the constitution that gives too much power to but a few validators all in the name of throughput and scalability? If this was the case, many strongly believe that Block One should have reconsidered setting up a blockchain based company and instead go for a centralized app. This will allow them to suspend accounts even on trivial matters negating the very core of blockchain which is decentralization, transparency and responsibility.
https://twitter.com/ummjackson/status/1011838333268340736
Judging from price action, it has been a bad month for EOS. As a matter of fact, at current spot prices, EOS is down more than 60 percent from their ATHs. It could get worse because as it stands and especially after June 26 slide, $4 is most likely the next target meaning yesterday's trade plan is valid. The only time our stand would change is when we see movement above $9. Notwithstanding, note that at current prices, there is more impetus for potential reversals because $7 is our intermittent support line.
Litecoin (LTC) Technical Analysis
In a new twist and obvious reconsideration, Facebook being a for-profit company is reversing their cryptocurrency ban. This comes five months after barring legitimate companies from advertising their services/products at their platform.
BREAKING: Facebook is reversing its ban on #crypto-related ads.

In and of itself this isn't a huge deal, but I'm hopeful it will send a signal to others that crypto is here to stay. Blockchain tech, tokenization & cryptocurrency will touch every aspect of our lives.#BULLISH

— Chris Koerner (@noBScrypto) June 26, 2018
In a blog post, their product manager said that even though their initial policy was "intentional broad" to detect fraud as much as possible, they are now allowing approved crypto companies to advertise their coin. However, not everyone have a free pass. Facebook are categorical stating that those who intends to should first fill a form for credibility. In it they should providence license evidence and state whether they are tradable at any public crypto exchange for permission.
Despite the slowdown in price erosion, our previous trade plan holds true. This is so because LTC prices are still trading below the lower level of resistance at $90. Now to sync with our previous forecasts, as long as bears retain LTC valuation below this buy trigger line, we should be comfortable selling with targets at $70. It is the first support line. Should there be further sells, then $50 would be another target for sellers. All this time, safe stops would be at June 26 highs at $85. Obviously, any push above $90 cancels this short to medium term short evaluation.
Stellar Lumens (XLM) Technical Analysis
Based on technical formations and the reluctance of buyers to push prices above 20 cents, our previous trade plans remains valid. It's a simplistic approach. Thanks to recent tight trading, our decisions are all subject to buy pressure reversing losses and printing XLM prices above 20 cents. This is a minor but immediate resistance line. Therefore, as long as XLM prices struggles below June 26 prices, selling at lower time frames with targets at 15 cents and 8 cents as before is but valid.
Tron (TRX) Technical Analysis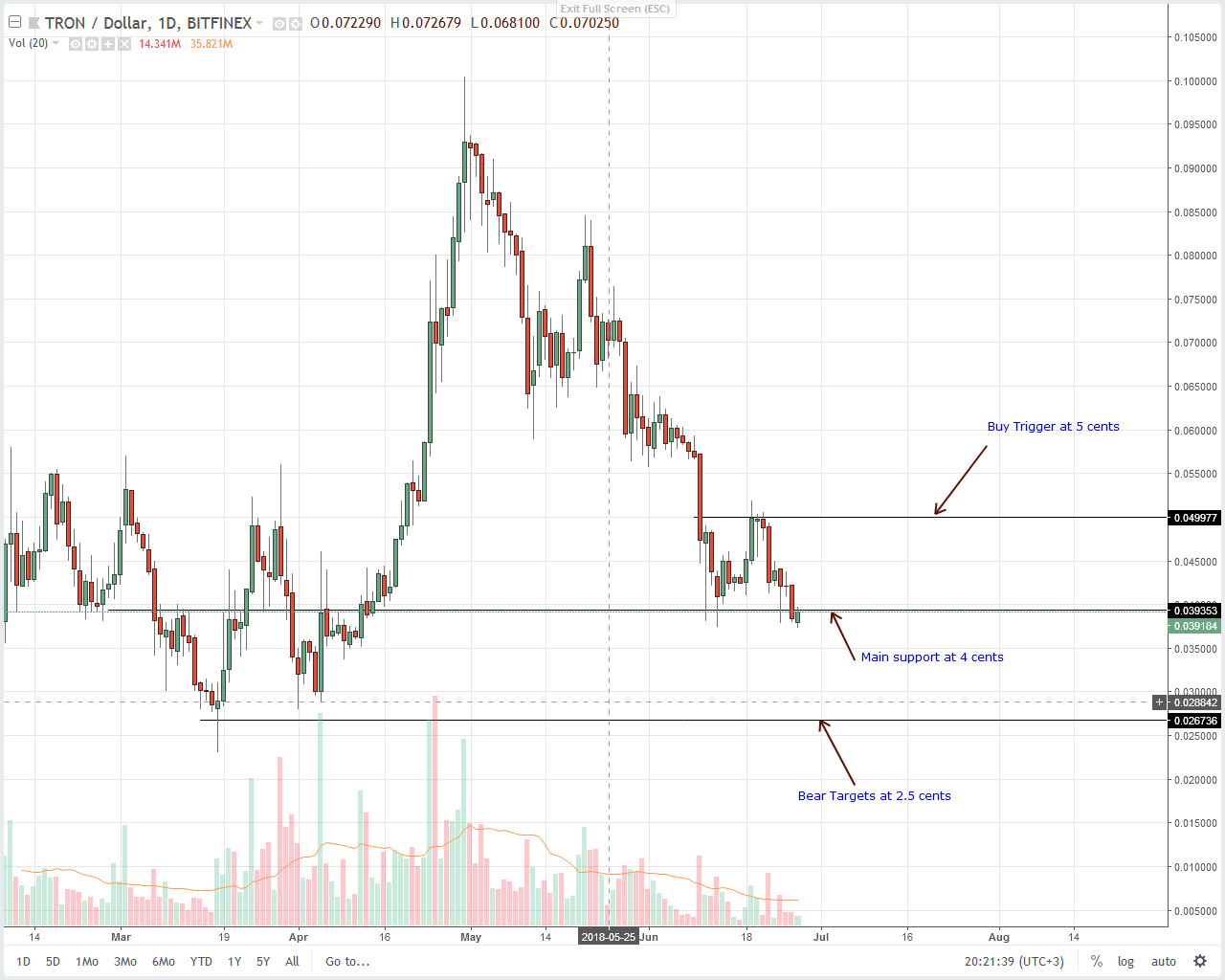 Now, while there are no official announcements from Tron about their partnership with Pornhub partnership. In all honesty, it's negative if at all Tron is going to attract big money. Porn is acceptable in the internet-that's a fact but many big investment funds label Pornhub business plan "immoral". The prospect of Tron partnering with a porn vendor is unacceptable to them.
Pornhub and TRON (TRX): The Future Has Come…Again. @tronfoundation accepted soon on Premium pic.twitter.com/EzGRjSsJTH

— Pornhub ARIA (@Pornhub) June 27, 2018
At a glance, statistics shows that TRX is down five percent in the last 24 hours and below the main support line at 4 cents. Now, in line with our previous trade plan(s), my recommendation is simple: Sell and trade with the trend. Safe stops should be at June 26 highs at 4.3 cents while targets remains unchanged at Q1 2018 lows.
IOTA (IOT) Technical Analysis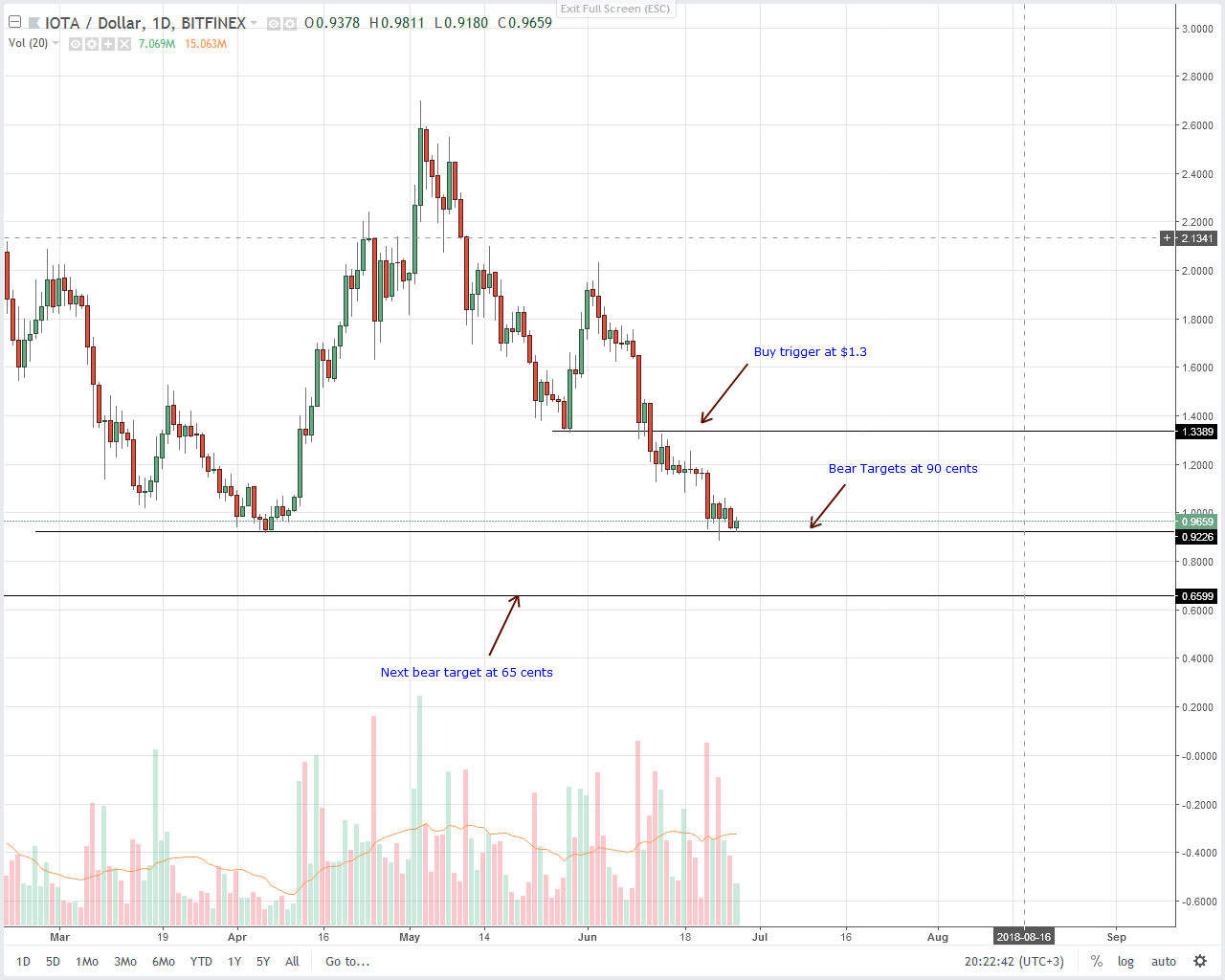 There are many practical user case applications of IOTA. And thanks to the many partnerships in the first half of 2018, there is enough evidence for that.
https://twitter.com/stuard_mace/status/1012016543461531649
There are even better news because VW, the giant automaker keen on making technological strides in the autonomous vehicles leveraging on the Tangle teamed up with four suppliers including Bosch forming the Networking for Autonomous Vehicles (NAV). These are all positive to Tangle but unfortunately, we need to see that translating and supporting price.
In the last 24 hours for example, IOTA prices are down three percent finding temporary support at 90 cents though trading below the psychological $1 mark. Because of this and the general low volatility, we retain our bearish stand waiting for: breakouts below 90 cents endorsing our initial trade plan with targets at 70 cents or supports with rejection of lower lows pushing prices above $1.18 canceling this bearish projection. It's that simple but still, patience is needed.