Even though Trump and Kim have shaken hands, we are yet to see a slow down in Bitcoin prices which we all know anchors alt coin prices. In real sense, Bitcoin dominance stands at 38 percent and the general crypto cap is up to $309 billion but this is apparently not stopping sellers from eroding Litecoin, EOS and Tron valuation. In fact, Litecoin is trading below $110, a key support line while EOS is down testing $10, a sell trigger line.
Let's have a look at these charts
EOS Technical Analysis
Even though we have internal testing that demonstrates that the EOS network can easily handle hundred of thousands of transactions, still, we need to see the performance of the blockchain once everything is ready. With this, we already have comparisons between Bitcoin and EOS and how dismissal the former is. However, note that the permissionless nature of Bitcoin is what makes it hard to scale while EOS has it is to some permissioned. Besides, some even claim EOS is more centralized than Ripple despite the ability to vote out Block producers in EOS. As it is, it operates more like a democracy with a transparent system that is on-chain.
Price wise, EOS is down 18 percent in the last 24 hours and with that move, its testing the main support line at $10. From the chart, it's clear that prices are now aligning with bear pressure that was set in pace by June 10 depreciation. So, today I recommend shorting and placing stops above June 11 highs of $11.5. Sell targets would be at $7.
Litecoin (LTC) Technical Analysis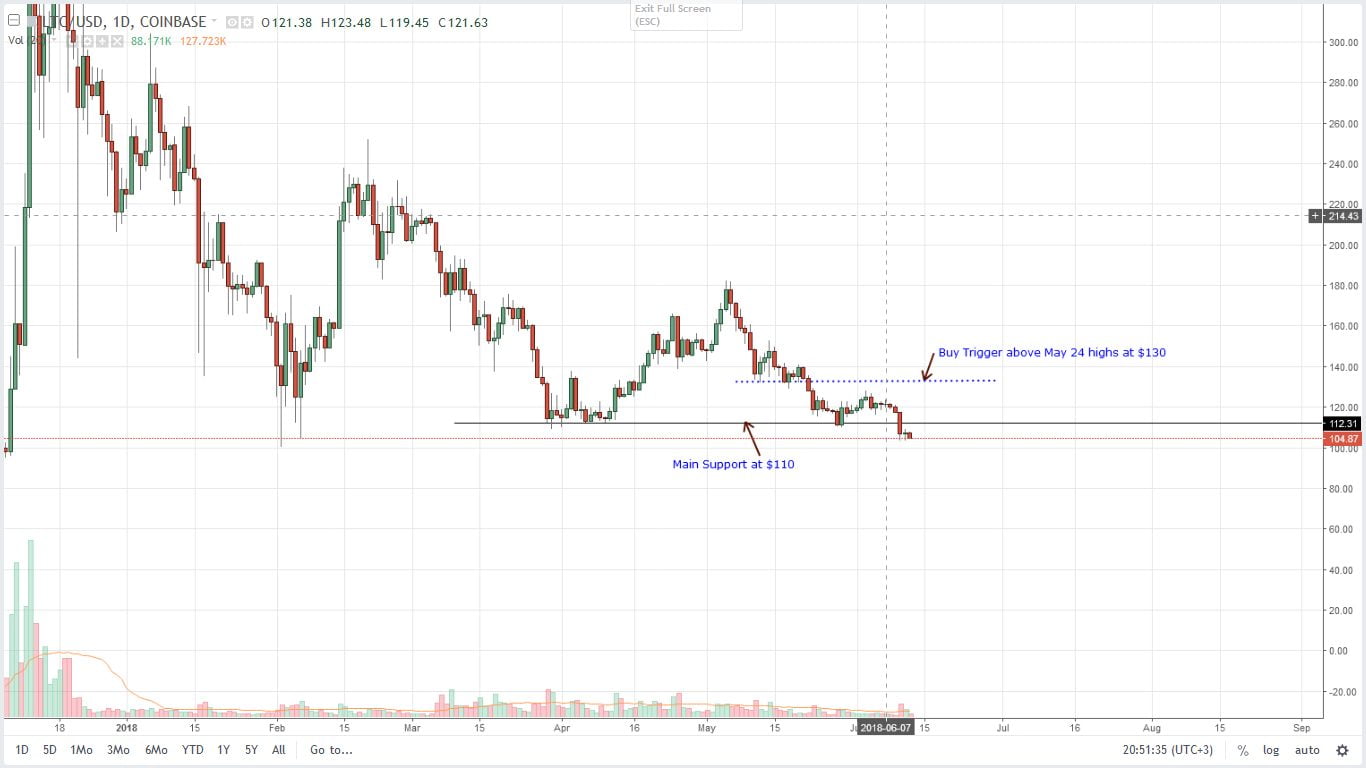 There is a new PayWithLitecoin website where users can track which merchant supports LTC. It's also a platform where they can check which sites users are demanding LTC incorporation. From statistics, it is emerging that users have been consistently asking the likes of Amazon and eBay to allow LTC checkout. It's no secret that any inclusion of LTC as a payment method in any of these big corporations would propel prices to new highs.
On to the charts and Litecoin sellers are pushing prices lower. Note that after yesterday's bear candlestick and 13 percent depreciation, trading with the trend and shorting at every highs with targets at $90 and lower should be the way to go. On the cautious side, any appreciation that would put prices above $110 and $130 would be an antidote for bears effectively cancelling our bear forecast.
Stellar Lumens (XLM) Technical Analysis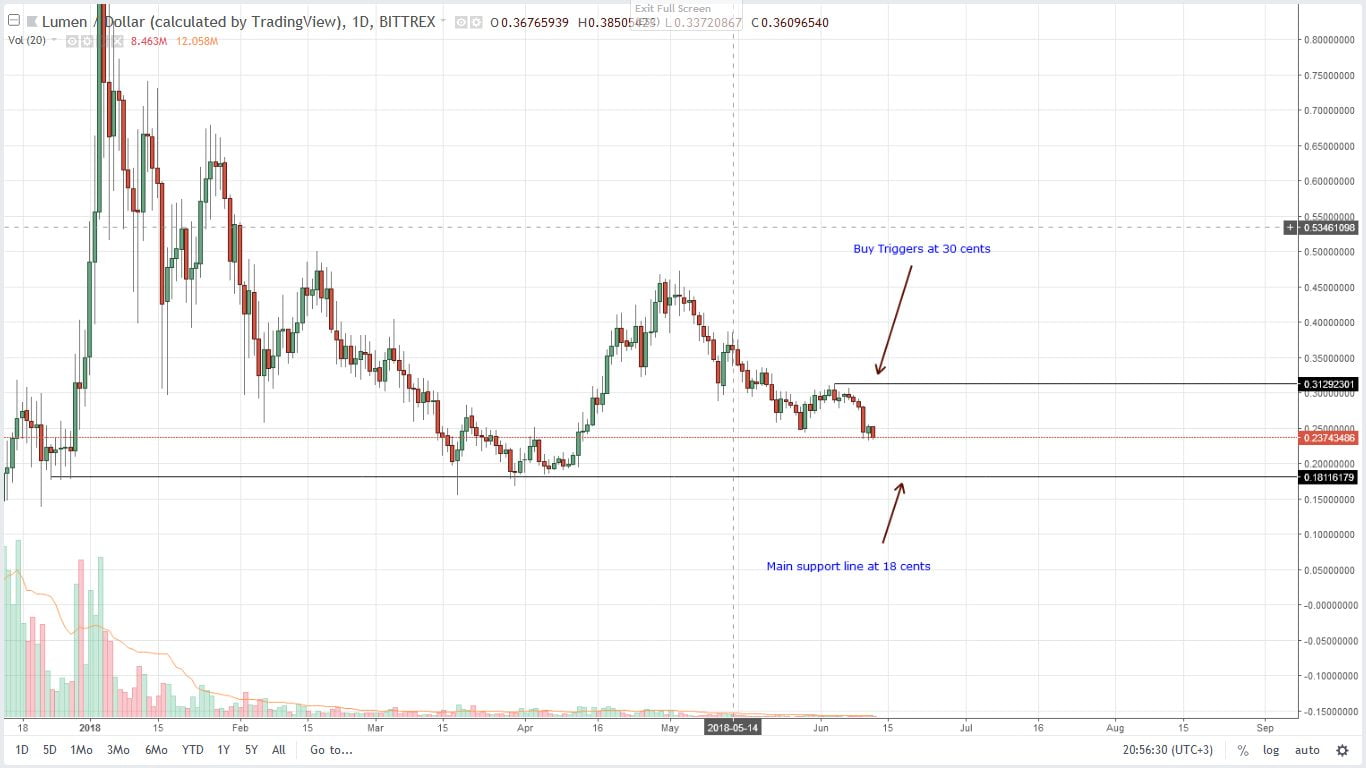 Like the rest, Stellar Lumens is down 18 percent in the last 24 hours meaning our previous trade plan is right on track. So, like yesterday, selling and trading with the trend with targets at 18 cents and stops above 27 cents would be ideal. On the flip side, any appreciation above June 10 highs and 30 cents would negate our trade plan.
Tron (TRX) Technical Analysis
Is Binance indirectly endorsing Tron? It may be if we see their recent move not only of listing TRXUSDT pair but also their public support of their mainnet launch that goes live in less than 14 days. It's obvious that such declaration is not only a long-term support for the newly minted coins but it will boost TRX liquidity and its credibility in the crypto verse.
BinanceにTRXUSDTが新規追加されました。

Binanceはこちらhttps://t.co/2kdiJ5wQ2r#Binance #TRXUSDT

— 新規上場!! (@crypto_notice) June 12, 2018
Zooming on to the chart and like EOS and the rest, sellers are pressing the gas pedal. The trend is obviously clear and in days to come and even to mainnet launch, selling and trading with the trend looks like a good strategy. In this regard, I would suggest selling on every high with ideal resistance at 5 cents and bear targets at 4 cents and later 3 cents as we have pointed out yesterday.
IOTA (IOT) Technical Analysis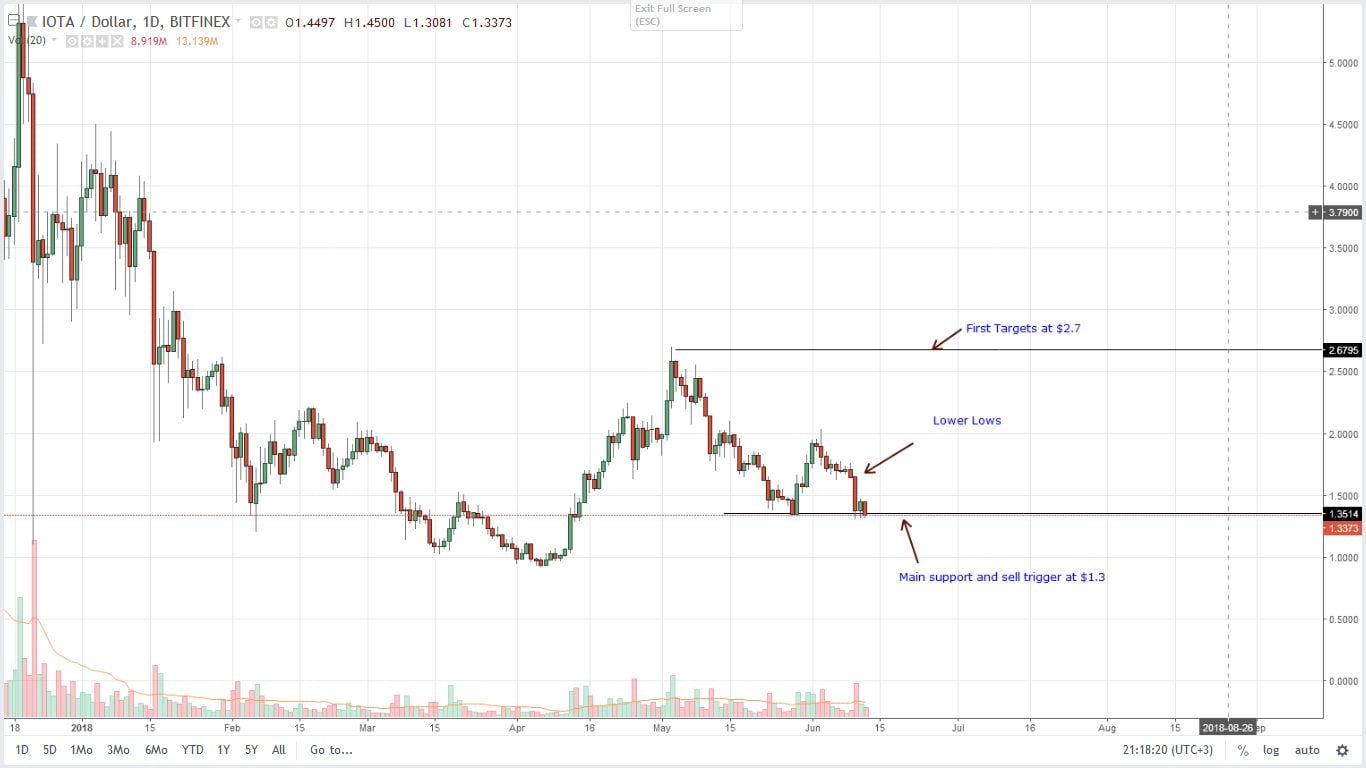 Despite CEBIT 2018 and IOTA work with Volkswagen, still prices are registering double digit losses. After yesterday break below our previous sell trigger line at $1.6, we should be looking for further sells with targets at $1.3. That's ideally at April lows and my recommendation is to look for shorting signals in the 4HR chart.