IOTA slides 11.4 percent
Coordicide and a new scalability-enhancing algorithm is bullish
The Internet of Things (IoT) industry is expected to rise to over $325 billion by 2023. As such, the IOTA Foundation is ready to capitalize on this projection. Through Coordicide and improvement of the existing algorithm, IOTA prices could correct upwards.
IOTA Price Analysis
Fundamental
Given the rise of smart contracting, futurists are optimistic. With millions supporting research and development, analysts are churning out papers confirming the power of blockchains. Therefore, it is so easy to see why blockchain dominates headlines. It is disruptive despite inherent technical challenges.
All the same, the creators of IOTA took a different route. By introducing a blockless system that is by default scalable, they plan to take over the IoT sector. Estimated to reach billions of dollars in coming years, the IOTA Foundation is readying for this bright future. However, there are outstanding hitches.
Top of the list is the issue of centralization. With a white paper detailing the removal of the Coordinator, the prospects of IOTA as an investment is attractive for enterprising investors. However, there is more. The IOTA Foundation is lining up for a new algorithm that will drastically improve the network's performance.
Overly, the express objective of this algorithm is to address scalability, arrest spam attacks, and above everything, tackle congestion. In a paper, Achieving Fairness in the Tangle through an Adaptive Rate Control Algorithm, co-authored by Dr. Luigi Vigneri, a senior research scientist of the IOTA Foundation and one of the team members planning to implement Coordicide, the new algorithm will turbocharge the platform in three planes.
Firstly, it introduces the ability to stake IOTA. Secondly, it proposes an idea requiring each transaction to expend resources when solving a proof-of-work puzzle. Thirdly, upon implementation, the difficulty of the network shall be directly proportional to the number of transactions sent over time.
Candlestick Arrangement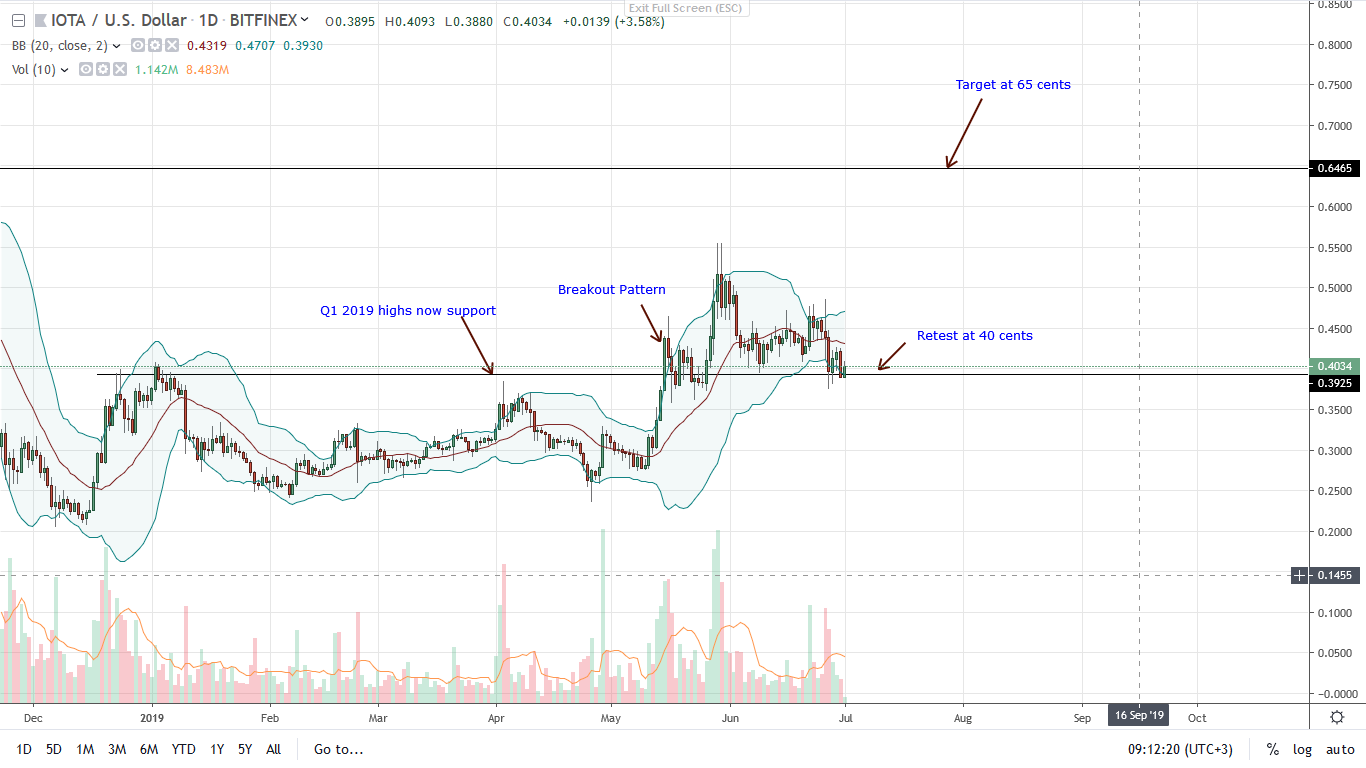 At the time of writing, IOTA is down the liquidity and market cap leader board. Sliding 11.4 percent from last week's close, IOTA is at risk of registering more losses. On the bright side of the equation, short to medium term performance of the asset is mainly dependent on the reaction at 40 cents.
Doubling up as Q1 2019 primary support, IOTA is at a retest. If there is an upward correction today or in coming days as prices rebound from 40 cents, odds are IOTA bulls will take charge in a trend continuation phase towards 55 cents and later 90 cents.
In that case, conservative traders should buy the dips once prices rally past 50 cents propelled by high trading volumes. On the other hand, any drop below 40 cents could see IOTA sink to 25 cents.
Technical Indicator
As a result, June 26 candlestick leads this trade plan. Any bulls' confirming bar lifting prices above 50 cents ought to be with high participation exceeding 17 million of June 26. Similarly, marking a dump down is a meltdown below 40 cents differentiated by increasing trading volumes exceeding 17 million.
Chart courtesy of Trading View. Image Courtesy of Shutterstock