Needless to say, IOTA is the biggest loser in the last 24 hours tumbling seven percent and in the process dipping below $1.12 and triggering sells. However, when we take a wholesome approach, bears are likely to drive prices lower across the board in the coming days. As such, we should be watching TRX because of what happens after mainnet launches, Litecoin as it dangles at $90 and EOS due to their security lapses.
Let's have a look at the charts:
EOS Technical Analysis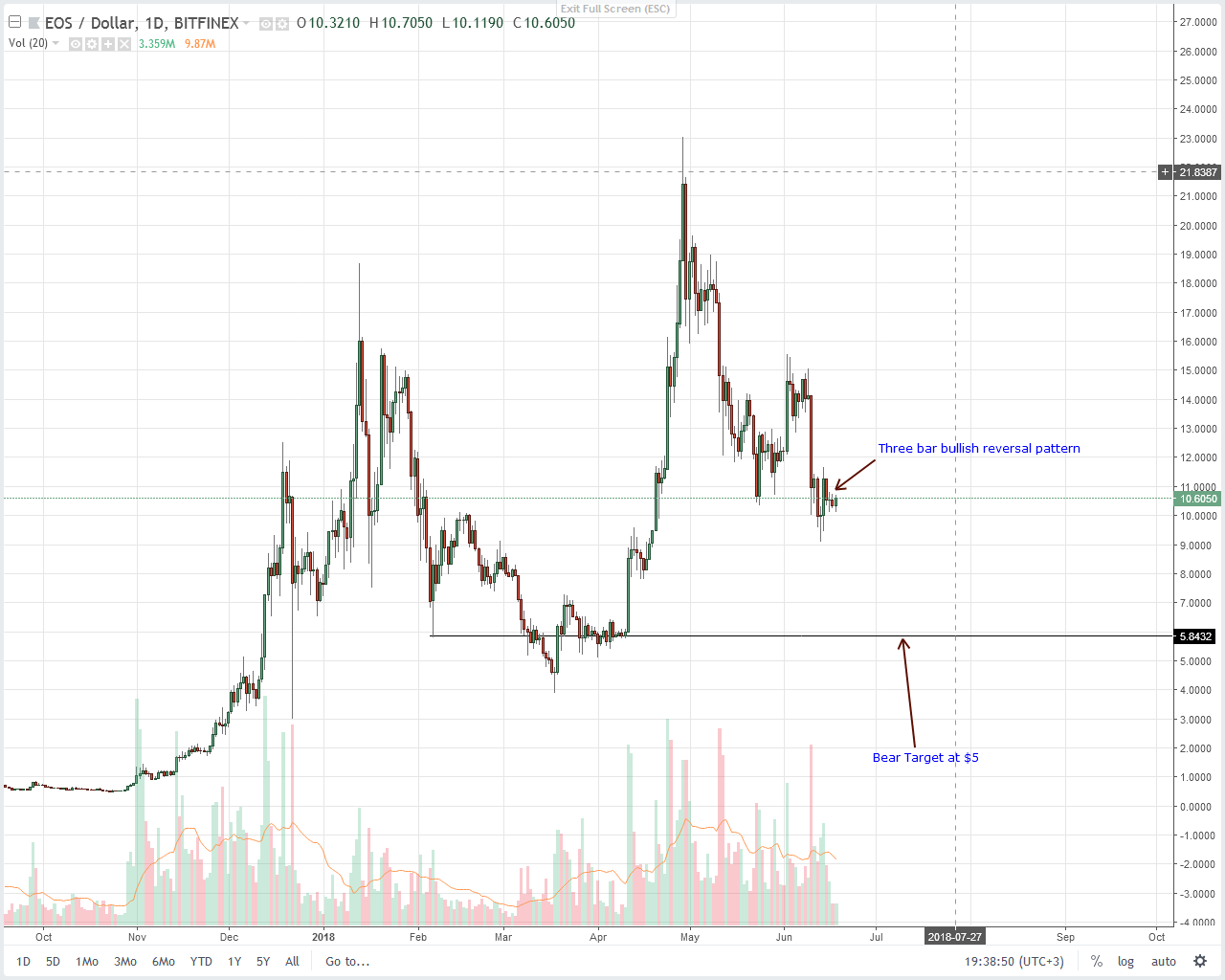 It's no doubt that the security of any blockchain takes center stage and EOSIO should be prioritizing theirs. We already saw that happening over the weekend following a bug that lead to a network freeze. This blockchain halt is technically meant to protect EOSIO blockchain from forking. Even though it could have been ideal if they had sorted this ASAP, the fact that it took five hours to resolve was a pain point for many.
On other fronts, DogeCoin CEO Jackson Palmer is criticizing EOS new requirement that newcomers should pay $3 for account opening. It's a no brainer, would inevitably hinder adoption exacerbating things at this time when EOS is simply the hardest digital asset to own.
https://twitter.com/ummjackson/status/1008091424238157825
All things constant, our previous trade plan holds. However, considering the trajectory of price action in the last four days or so, it's likely that our bullish projection would be nullified. This would come to pass if and only if bears push prices below $9 and in that case, and as we said before, our bear targets would remain constant. Of course, it would be ideal if prices recover. After all, EOS price movement is almost independent from that BTC as most trade volumes come from USDT and ETH.
Litecoin (LTC) Technical Analysis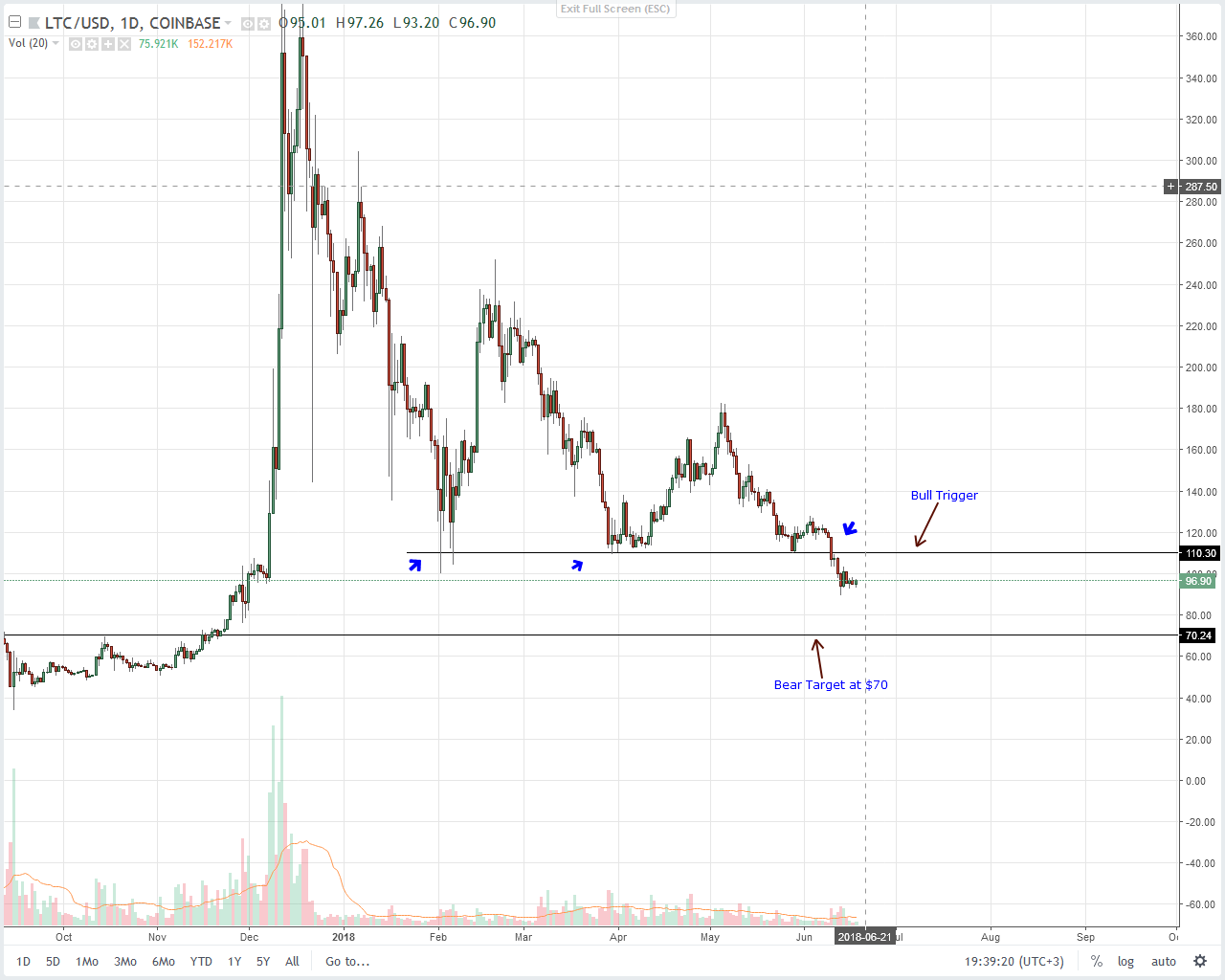 Local new reporters in Russia now say Sberbank and Alfa-Bank are experimenting with an investment product that allows retail investors to have exposure to top six cryptocurrencies including Litecoin and Ethereum. This is surely a step in the right direction for Russia who has generally been lax to state their stand on cryptocurrency even though binding laws are in place to regulate cryptocurrencies legalizing them in the process.
Under the watch of Bank of Russia @sberbank main state owned bank and @alfabank largest private bank of Russia will offer #crypto portfolios to their private clients. It will be in the form of share in a fund which will trade top six #crypto on main exchanges.

— The Blockchain Story (BCS) (@theBCStory) June 18, 2018
With prices moving within tight trading ranges, there is nothing much when it comes to price action. Fact is, in the last 24 hours, LTC has been oscillating within a $5 range but is still down relative to yesterday's prices. As such, chances of sellers testing June 13 lows remains high. Besides, the general trend is bearish even in the weekly chart is bearish so bears have a upper hand. Regardless of our skew, our previous trade plan holds true as long as price action oscillate between $90 and $110 on the upside.
Stellar Lumens (XLM) Technical Analysis
Like before, main support is at 18 cents and that should be our bear target in the next few days regardless of recent tepid price movements. As before, we stick to our trade plan where bull validation is beyond 25 cents and 30 cents depending on trading style and 20 cents for sell trend continuation. Because of the general trend, chances of bears driving prices lower remain high. After all, it's something that is playing out with all crypto pairs.
Tron (TRX) Technical Analysis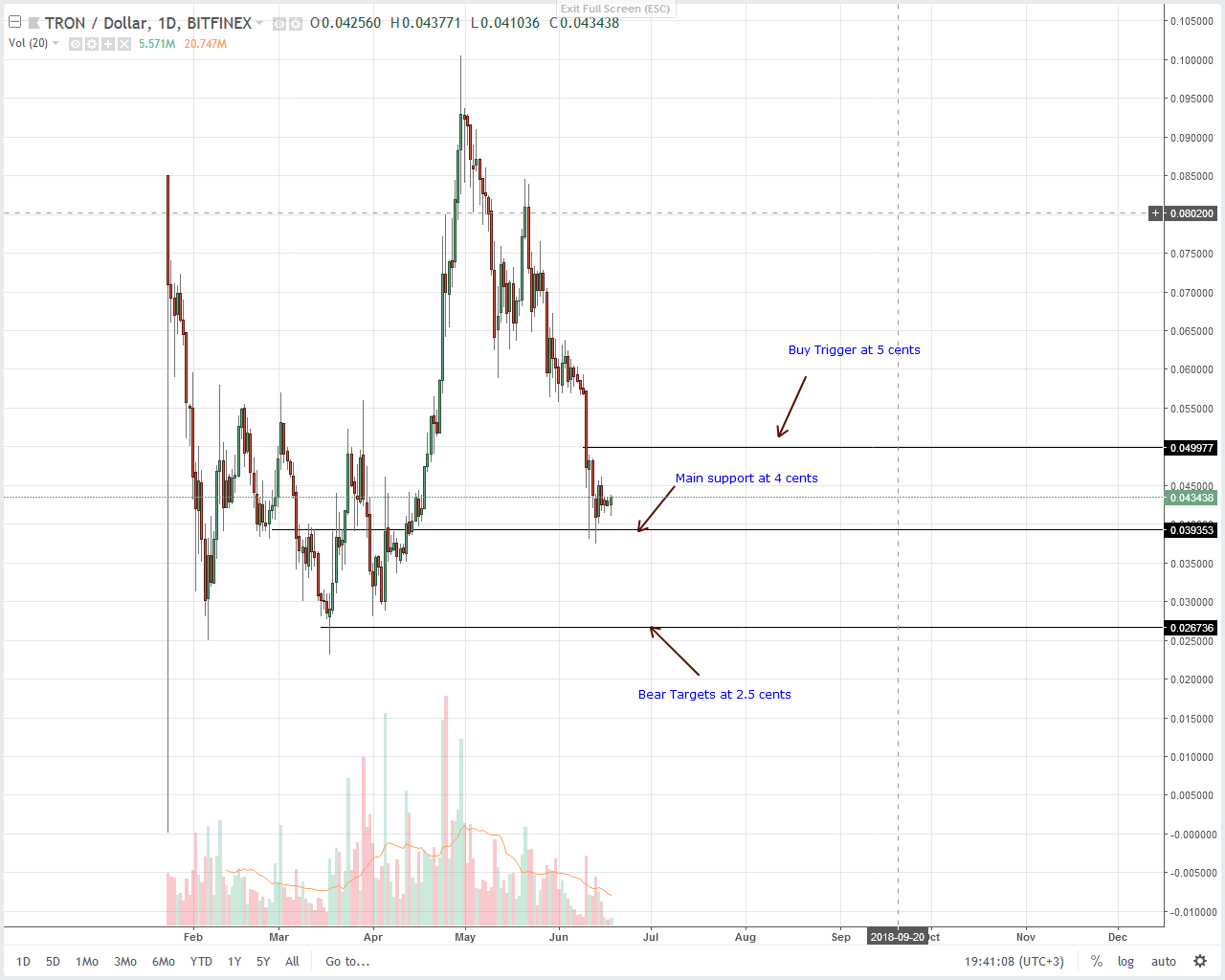 As Tron security checks continue, we shouldn't forget that it's only three days before TRX ERC 20 tokens lock down begins. The strategy goes on that they would be held and swapped in more than 25 cryptocurrency exchanges supporting the new independent TRX coin. After that, there will be a TRX freeze where coins will be held for three days gaining what they call TRON Power. Let's see what happens after that and how smooth their super representative voting would be.
Because price movements are tight moving within June 18 and 19 intra-day high lows, our trade plan remains intact. Our buy triggers are at 5 cents and for buyers to support our projection we need to see strong gains in the break out day with abnormally high volumes on the material day. The reverse is true should sellers take charge.
IOTA (IOT) Technical Analysis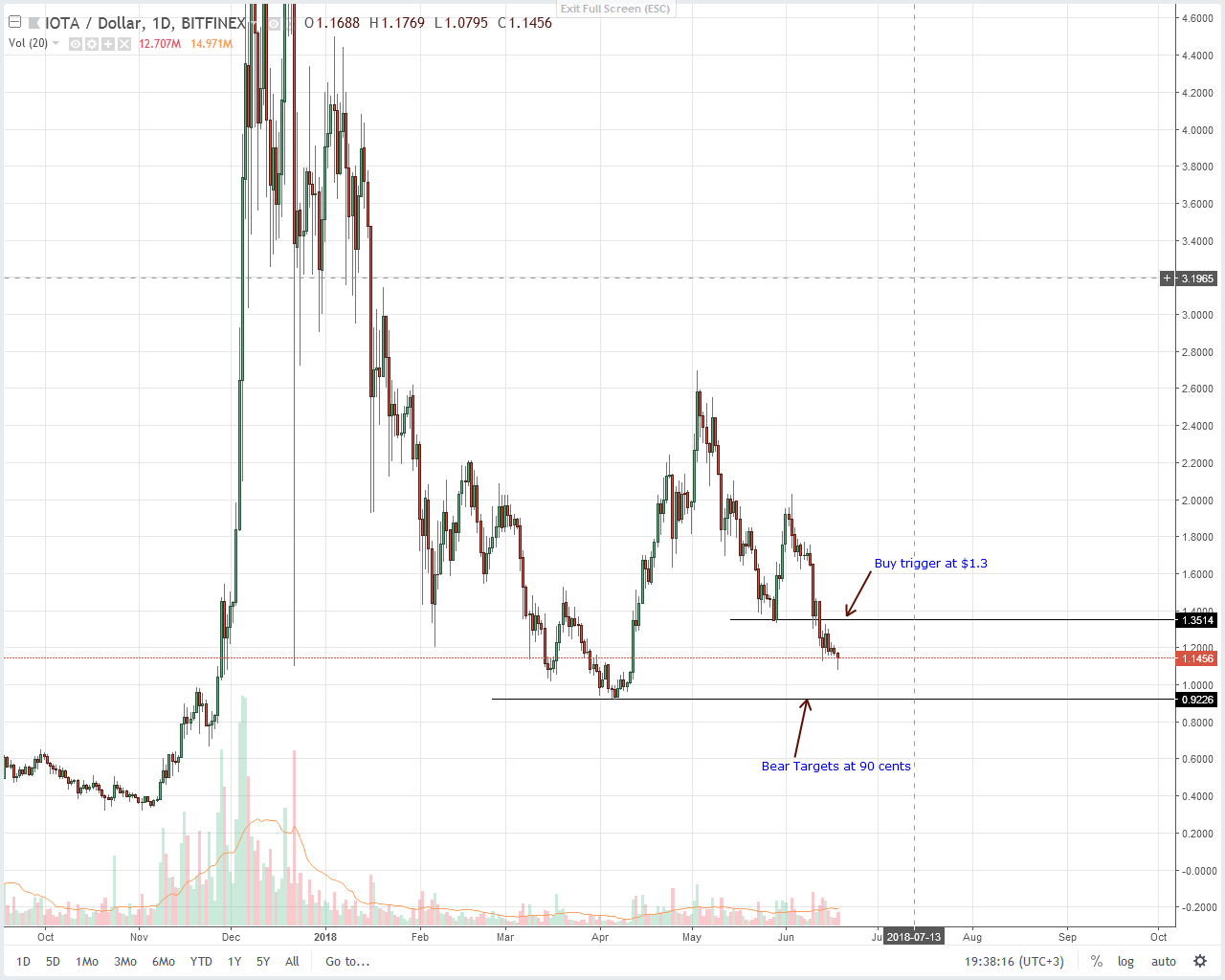 Even as the IOTA Foundation welcomes Holger Köther, bears are not slowing down.
Welcome Holger Köther to the IOTA Foundationhttps://t.co/q4RhSnScK0#IOTA

— IOTA (@iotatoken) June 18, 2018
After yesterday's seven percent loss June 14 gains have been reversed by sellers. In any case, our buy triggers as set out in our trading plan is now live meaning today aggressive traders should look to sell on highs with stops at $1.5 and targets at 90 cents or April lows.