All in all, traders and investors are optimistic of a morale boosting recovery in altcoins price. Nonetheless, for that to happen then we must see strides as EOS, Litecoin and Tron buyers build up enough momentum for further higher highs past last week's highs. IOTA and Stellar Lumens bulls might spear head this recovery on condition that today close as a bull as prices trade above 60 cents and that horizontal range along 22 cents.
Let's have a look at these charts:
EOS Technical Analysis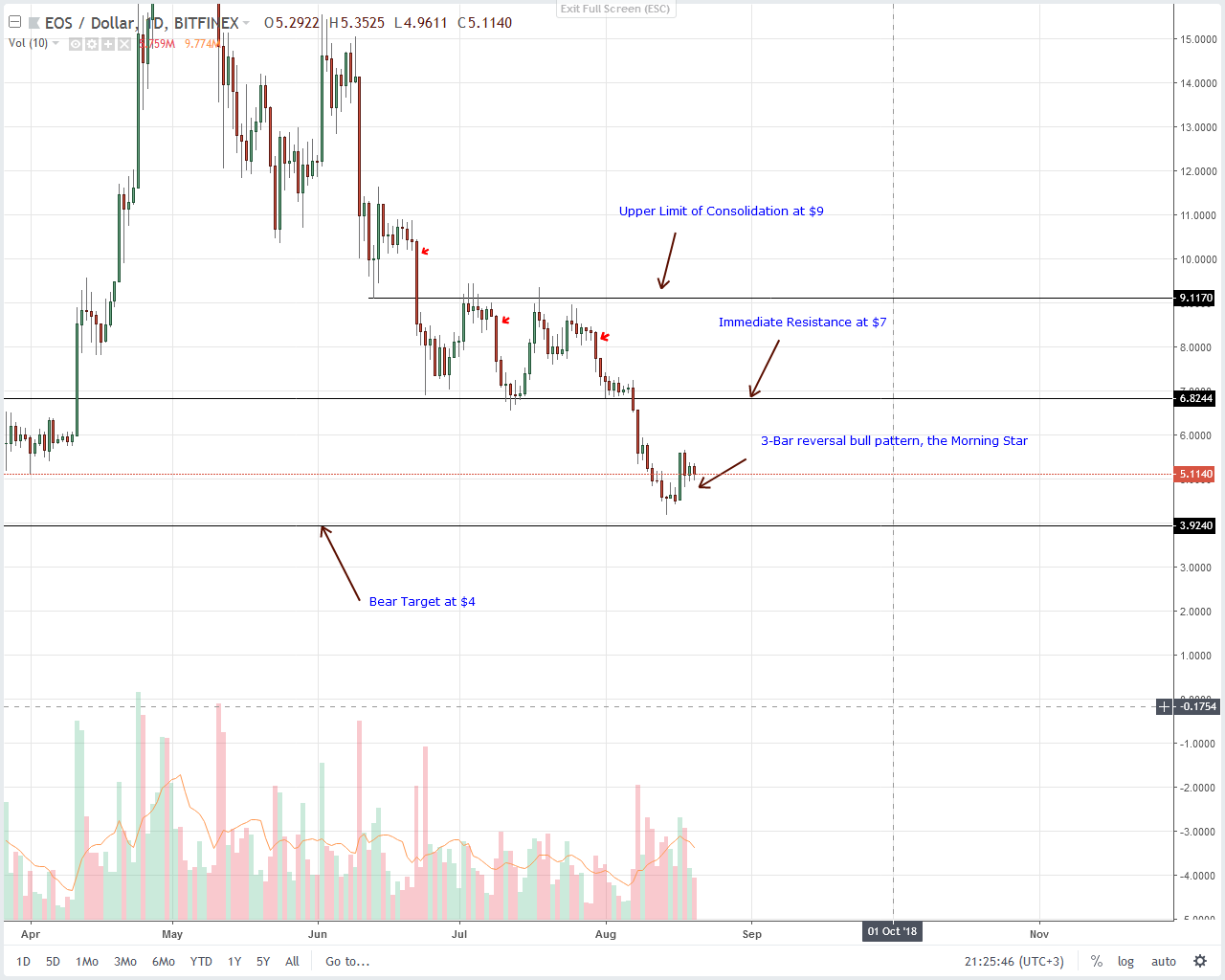 Technically, EOS prices are pretty stable and up one percent in the last day. As EOS swing, prices continue to oscillate within Aug 17 bearish engulfing pattern without confirming the three bar bull reversal pattern that many expected to drive prices towards our immediate resistance line at $7.
Either way, our EOS trade plan is clear: Bears are in control and any retest of $7 is another selling opportunity with first targets at $4 as lined up in our previous EOS technical analysis. At the moment, we recommend taking a neutral approach and waiting for convincing appreciations above $6 should buyers muster enough momentum or for trend resumption below $4.
Litecoin (LTC) Technical Analysis
The more LTC buyers fail to reverse these loses and sync with Aug 17 bull candlestick, the more our bearish assertion continue to hold. Thus far, LTC is down less than a percent and still trading inside Aug 17 high low meaning our previous trade plan is still valid.
Stellar Lumens (XLM) Technical Analysis
Price wise, Stellar Lumens is constant and still moving along 22 cents and within Aug 17 bullish engulfing candlestick. In line with our last XLM trade plan, all we need is buyers to drive prices above 26 cents and even 30 cents before we recommend taking longs with stops at 22 cents.
On the reverse side, sellers would be back in trend once prices dip below 18 cents on the lower end. For now, we suggest taking a neutral stand.
Tron (TRX) Technical Analysis
From the News
It is 10 days before the launch of the official Tron Virtual Machine.
https://twitter.com/TronNews_/status/1031177488272113665
Technical Analysis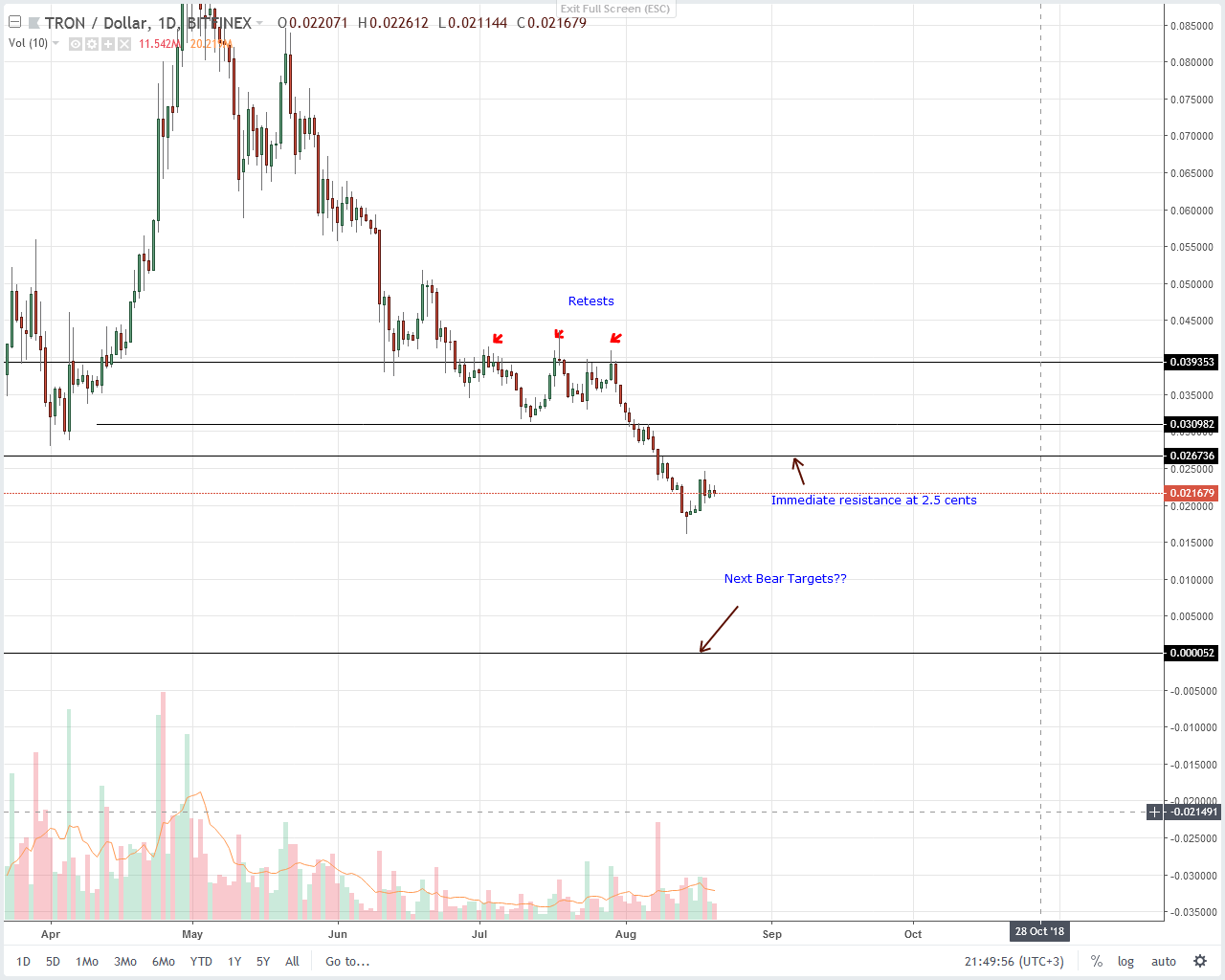 Despite bullish projection and slowing bear momentum, still TRX buyers are yet to edge past our immediate highs at 2.2 cents and sync with last week's bullish engulfing candlestick.
Further exacerbating buy plans is the narrow trade ranges and the drop in BTC prices that might hamper bullish attempts going forward.
Nevertheless, in my opinion, taking a small position longs with stops at 1.8 cents with first targets at 2.5 cents is an optimistic approach. This plan syncs with the overall trade sentiment especially after end of last week's price revival.
IOTA (IOT) Technical Analysis
From the News
ElaadNL is now availing the first car charging battery that works autonomously without any need of a communication protocol. Settlement will be in IOTA.
Traders can now open accounts at eToro and trade IOTA CFDs.
We are pleased to inform you that our selection of cryptocurrencies is continuing to expand, and IOTA is now LIVE on eToro. #newasset #cryptocurrency #IOTA

— eToro (@eToro) August 20, 2018
Technical Analysis
Even if IOTA prices are pretty stuck in a lower time frame consolidation, chances are we might see gains today. Notice that yesterday was bullish with buyers adding two percent and trying to retest last week's highs at 60 cents. In any case, we recommend buying IOTA at stop price with stops at 45 cents and first targets at 90 cents.
Disclaimer: Views and opinions expressed are those of the author and aren't investment advice. Trading of any form involves risk and so do your due diligence before making a trading decision.