Regardless of our medium to long term bullish skew, sellers are driving prices across the board. Apart from EOS,which is the only coin in the top 10 registering a modest three percent gain, others made losses. Stellar Lumens leads with a three percent loss in the past 24 hours and chances are it shall add their losses today following a bearish break below the middle BB and support line visible in the 4HR chart. Other than that, we anticipate losses in Litecoin, EOS and IOTA today.
Let look at these charts:
EOSUSD (EOS)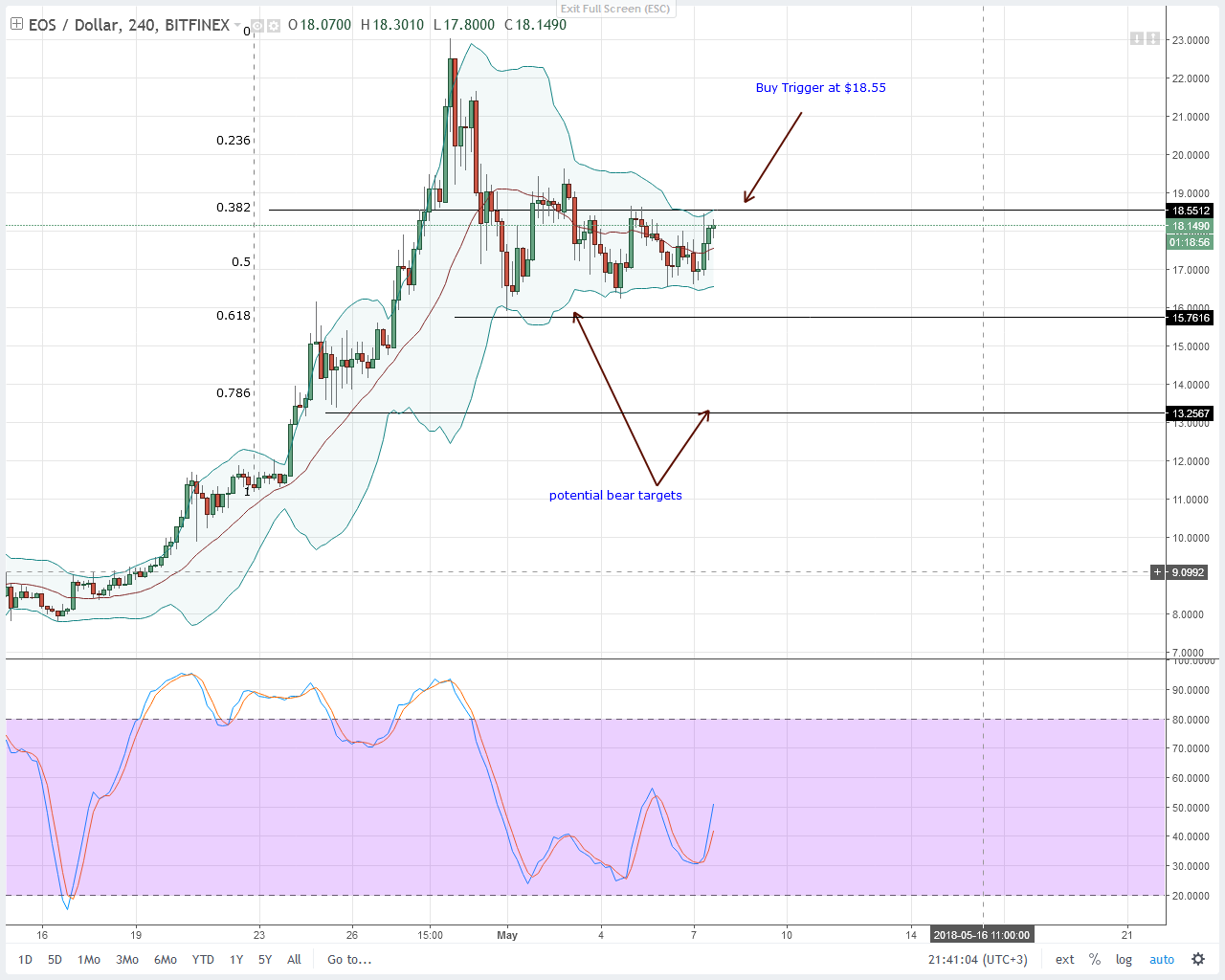 Of all the coins in the top 10, EOS is the only one returning positive gains in the last 24 hours. In fact it is up three percent adding on to their weekly gains but still prices are trending below the significant $18.55 resistance level.
Despite these encouraging gains, there is a high likelihood that bears might drive prices lower today as price action takes the natural course of reversing that over-valuation visible in the weekly chart. Remember, last week's candlestick was bearish with 80 percent of its body closing above the upper BB and as history shows, correction might happen to compensate that distortion of equilibrium.
Because of our technical set up, bears should expect price action to test $15 and later $14 in the coming days.
LTCUSD (Litecoin)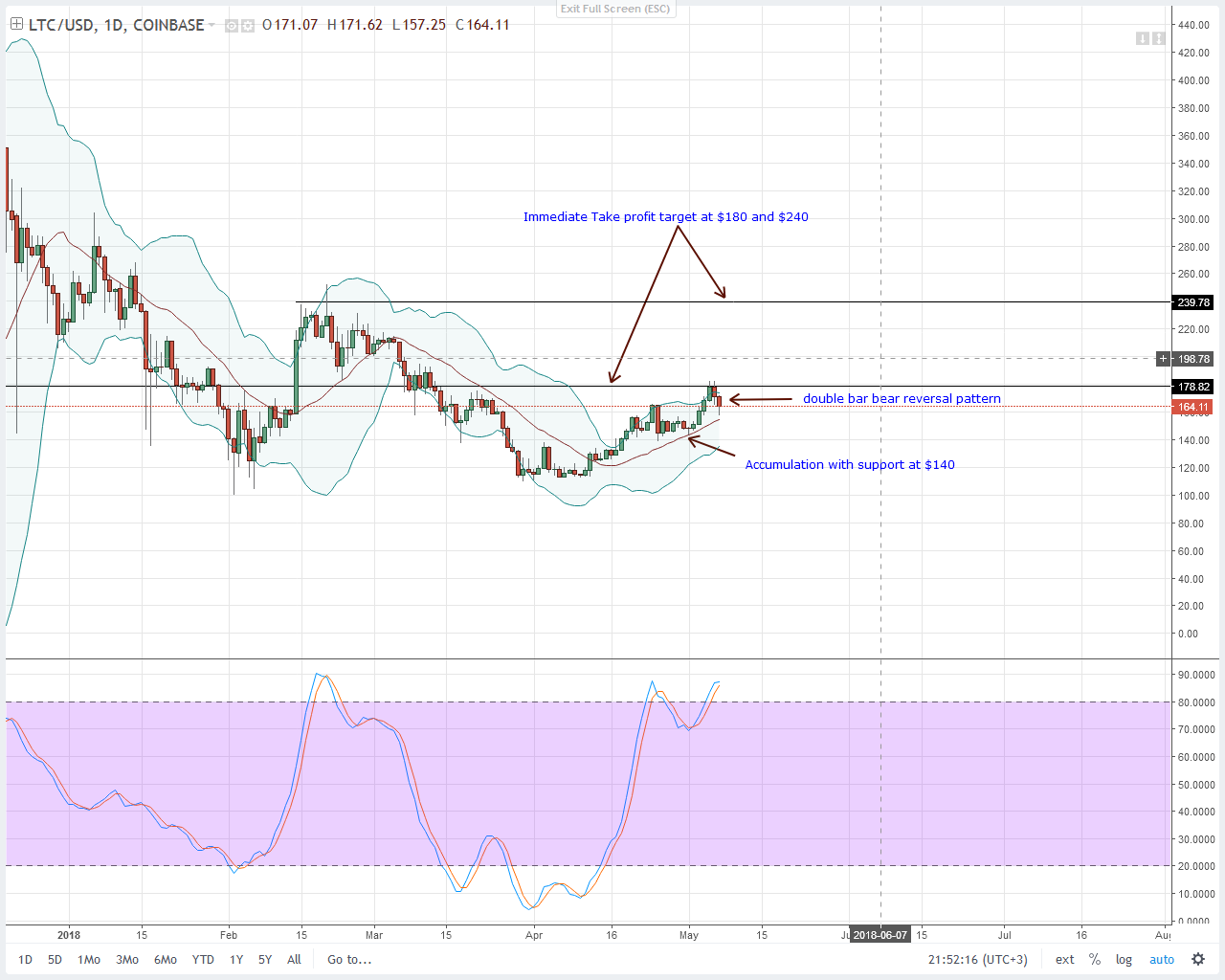 Like we have mentioned before, there is nothing that beats the Network Effect as Robert envisioned it. At the moment, that's what Litecoin Foundation is striving for: Retail Adoption. This is the reason why they are now running social media campaigns urging supporters to start settling bills using Litecoin and spreading the benefits that decentralization and privacy Litecoin tags along to merchants.
THIS is what we call a social movement. The future is here and the masses are ready to embrace it.

New article up now: One Litecoin Traveler's Tweet Gained More Attention Than Any About Prince Charles' GC2018 Arrival: https://t.co/KpkSYl2Tks | #crypto #litecoin #paywithlitecoin pic.twitter.com/82Cy6zHI50

— TravelbyBit ✈️ ? (@TravelbyBit) May 1, 2018
It's already hot in the social media circles but what we want is hard statistics that shows reversal of yesterdays' losses. Data shows that Litecoin is off the top five printing a four percent loss in the last 24 hours.
On the chart, we can see a nice double bar reversal pattern in the daily chart right at $180, our first take profit target in our previous bull circle. That's not all, there is confirmation following yesterday's bear candlestick.
Now, as Litecoin sellers are stepping on gas, we might see those losses increasing today as momentum shift. In that regard, the middle BB is our immediate support line. In case sellers break below it, prices can quickly collapse and retest $140 and even $110 in the coming days.
XLMUSD (Stellar Lumens)
It's clear that Stellar Lumens is losing steam especially following that non-action at 50 cents, our resistance level. As it is, sellers are ramping up their positions and with a bear candlestick closing below the middle BB as we saw yesterday, we might see prices retesting 30 cents this week if bears accelerate their moves.
After all, there is a stochastic sell signal printing after a week of distribution at 50 cents. Because of this, I recommend shorts with immediate targets at 30 cents as per our chart set up.
TRXUSD (Tron)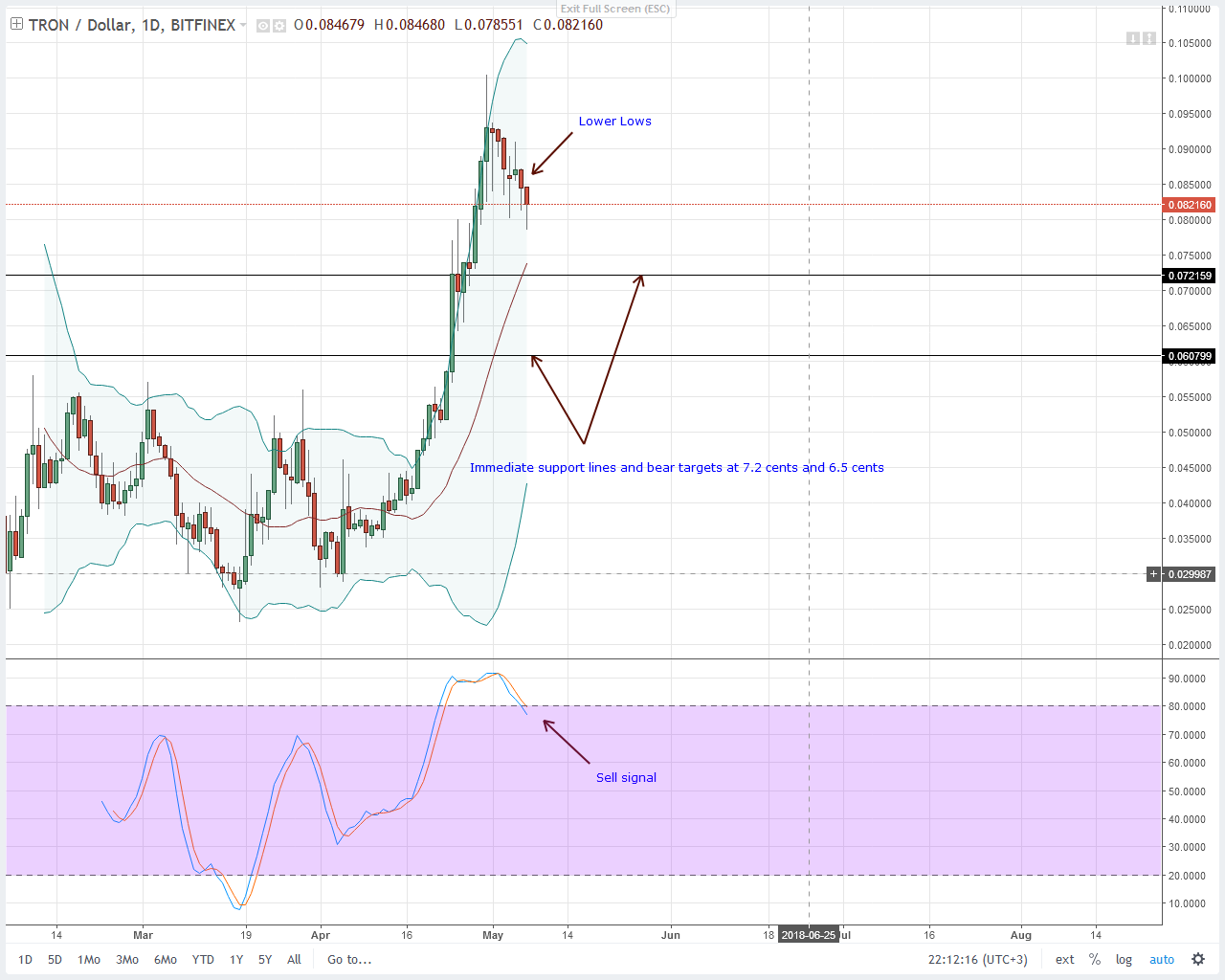 So, Tron's Ethereum airdrop has been completed successful but still the slide continues. Statistics shows that in the past 24 hours, it is down one spot to position 10 after losing three percent. Now, even though we are upbeat of Tron developments and price pump anticipation as mainnet launch nears, Tron sellers are likely to add to their losses today.
#TRON $TRX #TRX airdrop to the #Ethereum #ETH community has been successfully completedhttps://t.co/hqziAqsvV7

— Justin Sun (@justinsuntron) May 7, 2018
Clearly, from the chart we have a stochastic sell signal. Further more, we can see these lower lows from this coin's ATHs. As such, if technicals come into play, it is likely that the middle BB might be the only support. Because we are anticipating a short term correction, our immediate bear targets should be at 7.2 cents and 6.5 cents. This is especially so if there is a break below our support line, the middle BB.
IOTUSD (IOTA)
Undoubtedly, IOTA is setting standards and making baby steps but important milestones towards a world of device interconnection. Even as they update Trinity, IOTA is leaving impressions in the automobile industry considering recent trends. As we know, many automobile companies are desirous of integrating it with their in house technologies.  Their tangle technology is definitely made for enterprise. Therefore, it's obvious that as more tech players join in the revolution, IOTA remains a long term buy.
Trinity Wallet Update – 7th May #IOTA #Trinity #TRUSTtheTANGLE https://t.co/ifk9uCu4ov via @reddit

— IOTA Tangle Network (@IotaTangleFacts) May 7, 2018
On to the charts now and our previous forecast still holds true. We are bearish and playing on to this shift of momentum correcting May 4 over-valuation and bearish divergence pattern. Now, if there is push below $2.2, then IOTA sellers might test $1.65 in line with yesterday's view. Because of this, I recommend short term sells with every stochastic sell signal in the 4HR or lower time frames.