Nothing much from the fundamental end other than this nice recovery in prices in most coins under our radar. Our focus today is Litecoin and how prices are bouncing off  previous support at $160. Because of clear rejection of lower lows, odds are Litecoin shall edge higher today.
Let look at these charts:
EOSUSD (EOS)
If you were expecting moves, then it is disappointing especially if you are a trend trader. Like most of us I assume. The only wind fall is available for UK users who can now buy EOS from Cryptomate at these discounted prices.
We've listed a new coin at https://t.co/mlyRTGYWx5. EOS is now available to buy via UK bank transfer #EOS $EOS pic.twitter.com/tK0Cjy7dnj

— Cryptomate (@Cryptomate) May 9, 2018
Anyhow, from price charts EOS is down three percent in the last 24 hours. Furthermore, it is still trending within a consolidation with $18.55 pretty much fallow in the last two trading days or so. In our case, we are net bullish but we shall remain bound by yesterday's trade plan and continue to stay neutral until we see a thrust beyond this key support line at $18.55.
LTCUSD (Litecoin)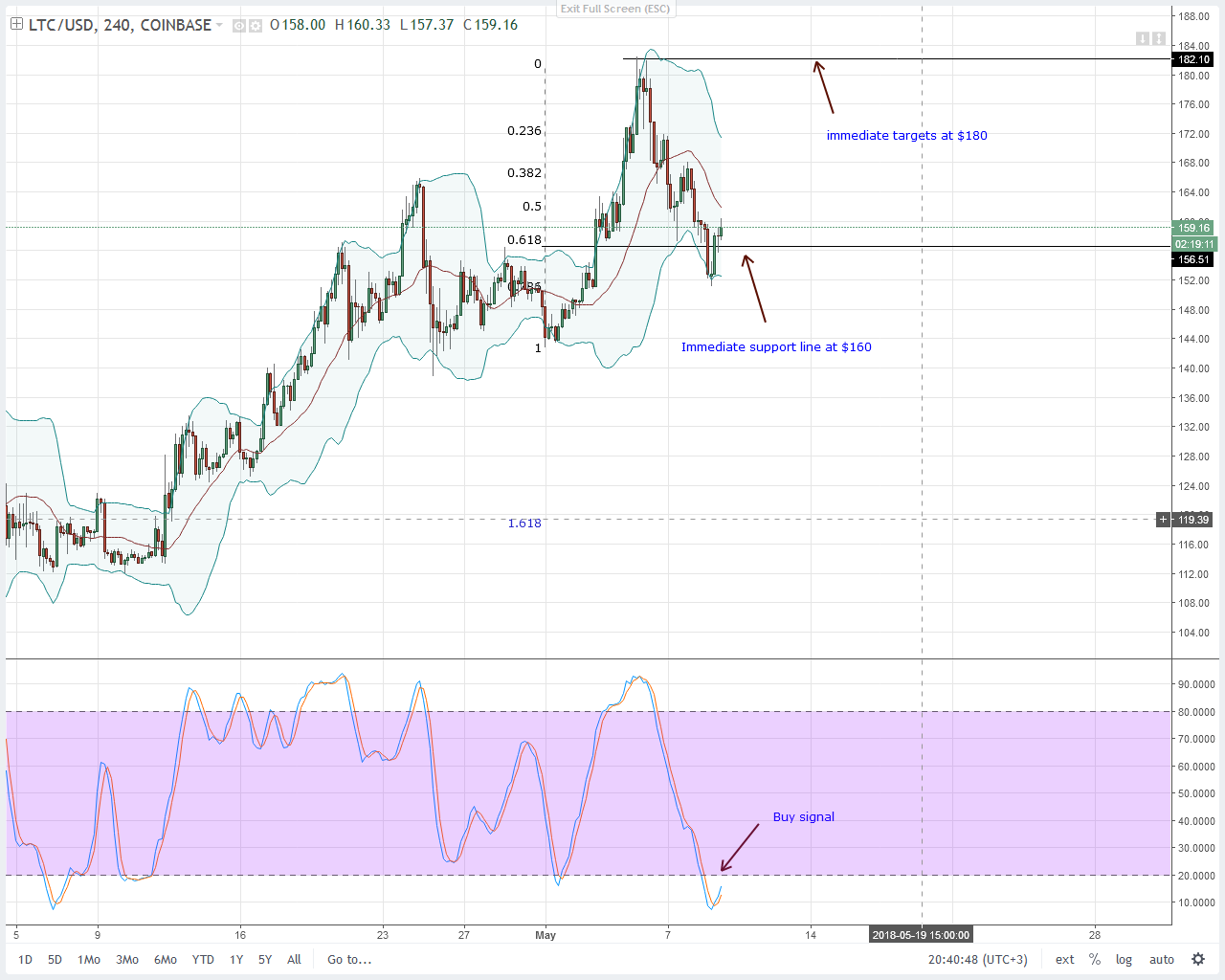 Whether Litecoin Foundation's marketing campaign would be successful or not, it's irrefutable that retail adoption is the only hallway for success. This applies not only for Litecoin but for literally every cryptocurrency out there. So, if supporters want Litecoin to succeed then they should align themselves with Litecoin foundation's call for merchants to accept Litecoin. On their part, buyers can begin searching for businesses who accept Litecoin as they help bid up Litecoin prices in the long run.
Price wise, I recommend buys since bulls are now beginning to align themselves with the overall bullish trend visible in the weekly chart. First, notice that there is a stochastic buy signal and a nice three bar reversal pattern, the morning star complete with a bullish pin bar below the lower BB.
All these means there is a shift of momentum happening right at the 61.8 percent Fibonacci retracement line anchoring on last week's high low. As such, immediate targets lie at $180 or last week high. After wards, we can begin hunting for potential medium bull targets of $240 on every dip.
XLMUSD (Stellar Lumens)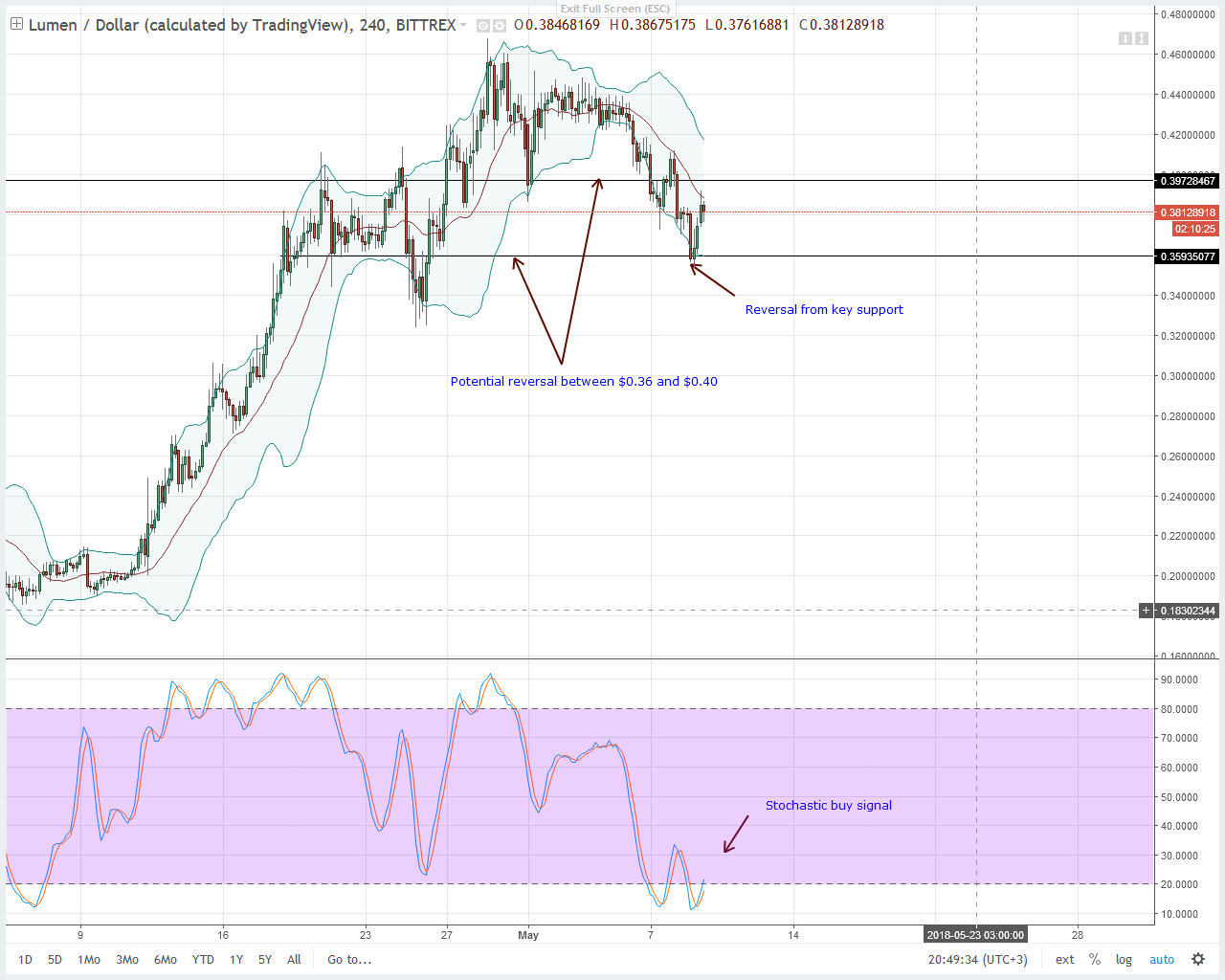 It seems like yesterday's news of KIK fork from the Stellar blockchain gave Stellar Lumens bulls incentive to load their longs. See, immediately after that announcement, we are seeing some sort of a knee jerk reaction and bounce off our lower limit at 36 cents.
Buoying this is news that a new centralized exchange, CoinBit Global shall be availing their customers with Stellar Lumens (XLM) coins for trade. As supply demand dynamics dictates, XLM is bound to rise due to demand especially if we see large volumes once they launch on May 11.
https://twitter.com/CoinbitGlobal/status/992335129719721984
Technically, there is a realignment of price action and bulls are now in charge. Conservative traders might have to wait for a further confirmation and that will happen once prices punch through 40 cents or the middle BB in the 4HR chart. In that case, every buy will demand a safe stop at or around 35 cents on the lower end with buy targets at 70 cents.
TRXUSD (Tron)
At least we are seeing some checks and balances in Tron. As a directive coming from the co-founder, Justin Sun, Tron shall not accept projects without their standard minimum viable product. Of course, this is a good thing especially for investors who like to tug in without doing their own due diligence.
On the platform's end, the number of exchanges bending their hand and supporting Tron's mainnet launch and consequent coin is on the rise. Binance and South Korea's Coin rail are some of them. We expect more to rally behind Tron as the big day nears.
Thanks for the support to #TRON #TRX $TRX ? https://t.co/WoZuw2GW7N

— Justin Sun (@justinsuntron) May 9, 2018
Like the rest of the coins, I'm net bullish on Tron especially after yesterday's double bottoms and confirmation right at the main support line. Further supporting our assertion and skew is that stochastic buy signal and bullish divergence pattern in the 4HR chart.
Because of this and the general upbeat feel in the weekly chart, it is likely that Tron shall reverse their recent losses as buyers bid to print new highs. As such, buying at current prices with stops below 8 cents seems to be a good strategy.
IOTUSD (IOTA)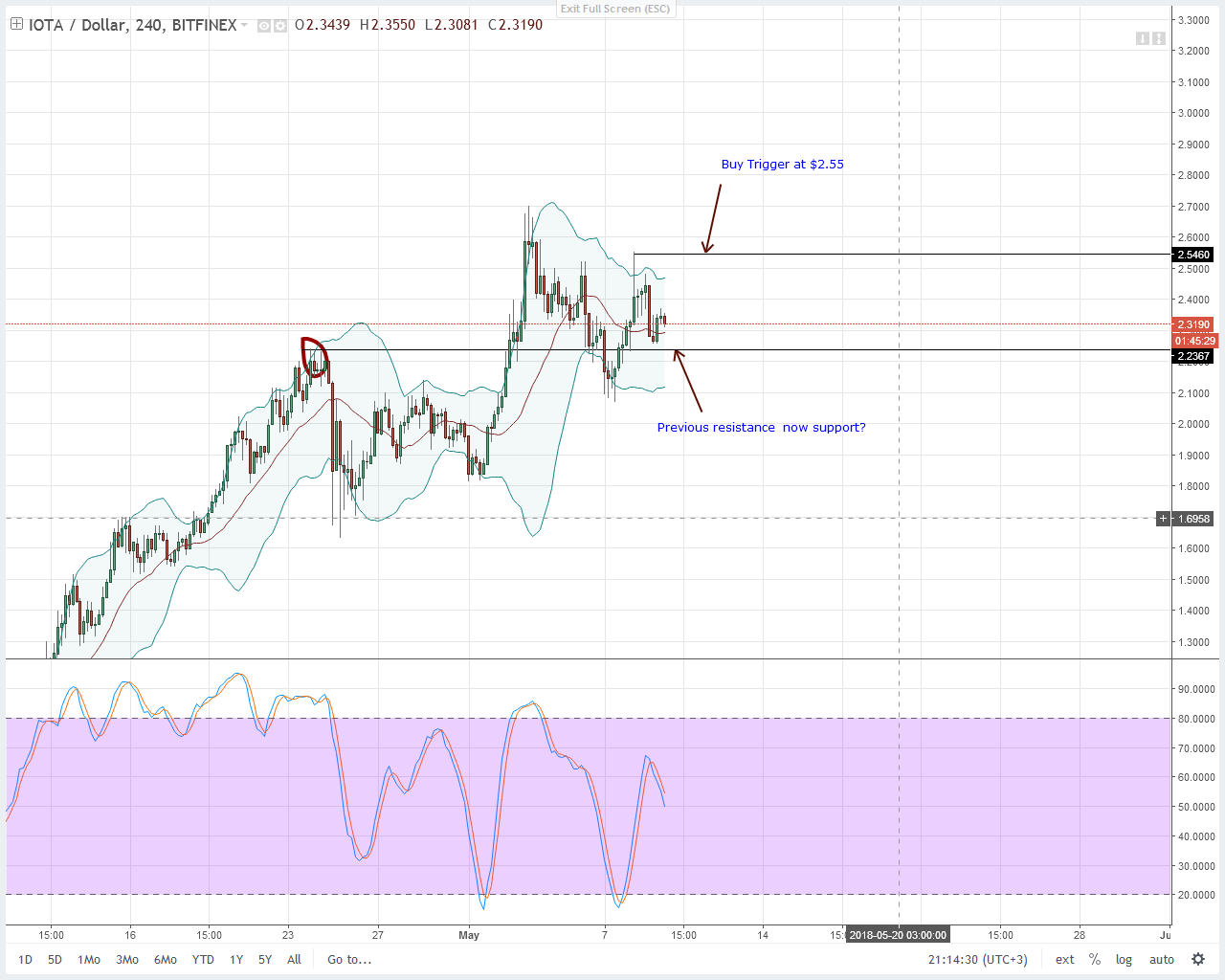 Just to show you how in demand IOTA tokens are, IOTA valuation exceed Tron's by more than $1 billion. Remember, this is just a few weeks after bouncing back to the top 10. From then, we have been seeing IOTA make some key fundamental announcement from both the technical and commercial fronts.
Undoubtedly, this is good for price and investors who can now buy from a variety of exchanges as Huobi but can store then at different wallets. As it is, IOTA is literally outperforming every other coin in the top 10 besides EOS. In the last seven days, IOTA is up seven percent but down five percent in the last 24 hours.
Technically, we remain neutral but with bullish inclinations. We expect to find support at $2. However, if IOTA buyers bid up prices and we see a surge past $2.3 or May 8, then buyers can step in and aim for $3 in the short term. Of course as we have reiterated countless times, $4.5 or IOTA's ATHs are our ultimate bull targets.